A customized print-friendly version of this recipe is available by clicking the "Print Recipe" button on this page.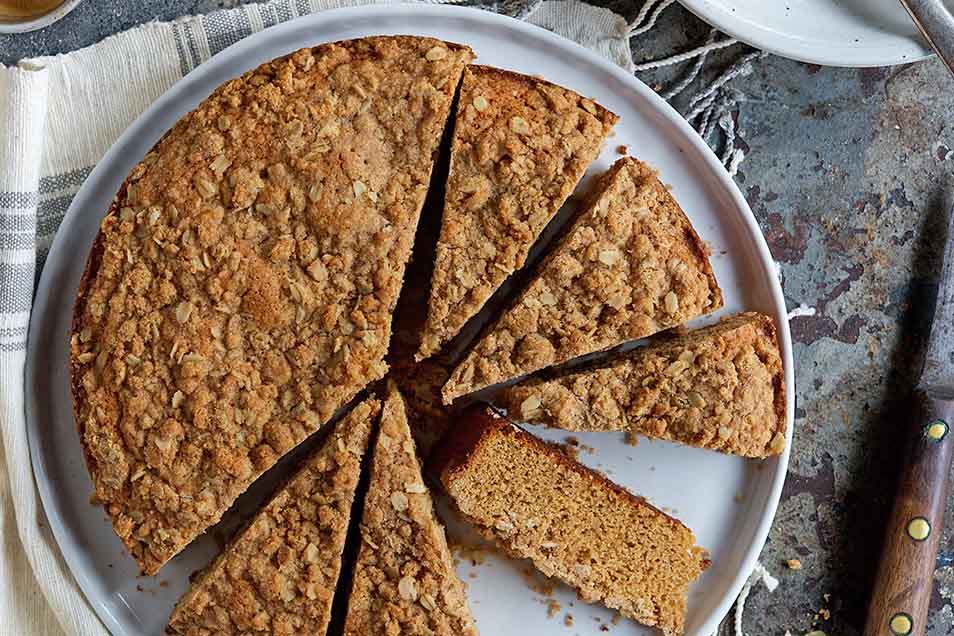 This dark, moist coffeecake can be made with either whole wheat flour or spelt, an ancient variety of wheat. Spelt behaves like whole wheat flour, but has wonderfully mild, nutty flavor; try substituting it for whole wheat in your favorite recipes.
Ingredients
Cake
6 tablespoons softened butter
1 cup brown sugar, packed
2 large eggs, beaten
1 teaspoon baking powder
1/2 teaspoon salt
1 1/2 teaspoons ground cinnamon
1/4 teaspoon ground nutmeg, optional
1 1/2 cups spelt flour or King Arthur White Whole Wheat Flour
1/2 cup milk
Streusel topping
1/2 cup spelt flour or King Arthur White Whole Wheat Flour
1/4 cup brown sugar (packed), light or dark
1/4 cup old-fashioned rolled oats or quick oats (not instant)
1/8 teaspoon salt
1/4 teaspoon ground cinnamon, optional
4 tablespoons butter, at firm room temperature
Instructions
Preheat the oven to 350°F. Lightly grease an 8" square or 9" round cake pan.

Beat the butter and sugar together until smooth and lump-free.

Beat in the eggs one by one, until the mixture is thoroughly combined.

Whisk the baking powder, salt, and spices into the spelt flour. Stir half the flour mixture into the butter/sugar/eggs to combine. Stir in the milk, then add the remaining flour mixture, stirring to combine.

To make the topping: Gently beat all of the topping ingredients together until crumbly.

Pour the batter into the pan. Sprinkle the topping over the cake. Use a table knife or spatula to briefly and gently swirl it into the batter; you don't want to combine the two completely, just make a streusel swirl.

Bake the coffeecake for 35 minutes, or until a toothpick inserted into the center comes out clean. Remove the cake from the oven, and allow it to cool before cutting.

Store leftover coffeecake, well-wrapped, at room temperature for several days; freeze for longer storage.
Tips from our bakers
Spelt (Triticum spelta) is a grass, one of the ancestors of modern wheat (Triticum aestivum). It originated in southeast Asia and is probably the "wheat" that was used around the Mediterranean 9,000 years ago. It came to Europe with traders from the Middle East and remained a favorite grain there until the 19th century and the development of modern strains of wheat.
Note: As a result of reader feedback, as of 4/24/17 we've amended the recipe as follows: reduced the cinnamon from 1 tablespoon to 1 teaspoon; increased the butter by 2 teaspoons; added nutmeg, for enhanced flavor; and added streusel topping.
Reviews
This was yummy. We felt it was too sweet since there is sugar in the topping I will decrease the sugar in the cake to 3/4 of a cup. Loved the spelt flour which gave the cake a nutty taste. It was very easy to make and I will be making this cake often.
This is amazing and really easy. I would recommend it to anyone!!
this is a great cake! i've searched high and low for a spelt cake that actually tastes like CAKE- this one is a keeper. i agree about the spicing, i added .25tsp salt, reduced the cinnamon to 1 tsp and added .25 tsp of cardamom. i've also added apples which i've chopped and cooked with a little butter and brown sugar. more spelt please!
Okay; spicing is a bit off, would recommend cutting the cinnamon and adding some complementary spices (tastes a bit like a hot cinnamon candy); needs a pinch of salt. Has a texture similar to cornbread; adding applesauce, banana, or other texture helper may help bring this to "cake" texture.
The secret to the cake like texture here is mixing method. Cream butter and sugar, add eggs one at a time. The beauty of published recipes is we can always increase or decrease (like the cinnamon) to meet taste expectations. Irene @ KAF
I wouldn't call this one a coffeecake but a very delicious cake with a hint of cinnamon. It would be a great birthday cake; that is how good it is! I've made it twice this week, I just had to have friends taste it. They can't believe it is made with spelt, and I used raw sugar. It is soooo easy to make too.