A customized print-friendly version of this recipe is available by clicking the "Print Recipe" button on this page.
Cinnamon Pinwheel Biscuits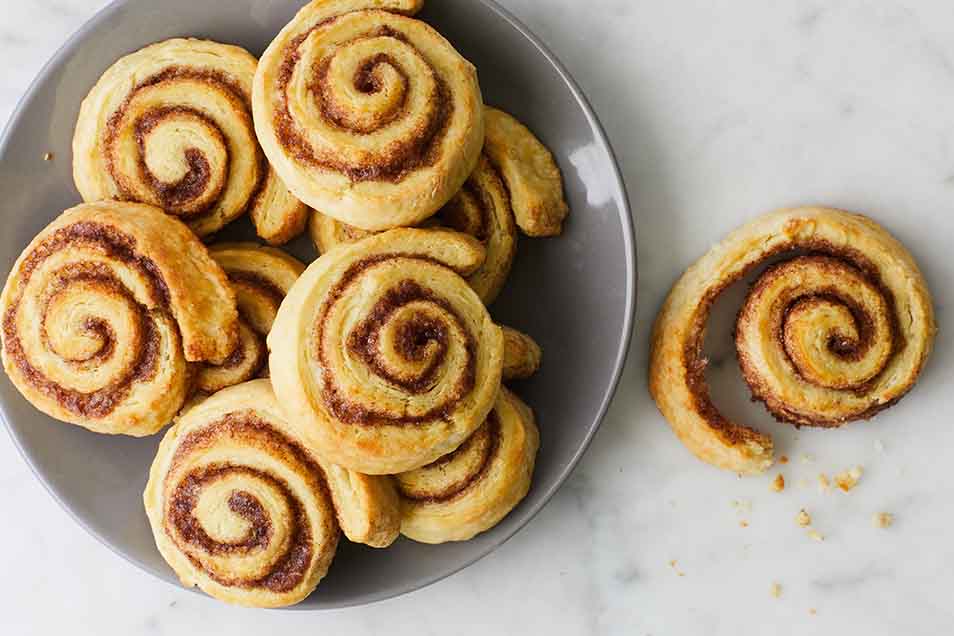 Think of these as a shortcut cinnamon roll. Vary the recipe by swapping the spice for a touch of cardamom and orange zest, use a fruit jam for filling, or sprinkle chopped chocolate or nuts over the dough before rolling. This recipe comes to us from Mark Bittman, and is featured in the Holiday 2018 issue of Sift magazine.
Ingredients
Dough
1 teaspoon baking powder
1/2 teaspoon baking soda
1/2 teaspoon salt
5 tablespoons cold unsalted butter, cut in 1/2" slices
3/4 cup + 2 tablespoons buttermilk or yogurt
Filling
1/4 cup sugar
2 teaspoons ground cinnamon
2 tablespoons melted unsalted butter
Instructions
Preheat the oven to 450°F.

For the dough: In a large bowl, mix together the flour, baking powder, baking soda, and salt. Work in the cold butter until the mixture resembles coarse meal.

Add the buttermilk (or yogurt) and stir just until the mixture comes together and forms a ball. Turn the dough out on a floured work surface and knead the dough a few times; flour your hands if the dough is sticky.

For the filling: Whisk together the sugar and cinnamon in a small bowl.

To assemble: Roll the dough into a rectangle about 10" x 14" and 1/4" thick. Trim the edges to be straight, rearranging the dough as needed to make a neat shape. Brush the dough with the melted butter.

Sprinkle with the cinnamon sugar, leaving a 1/2" border along the long edges. Starting from a long edge, roll the dough into a log. Wrap and freeze for 10 to 15 minutes (this will make slicing and handling much easier).

After the dough is firm but not solid, cut 3/4"-thick slices and place the pinwheels on an ungreased baking sheet.

Bake for 11 to 13 minutes, until golden brown. Remove from the oven and serve warm.

Store biscuits wrapped at room temperature for up to 3 days, or freeze for longer storage.

Yield: 15 biscuits
Nutrition Information
Serving Size

1 biscuit, 39g

Servings Per Batch

about 15
Amount Per Serving:
Calories

122

Calories from Fat

54

Total Fat

6g

Saturated Fat

4g

Trans Fat

0g

Cholesterol

15mg
Sodium

92mg

Total Carbohydrate

16g

Dietary Fiber

0g

Sugars

3g

Protein

3g
* The nutrition information provided for this recipe is determined by the ESHA Genesis R&D software program. Substituting any ingredients may change the posted nutrition information.
Reviews
Just like my Grandma's cinnamon biscuits. The texture and taste is more like a biscuit with some cinnamon and sugar. Family loved them!
These pinwheels were perfect for my family as many of them don't love sweet. I froze them overnight to serve them warm when everyone came for brunch. The dough took some time to thaw enough to slice, but the texture was perfect. I doubled the filling and added cardamom and orange zest. I will do this every single time. I may take the cinnamon out all together, but these were so good with the simple additions. They appeared to not be quite done, but I took them out when the tops were light brown anyway. They were perfectly flaky and doughy at the same time. For the folks that like something a bit sweeter, we drizzled warm honey over the top.
Just made these...I recommend with reservations. I happen to like less-sweet cinnamon rolls so for me, they work. But you have to know they are more like regular buttermilk biscuits with a hint of sweetness, not like traditional cinnamon rolls. I doubled the sugar (used half white/half brown) and used 3 tbs melted butter, not 2 (uses up one whole stick of butter this way). I thought it looked like to much butter and sugar but once baked, definitely not! In fact I might have tripled the sugar if making for people who would really want them sweet. I think some sugar could also be added to the base dough and would do that next time. I always make biscuits flakier and lighter by rolling and folding in thirds a few times (rotating 90 degrees with each roll). I did that here as well since it's a biscuit dough. Finally, this is such a pet peeve of mine (King Arthur please take note!). Why do so many baking recipes give the first instruction as pre-heating the oven. You are going to have a really warm kitchen if yours is small like mine, well in advance of when you are actually baking. These go in the freezer for 10-15 minutes; THAT is the time when you should pre-heat (which is what I did). There is simply no reason you can't put a pre-heating instruction in the middle of a recipe! Why is it always first when it doesn't make sense from an energy or kitchen temp standpoint? In the end, I do like these...but with knowing that I'm a huge fan of biscuits.

Ellen, you're quite right that this is a biscuit recipe with cinnamon in it, rather than a cinnamon roll recipe. (We have quite a few of those as well, if you're interested! Just type "cinnamon roll" into the search bar on our site.) As far as preheating goes, we've found that most home ovens don't actually come to temperature in the time that they say they do, and that a longer preheat helps with an even bake. Those using a baking stone or Dutch oven will want to preheat for even longer. But if what you're doing works for you, keep with it. Happy baking! Kat@KAF
The recipe was fast and easy and the cinnamon rolls look pretty but the taste is pretty dull. I followed it to the letter, even using grams instead of volume for measurement. I think the other commenter was on the right track with increasing the filling and adding a glaze.

We're sorry this recipe wasn't quite the right fit for you! This is definitely definitely a biscuit with a hint of cinnamon, rather than a cinnamon roll with lots of filling. For a more traditional cinnamon bun recipe, you can type "cinnamon rolls" into the search bar of our site for several sweeter, glazed options. Happy baking! Kat@KAF
These look great, but definitely need some tweaks if you want to try. I think Wanda's suggestions to increase the filling with added butter and sugar, to use half brown sugar and to add icing are absolutely necessary. Otherwise, they lack sweetness. I felt the baking powder as written was also a bit too pronounced, so perhaps the sweetness of more filling would bring balance. These are really easy to make, but I think the time required to proof traditional yeasted rolls are worth it. In a pinch, I might do these again, but definitely with Wanda's additions.
Wonderful and easy way to bake something special for breakfast. I usually make cinnamon rolls, but these were a quick and easy substitute. Increased the filling slightly (used 3 tablespoons of butter, and a smidge extra sugar, and a heavy shake of cinnamon). I also used half brown sugar and half white sugar. I made some powdered sugar icing and spread it over the top after the biscuits cooled for a minute. I also baked only half the recipe, and left the other half in the freezer. I'm going to bake them tomorrow morning, and hope they are just as delicious as they were this morning!!!