A customized print-friendly version of this recipe is available by clicking the "Print Recipe" button on this page.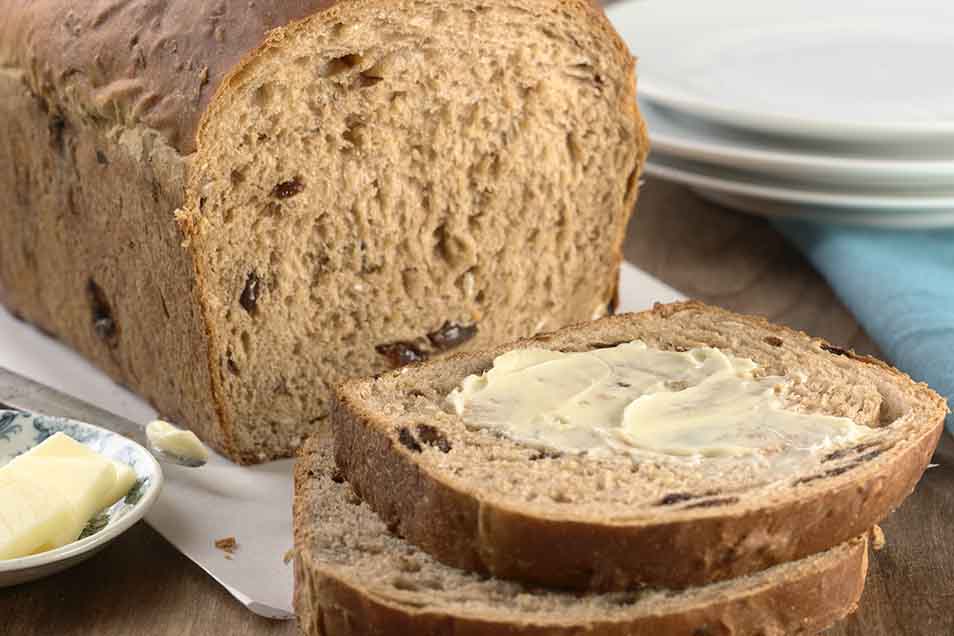 Unlike most cinnamon raisin loaves, this one includes ground cinnamon right in the dough, rather than simply added as swirled filling. The result? A deep-gold, aromatic loaf studded with raisins, perfect for toasting.
Ingredients
Dough
3/4 cup lukewarm milk
2 tablespoons soft butter
1/2 cup raisins (or chopped dates, dried cranberries, or your favorite dried fruit)
1/2 cup old-fashioned rolled oats
1/4 cup brown sugar
1 1/4 teaspoons salt
1 teaspoon ground cinnamon
2 1/2 teaspoons instant yeast, we recommend SAF Gold instant yeast for the fastest rise
1/4 to 1/3 cup lukewarm water*
*Use the smaller amount in summer, or under humid conditions; the larger amount in winter, or when it's dry out.
Instructions
Note: Thanks to reader feedback, this recipe has been amended as of May 1, 2015, as follows: the amount of cinnamon has been cut back, to reduce rising times; the salt has been increased, for flavor; and the recipe has been cut in half, to make one loaf.

Combine all of the ingredients, and mix and knead — by hand, mixer, or bread machine set on the dough cycle — to make a smooth, soft dough.

Round the dough into a ball, and place it in a greased bowl (or let it remain in the bread machine), and let it rise for about 2 hours, or until it's noticeably puffy though not necessarily doubled in bulk.

Gently deflate the risen dough, shape it into a log, and place it in a lightly greased 8 1/2" x 4 1/2" loaf pan. Tent the pan with lightly greased plastic wrap, and let the dough rise until it's crowned 1" to 1 1/2" over the rim of the pan, about 1 1/2 to 2 hours. Towards the end of the rising time, preheat the oven to 350°F.

Uncover the risen loaf, brush it with milk or water, and sprinkle it with cinnamon-sugar, if desired, for extra flavor.

Bake the bread for 40 to 45 minutes, until it's a deep golden brown and a digital thermometer inserted into the center registers at least 190°F. If the bread appears to be browning too quickly, tent it with aluminum foil about 10 to 15 minutes before it's done baking.

Remove the bread from the oven, and after 5 minutes turn it out of the pan onto a rack to cool. Once it's completely cool, wrap well, and store at room temperature for up to 5 days. Freeze for longer storage.

Yield: 1 loaf.
Nutrition Information
Serving Size

1 slice (58g)

Servings Per Batch

14 slices
Amount Per Serving:
Calories

160

Calories from Fat

20

Total Fat

2.5g

Saturated Fat

1.5g

Trans Fat

0g

Cholesterol

5mg
Sodium

220mg

Total Carbohydrate

32g

Dietary Fiber

2g

Sugars

8g

Protein

5g
* The nutrition information provided for this recipe is determined by the ESHA Genesis R&D software program. Substituting any ingredients may change the posted nutrition information.
Reviews
This recipe came together nicely, I did have to add more water but it is winter afterall and the air is quite dry here. The rise, however, seemed to take forever! I allowed a good two hours plus for the first rise and then the second rise took even longer even in my bread proofer at 75F. And I did use SAF Gold yeast as well. This is the kind of Cinnamon Bread that I really like so I'll definitely use the recipe again.
I should have known something was wrong just looking at the ingredients' list, but I went ahead and made it per the recipe anyways since King Arthur recipes are usually fool proof. This dough needs more hydration. It's (at most) 59%, and it should be closer to 66%). The bread was soooo dense. I might try this again, but with less flour and/or more liquid.

We're sorry to hear that this well-loved recipe didn't do the trick for you. If we can help pick out a recipe that better fits your tastes, please give our Baker's Hotline a call at 855-371-BAKE. Kindly, Annabelle@KAF
Dear Sirs, Your Ingredients for Cinnamon Raisin Bread as 3/4 cup lukewarm milk....lukewarm 1/4 to 1/3 cup lukewarm water....lukewar but you use 2 1/2 teaspoons instant yeast...instant yeast I believe the yeast should be 'active dry yeast'. Jenny

Hi Jenny, we apologize for any confusion and we'd love to help clarify what we can. This recipe calls for 2 1/2 teaspoons of instant yeast or 2 1/2 teaspoons of SAF Gold Yeast for the fastest rise. The Gold Yeast is specifically designed to work well in recipes that have a notable amount of sugar added to the dough, which would otherwise slow down the rise. You're welcome to use either instant or active dry yeast if that's all you have on hand; just expect the dough to rise more slowly so be sure to be patient and give the dough enough time to become visibly expanded. If you have further questions, feel free to give our Baker's Hotline a call at 855-371-BAKE(2253). Kye@KAF
I am a new baker of yeast breads. I found the instructions in step 2 too vague to proceed with confidence. I found an adapted version of this recipe with clearer instructions and exact liquid temperatures and that was much better. Please ensure your instructions are very detailed for us novices!

Thank you for your feedback on the wording of the instructions, Ruthanne. We have shared them with our recipe team for future consideration. Annabelle@KAF
Made this yesterday- and I didn't have the problem of my dough being sticky like other reviewers, in fact I had to add more water. I used a bread machine for the mixing and I did let the machine knead it just a few minutes. I also used leftover potato water because I like a chewy, gluteny bread. I forgot to add the raisins until right before the 2nd rising- so I laid the dough out into a rectangle, pressed the raisins into the dough with my hand and rolled it up jelly roll style. I thought I incorporated them well, but after 2nd rising and baking they weren't in nice 'swirls' or sprinkled throughout the loaf as I thought they should be. Note: this is not KAF's fault, but mine on the raisins. If the King Arthur people have a trick for making the raisins 'go where they are supposed to go' in loaves of raisin bread, please pass it on! or, was it because I had to add them to the dough so late, so they didn't incorporate into the bread very well? My bread came out beautifully. The crust was perfectly crunchy- not hard, not tough, nice and crunchy like French bread. The interior was also the best textured bread I have ever, ever done, & I am usually very unlucky in bread making. I am very happy with the results and will make this again.
The dough turned out very nice, loaf raised well and smelled wounderful but after it cooled a couple slices went into the toaster. It was inedible. Dry, dense, like chewing on cardboard. What might I have done wrong?

Shucks, Steve. We're both surprised and sorry to hear about the way your baked bread turned out. One of the most common reasons why baked goods turn out dry and heavy is because too much flour is used. To ensure you're using the right amount, we recommend checking out the "Measuring Standards," link next to the ingredients header above. You'll see that either measuring your flour by weight using a scale, or fluffing and sprinkling the flour into your measuring cup are the best ways to ensure your recipe turns out perfectly. Kye@KAF
I had forgotten I had previously reviewed this recipe, and just now noticed the reply. Anyway to update: I've made it several times more and weighed the flour and measured carefully, but it is a little different every time, don't know why. Some days it rises way up, other times stays kind of flat. Today I made one batch mixed in the bread machine and one by hand. The result was similar for both. This time the dough turned out very wet and sticky. I added just enough flour to roll it, but it baked up kind of dry. I'm not giving up easily because it is my husband's favorite, and we always eat all of it. I just wish I could find out why it is so inconsistent.

Joyce, if you're using all of the same ingredients (including the same brands) and measuring by weight with a scale, then the variable is likely the weather and humidity in the environment. If you're baking by volume, then it's common for each batch of dough to be slightly different since each cup of flour that's measured will vary a bit. You can compensate for these differences by adding more flour or water as needed to make a smooth, slightly tacky dough. Kye@KAF
i've been baking this recipe for about two years. Every loaf comes out near perfection. Can't keep it in the house and friends rave for more.
I made two batches, one in my bread machine for the mixing and rising, and one in a bowl mixed by hand. I followed the recipe exactly, but they both turned out very very sticky. Had to add much more flour than I thought I should. As other have said, it was a bit reluctant to rise, but was ok. Next time I will use less liquid and maybe a bit more sugar. It was much easier to make than rolling the cinnamon/sugar in.

Thanks for giving this recipe a try, Joyce, and for your interest in getting it right. Since several bakers have noted struggles with the dough and the rise, we've asked our test kitchen bakers to take another look at the recipe. If there are to see any adjustments in ingredient, technique or wording that can help to better ensure success, we'll be sure to note them here, so please do check back before your next bake. Mollie@KAF
I baked this today, but instead of one loaf, I made 2 mini loaves. It rose beautifully, and turned out great. I will definitely bake this again.