A customized print-friendly version of this recipe is available by clicking the "Print Recipe" button on this page.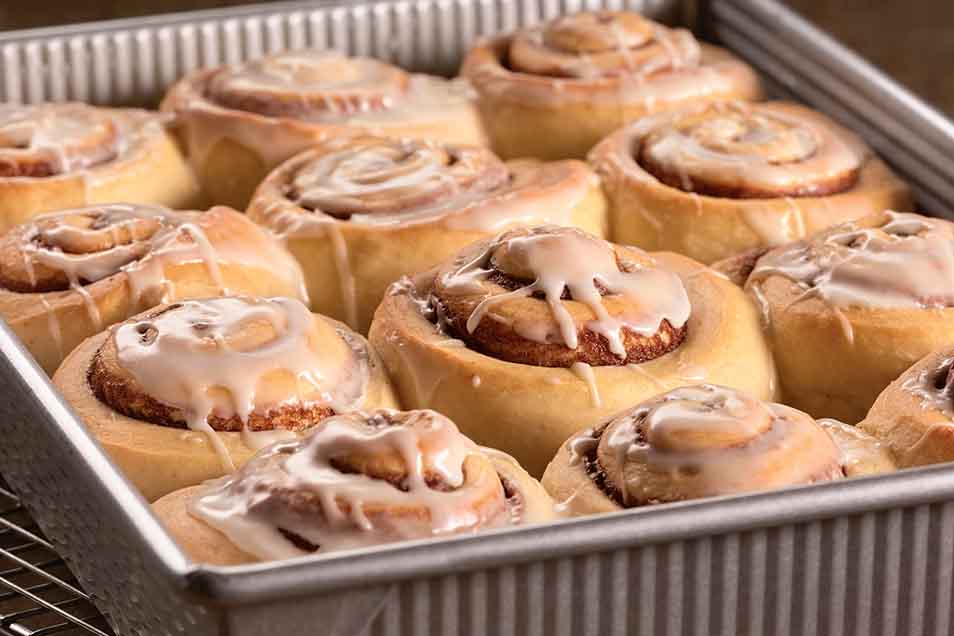 Warm cinnamon rolls are available at every airport, every mall, and many fast-food outlets. So why make your own? Because YOU control what's in them, using your own butter, sugar, flour, cinnamon, and other natural (not chemical-laden) ingredients. And besides, there's nothing like pulling warm rolls right out of your own oven!
Our guarantee: These buns will be soft right out of the oven, and will firm up as they cool. Moderately scented with cinnamon, they'll rise to about 2" high.
Ingredients
Dough
1 packet "highly active" active dry yeast; or 2 1/2 teaspoons active dry yeast; or 2 1/2 teaspoons instant yeast
7/8 to 1 1/8 cups lukewarm water*
6 tablespoons unsalted butter, at room temperature
3 tablespoons sugar
1 1/4 teaspoons salt
1/4 cup nonfat dry milk
1/2 cup instant mashed potato flakes
*Use the lesser amount in summer (or in a humid environment), the greater amount in winter (or in a dry climate), and somewhere in between the rest of the year, or if your house is climate controlled.
Vanilla Glaze
1 1/4 cups confectioners' sugar
1/2 teaspoon vanilla extract
4 to 5 tablespoons heavy cream or 2 to 3 tablespoons milk, enough to make a soft, spreadable icing
Instructions
First, make the dough. If you're using active dry yeast, dissolve it with a pinch of sugar in 2 tablespoons in the lukewarm water. Let the yeast and water sit at room temperature for 15 minutes, until the mixture has bubbled and expanded. If you're using instant yeast, you can skip this step.

Combine the dissolved yeast (or instant yeast) with the remainder of the dough ingredients. Mix and knead everything together—by hand, mixer or bread machine set on the dough cycle—till you've made a smooth dough. If you're kneading in a stand mixer, it should take about 7 minutes at second speed, and the dough should barely clean the sides of the bowl, perhaps sticking a bit at the bottom. In a bread machine (or by hand), it should form a smooth ball.

Place the dough in a lightly greased bowl. Cover the bowl, and allow the dough to rise, at room temperature, till it's nearly doubled in bulk, about 1 to 2 hours. Rising may take longer, especially if you've kneaded by hand. Give it enough time to become quite puffy.

While the dough is rising, lightly grease two 9" round cake pans.

Transfer the risen dough to a lightly greased work surface, and pat or roll it into a 16"x12" rectangle. It's a nice, soft dough, and pats out easily.

To make the filling, whisk together the sugar, cinnamon, and flour.

Brush the dough lightly with milk.

Sprinkle the filling evenly over the dough, covering the entire surface.

Roll the dough into a log the long way; it'll stretch to about 20" long as you roll.

Using a serrated knife, slice the log into 16 slices. In order to cut down on drag, it helps to rinse the blade in hot water, and wipe it off, between slices.

Space eight rolls in each of the prepared pans. Flatten them gently.

Cover the pans, and let the rolls rise till they're noticeably puffy, about 1 1/2 to 2 hours; they should spread out and start to crowd one another.

While the rolls are rising, preheat the oven to 375°F.

Bake the rolls till they're brown around the edges and beginning to turn golden brown across the center, about 20 minutes.

If you're going to serve the rolls immediately, make the icing while the rolls are baking. Combine the sugar, vanilla, and enough cream or milk to make a spreadable icing. If you're not serving the rolls immediately, don't make the icing yet.

Remove the rolls from the oven, and loosen their edges with a knife. Turn them out of the pan onto a rack. To enjoy right away, spread with the icing and serve.

To serve the rolls later, allow them to cool completely, then wrap in plastic wrap and store at room temperature for up to 3 days. Fifteen minutes before you're ready to serve, preheat the oven to 350°F. Unwrap the rolls, place them on an ungreased baking sheet, and tent lightly with aluminum foil. Bake for 10 to 15 minutes, until they're nicely warmed.

While the rolls are reheating, make the icing.

Remove the rolls from the oven, and spread with the icing. Serve immediately.
Nutrition Information
Serving Size

1 roll (64g)

Servings Per Batch

16
Amount Per Serving:
Calories

200

Calories from Fat

50

Total Fat

6g

Saturated Fat

3.5g

Trans Fat

0g

Cholesterol

15mg
Sodium

190mg

Total Carbohydrate

34g

Dietary Fiber

1g

Sugars

16g

Protein

4g
* The nutrition information provided for this recipe is determined by the ESHA Genesis R&D software program. Substituting any ingredients may change the posted nutrition information.
Tips from our bakers
Why do you brush the dough with milk before spreading on the cinnamon-sugar? The protein in the milk acts like glue as the rolls bake, keeping the filling from oozing out.
When making anything with yeast, including these rolls, let the dough rise to the point the recipe says it should, e.g., "Let the dough rise till it's doubled in bulk." Rising times are only a guide; there are so many variables in yeast baking (how you knead the dough; what kind of yeast you use) that it's impossible to say that bread dough will ALWAYS double in bulk in a specific amount of time.
Reviews
Amazing, perfect, moist and flavorful rolls. The best cinnamon rolls I've ever made: we topped ours with condensed milk in lieu of icing, and added slightly more filling...otherwise, followed recipe exactly and waited for it to rise properly. Baked in my woodstove oven, and we Will definitely make these again. Thank you KAF!
They tasted great ! refrigerating the dough to roll it out and cut it helped. Does anyone know how to convert this to use sourdough starter instead of yeast ??

Hello! Replace 4 oz flour and 4 oz water from the recipe with 8 oz of your ripe, bubbly starter. You're welcome to cut down or remove the yeast, just know it may take significantly longer for your dough to rise and the finished product may not be quite as light and fluffy. They'll taste wonderful. We also encourage you to check out our recipe for Buttery Sourdough Buns. Happy baking! Annabelle@KAF
hello KA! thanks for your recipes...this one brought back wonderful memories for my husband and children as they remembered my mother-in-law's generous baking legacy... I confess only that this is a family who ups the ante on filling...more is more...but the dough is perfect! so happy we are friends, KA!
amazing recipe...just finished my first batch and sharing it at the moment with my family..soft chewy dough just the way i like it!i substituted the d potato flakes with 1/2 cup mashed potato since we don.t have it here in my town. substituted all the milk powder and water with 1 cup full cream milk.doubled the filling but added 1/8 cup melted butter to it!i skipped d icing as my family isnt a fan of it..still wonderfully flavored..thank u king arthur!
King Arthur is my go to when I need success. Could you please tell me if you can substitute potato flour for potato flakes. If so how much (in grams please). Thanks

Thanks for choosing KAF to be your partner in the kitchen! You can use 1/2 the amount of potato flour instead of instant mashed potato flakes if substituting by volume. For this recipe, the substitute is 1/4 cup of potato flour, which equates to 46 grams. Happy baking! Kye@KAF
For reviewers who have difficulty cutting the rolls, I use unflavored dental floss. Works like a charm.
I kept the dough soft by following the directions. Definitely used some powdered milk. Used more cinnamon for the filling. Added 1/2 tsp cardamom into the dough which you couldn't exactly taste at the end -- so perfect amount. Brings more depth to the flavor :-). I used oil on the counter that I rolled them out on so I didn't get more flour/stiffer dough. Overall, very pleased. I use regular active yeast so it takes longer to rise. Kids pop them into the microwave for about 12 seconds to warm up just a bit. Otherwise, the rest eat these straight up. Thanks for a great recipe.
To start out - I love you KA and I've baked a lot of your recipes, but my obsession is cinnamon rolls. So my bottom line? I give you four stars for the dough, and 0 stars for the filling. KA, why do you think that 1/4 cup of sugar and 1 1/2 tsp of cinnamon is EVER enough to make filling for ANY type of cinnamon rolls??? That's insane. However, I loved the dough - that's the reason I made the recipe. I used my own filling (brown sugar - 1 cup+ plus a big dip of white sugar, 4 TBSPs+ of cinnamon, one cube of melted butter, and one tsp salt, because you ALWAYS need salt to balance out something sweet. KA, you should know that!!). But what I did try was using milk as the binder as I spread the filling on the dough, and I also added flour to my filling - those were great ideas and I appreciate KA for the info. But I'm still flummoxed - why the stingy filling??? That's not cool.

Sounds like you are a baker who likes a lot of filling in Cinnamon Buns! We like to use the filling as a garnish to the delicious dough, but if you want the filling to be the star, feel free to increase it as you wish (which is sounds like you did). We hope you continue to enjoy your search for the ideal cinnamon roll recipe. Happy baking! Kye@KAF
My family loved these cinnamon buns. I don't have a lot of experience baking yeast breads, and these came out tender and flavorful. I will definitely make them again. My only question is the recommended time for kneading with a stand mixer. My dough looked as the recipe describes after only a few minutes at speed one. Should I continue to mix with the bread hook for the full seven, or stop after three when the dough clears the sides of the bowl?
Amazing! I have used this recipe so many times and they always come out perfect. I use 1 and 1/2 cups of milk in place of water and evaporared milk. Also, if cutting the roll with a knife doesn't work, wrapping a 18 inch piece of floss around it once and pulling the two ends works beautifully because it cuts from all sides. This recipie may take awhile but I absolutely love it and recommend it to anyone.