A customized print-friendly version of this recipe is available by clicking the "Print Recipe" button on this page.
Cinnamon-Spiced Chocolate Brownies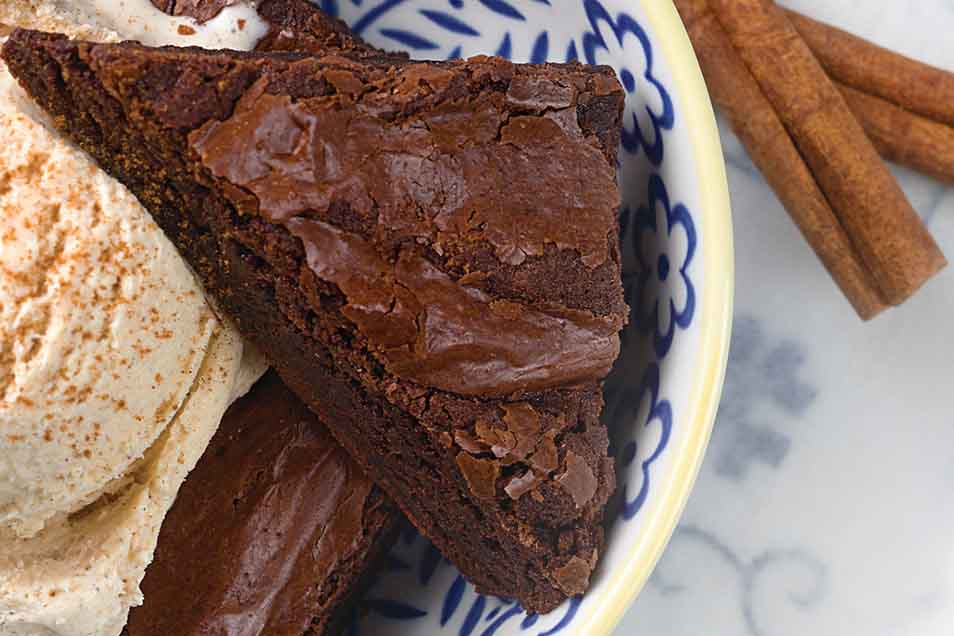 With their slightly spicy kick, these brownies will finish any meal with flair.
Instructions
Preheat the oven to 350°F. Lightly grease a 9" x 13" pan, line it with parchment, and if desired grease the parchment — this makes it easier to remove the brownies from the pan.

In a medium-sized saucepan set over low heat, melt the butter, then add the sugar, stirring to combine. Heat the mixture briefly, just until it's hot throughout; it'll become shiny looking as you stir it — this will dissolve some of the sugar and yield a shiny top crust on your brownies.

Stir in the cocoa, salt, baking powder, espresso powder, cinnamon, and flavoring(s).

Whisk in the eggs, stirring until smooth.

Add the flour, again stirring until smooth.

Fold in the chocolate chips.

Spoon the batter into the pan, spreading it to the edges.

Bake the brownies for 34 to 36 minutes, until a cake tester inserted into the center comes out clean. The brownies should feel set on the edges, and just barely set in the center.

Remove from the oven and allow to cool completely in the pan before cutting.

Yield: about 24 brownies.
Reviews
I used vegetable oil in place of butter and added 1/4 cup of milk as i use whole meal flour and all purpose for a healthier dessert. Made it 5 times, a super hit even my mother who goes for traditional sweets loved it! Thanks a million for this recipe :)
These were so easy, and baked perfectly! I used some of KAF's double dutch cocoa and it made them even richer! didn't think the cinnamon flavoring was strong enough, but I'm an absolute fiend for cinnamon so very few recipes have enough for me without tweaking. I also added a few dashes of cayenne pepper, which turned out beautifully.
These are beyond sublime :)
Took these brownies out of the oven a little while ago and finally were cool enough to cut. I should have let them be, but oh no, I made the mistake of eating just a little crumb that I dislodged. Ahhem, now, there are several missing--that darned brownie fairy must have swooped into my kitchen and abscounded with, oh my, three or four??? All joking aside, these brownies are fabulous, and now I have to find a quick home for these or I'll sit here and eat them all...btw, I didn't use the 1/8 t of cinnamon oil, I think these are perfect without it! Definitely a keeper recipe, thank you again for all your hard work!
Those taste-tasting gremlins are everywhere! Happy Baking, Gremlins! Irene@KAF
Just baked these for about the tenth time, this time used half the brownies cut in small pieces atop a home made ice cream pie, (cracker crust, vanilla ice cream, home made hot fudge, more ice cream, more fudge, then the brownies drizzled with a little more fudge and a heavy rim of whipped cream around the edge). Before dinner the kids were warning each other to make sure you save room for the pie. Best part had half the batch of brownies left to enjoy. Love the amount this recipe makes.
These are simply, absolutely, unbelievable. The best brownies ever.
Wonderful!!! My husband and I love intensely dark chocolate, and these were fantastic. I also loved the added cinnamon (didn't use the cinnamon oil), but did use the espresso powder (we are coffee junkies too). Made these for a church function and got quite a bit of good feedback. There were a couple people who were not as fond of the dark chocolate flavor, but the cinnamon is what everyone commented about...they loved the addition.
Quite good, and the prep is easy. I only used ground cinnamon, and it was sufficient for a pleasant flavor.
Very delicious and interesting brownies! I saw this recipe in the catalog and I had to try them - never mixed cinnamon in brownie batter before. I used the KAF all purpose cocoa, espresso powder and ground cinnamon. I did not have cinnamon oil, but I'm glad I didn't use it - I think it would have made the cinnamon too overpowering. The way I made them had just the right amount of cinnamon. Baked these in the edge brownie pan. Will make again!
My husband says these are the best brownies I've ever made...and I have to agree. I've already made two batches in three days...for hubby, neighbors, and the office. They are fudgy and intense. The cocoa makes them deep dark. Espresso powder intensifies any chocolate recipe. The cinnamon is a great addition. The chips add more chocolatey texture. I used only ground cinnamon--not the oil. They are very easy--everything gets mixed up in one pan. Yes, it uses a lot of cocoa, but these are well worth it. Be sure to have a glass of cold milk on hand when you try them! Makes 24 good-sized bars, but you can easily cut each in half for a bigger crowd. Do not over bake them!