A customized print-friendly version of this recipe is available by clicking the "Print Recipe" button on this page.
Cinnamon-Streusel Coffeecake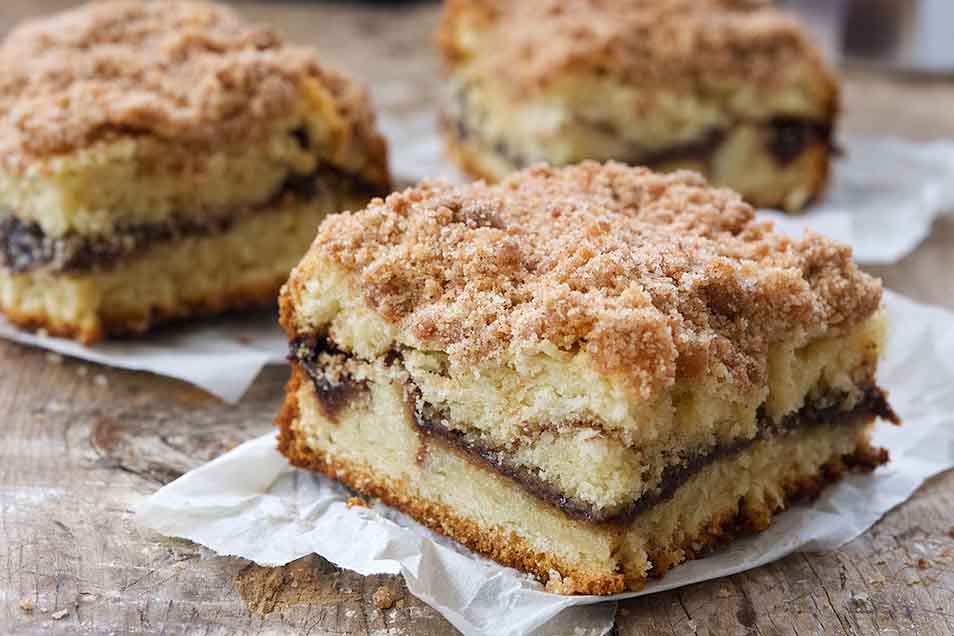 Looking for everyone's favorite comfort-food coffeecake? This is it. Soft and moist, nicely cinnamon-y, this is the quintessential breakfast coffeecake.
Note: For those of you looking for a cake with less filling, one where the golden cake itself is the main attraction, reduce the amount of brown sugar in the filling to 1/3 cup, keeping the remaining ingredients the same.
Our guarantee: This golden cake is tender and moist, with a middle layer of dark cinnamon filling and a crumbly streusel topping.
Ingredients
Streusel topping
1 cup granulated sugar
1/4 teaspoon salt (if you use unsalted butter)
1 tablespoon ground cinnamon
6 tablespoons butter, melted
Filling
1 cup brown sugar, light or dark
1 1/2 tablespoons ground cinnamon
1 teaspoon unsweetened cocoa powder
Instructions
Note: As a result of reader feedback, as of 3/24/17 we've adjusted the ingredient amounts in the streusel to yield a less dry, more pleasantly crumbly topping.

Preheat the oven to 350°F. Lightly grease a 9" x 13" pan, or two 9" round cake pans.

Make the topping by whisking together the sugar, salt, flour, and cinnamon. Add the melted butter, stirring until well combined. Set the topping aside.

Make the filling by mixing together the brown sugar, cinnamon, and cocoa powder. Note that the cocoa powder is used strictly for color, not flavor; leave it out if you like. Set it aside.

To make the cake: In a large bowl, beat together the butter, salt, sugars, baking powder, and vanilla until well combined and smooth.

Add the eggs one at a time, beating well after each addition.

In a separate bowl, whisk together the sour cream or yogurt and milk till well combined. You don't need to whisk out all the lumps.

Add the flour to the butter mixture alternately with the milk/sour cream mixture, beating gently to combine.

Pour/spread half the batter (a scant 3 cups) into the prepared pan(s), spreading all the way to the edges. If you're using two 9" round pans, spread 1 1/3 cups batter in each pan.

Sprinkle the filling evenly on the batter.

Spread the remaining batter atop the filling. Use a table knife to gently swirl the filling into the batter, as though you were making a marble cake. Don't combine filling and batter thoroughly; just swirl the filling through the batter.

Sprinkle the topping over the batter in the pan.

Bake the cake until it's a dark golden brown around the edges; medium-golden with no light patches showing on top, and a toothpick or cake tester inserted into the center comes out clean, about 55 to 60 minutes for the 9" x 13" pan, 50 to 55 minutes for the 9" round pans. When pressed gently in the middle, the cake should spring back.

Remove the cake from the oven and allow it to cool for 20 minutes before cutting and serving. Serve cake right from the pan.
Nutrition Information
Serving Size

1 slice (98g)

Servings Per Batch

24
Amount Per Serving:
Calories

340

Calories from Fat

100

Total Fat

11g

Saturated Fat

7g

Trans Fat

0g

Cholesterol

55mg
Sodium

250mg

Total Carbohydrate

56g

Dietary Fiber

1g

Sugars

36g

Protein

5g
* The nutrition information provided for this recipe is determined by the ESHA Genesis R&D software program. Substituting any ingredients may change the posted nutrition information.
Tips from our bakers
Since butter and sour cream are both key ingredients in this cake, we encourage you to use the best quality you can get. We highly recommend Cabot, a superb Vermont brand available nationally.
It's easy to spread half the batter in the pan when you know how much it weighs. If you have a kitchen scale, half the batter weighs about 28 ounces.
Want to prepare this coffeecake the night before, then bake in the morning? It's easy; simply cover the unbaked cake with plastic wrap, and refrigerate overnight. Next morning, bake the cake as directed. Start testing for doneness at the end of the suggested baking time; you'll probably have to add 5 minutes or so to the total time, to account for the batter being chilled.
Dress it up for guests: Make a glaze with ½ cup confectioners' or glazing sugar and 1 tablespoon milk; drizzle glaze over the cooled coffeecake.
Reviews
I made this cake in the wee hours of this morning. I couldn't sleep. The only difference I made was leave out the sour cream or yogurt. Just for my self, if granny didn't do it, I don't. One of my quirks. I followed the recipe otherwise. I swirled the knife in the bottom half of the batter in the dish. I didn't get the swirl. I baked this for 55 minutes at 350. I will have to adjust the temp and time. It came out fine cakewise. Nice and moist. The topping hardened and burnt around the edges. I baked it in my 9x13 pyrex dish. My favorite cake dish. I will bake it again with adjustments. Keep trying until perfection. Any suggestions are welcome. I also agree with one reviewer, this is a good base for other types of cake. Might make the lemon I been craving. Or later this spring some kind of berries. The cake went well at the morning coffee social.

Hi there, Jesse! We're glad to hear that you enjoyed this cake! When baking in a glass or ceramic pan we suggest lowering the oven temperature by 25°F because it conducts heat a bit differently than metal. This should help keep the edges a bit softer. Happy baking! Morgan@KAF
I made this tonight to bring to work tomorrow. Of course my family had to sample it to make sure it was good enough to share. While it was baking the whole house smelled great. I used a glass 9x13 so started checking for at around 45 minutes. It spent about 55 minutes in the oven. The taste is great, I pushed fhe topping in before baking so most of it stuck, but the bottom of the cake was almost too moist. It is cooked through but it is still moist. Maybe because I used yogurt instead of sour cream? Or since I used an extra egg since I am in the high desert. I think it should even out over night and as I said the taste is great. I will make this again but I may have to play with the high altitude alterations since I am at 4,500 feet.

Hi Laura! We're thinking that it was the yogurt that added the extra moisture, so next time hold back a few teaspoons of it and see if that gives you a slightly less moist texture. Annabelle@KAF
Hello, I followed the recipe to the letter but found it to be dense/ heavy on the bottom. Otherwise it looked and tasted great.

Hi there, Anna! We're sorry to hear that you were left feeling a little disappointed with this coffeecake. If you aren't already, we'd suggest using our flour brand of flour with this recipe, as another brand can be lower in protein content which makes the flour absorb less liquid. Also, with both a filling and a topping this cake is a bit on the denser side in order to support all that yummy goodness. If we can help to pick out a recipe that better fits your tastes, please give our Baker's Hotline a call at 855-371-BAKE (2253). Kindly, Morgan@KAF
Great coffee cake. Next time I will double the streusel because that is my favorite part. Good, simple instructions that were easy for me to follow. Family loved it.
I loved the recipe. However I had to reduce the sugar in the batter. I found it to be way too sweet otherwise.
Absolutely delicious! My family loved it. I will definitely make it again!
I've been wanting to make this recipe ever since I saw it and so tonight I made it almost exactly like the recipe- I used all ingredients as written, but I put them together differently. I creamed the butter, sugars, vanilla, and then eggs. Then I stirred in the sour cream and beat it for about 2 minutes. Then I added half of the flour/baking powder mixture, then half the milk, and then finished adding the rest and blended well. I had no problems putting it all together as I had combined the filling and streusel topping before I made the cake. I've been baking since 1970 when I was 11 years old, so this recipe was not difficult to put together or create. I did have to bake it almost 15 minutes longer than the recipe stated, but ovens can vary. I agree this is way too sweet. I wanted to try it first and then decide. Next time I make this I will cut the sugar in the batter and the streusel topping. I will also probably add some chopped nuts (walnuts or pecans), but this is a personal preference. I think fruit would be good in this, as suggested. The cake part is very moist, has a good crumb, a good flavor, and I may make this cake part again with just the inside filling. I could see using this cake for other means than a coffeecake without the filling. It would be really delicious without the cinnamon filling or topping, instead add some lemon juice, lemon peel, and fresh blueberries to make a blueberry cake. I can see doing all kinds of things with this cake base. Though there is a lot of sugar in this recipe, as some people have complained about, no one is eating the entire cake, and so as an occasional dessert as is, it should not pose a problem. Thanks for a great recipe that can be made as is, or toyed with to make other variations for other fun desserts.
I just want to say for any vegans out there, I substituted shortening, soy milk, and a starch-based egg replacer in this recipe and it turned out great! Perfect with a cup of strong black tea. I will definitely make it again, but reduce the topping and filling because I had extra.
I reduced the amount of filling but it's still really sweet. Didn't use the cocoa because it was allegedly just for color. I like the crunchy/crumbly topping. The cake is tender and tasty.
I have made this recipe 5 or 6 times now, this time with the revised topping. Good job on the revision, its perfect! This is my favorite coffee cake by far, 100% to my taste. More and more I find myself looking first at KAF recipes when searching. I feel like they really do test these recipes and listen to our feedback, making improvements when needed. Easy recipe. Super delicious.