A customized print-friendly version of this recipe is available by clicking the "Print Recipe" button on this page.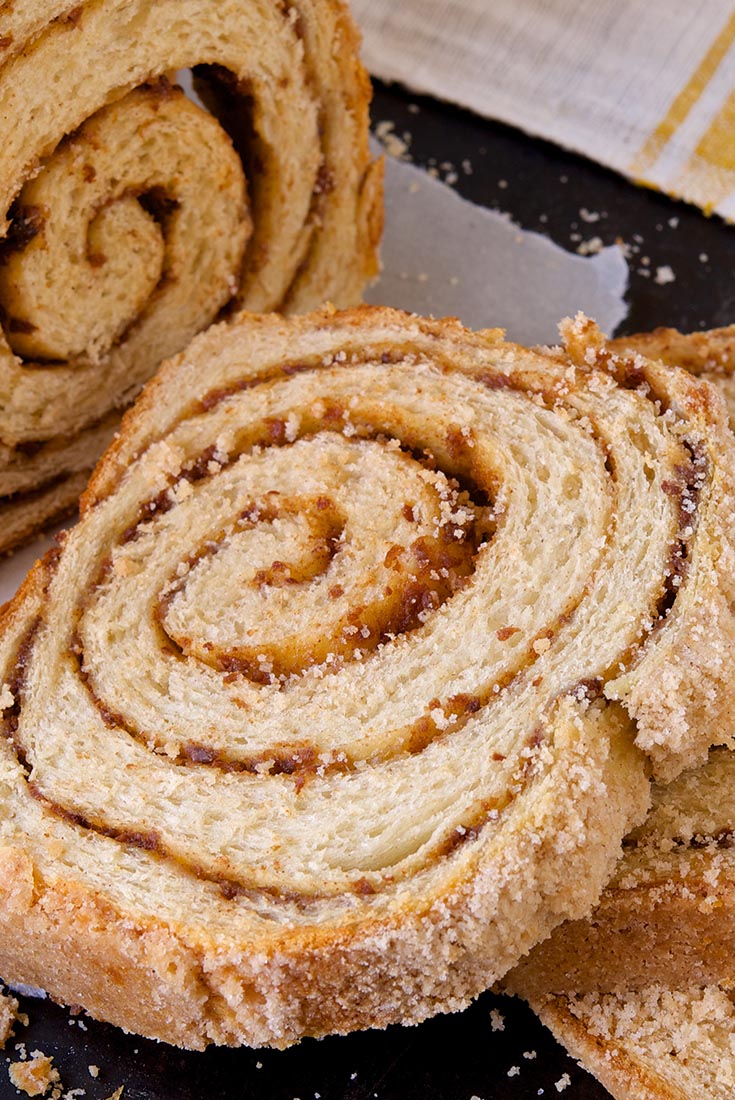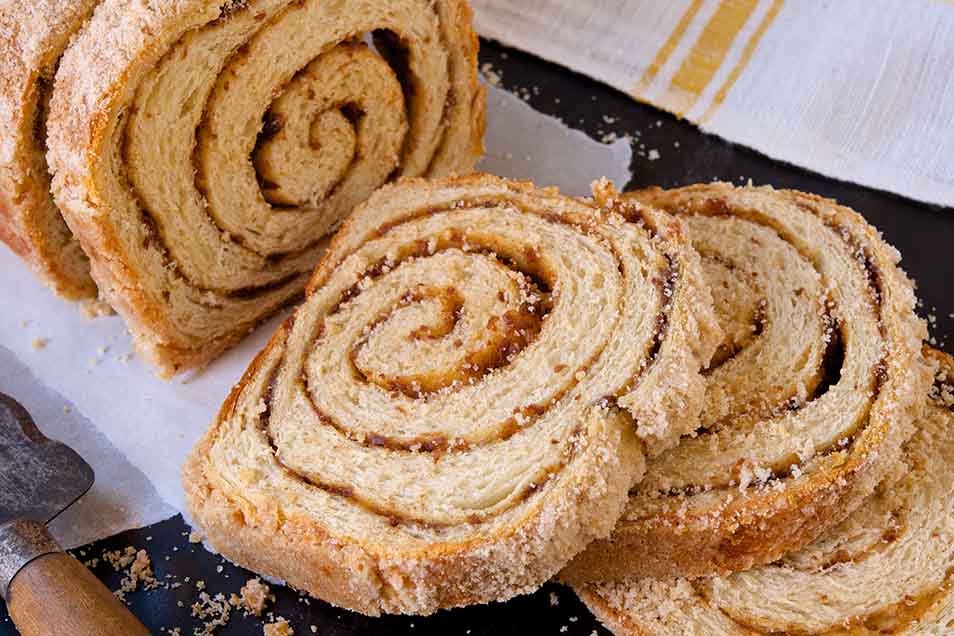 Classic cinnamon-swirl bread makes wonderful toast. Spread with soft butter or peanut butter, there's nothing better — except perhaps cinnamon-swirl French toast!
Ingredients
Streusel topping
2 tablespoons butter
2 tablespoons sugar
1/4 teaspoon cinnamon
Instructions
In a large mixing bowl, combine all of the dough ingredients, mixing until the dough begins to come away from the sides of the bowl.

Knead the dough with an electric mixer for 2 minutes; allow it to rest for 15 minutes, then continue kneading it for an additional 5 to 7 minutes, or until it's smooth. If you're kneading by hand, transfer the dough to a lightly oiled work surface; knead it for 3 minutes; allow it to rest for 15 minutes, then continue kneading till smooth, an additional 8 to 10 minutes. You can also simply knead the dough using the dough cycle of your bread machine.

Transfer the dough to a lightly oiled bowl (if you're not using your bread machine's dough cycle), cover the bowl with plastic wrap, and set it aside to rise for 1 to 1 1/2 hours; it'll be puffy, if not doubled in bulk.

Transfer the dough to a lightly oiled work surface, and shape it into a long, thin rectangle, about 16" x 8".

To make the filling, combine the sugar, cinnamon, raisins or currants, and flour in a food processor (mini preferred) or blender, processing until the fruit is chopped.

Brush the dough with some of the egg/water, and pat the filling onto the dough. Beginning with a short edge, roll the dough into a log. Pinch the side seam and ends closed (to keep the filling from bubbling out), and place the log in a lightly greased 8 1/2" x 4 1/2" loaf pan.

Cover the pan with lightly greased plastic wrap, and allow the bread to rise for about 1 hour at room temperature, or until it's crowned about 1" over the rim of the pan. Towards the end of the rising time, preheat the oven to 350°F.

In a small bowl or mini processor, combine the streusel ingredients, cutting in the butter until the mixture is crumbly. If you're using a mini processor, watch carefully; streusel will go from crumbly to a cohesive mass in just a second or so.

Brush the loaf with some (or all) of the remaining beaten egg, and add the streusel, using your fingers to gently apply it to the dough, being careful not to deflate the loaf.

Bake the bread for about 45 minutes, tenting the loaf lightly with aluminum foil for the final 15 minutes or so if it appears to be browning too quickly.

Remove the loaf from the oven, and after about 5 minutes, gently remove it from the pan. Some of the streusel will fall off, but you can alleviate this by first loosening all around the edges of the loaf with a knife, then turning the pan on its side and gently pulling it away from the loaf. Streusel will continue to fall off as you maneuver the bread — we've never figured out how they make that stuff adhere so nicely on the store-bought loaves! — but you'll still be left with some nice, sweet topping.
Tips from our bakers
For a deep-dark, moist, cinnamon swirl inside the bread, we like to blend together sugar, cinnamon, raisins or currants, and flour until smooth. The addition of raisins or currants adds moistness, as well as subtle flavor.
Unlike traditional cinnamon-swirl breads, that use melted butter as a base for the cinnamon-sugar filling, this loaf is brushed with beaten egg. Butter acts as a barrier between the pieces of rolled-up dough, preventing them from cohering, and giving you bread that "unravels" when you cut it. On the other hand, the protein in egg acts like glue, cementing the bread and filling together, and allowing much less (though still a bit) unraveling.
Reviews
This bread has a crispy crust and a perfect soft texture inside. I really like it. Next time I make it though I am going to use 1/2 the salt as the bread seemed a bit to salty. I'm also going to double the filling.
My substitutions were instant potatoes for the potato flour and whole milk rather than powdered milk and water. I found I needed more milk to bring the dough together. The dough was a joy to work with and the egg wash was a genius option for keeping the bread swirls together and the streusel on top. The finished product was fragrant and attractive to the eye. When sliced it was impossible to resist. This will go in the recipe box.
Easy and delicious. The only alterations I made were to use powdered soy milk as the dry milk ingredient and dried cranberries in place of raisins. I added a splash of orange extract to the cranberry sugar filling and it was a hit. The egg wash worked perfectly to 'glue' the filling in place and I brushed the seams with the filling too. No unrolling issues at all and the cinnamon sugar berry mixture perfectly filled in the swirls with no air pockets or gaps. I will definitely make this again.
This recipe is amazing and mostly what I was looking for. First the confession - I did not bake the bread portion of this recipe but instead I opted to use an enriched bread dough that I already use. I found the necessity to get some ingredients not in my pantry (potato flour and flakes) to be more than I wanted to deal with. If the first time with my own sweet white bread recipe didn't work then I was willing to go to the exact recipe. Thankfully the recipe came out so well with my own dough that I did not need to do that. The filling is amazing and the technique is spot on. I have even experimented with adding some nuts to the filling and been really happy with that tweak as well. I encourage anyone with a sweet white dough recipe to try this recipe with their own dough. You won't regret it at all.
I've baked this three times now in a loaf pan in a dutch oven and it's been a hit every time. Rises easy, dough works cleanly and tastes great.
I did half whole wheat and added a little extra water to compensate. Otherwise made exactly. My 6 year old said best bread ever and asked if I could make it again so she could have it for school lunch. Ht loaf was gone in 24 hours (and that is with only a 6 and 2 year old ). I'm taking one star off because I really feel the cooking time is way too long. I took mine out just a bit early and it was still very dark and to my taste quite dry (though everyone else didn't care). Also to my taste the swirl needs amped up a bit more, I think next time I'll add a bit more cinnamon and do a bit more raisins or a combo of raisins and some other dried fruit. I think the idea of how to put the ingredients together in the swirl is genius - the food processor worked great, I would add at least 1 tsp of water otherwise the cinnamon goes POOF every where!
I made the "mistake" of making this bread 3 weeks ago. I added raisins, to my husbands dismay and he begrudgingly admitted that this was his favorite bread recipe I've made so far. So now, I have to make it every weekend so we have nice toast for breakfast every morning. It's clearly a keeper for our household.
My daughter and I devoured this bread!! I was a little skeptical about putting the filling in the food processor, but the pulverized raisins made it moist and more uniform. We also substituted rice flour instead of potato flour as that was what we had - made no difference to the texture or taste. This is a keeper!!!
As a relatively new, self-taught baker, I have tried several bread recipes from this site. I have found a new favorite! This was my first time baking this one, it turned out perfect. Thanks to another review, i lined my loaf pan losely with parchment, so removal from the pan was simple and my topping undisturbed. The bread itself was awesome! Only difference from the recipe for me was that it took several hours for final rise. There is a winter storm here today, very cold out. My home is not cold inside, and I had several things cooking in the kitchen, so not sure why, but end product was great. I am so proud!
This is a great recipe. My son wanted some chocolate in it so I just added some dark chocolate chips to the food processor when I made the filling. It was very good with the raisins. An earlier post said that the baker had to add a lot of extra water than called for by the recipe. I found that the recipe called for by volume was a cup, but I prepared this by weight using grams. The 227 grams of water called for is just less than 1/2 a cup, so I had to add about another 1/2 cup. It turned out great, but it seems the weight is off in the recipe with grams. I'm not an extra baker so perhaps I missed something.