A customized print-friendly version of this recipe is available by clicking the "Print Recipe" button on this page.
Cinnamon Whole Wheat Scones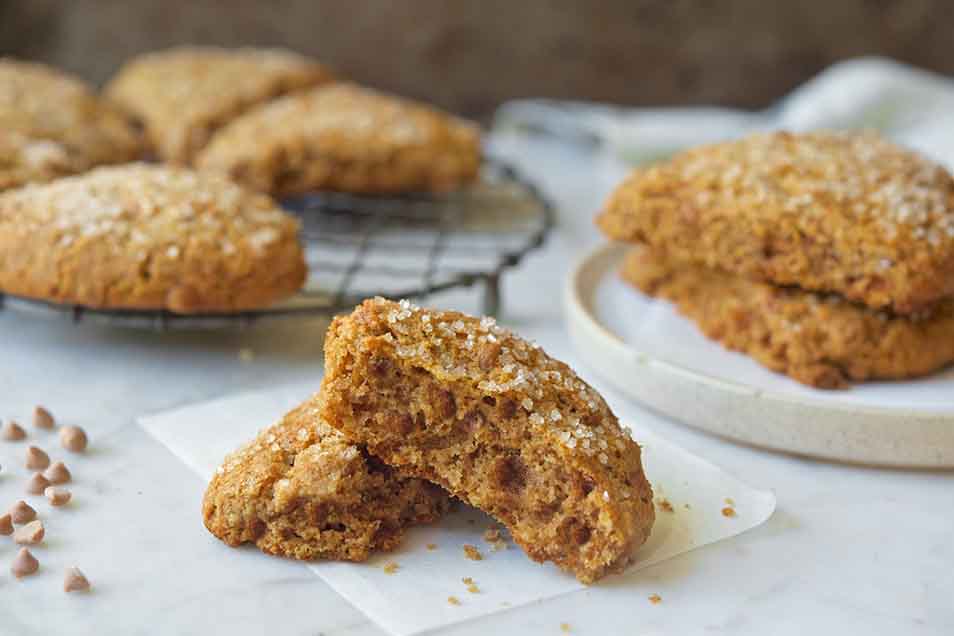 These scones are high-rising, tender, and tasty. Featuring both ground cinnamon and cinnamon chips, their aroma will fill the kitchen as they bake. Be sure to eat at least one hot from the oven; you'll never believe it's 100% whole wheat!
Ingredients
Scones
3 tablespoons granulated sugar
2 teaspoons baking powder
1/2 teaspoon baking soda
1 teaspoon ground cinnamon
1/2 teaspoon salt
1/2 cup (8 tablespoons) cold unsalted butter
1/2 cup cinnamon sweet bits, cinnamon chips, or the chips of your choice
1 large egg
1/2 cup milk
Topping
milk, for brushing scones
coarse white sparkling sugar, for topping
Instructions
Preheat the oven to 375°F. Lightly grease a large baking sheet, or line it with parchment.

Combine the flour, sugar, baking powder, baking soda, cinnamon and salt in a medium-sized bowl. Cut the butter into pats, and work it into the dry ingredients until the mixture is unevenly crumbly.

Add the cinnamon chips, stirring to distribute them.

Whisk together the egg and milk, and add to the dry ingredients in the bowl. Stir to make a cohesive dough.

Transfer the dough to a lightly floured work surface, and divide it in half. Shape each half into a disc that's about 4 3/4" wide and a scant 1" tall.

Place the discs on the prepared baking sheet. Brush them with milk, and sprinkle heavily with coarse sparkling sugar.

Cut each disc into six wedges. Pull the wedges apart so there's about 3/4" between them; they'll expand as they bake.

Bake the scones for 20 to 25 minutes, until they're set all the way through; break one open to be sure.

Remove the scones from the oven, and cool them on a rack. Store leftover scones, well wrapped, at room temperature for several days; freeze for longer storage.
Tips from our bakers
You'll never notice the whole wheat flour in these scones; it "disappears" thanks to cinnamon's assertive flavor and color. However, feel free to substitute an equal amount of all-purpose flour for the whole wheat, if you like.
For a richer, more tender scone, use 1/2 cup half-and-half or light or heavy cream in place of the milk.
Scones are like biscuits — tender, soft, and best made with as little handling as possible. Once you add the liquid to the scone's dry ingredients, stir VERY briefly, just until everything is moistened. Pat the dough out gently, cut, and bake.
Want to prep these ahead and bake the next morning? Shape the scones, place them on a baking sheet, tent with plastic wrap, and freeze overnight. Next day bake directly from the freezer, adding a couple of additional minutes to the baking time.
Make these scones special by topping them off with a simple glaze. Mix 1 cup confectioners' sugar with 2 to 3 tablespoons milk or cream. Drizzle over the warm scones before serving.
Reviews
I used 2 tsp cinnamon and 1/2 c cinnamon chips. I wanted to make these with my sourdough discard. I used the whole unfed discard (probably 1.5 cup) and make the ready of the recipe as called for except I only used 3 T milk. They came out delicious and we ate half of them right off the bat. I froze and grated the butter. This made kind of a mess so I think I'll just cut it in next time. I also put them in the fridge to cool for about 20 mins before baking. The recipe seems very forgiving.
I made these like the recipe, using all white whole wheat flour, except I used peanut butter chips instead of cinnamon chips. You were right that the whole wheat flavor does not overpower at all. My husband raved about these, especially the greater amount of crispy edges since the scones are smaller. I mixed these the night before and placed the dough triangles in the freezer as suggested in the recipe, and the scones baked perfectly the next morning. Next, I will order some cinnamon bits and try that. I also think these would be good with raisins.
I am really enjoying these. I did make a few changes and they turned out very well. Firstly, I used about 2/3 regular whole wheat flour and about 1/3 white flour ( I just kind of alternated between the two until I arrived at 2 cups worth, so I do not have exact measurements). I used raisins instead of cinnamon chips or any other chips. Lastly, I did not brush with milk or put on the coarse sugar. (For the milk, I forgot. As for the coarse sugar, I didn't have any.) Oh! I also increased the cinnamon to nearly 2 tsp., and I did not separate the dough into two rounds. I made it into one round and cut into eight triangles. Now, I do think these came out a little dry even though I lightly scooped and fluffed my flour. The only other reason I can think of is that I live in Broomfield, Colorado (we are at 5,420 ft.), and I probably should have added two or so more tablespoons of milk, but I didn't think of it until they were halfway through baking. Next time! They came out fairly tall as well. All over, I'm pleased! Will add more milk and try brushing the tops next time. I would recommend these!
I love making scones and love eating them! I made these scones and substituted sliced almonds for the cinnamon chips, and cut the sugar to only 2 T., but added everything else as directed. One hint I read a long time ago with regard to adding the butter is to use it frozen and grate it into the flour mixture with a grater. Works like a charm. These were a hit with my husband too.
I made the recipe as described, however it was a bit dry for my liking. I do use a food processor to cut in frozen butter because I'm not patient enough to do so by hand. That means that my butter was evenly sized like cornmeal, instead of being flaky chunks. I substituted chocolate chips for the cinnamon chips since I did not have any. These are definitely made with white whole wheat and won't fool anyone otherwise. I don't feel that it detracts from them, however.

Dryness often comes from adding a bit too much flour to the dough, which can happen if you're scooping the flour right into your measuring cup. To ensure you're using the right amount of flour, we recommend either measuring by weight using a scale, or fluffing and sprinkling the flour gently into your measuring cup one spoonful at a time before leveling off with a knife. This will help you measure light cups of flour that weigh about 4 1/4 ounces per cup. Happy baking! Kye@KAF
THESE ARE A DREAM! I made the recipe as close to as-is as I could. I made 3 changes: I used a stick of margarine since I had no butter, I used regular whole wheat flour since I don't buy white whole wheat flour and I used white chocolate chips. These are fantastic. They baked up nice and tall and are tenderly flaky. One thing I've learned along the way (after many failed scone attempts) is to let your dough rest before shaping it. I do think it has helped me yield taller, flakier scones. Another great recipe from KAF!
After seeing this recipe on my Facebook newsfeed, I knew I had to try them, but I also knew that I had to modify them to reduce the sodium content. After getting an encouraging reply from Irene, I tried the great experiment. I kept most of the recipe intact, just eliminated the baking soda, reduced the salt to 1/4 tsp. and upped the amount of baking powder to 1 Tbsp. I only use Bakewell Cream Baking Powder, as it is very low in sodium and works extremely well. They came out beautiful! They rose very well, baked in 20 min. and taste delicious. I used my usual scone method - grated frozen butter into the flour mixture, and after shaping, put the pan of scones into the fridge for twenty minutes, then into the oven. The reward is that each scone by my method has about 64 mg. sodium, as opposed to the 240mg. they would have had if I had followed the recipe exactly and used ordinary supermarket available baking powder.

Monica, we're thrilled to hear that you took Irene's advice and give this adjustment a try. We can almost smell the cinnamon sugar now... thanks for sharing your success with us. Happy scone baking! Kye@KAF
Neat, especially for whole wheat. Subbed rum-soaked dried apples for cinnamon chips. Cooked 20 min then 2 min broiler. Used demerara sugar.
Could honey be used instead of sugar? Would it be necessary to add more flour? Less milk? I LOVE that it's whole wheat flour, but we avoid using white sugar. I think you once posted general directions for substituting honey for sugar, but I can't find them now.
This recipe uses 3 tablespoons of sugar, so you might try using half that amount (1 1/2 tablespoons) honey. Add the liquid (1/2 cup milk mixed with one egg) gradually until you achieve a soft dough consistency. Happy baking! Irene@KAF