A customized print-friendly version of this recipe is available by clicking the "Print Recipe" button on this page.
Citrus Surprise Grapefruit Cake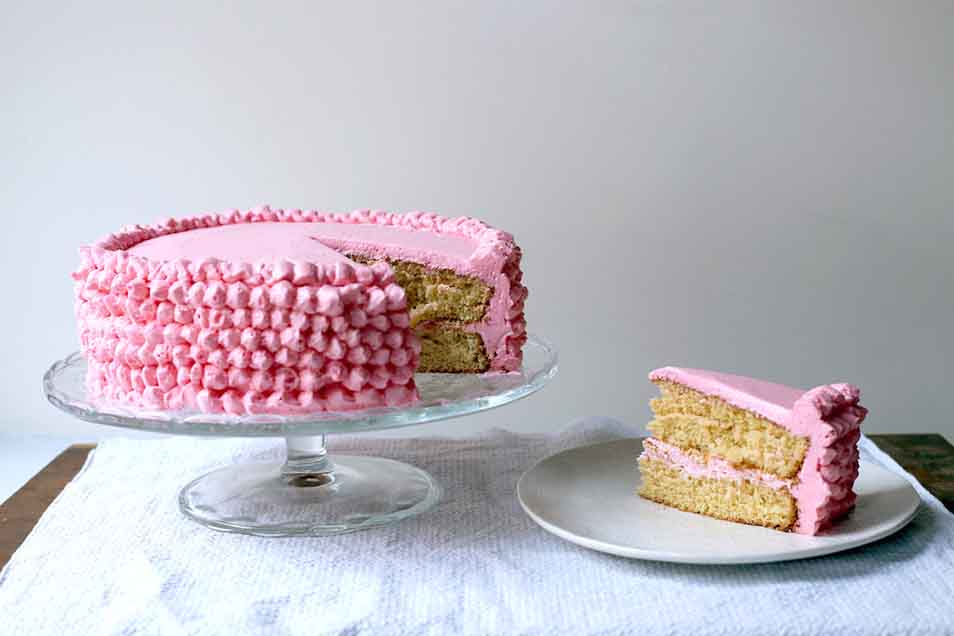 This recipe first appeared in our King Arthur Flour Whole Grain Baking book in 2006. Pairing whole wheat and citrus makes for an excellent combination. The whole wheat's sweetness is brought out by the tang of the citrus; and the earthy flavor of the wheat marries well with that of grapefruit. Using oil and egg whites makes for a very light cake that holds its structure well with nary a sign of heaviness from the whole grains.
Ingredients
2 teaspoons baking powder
1/2 teaspoon salt
5 large egg yolks, whites reserved
1/2 cup vegetable oil
1 1/2 cups granulated sugar
1/3 cup water
1/4 cup fresh grapefruit juice
1 tablespoon freshly grated grapefruit peel (zest)
5 large egg whites
1/4 teaspoon cream of tartar
Instructions
Preheat the oven to 350°F. Lightly grease two 9" round cake pans, line with parchment, and lightly grease the parchment. Set aside.

Whisk together the flour, baking powder, and salt in a medium bowl; set aside.

Combine the egg yolks and oil. Beat at low speed, using your stand mixer or a hand mixer. Slowly add the sugar as the mixture thickens. Add the water and grapefruit juice. Beat on medium speed for 3 minutes, stopping occasionally to scrape the bottom and sides of the bowl. Gently fold in the flour mixture and grapefruit zest with a wide rubber spatula.

In a separate bowl, free of any oil or grease, beat the egg whites until foamy. Add the cream of tartar and continue to beat on high speed until soft peaks form.

Gently fold the beaten whites into the batter by thirds. Combine only until traces of white remain; don't over-mix.

Divide the cake batter between the two pans and bake for 20 to 25 minutes, until a cake tester tests clean and the cake begins to pull away from the sides of the pan. For a 9" x 13" pan, bake 25 to 35 minutes. For cupcakes, bake 15 to 18 minutes.

Cool in the pan for 10 minutes before turning out onto a rack to cool completely. Frost as desired; see suggestions in "tips" at left.

Yield: two 9" round cake layers; one 9" x 13" x 2" sheet cake, or 24 cupcakes.
Tips from our bakers
Cream Cheese Frosting is delightful on this cake, as is Italian Buttercream. A few drops of pink food coloring combined with a drop or two of orange food coloring will give you a beautiful "pink grapefruit" colored icing.
Reviews
Wonderful cake. Bright and citrusy. I won't comment on the texture as I lacked a beater to whip the egg whites thoroughly. I subbed brown sugar for white - which I thought complimented the grapefruit flavor well. I do regret using the King Arthur cream cheese frosting recipe. Too sweet. The cake is already quite sweet. So, the second time I made this cake, I used a less sweet cream cheese frosting with a bit of lemon zest. It was perfect. The cake does dry out in after a few days in the fridge.
Um... basically my favorite baked good of all time. I don't crave cake much but when I do I typically want this one and try to sub it with other cakes and it just doesn't do it. Love that it's all whole wheat too!
I made two dozen cupcakes with this recipe. Despite using white whole wheat flour, the cupcakes were moist. I will definitely make these (or the cake) again.
Amazing cake, both in texture and flavor. My children (toddler and grade schooler) have enjoyed "helping" me bake this recipe several times, and it consistently delights. The steps with photos in Flourish helped me streamline the process and minimize dishes, to boot.
Great recipe..everybody liked it and no one could tell its whole wheat flower..thank u KA
Hi, I rarely see KAF products here in Asia, what other flours can I substitute that would work well for this recipe?
If you cannot find white whole wheat, you can substitute traditional whole wheat flour. Just keep in mind that the cake will be darker and slightly more "wheaty" tasting from the traditional whole wheat. ~Mel
I am always looking for new & different recipes for baking, and KAF never disappoints! This cake got rave reviews from my husband's co-workers! I was looking for something that sounded light & "summery" and this hit the spot! I made a 9x13 sheet cake & tinted the cream cheese frosting like it said in the hints. I didn't have time to do any fancy decorating, so I just sprinkled pastel nonpareils all over, and placed some flower sugar decorations on top. (I always stock up on the sugar decorations when they are on sale-you never know when they will come in handy!) KAF has some of the best recipes ever! Keep coming up with the great baking ideas!
I made this for Teacher Appreciation luncheon as a nice dairy-free option. They were tasty without frosting but even better with cream cheese on top - isn't everything? Next time I will try using four eggs. i found it a little "eggy" and scooped out 6 extra cupcakes, but the first 12 were a little more shrunken than the last 12. The whole wheat (I ground my own white wheat to use it fresh) was a great complement to the grapefruit and not at all heavy. All in all a tasty treat, something a little different and not so overwhelmingly flavoured that you think "oh boy, that's really grapefruity"
Fresh ground whole wheat really is sweet (both in process and flavor) - thanks for sharing your tips. Happy Baking! Irene @ KAF
As noted by Irene at KAF, white whole wheat flour is not the name KAF came up with, but is the what the wheat itself is called. Regular whole wheat flour is made from red winter wheat, pastry flour is from sping wheat, etc. White wheat does have a brighter color and taste. Some do not like it, preferring the regular whole wheat. KAF, however, is not to blame for the name. It is what it is!