A customized print-friendly version of this recipe is available by clicking the "Print Recipe" button on this page.
Classic 100% Whole Wheat Bread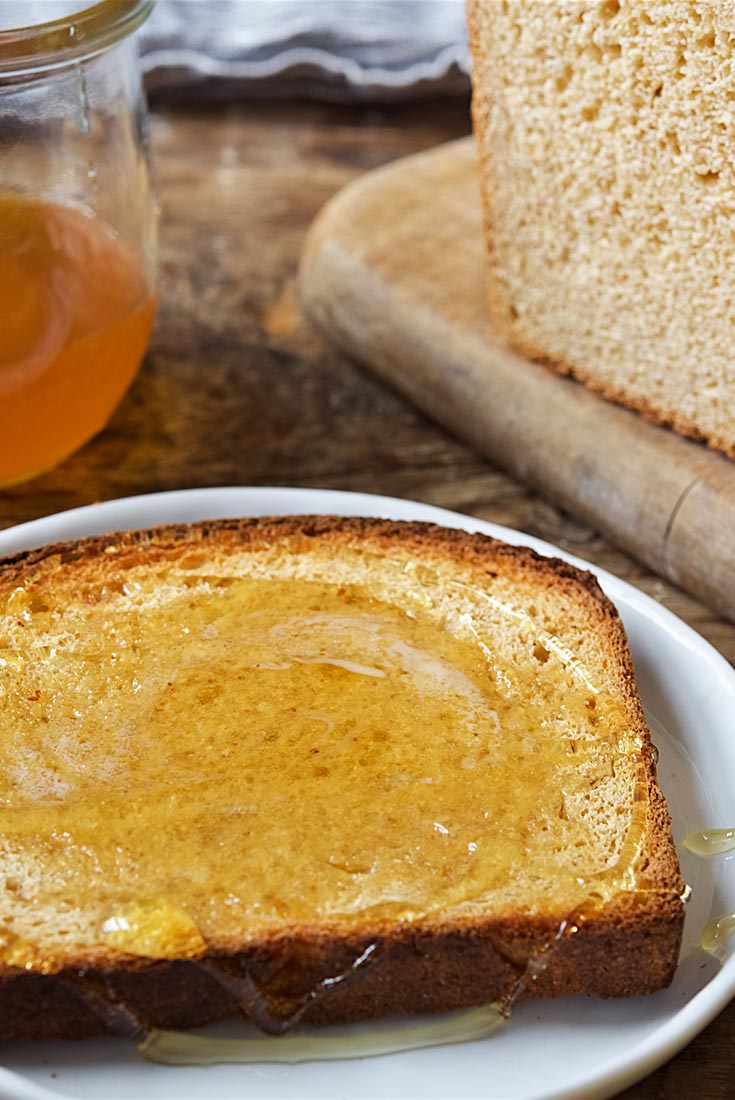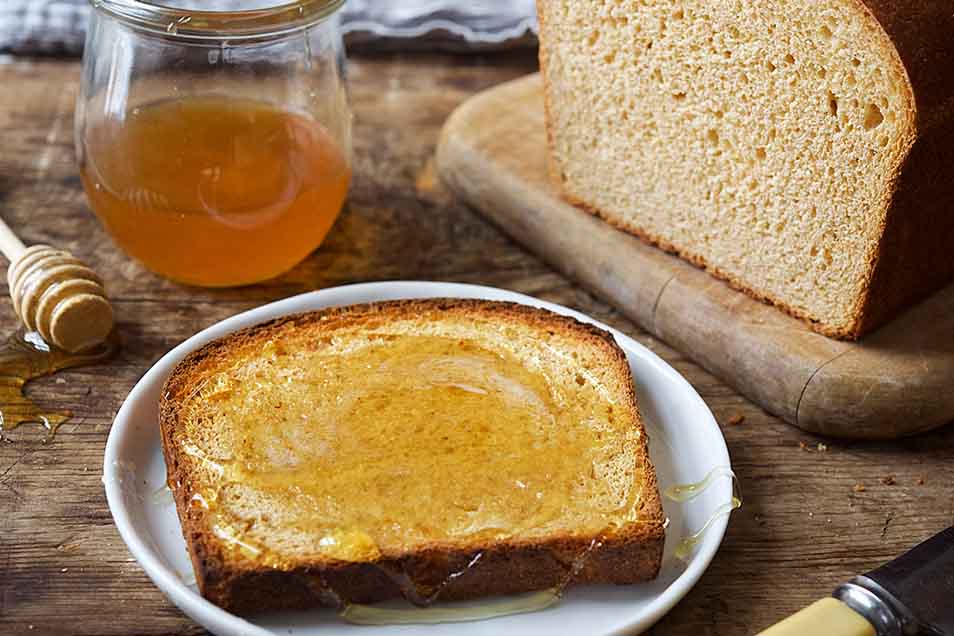 Who says whole wheat bread has to be dense, dry, and tasteless? This 100% whole wheat recipe features the delightfully nutty taste of wheat in a fine-grained, moist, faintly sweet loaf.
Ingredients
1 to 1 1/8 cups lukewarm water*
1/4 cup vegetable oil
1/4 cup honey, molasses, or maple syrup
3 1/2 cups King Arthur Premium 100% Whole Wheat Flour, White Whole Wheat Flour, or Organic White Whole Wheat Flour
2 1/2 teaspoons instant yeast, or 1 packet active dry yeast dissolved in 2 tablespoons of the water in the recipe
1/4 cup Baker's Special Dry Milk or nonfat dried milk
1 1/4 teaspoons salt
*Use the greater amount in winter or in a dry climate; the lesser amount in summer or a humid climate.
Instructions
In a large bowl, combine all of the ingredients and stir until the dough starts to leave the sides of the bowl. For easiest, most effective kneading, let the dough rest for 20 to 30 minutes in the bowl; this gives the flour a chance to absorb some of the liquid, and the bran to soften. Transfer the dough to a lightly greased surface, oil your hands, and knead it for 6 to 8 minutes, or until it begins to become smooth and supple. (You may also knead this dough in an electric mixer or food processor, or in a bread machine programmed for "dough" or "manual.") Note: This dough should be soft, yet still firm enough to knead. Adjust its consistency with additional water or flour, if necessary.

Transfer the dough to a lightly greased bowl or large measuring cup, cover it, and allow the dough to rise till puffy though not necessarily doubled in bulk, about 1 to 2 hours, depending on the warmth of your kitchen.

Transfer the dough to a lightly oiled work surface, and shape it into an 8" log. Place the log in a lightly greased 8 1/2" x 4 1/2" loaf pan, cover the pan loosely with lightly greased plastic wrap, and allow the bread to rise for about 1 to 2 hours, or till the center has crowned about 1" above the rim of the pan. Towards the end of the rising time, preheat the oven to 350°F.

Bake the bread for 35 to 40 minutes, tenting it lightly with aluminum foil after 20 minutes to prevent over-browning. The finished loaf will register 190°F on an instant-read thermometer inserted into the center.

Remove the bread from the oven, and turn it out of the pan onto a rack to cool. If desired, rub the crust with a stick of butter; this will yield a soft, flavorful crust. Cool completely before slicing. Store the bread in a plastic bag at room temperature.
Nutrition Information
Serving Size

1 slice

Servings Per Batch

16
Amount Per Serving:
Calories

150 cal

Calories from Fat

Total Fat

3.5g

Saturated Fat

Trans Fat

Cholesterol

0mg
Sodium

200mg

Total Carbohydrate

24g

Dietary Fiber

3g

Sugars

5g

Protein

5g
* The nutrition information provided for this recipe is determined by the ESHA Genesis R&D software program. Substituting any ingredients may change the posted nutrition information.
Tips from our bakers
Why the range of water in the dough? A lot depends on the weather, the season, and how you measure flour. You'll need the lesser amount of water in the summer; or when it's humid/stormy; if you measure flour by weight; or if you sprinkle your flour into the measuring cup, then level it off. You'll need the greater amount of water in winter; when it's dry out, and the humidity is low; or if you measure flour by dipping your cup into the canister, then leveling it off.
The liquid sweetener you choose makes a difference. Molasses produces the darkest loaf, one with old-fashioned flavor. Honey yields a lighter, milder loaf. Maple syrup makes a less-sweet loaf — unless you use real maple syrup, in which case it'll be similar to a loaf made with honey, albeit with a faint hint of maple.
If you're someone who tends to taste whole wheat as somewhat bitter, try substituting 1/4 cup of orange juice for 1/4 cup of the water in this recipe. A bit of orange juice tones down whole wheat's somewhat tannic taste.
Reviews
Bread turned out wonderful! I did modify slightly with half bread flour Also added 1/4 cup soy flour and 1/4 cup wheat germ And 1 T vital wheat gluten I had to leave the house for 5 hours so I just punched down the dough and let it rise again
The flavor of this bread is excellent. maybe
Some may think this is not picking, but modern bakers are abandoning baking measurements given in volumes as simply too inaccurate and too randomly variable. For consistency in measurement, especially flour, will you offer recipes in grams/ounces, please? Since buying a cheap kitchen scale, I have vastly improved the quality of baked goods by following the European weight measurements recipes. Thanks, love your products!

We love measuring by weight, John. You'll be happy to know that all of our recipes can be viewed and printed in ounces or grams. Simply select the way you'd like to see the recipe next to the word "Ingredients" at the top of the recipe. Happy baking! Annabelle@KAF
I've made this recipe several times. Each and every time, the dough is extremely sticky and never 'leaves the side of the bowl'. It's more batter than dough, although not quite as runny as a batter. I have made the liquid adjustments suggested for the season and climate/weather, whenever I make it, and I still get sticky dough-batter. Each time I've made the bread, I just scrape the dough-batter out onto my floured board and knead in more flour until it is actually dough and continue with the directions as written. It comes out great every time. I'm making it again today after having not made it in a while, and had the same problem, so I pulled up the recipe and pictures to go over them again to see what I'm doing wrong. Looking closely at the pictures, you can see that the baker ALSO added more flour, but neglected to mention it. The scraped bowl (when the dough is scraped to the center) is clean in one sticky picture, then has flour residue all around the bowl in the next picture, which shows a far less sticky dough. I added flour directly to the mixer bowl this time, instead of turning it out and kneading it in, and got the identical visual results. Some of the flour I added stuck around the bowl, and an actual dough ball in the center. If the bread doesn't turn out as good doing it this way, I'll go back to kneading in the NEEDED extra flour like I was doing before. Other than that omission, this is a really good bread recipe and I will continue to make it.
I bake a white sandwich bread using only 1/2 Tbs. (or 1-1/2 teasp.) yeast for 3 - 1/2 cup of KA flour. I like to use the same recipe switching to KA white whole wheat flour. I see you use 2 - 1/2 teaspoon of yeast for this loaf. Do I need to add extra yeast?

Hi Jette. 2 1/2 teaspoons is fairly standard for most yeast bread recipes because yeast packets are always 2 1/4 teaspoons. You're welcome to lower the yeast, just know that rising times may be a bit longer than the recipe suggests. Happy baking! Annabelle@KAF
Can I use Pillsbury whole wheat flour. in our place, its very difficuilt to get your flour.

Nit, King Arthur Flour is subject to some of the strictest standards in the industry, which means you can expect a reliable, high performance every time you bake. If you use another kind of flour, you may need to adjust the dough consistency by adding additional flour or water, as the strength of the flour may vary. When the bread is fully kneaded, it should be smooth and just slightly tacky to the touch. Good luck, and happy baking! Kye@KAF
I have made this bread twice. Each time the flavor and crumb was nice, but I found the dough hard to work with. I am a regular sourdough bread baker so using packaged yeast is new to me. The dough never felt like it would come together as I expected, maybe it is just different than a sourdough feels. It also took longer to proof than expected. I always weigh my ingredients and am aware of the temperature for proofing, but it was a 2 hour proof each time. I had some oven spring, but, again, different than what I was expecting. At a fully preheated 350 oven, it took an extra several minutes to reach an internal temp of 200. The bread has a nice soft crust and good taste so I will try again. This is a nice sandwich loaf but you may need to be flexible with timing.
This was delicios and very easy to make
Made this today tastes awesome! Why did it stick to the pan?

Sometimes sticky bread dough can get baked onto the pan and make it hard to remove your finished loaf. To prevent this, give your pan a coating of non-stick spray before adding the dough. (A sprinkle of cornmeal or semolina flour will act as extra non-stick insurance.) Kye@KAF
This is my regular recipe for whole wheat flour bread. I bake it on alternative weeks and have done so for months together now. One can never go wrong with this recipe, especially when the ingredients are weighed. Thank you KAF!