A customized print-friendly version of this recipe is available by clicking the "Print Recipe" button on this page.
Classic 100% Whole Wheat Bread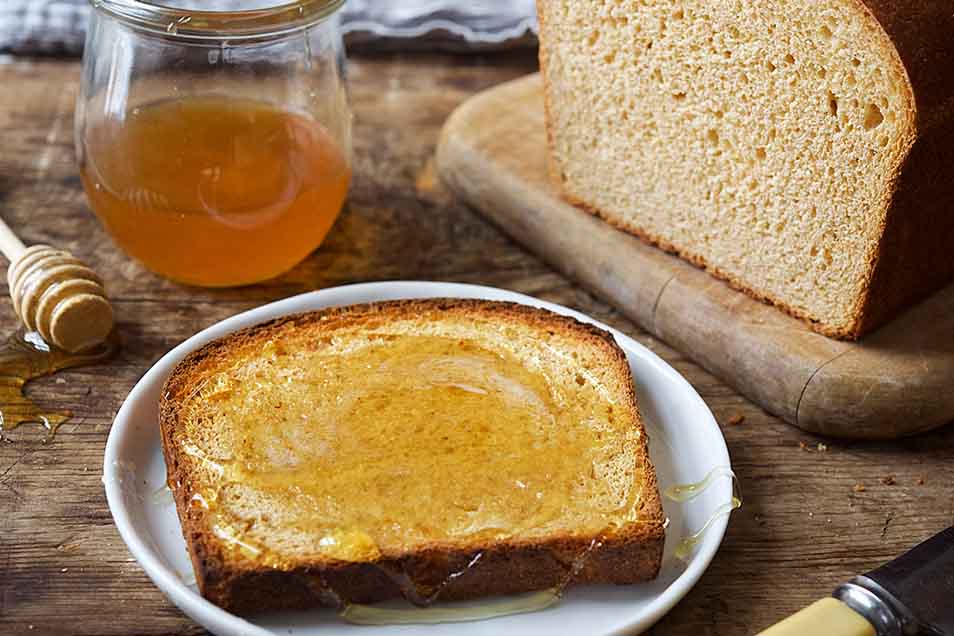 Who says whole wheat bread has to be dense, dry, and tasteless? This 100% whole wheat recipe features the delightfully nutty taste of wheat in a fine-grained, moist, faintly sweet loaf.
Ingredients
1 to 1 1/8 cups lukewarm water*
1/4 cup vegetable oil
1/4 cup honey, molasses, or maple syrup
3 1/2 cups King Arthur Premium 100% Whole Wheat Flour, White Whole Wheat Flour, or Organic White Whole Wheat Flour
2 1/2 teaspoons instant yeast, or 1 packet active dry yeast dissolved in 2 tablespoons of the water in the recipe
1/4 cup Baker's Special Dry Milk or nonfat dried milk
1 1/4 teaspoons salt
*Use the greater amount in winter or in a dry climate; the lesser amount in summer or a humid climate.
Instructions
In a large bowl, combine all of the ingredients and stir until the dough starts to leave the sides of the bowl. For easiest, most effective kneading, let the dough rest for 20 to 30 minutes in the bowl; this gives the flour a chance to absorb some of the liquid, and the bran to soften. Transfer the dough to a lightly greased surface, oil your hands, and knead it for 6 to 8 minutes, or until it begins to become smooth and supple. (You may also knead this dough in an electric mixer or food processor, or in a bread machine programmed for "dough" or "manual.") Note: This dough should be soft, yet still firm enough to knead. Adjust its consistency with additional water or flour, if necessary.

Transfer the dough to a lightly greased bowl or large measuring cup, cover it, and allow the dough to rise till puffy though not necessarily doubled in bulk, about 1 to 2 hours, depending on the warmth of your kitchen.

Transfer the dough to a lightly oiled work surface, and shape it into an 8" log. Place the log in a lightly greased 8 1/2" x 4 1/2" loaf pan, cover the pan loosely with lightly greased plastic wrap, and allow the bread to rise for about 1 to 2 hours, or till the center has crowned about 1" above the rim of the pan. Towards the end of the rising time, preheat the oven to 350°F.

Bake the bread for 35 to 40 minutes, tenting it lightly with aluminum foil after 20 minutes to prevent over-browning. The finished loaf will register 190°F on an instant-read thermometer inserted into the center.

Remove the bread from the oven, and turn it out of the pan onto a rack to cool. If desired, rub the crust with a stick of butter; this will yield a soft, flavorful crust. Cool completely before slicing. Store the bread in a plastic bag at room temperature.
Nutrition Information
Serving Size

1 slice

Servings Per Batch

16
Amount Per Serving:
Calories

150 cal

Calories from Fat

Total Fat

3.5g

Saturated Fat

Trans Fat

Cholesterol

0mg
Sodium

200mg

Total Carbohydrate

24g

Dietary Fiber

3g

Sugars

5g

Protein

5g
* The nutrition information provided for this recipe is determined by the ESHA Genesis R&D software program. Substituting any ingredients may change the posted nutrition information.
Tips from our bakers
Why the range of water in the dough? A lot depends on the weather, the season, and how you measure flour. You'll need the lesser amount of water in the summer; or when it's humid/stormy; if you measure flour by weight; or if you sprinkle your flour into the measuring cup, then level it off. You'll need the greater amount of water in winter; when it's dry out, and the humidity is low; or if you measure flour by dipping your cup into the canister, then leveling it off.
The liquid sweetener you choose makes a difference. Molasses produces the darkest loaf, one with old-fashioned flavor. Honey yields a lighter, milder loaf. Maple syrup makes a less-sweet loaf — unless you use real maple syrup, in which case it'll be similar to a loaf made with honey, albeit with a faint hint of maple.
If you're someone who tends to taste whole wheat as somewhat bitter, try substituting 1/4 cup of orange juice for 1/4 cup of the water in this recipe. A bit of orange juice tones down whole wheat's somewhat tannic taste.
Want to prolong the shelf life of this bread? Try the tangzhong technique, an Asian method for increasing the softness and shelf life of yeast bread. Begin by measuring out the flour and water you'll be using in the recipe. Now take 3 tablespoons of the measured flour and 1/2 cup of the water; put them in a saucepan set over medium-high heat. Cook the mixture, whisking constantly, until it forms a thick slurry; this will take about 1 1/2 to 2 1/2 minutes. Transfer the cooked mixture to a bowl, let it cool to lukewarm, then combine it with the remaining flour, the remaining water (+ 2 additional tablespoons), and the other dough ingredients. Proceed with the recipe as directed. Well-wrapped and stored at room temperature, your finished loaf should stay soft and fresh at room temperature for at least several days.
Reviews
I have tried several, whole wheat, bread recipes and this one is the one that worked well for me and gave me the best results. I combined the water, dry milk, molasses, and yeast in a separate bowl and let it start to foam while I measured the flour and salt. That seemed to jump start the yeast. I don't know if that shortened the rise time but the dough but it was ready to transfer to the pan in about an hour. The bread was moist and soft with a great molasses flavor that was a big hit.
This bread fills home with nice aroma . The 1st two trials I used tangzhong method and the bread came out dense like a pound cake , I didn't know why ?? So , I thought I should give the bread a 3rd shot . The 3rd time I didn't use the tangzhong method and used 3 tbsp of vital wheat gluten as recommended by one of the comments , and added 11 tsp flour until the dough came together and no longer sticky. Although the dough was a little stiff not like the white bread dough , the bread came out beautifully after baking. Can I added seeds and rolled oats next time or should I adjust water amount ?

Hi there, Merida! You certainly can add a blend of seeds and oats to your bread if you'd like. We'd suggest adding about a 1/3 to 2/3 cup of the blend to your dough. You shouldn't need any additional water, but if your dough seems a bit dry you can add in a tablespoon or two of water. Also, if you'd like help with intergrating the tangzhong technique into this recipe, our Baker's Hotline folks would be happy to talk throug hthat with you — you can reach them at 855-371-BAKE (2253). Happy baking! Morgan@KAF
Hi, bakers at King Arthur Flour, I baked this bread this morning. It was my first attempt on this recipe. I have a small issue here. After second proofing in the loaf pan, the center of the dough was around an inch above the edge of the pan. However, after baking, it came down by about half an inch. Do you have any idea of possible cause ? ( Fortunately the bread is still soft and tasty despite the drop in height) Thank you.

Hi Charlie! It sounds like the loaf just over-proofed a little bit so it collapsed once it hit the heat of the oven. Shortening up that final rise time should do the trick. You'll know it's ready to put in the oven if you poke the dough and the indent very slowly fills back in. Annabelle@KAF
I just made this bread today. It is so easy to make. It is so delicious. I plan on making this every week for sandwich bread.
I am a novice bread baker and found this recipe wonderfully easy and tasty! We do love whole wheat bread in our house. Could you please let me know if you think this recipe would work as burger buns (following the instructions from the KAF Beautiful Burger Buns recipe)? If so, would you suggest any adjustments to the recipe? Thank you!

Hi Jane! We're so glad you enjoy the nutty flavor of this wheat-filled recipe! We haven't tested making burger buns out of this particular dough, but we don't see it causing any problems. The baking instructions from the Beautiful Burger Buns recipe will carry over to this recipe. The only thing to keep an eye on is the final rise. Whole wheat is full of yeast-loving nutrients so the buns may rise more quickly than the other recipe suggests. Start checking them after about 30 minutes or so to see if they're nice and puffy and marshmallow-like — then they'll be ready for the oven. Happy baking! Annabelle@KAF
Thank you so much Annabelle.
Good recipe! Thanks KAf! No dry milk so I used 1 cup warm skim milk, aldo used canola oil, maple syrup, and dry yeast packet. Added 1 heaping tbsp each flaxseed and chia seeds. Kneaded on a canola-oiled silpat. When making sandwiches, my bread breaks apart. Can you please tell me what I'm doing wrong? Thank you much KAF.

Hi Shirley! The seeds might have something to do with the bread not holding together, but whole wheat bread is generally crumblier anyway. Try adding a couple of tablespoons of Whole Grain Bread Improver to strengthen things up a bit, and see if sprinkling the seeds on top rather than in the dough helps. Annabelle@KAF
Great recipe! I didn't have any powdered milk, so I subbed 3/4c milk and finished the remainder with water. It turned out soft and slightly sweet. It rose quite quickly with warm milk; I will try it with room temp milk to see how the longer rise affects the flavor. I like that it doesn't call for additional gluten for a good rise. My son's kindergarten class had a "Little Red Hen" unit, so I donated a loaf of this bread (as most had probably never had homemade bread), and the whole class called it "a slice of heaven!"
Just made this recipe and the bread was delicious. I wanted the bread to be vegan so I omitted the dried milk and used oat milk in place of the water. I also chose maple syrup as a sweetener. The flavor was perfect.
I have made this bread for years and have used this recipe most Saturdays for 2-years. It is absolutely my favorite for whole wheat bread and I use my KitchenAid which makes it simply easy! Bread always turns out delicious with no failures!