A customized print-friendly version of this recipe is available by clicking the "Print Recipe" button on this page.
Classic 100% Whole Wheat Bread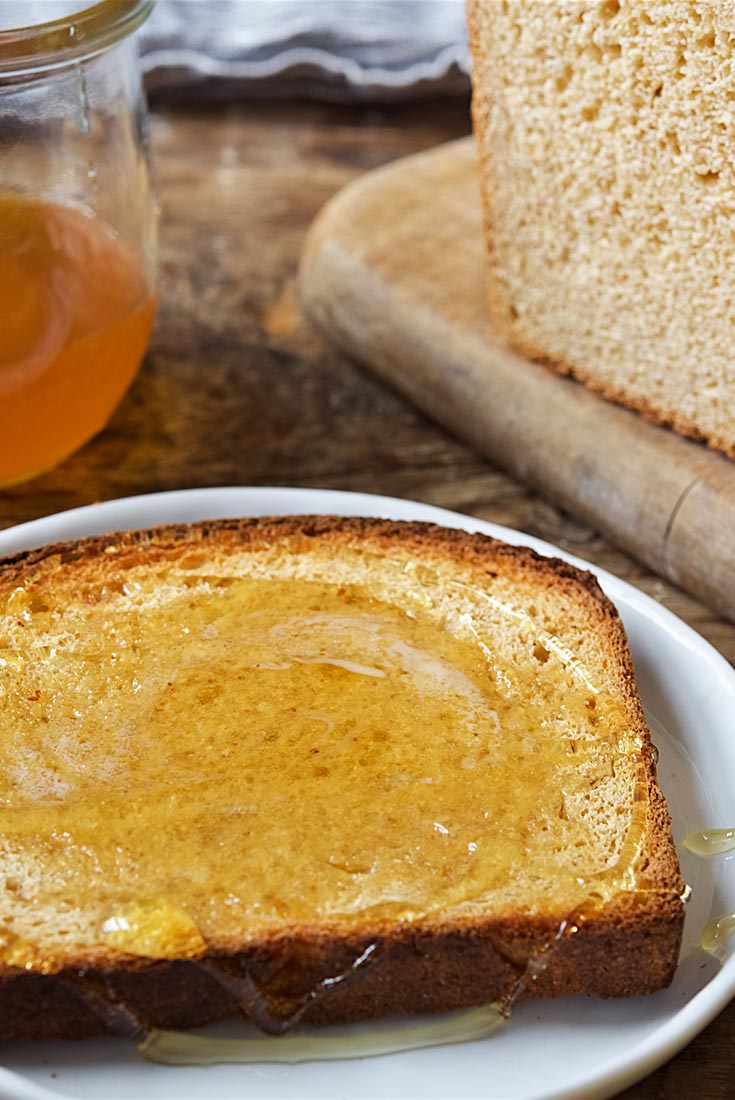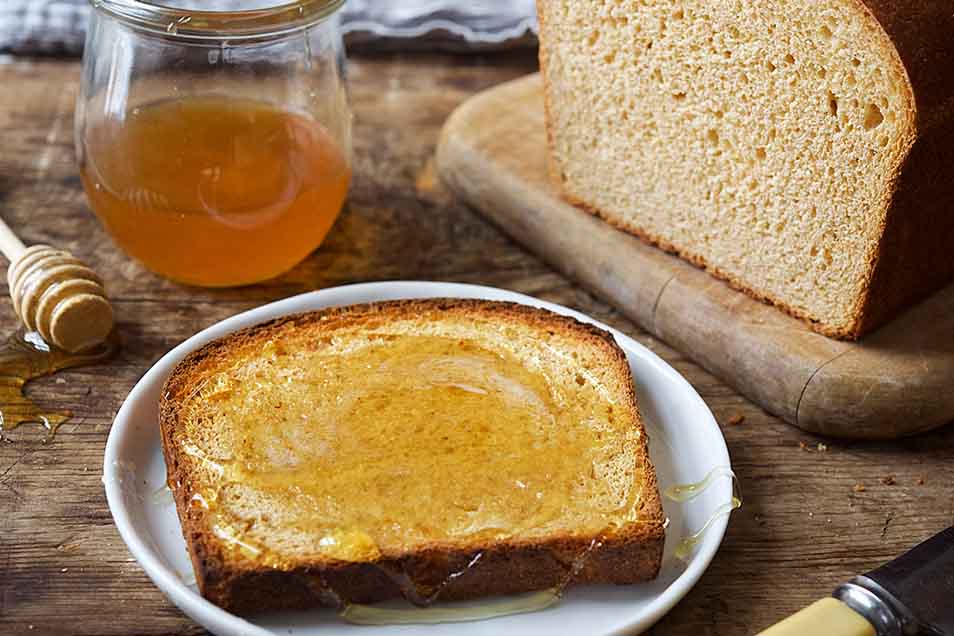 Who says whole wheat bread has to be dense, dry, and tasteless? This 100% whole wheat recipe features the delightfully nutty taste of wheat in a fine-grained, moist, faintly sweet loaf.
Ingredients
1 to 1 1/8 cups lukewarm water*
1/4 cup vegetable oil
1/4 cup honey, molasses, or maple syrup
3 1/2 cups King Arthur Premium 100% Whole Wheat Flour, White Whole Wheat Flour, or Organic White Whole Wheat Flour
2 1/2 teaspoons instant yeast, or 1 packet active dry yeast dissolved in 2 tablespoons of the water in the recipe
1/4 cup Baker's Special Dry Milk or nonfat dried milk
1 1/4 teaspoons salt
*Use the greater amount in winter or in a dry climate; the lesser amount in summer or a humid climate.
Instructions
In a large bowl, combine all of the ingredients and stir until the dough starts to leave the sides of the bowl. For easiest, most effective kneading, let the dough rest for 20 to 30 minutes in the bowl; this gives the flour a chance to absorb some of the liquid, and the bran to soften. Transfer the dough to a lightly greased surface, oil your hands, and knead it for 6 to 8 minutes, or until it begins to become smooth and supple. (You may also knead this dough in an electric mixer or food processor, or in a bread machine programmed for "dough" or "manual.") Note: This dough should be soft, yet still firm enough to knead. Adjust its consistency with additional water or flour, if necessary.

Transfer the dough to a lightly greased bowl or large measuring cup, cover it, and allow the dough to rise till puffy though not necessarily doubled in bulk, about 1 to 2 hours, depending on the warmth of your kitchen.

Transfer the dough to a lightly oiled work surface, and shape it into an 8" log. Place the log in a lightly greased 8 1/2" x 4 1/2" loaf pan, cover the pan loosely with lightly greased plastic wrap, and allow the bread to rise for about 1 to 2 hours, or till the center has crowned about 1" above the rim of the pan. Towards the end of the rising time, preheat the oven to 350°F.

Bake the bread for 35 to 40 minutes, tenting it lightly with aluminum foil after 20 minutes to prevent over-browning. The finished loaf will register 190°F on an instant-read thermometer inserted into the center.

Remove the bread from the oven, and turn it out of the pan onto a rack to cool. If desired, rub the crust with a stick of butter; this will yield a soft, flavorful crust. Cool completely before slicing. Store the bread in a plastic bag at room temperature.
Nutrition Information
Serving Size

1 slice

Servings Per Batch

16
Amount Per Serving:
Calories

150 cal

Calories from Fat

Total Fat

3.5g

Saturated Fat

Trans Fat

Cholesterol

0mg
Sodium

200mg

Total Carbohydrate

24g

Dietary Fiber

3g

Sugars

5g

Protein

5g
* The nutrition information provided for this recipe is determined by the ESHA Genesis R&D software program. Substituting any ingredients may change the posted nutrition information.
Tips from our bakers
Why the range of water in the dough? A lot depends on the weather, the season, and how you measure flour. You'll need the lesser amount of water in the summer; or when it's humid/stormy; if you measure flour by weight; or if you sprinkle your flour into the measuring cup, then level it off. You'll need the greater amount of water in winter; when it's dry out, and the humidity is low; or if you measure flour by dipping your cup into the canister, then leveling it off.
The liquid sweetener you choose makes a difference. Molasses produces the darkest loaf, one with old-fashioned flavor. Honey yields a lighter, milder loaf. Maple syrup makes a less-sweet loaf — unless you use real maple syrup, in which case it'll be similar to a loaf made with honey, albeit with a faint hint of maple.
If you're someone who tends to taste whole wheat as somewhat bitter, try substituting 1/4 cup of orange juice for 1/4 cup of the water in this recipe. A bit of orange juice tones down whole wheat's somewhat tannic taste.
Reviews
Hi team, I have made this bread endless times and totally love it. But in the lookout for a more softer version I want to try it using the tanzghong method. So I have a few questions here. First to calculate the hydration should I include the honey, oil and water as a part of liquid ingredients? Should I consider milk powder and flour as a part of dry ingredients? Also to make the roux, should o stick with the same ratio of 3 tbsp flour to 5 times the liquid? Another question is that while making the roux the weight reduces by say around 15 grams so should I again add back that balance liquid to the dough?

Hi Seema, we like your idea of giving this recipe a tangzhong treatment. To determine the hydration of the dough, focus on the ratio of the water to flour in this recipe. You can drill down further into the hydration of the other liquid ingredients in the recipe to be even more precise if you like, but it's not necessary. (If you'd like to take this extra step, you can account for the honey being 17% water; the oil is 0% water, 100% fat.) Do not include the dry milk powder as part of the hydration ratio; only use the flour weight.

The hydration of this dough is about 57% if you use the lower amount of water (not including the moisture contributed by the honey), or 64% if you use the higher amount. To use the tangzhong method, you'll want to start by increasing the hydration to 75%. This means you should use 298 grams of water in this recipe.

To make a standard tangzhong slurry, use between 5 and 10% of the flour in the recipe and make sure the ratio is one part flour to five parts liquid. 10% of the flour weight is about 40 grams of flour, so you'll want to use 200 grams of water to make the slurry. You do not need to do anything else to account for the moisture that's lost when making the slurry; this is why we increase the hydration initially. We hope this helps, and happy baking! Kye@KAF
I follow the exact recipe but my bread came out with only brown top but the bottom is so white. What did I do do wrong?

We wouldn't be concerned with the bottom not browning, Pam, but if you'd prefer it were browner in appearance, you can try baking with your pan closer to the bottom of your oven, or rubbing a bit of olive oil on the bottom of the loaf before letting it rise in the pan and see if that helps. Annabelle@KAF
This is THE whole wheat bread recipe that my husband will eat! I have looked for years for a recipe that would work for sandwiches without falling apart. This is it. I have been making this bread, with some adjustments, for the last 4 years. In fact, I even sell this one at a farmer's market these last 2 years. I adjusted the recipe to our liking using way less honey, both white and red wheat, (freshly ground), and some high gluten flour. It took me some time to get the quantities of these items worked out to where we prefer and so that it is consistent every time. I make at least 4 loaves of this a week during the summer and sell out just about every time. It is beautiful bagged and on my table and I get lots of compliments on it.
I used melted butter instead of oil, and raw honey. My 6 year old grandson couldn't get enough and my husband loved it!!!
I've made this. It's perfect. And most importantly exact measurements. I have only 1 question: can you reduce the amount of honey/ molasses/oil as I have a 78 year old mother suffering from diabetes, cholesterol and a stroke survivor. Any tips? Thank you.

Feel free to reduce the sugar based on your preference, Zohor. We'd recommend still including about 1 to 2 tablespoons to help with flavor, browning, and the shelf life of the bread. As for the oil, you can also reduce it to about 2 tablespoons knowing that the final loaf will be slightly less tender and soft with this adjustment. You may need to add a few teaspoons of additional water to the dough to compensate for the moisture that won't be added; add enough water until the dough feels soft and tender. Happy baking! Kye@KAF
After a year of baking, trying to find a recipe that turned out like the photo, this one does - every time - at least that's my experience. For this bake, I substituted 1/8th cup of brown sugar for the honey. This was my third bake using the recipe, all three have turned out great. In my latest bake, instead of tap water, I used bottle water and the 1st rise filled my 8 cup measure in less than an hour. I also did my first platted bread using this recipe, turned out really good. It's added to my KAF recipe box and it's staying there. Easy to access from my tablet on the kitchen counter.
Great loaf of bread. Sorry didn't trust KA and used 2/12 cups wholewheat flour and 1 cup KA bread flour. Used dried buttermilk because thats what I had, added 1/2 tsp cinnamon, but don't know why. End result was fantastic, best wholewheat bread I've ever made. I should try the original recipe but family liked this so much don't know if I will change. NOTE: The I original recipe calls for a 20- 30 minute rest after mixing before Kneading. Don't skip thus rest period...
Can milk be substituted for some of the water & the dried milk? Or do I need to get a bag of the nonfat dry milk?

You can absolutely use regular milk place of the Baker's Special Dry Milk. Simply replace the 1/2 cup water with another 1/2 cup of regular milk. The loaf will still be beautifully tender. Happy baking! Annabelle@KAF
In a tribute to Stan Evans, we modified this recipe to make a raspberry swirl bread for French Toast. After the first rise, roll out the dough on a countertop, spread raspberry preserves on top, roll up the dough, and place in a loaf pan for the second rise. Bake at 350 for an hour.
I used molasses and followed the recipe exactly using all KA products - ww flour, milk and diastatic malt. Just OK, not worthy of a repeat. Thought the malt would lighten it up a bit. Back to the old Tassajara recipe I guess...