A customized print-friendly version of this recipe is available by clicking the "Print Recipe" button on this page.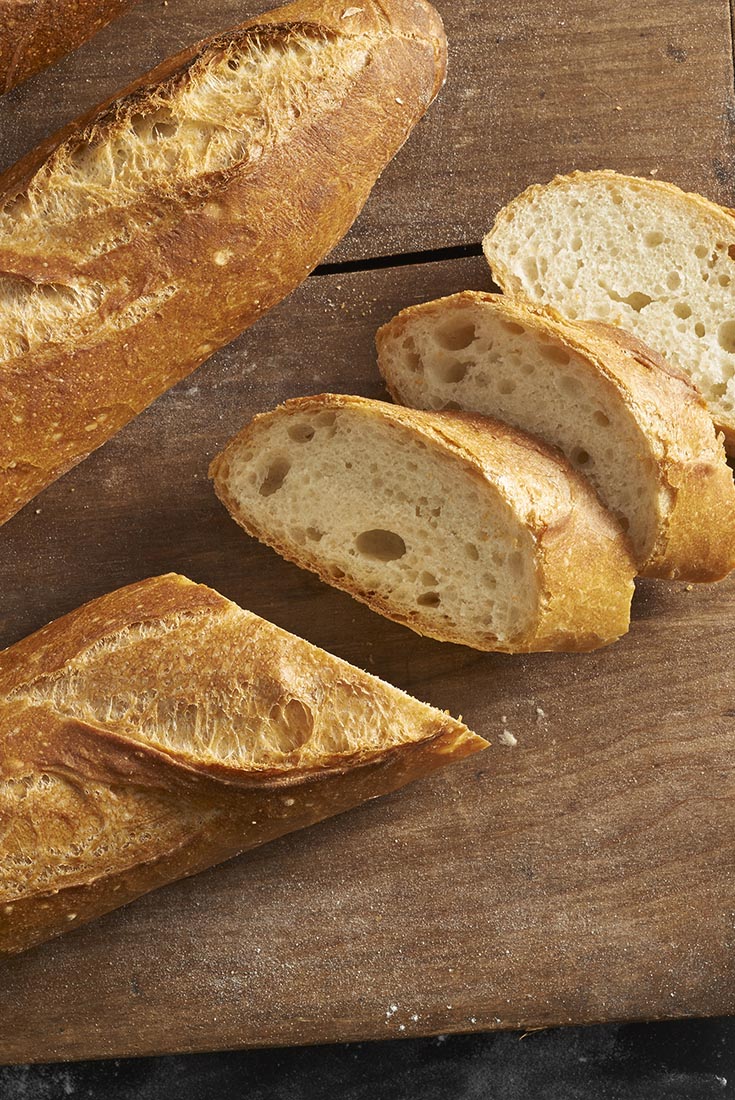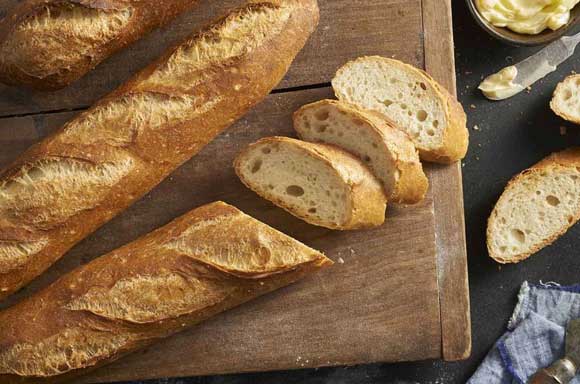 These crunchy baguettes feature a chewy interior riddled with holes, and a crisp, deep-gold crust. While it's a challenge to make "real" baguettes at home, this version is probably as close to an artisan bakery version as you're going to find. The ingredients in baguettes are pure simplicity: flour, water, salt, and yeast. It's the baker's technique that turns an average baguette into an all-star. Don't expect perfection the first time out, but the more you practice your baguette-baking techniques, the better the baguette you'll make.

Our guarantee: These baguettes, right out of the oven, will have a crunchy crust; later, the crust will become chewy. They'll be a deep golden brown, about 16" long, and 1 3/4" to 2 1/2" in diameter.
Ingredients
Starter (poolish)
1/2 cup cool water
1/16 teaspoon active dry yeast or instant yeast
Instructions
To make the starter: Mix everything together to make a soft dough. Cover and let rest at room temperature for about 14 hours; overnight works well. The starter should have expanded and become bubbly.

To make the dough: Mix and knead everything together — by hand, mixer or bread machine set on the dough cycle — to make a soft, somewhat smooth dough; it should be cohesive, but the surface may still be a bit rough. If you're using a stand mixer, knead for about 4 minutes on medium-low speed (speed 2 on a KitchenAid); the finished dough should stick a bit at the bottom of the bowl.

Place the dough in a lightly greased medium-sized bowl, cover the bowl, and let the dough rise for 90 minutes, gently deflating it, folding the edges into the center, and turning it over after 45 minutes.

Turn the dough out onto a lightly greased work surface. Gently deflate it, and divide it into three equal pieces.

Round each piece of dough into a rough ball by pulling the edges into the center. Cover with greased plastic wrap, and let rest for 15 minutes; or for up to 1 hour, if that works better with your schedule.

Working with one piece at a time, flatten the dough slightly then fold it nearly (but not quite) in half, sealing the edges with the heel of your hand. Turn the dough around, and repeat: fold, then flatten. Repeat this whole process again; the dough should have started to elongate itself.

With the seam side down, cup your fingers and gently roll the dough into a 16" log. Your goal is a 15" baguette, so 16" allows for the slight shrinkage you'll see once you're done rolling. Taper each end of the log slightly to create the baguette's typical "pointy" end.

Place the logs seam-side down onto a lightly greased or parchment-lined sheet pan or pans; or into the folds of a heavily floured cotton dish towel (or couche). Cover them with lightly greased plastic wrap, and allow the loaves to rise until they're slightly puffy ("marshmallow-y" is the term we use in our baking school). The loaves should certainly look lighter and less dense than when you first shaped them, but won't be anywhere near doubled in bulk. This should take about 45 minutes to an hour at room temperature (about 68°F).

Towards the end of the rising time, preheat your oven to 450°F with a cast iron pan on the floor of the oven, or on the lowest rack. If you're using a baking stone, place it on a middle rack. Start to heat 1 1/2 cups water to boiling.

If your baguettes have risen in a dish towel or couche, gently roll them (seam side down) onto a lightly greased (or parchment-lined) baking sheet. If you plan on baking them on a baking stone, roll them onto a piece of parchment, and lift the parchment onto a baker's peel.

Using a baker's lame (a special curved blade) or a very sharp knife held at about a 45° angle, make three to five long lengthwise slashes in each baguette.

Load the baguettes into the oven. If you're baking on a stone, use a baker's peel to transfer the baguettes, parchment and all, onto the hot stone. Carefully pour the boiling water into the cast iron pan, and quickly shut the oven door. The billowing steam created by the boiling water will help the baguettes rise, and give them a lovely, shiny crust.

Bake the baguettes — on the pan, or on a stone — for 24 to 28 minutes, or until they're a very deep golden brown. Remove them from the oven and cool them on a rack. Or, for the very crispiest baguettes, turn off the oven, crack it open about 2", and allow the baguettes to cool completely in the oven, until both baguettes and oven are at room temperature.

Store any leftover baguettes in a paper bag overnight; freeze for longer storage. Thaw and reheat just before serving.
Nutrition Information
Serving Size

one slice

Servings Per Batch

12
Amount Per Serving:
Calories

50

Calories from Fat

0

Total Fat

0g

Saturated Fat

0g

Trans Fat

0g

Cholesterol

0mg
Sodium

95mg

Total Carbohydrate

11g

Dietary Fiber

0g

Sugars

0g

Protein

2g
* The nutrition information provided for this recipe is determined by the ESHA Genesis R&D software program. Substituting any ingredients may change the posted nutrition information.
Tips from our bakers
We recommend our unbleached all-purpose flour for this recipe, as its protein level and other attributes closely mimic the flour used by French bread bakers. Feel free to use unbleached bread flour, if you like; there's no need to adjust the amount of liquid, the dough will simply be a bit stiffer.
A long, slow rise is an excellent way to develop flavor in simple breads like this baguette. As yeast grows, it releases organic acids and alcohol, both of which are flavor carriers. If desired, reduce the yeast in the dough to 1 teaspoon and allow the dough to rise for 3 hours (rather than 90 minutes) at cool room temperature (around 68°F). Gently deflate the dough, fold it into the center, and turn it over after 1 hour, and again after 2 hours.
To make demi baguettes: Divide the dough into 6 pieces. Shape each piece as you would for a classic baguette, rolling them into 7" to 8" long loaves.
Bake baguettes in a three-well baguette pan, if desired. To bake baguettes in a stoneware baguette baker: Divide the dough into four pieces. Shape each piece as you would for a classic baguette, rolling them into 12"-long loaves.
To make an épi de blé, a slightly longer and more slender loaf that bears resemblance to its namesake sheaf of wheat: Divide the dough into 3 pieces. Shape each piece as you would for a classic baguette. Hold a pair of scissors at a low angle at one end of the loaf and open the scissors so they're wider than the width of the bread. Make a swift, clean cut 3/4 of the way into the dough, moving the cut piece to one side of the loaf. Repeat the process 2" to 3" farther down the loaf, moving the newly cut piece to the opposite side of the loaf from the first. Continue doing this until you reach the other end of the loaf. Note: the farther you cut into the loaf, the more elegant, though fragile, your épi de blé will be.
Want to make baked stuffed baguette sandwiches? See full instructions in our blog.
Reviews
I am currently making this recipe and I am a little confused as to what to do when u say "let dough rise for 90 minutes, gently deflating it, frolding the edges in from the center, and turning it over after 45 minutes" what do I have to do here exactly do I wait another 45 minutes after folding the corners in after the initial 90 minutes? Would like a response ASAP

Hi Shawn, thanks for reaching out to us with your question. We apologize for any confusion within the recipe. If you ever have a "baking emergency," where you need some information right away, please don't hesitate to give our Baker's Hotline a call at 855-371-BAKE (2253). We're here to help when you need it.

To clarify, the baguette dough should be folded over onto itself and then turned over halfway through the 90-min rest time, after 45 minutes have passed. If you'd like to see a visual example of what the folding looks like, head to the Learn section of our website and look for Videos >> Baking Skills. There's one called, "How to Stretch and Fold Pizza Dough." You can also click on the link near the top of this page to see a full step-by-step tutorial on our blog. (Look for it on the right-hand side of the page, above.) We hope this helps, and happy baguette baking! Kye@KAF
Tried this recipe for the first time & the baguettes turned out perfect! Thank you!
I have baked this recipe twice now. While the crumb and texture are outstanding, both times the dough was so wet that I couldn't get it to keep it's shape. I divided the dough in two and made oblong baguette shapes. The dough just spread out. I baked it as it was and it was delicious, but ended up slightly oblong and quite low.

Don't hesitate to add a few tablespoons of additional flour if your dough is that soft, Sammie. You should be able to work with your dough and shape it, even if it's slightly sticky. If you're not already doing so, it's important to use King Arthur All-Purpose Flour. It has a higher protein content than most other brands, which means it gives the dough more support and helps your baguettes hold its shape and rise high. Add a bit more flour next time, and your baguettes will be perfect! Kye@KAF
I baked these for the first time yesterday! I thought it was good and I can't wait to try again and make some stuffed ham and cheese ones next time. I weighed all of my ingredients, used KA AP flour, and kneaded by hand (sadly, this 22 year old does not own any machines yet) and I have a couple questions: 1) The dough was quite wet while I kneaded by hand. Dough was cohesive but rather sticky - is that okay? Is there a recommended kneading time when kneading by hand so I don't over-knead? 2) When shaping, should the epi de ble be cut before the final 45 minute rest, or after? 3) My slashes remained thin even after baking. Could it be that I had not cut deep enough (I was having trouble with the knife, will get a lame next time) or my loaves were over-risen? I let them sit for 45 min with the AC on, but it's been a warm summer. 4) Any tips on how to get a thicker/crunchier crust? Should I spritz them with water before baking? I let them cool to room temp in the oven shut off and I had a nice crispy crust but I think I could have improved it to get them like the picture! Thank you so much!

We're happy to answer your baguette questions, Genevive.

1. Sticky dough is just fine, in fact, it's good. You can't really over knead if you're working by hand, but our blog article Kneading Wet Dough by Hand will give you some helpful tips.

2. You'll want to cut the slashes for an épie de blé right before putting your loaf into the oven.

3. I too have struggled with making my cuts deep enough, but a lame definitely helps. Getting a good 1/4" depth allows the slash to really open up into an "ear."

4. Spritzing your loaves with water before baking will be somewhat helpful, but you'll have more success if you put either a cast iron or disposable aluminum pan at the bottom of your oven and pour boiling water into it just after you put the bread in. Close the door quickly to keep the steam in. It will give you a crispier crust. If you want a thicker crust, that's usually achieved by a longer, darker bake.

If you ever have any questions, feel free to call our free and friendly Baker's Hotline at 855-371-BAKE (2253) since customers aren't notified when we answer questions on recipe reviews. Happy baking! Annabelle@KAF
Amazing go to recipe for baguettes that I've been using for a few years now. I strongly suggest a baguette pan for shaping in step 8. Although this dough is somewhat slacks it hasn't been a problem for me.
Lovely recipe! It turned out with the most divine crust, and the flavor was excellent. The only criticism I have is that the crumb was a little to fine for me, there weren't large holes like I like, but I might have knocked a bit of the air out. Overall, they were practically perfect!
Kid friendly, vegan and delicious! Added olive oil here and there to help - perfect recipe.
Very happy with this recipe; I used a couple of old baguette pans (and spritzed the oven rather than using cast iron) and the result was a trio of excellent, professional looking baguettes. The dough was very easy to work with, flavorful and baked with a crisp crust and sweet, chewy interior. I will make again.
I gave this recipe a try and was astounded by how well it all came together. This was my first try at baking a slightly more complex bread (my previous go to recipes are the simpler white sandwich loaves and no-knead breads), so I wasn't sure what to expect. That being said, the baguettes came out perfectly! They had a crispy/crackly exterior crust and a soft/airy interior crumb structure. The aroma was absolutely divine. I brought some in for my coworkers to try and they all remarked that this was the freshest and purest french bread that they've eaten in some time. The recipe does give you good direction, but I would suggest providing either pictures or more details with regards to the folding, shaping and sealing process. It was a little vague, but I pulled up a few videos on YouTube to get the general idea. I definitely will need to work on my shaping abilities, but overall the end result was quite good. I shaped two large baguettes and 3 smaller mini-loaves using the standard recipe. They all came out perfectly done...the smaller loaves did not dry out or blacken in the oven before the larger loaves.

Adrian, you'll be happy to hear we have a full step-by-step tutorial on our blog, which you can access by clicking the orange link above on the right-hand side of the page. The article includes instructions as well as photos to help guide you successfully through the baguette-making process. We hope you'll check it out and find it helpful in your future baguette making endeavors. Happy baking! Kye@KAF
I have made this 3 times. As a novice baker, I was stunned at how fantastic they turned out the first time. The second time, I followed the recipe to a T and they overflowed the baguette pan. I later learned, after trying a few other recipes, that the tremendous humidity and summer heat could affect the dough. My third try was on a humid summer Virginia day. I made the following modifications: I used 1 oz less water; I used cooler water (not cold); and I added just a smidge less yeast. I watched the first rise time closely so it wouldn't over prove. I cut into 3 hunks, let rest, then formed the loaves. I could tell by the texture of the dough that it was way better than the prior time. I then put them in the fridge for about 3 hours. I got them out and let them rest on the counter just while I preheated the oven. This was the best batch yet! A final note...I have a lot of trouble with the slashing. I find it is easier to put one big slash down the middle long ways. Otherwise I can't get the cuts deep enough and I mangle the loaves, even though I am using a fancy lame I bought at Sur La Table. Long story short, these baguettes last only minutes after you get them out of the oven because THEY ARE EATEN UP immediately! Thank you, KA!