A customized print-friendly version of this recipe is available by clicking the "Print Recipe" button on this page.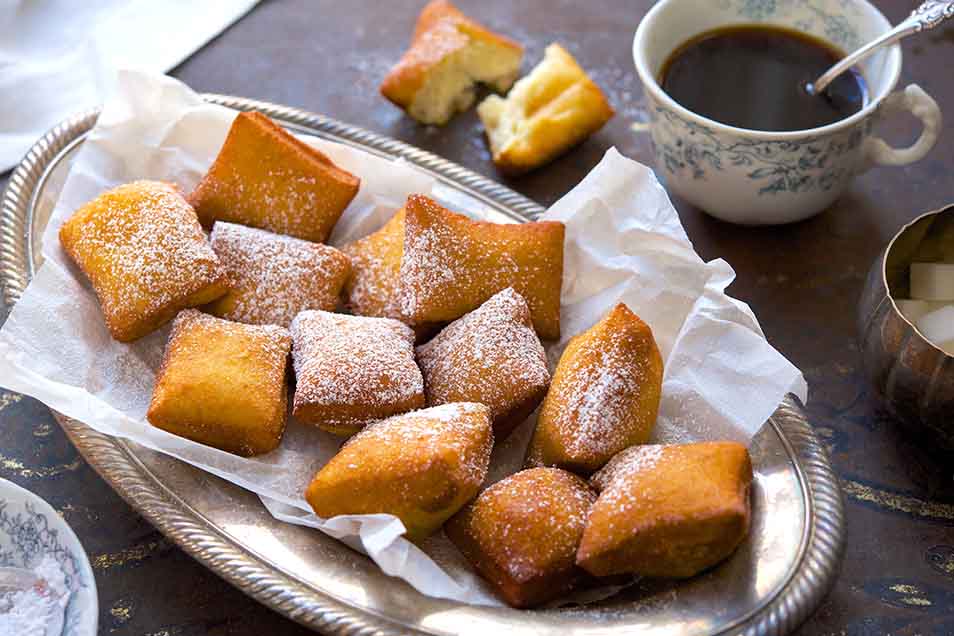 This recipe makes the traditional beignet, a signature yeast-raised breakfast treat native to New Orleans. Incredibly strong black coffee laced with chicory is the classic accompaniment.
Ingredients
Dough
1/2 cup lukewarm water
1/2 cup lukewarm milk
2 tablespoons butter, melted
1 large egg
1/2 teaspoon Buttery Sweet Dough Flavor, optional
1/4 cup granulated sugar
2 teaspoons salt
2 teaspoons instant yeast
Instructions
Combine all of the ingredients, and mix and knead them together — by hand, mixer or bread machine — until you've made a soft, smooth dough.

Allow the dough to rise, covered, for 1 hour, or until it's puffy (though not necessarily doubled in bulk).

Gently deflate the dough, and place it in a greased bowl or greased plastic bag, choosing a bowl or bag that will allow the dough to expand. Cover and refrigerate overnight, or for up to 2 days.

Remove the dough from the refrigerator, and place it on a lightly greased or floured work surface; a silicone rolling mat works well here.

Roll it into a 14" x 10" rectangle, squaring off the corners as well as you can without being overly fussy.

Cut the dough into 2" squares.

Pour peanut, safflower, or canola oil to a depth of at least 3/4" in a 10" electric fry pan (first choice), or a deep, heavy-bottomed 10" frying pan set over a burner.

Heat the oil to 360°F, and drop 5 or 6 squares of dough into the hot oil. They'll sink to the bottom, then after about 5 seconds or so, rise to the top.

Fry the beignets for 1 minute, then use a pair of tongs to turn them over. Fry for another minute, until the beignets are puffed and golden brown all over.

Remove from the oil and drain on paper towels.

When the beignets are cool, sprinkle them heavily with confectioners' sugar. For a real New Orleans experience, serve with strong coffee.
Reviews
I read so many Beignet recipes and ultimately decided to actually try this one. Based on my countless reading it seemed to me that many reviewers believed evaporated milk to be a key in a great tasting Beignet along with a little extra sugar to remove the "bland" from the end results. I changed 2 things: (1) I used all evaporated milk (no water) and (2) increased the sugar to 3/4 cup. I used my automatic bread machine to do all of the work and refrigerated it overnight. Since I wasn't sure what to expect I was concerned when the dough didn't double or rise like I believe it would similar to bread. I took out the dough about 20 minutes before I wanted to make them. I rolled out dough and used a 2x2 square cutter and got 40 perfect squares with left over "edges". I used a small sauce pan filled half way up and fried the "edges" to test the timing before officially making the 2x2 squares. I fried 2 at a time so I could be sure to control they didn't overcook or burn as well as make sure everyone got hot fresh Beignets. They puffed up and browned nicely. My adult daughters raved they were better then the ones we had at Cafe Du Monde in New Orleans!!! Because I had so many I am trying my hand at freezing the uncooked dough for later use in hopes when I get the urge for fresh Beignets I have some ready to make in short order. The recipe was easy to follow and my family really loved them. Thanks for a great recipe.
Since I started making beignets, Mine always included allspice or nutmeg. I let mine rise longer so they are larger pillows. I also use a ziploc with table sugar and whatever spice I used, putting those hot pillows in and shaking them good. Even though I have a High-Quality cinnamon, I don't recommend it. I tastes off. I do want to try Cardamom As always they are gone very fast.
I broke recipe protocol and did not read the instructions all the way through before I started. Oops. I let the dough rise for 1.5 hours and skipped the refrigeration step. They turned out beautifully! Perfectly, fluffy little pillows of fried dough. They were gobbled up. P.S. I halved the recipe, but used the whole egg.
Have I bothered lately to tell King Arthur Flour how much I love them? Being from New Orleans and retired in Washington state I don't get home very often. I've tried many recipes for beignets but they've all fallen short...until now. I wish I could post my photos but they all puffed up perfectly and were light an airy. Thanks!
I made this recipe as is, sans the butter flavor, and mixed the dough in my bread machine last night about 8 pm. I then transferred the dough to a container and chilled overnight in the fridge until ready to cook about 4 pm. I rolled the dough out about 1/4 inch and cut it into squares (I did not need any extra flour to roll out, the dough was soft and supple, very smooth - I did make a slit in the center of the dough and then popped them into the hot oil. They puffed and browned beautifully. I did baste them with hot oil and turned them as soon as the one side browned. Drained in a rack over a foil covered sheet tray and then into a bowl of confectioner's sugar to cover. I left a few un-sugared for me. They were a big hit and eaten to rave reviews. A keeper!
I have now made this twice, but with the quantities halved, as there are just three of us (I still use a whole egg, though). The first time, they puffed up beautifully, but were a little dry and dense and ever so slightly uncooked on the inside, though perfectly brown on the outside. I added another couple tablespoons of liquid yesterday when I made the half-recipe of dough, and the dough was quite a bit softer. But they were easy to pat out and cut this a.m., and puffed up beautifully again, and were more soft and tender inside while consistently "done" and just as gorgeously brown. My family and I are so happy with this recipe, and will make it whenever we have a laid-back morning!
Not only was this recipe easy, but I see so many possibilities than just a powdered sugar topping. Glazing, dunking in chocolate or caramel sauce or topping with jam all seem like fun dessert ideas that would satisfy my sweet American tooth. As a reviewer noted, the beignets do not stay soft for very long so I appreciated the tip to freeze the extra beignets as soon as they're cut into squares.
This is the probably the best recipe ive found online. This is similar to the paula deen thats popular. THe problem with Paula's recipe is that it calls for 7 freaking cups of flour. So newbies end up making waaay to much which creates a huge mess in the kitchen and excess. a quick lesson if you are seeing many versions of this recipe. Shortening vs butter? shortening is pure fat, it is not as flavorful as butter but it allows more rise and texture. i use half/half but its up to you (shortening may not be a healthy options) to get both the flavor and texture, but not a big deal. Evaporated Milk vs milk (evaporated milk is nothing more than milk with 60% less water) Hands down use Evaporated Milk if possible since it makes it more creamier.
I followed the recipe and my final beignets looked like the ones in the picture. I found that they were a little dense. I didn't get the pillowy texture I was hoping for. It's possible that this is due to a lack of final proofing. If following the recipe, the dough ferments at room temperature after mixing. It also ferments further in the fridge. After you pull it out from the fridge, roll, and cut the dough, the recipe doesn't specify a final rise. I did not let mine rise, and it still looks like the one in the picture. Also, the actual beignets is not sweet since there is barely sugar in there. For a yeasted dough, I did not get any complexity of flavor.

I cross-referenced ten other examples of beignets, and they all specify frying directly from the fridge, so I don't believe this is incorrect. They really pop up if the oil is hot enough, and much of the sweetness comes from the powdered sugar on the top. If you'd like to call the Hotline, we can offer other suggestions to make the perfect fried dough. Laurie@KAF
Mmmmm, delicious! These were easy to prepare, and they came out wonderfully. The only problem I encountered (besides stuffing myself too full) was keeping the beignets flipped after turning them - some of them expanded so much on the uncooked side that they wanted to stay that way!

Try turning them over a bit sooner before they get a large dome on one side. You can always turn them back over to finish browning fully, but flipping them a bit earlier may help them come out more even (and stay flipped!). Happy baking! Kye@KAF