A customized print-friendly version of this recipe is available by clicking the "Print Recipe" button on this page.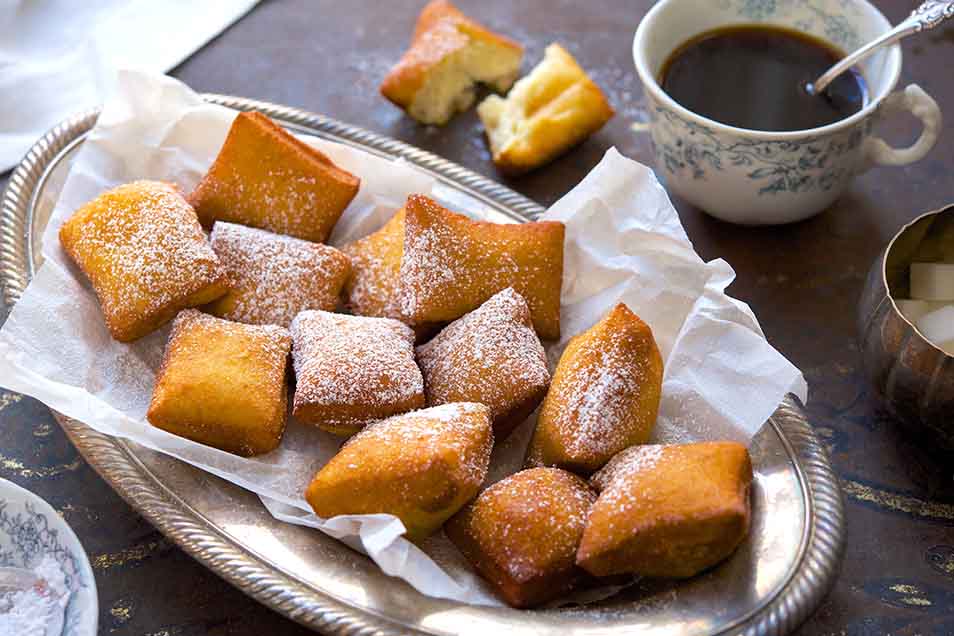 This recipe makes the traditional beignet, a signature yeast-raised breakfast treat native to New Orleans. Incredibly strong black coffee laced with chicory is the classic accompaniment.
Ingredients
Dough
1/2 cup lukewarm water
1/2 cup lukewarm milk
2 tablespoons butter, melted
1 large egg
1/2 teaspoon Buttery Sweet Dough Flavor, optional
1/4 cup granulated sugar
2 teaspoons salt
2 teaspoons instant yeast
Instructions
Combine all of the ingredients, and mix and knead them together — by hand, mixer or bread machine — until you've made a soft, smooth dough.

Allow the dough to rise, covered, for 1 hour, or until it's puffy (though not necessarily doubled in bulk).

Gently deflate the dough, and place it in a greased bowl or greased plastic bag, choosing a bowl or bag that will allow the dough to expand. Cover and refrigerate overnight, or for up to 2 days.

Remove the dough from the refrigerator, and place it on a lightly greased or floured work surface; a silicone rolling mat works well here.

Roll it into a 14" x 10" rectangle, squaring off the corners as well as you can without being overly fussy.

Cut the dough into 2" squares.

Pour peanut, safflower, or canola oil to a depth of at least 3/4" in a 10" electric fry pan (first choice), or a deep, heavy-bottomed 10" frying pan set over a burner.

Heat the oil to 360°F, and drop 5 or 6 squares of dough into the hot oil. They'll sink to the bottom, then after about 5 seconds or so, rise to the top.

Fry the beignets for 1 minute, then use a pair of tongs to turn them over. Fry for another minute, until the beignets are puffed and golden brown all over.

Remove from the oil and drain on paper towels.

When the beignets are cool, sprinkle them heavily with confectioners' sugar. For a real New Orleans experience, serve with strong coffee.