A customized print-friendly version of this recipe is available by clicking the "Print Recipe" button on this page.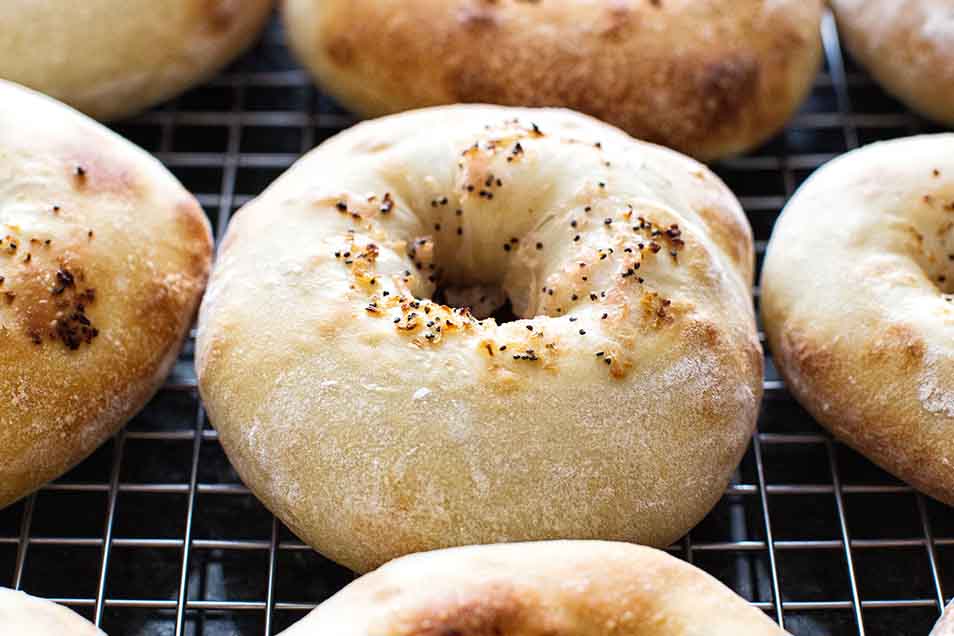 This recipe comes to us courtesy of Philadelphia-based food writer, Emily Teel. She shared that when she thinks of her dad's early adventures in baking, these bialys are what first comes to mind. Chewy, with just the right amount of onion filling, they freeze and reheat well, too.
Ingredients
Dough
2 3/4 teaspoons salt
1 1/4 teaspoons instant yeast
1/2 teaspoon onion powder
2 1/4 cups water
Filling
1 medium onion, peeled and quartered
1 teaspoon poppy seeds
1/8 teaspoon salt
3 to 4 grinds fresh black pepper
1 tablespoon olive oil
farina or cornmeal for pans
Instructions
To make the dough: Combine the flour, salt, yeast, and onion powder in the bowl of a stand mixer fitted with a beater attachment. Switch to a dough hook, add the water and mix until just combined, 1 or 2 minutes at low speed. Stop the mixer, cover the bowl, and let sit for 20 minutes.

After this rest, uncover the bowl and continue kneading at medium speed for 8 minutes, or until the dough is smooth and elastic.

Cover and refrigerate the dough (in an oiled bowl if desired) overnight for a slow, cool rise that will develop the dough's flavor.

Next day, divide the dough into 12 pieces (they'll weigh just under 4 ounces each) and round each into a ball. Place on a lightly oiled baking sheet, cover with greased plastic, and let rise at room temperature for 1 hour, or until puffy.

Preheat the oven to 475°F.

To make the filling: Pulse the onion in a food processor until very finely chopped, but not liquid. Mix in the poppy seed, salt, and pepper. Heat the oil in a saucepan and cook the onion mixture for a few minutes over medium-low heat until the liquid cooks off and the onion is very slightly caramelized. Remove from the heat and cool.

To shape and bake: Lightly sprinkle 2 baking sheets with farina or cornmeal. Take each dough ball and stretch it into a bagel shape about 6" to 7" in diameter, without puncturing the center, and leaving a wide, flat indentation where the hole would be. Place a few inches apart on the prepared baking sheets, 6 per pan. Place a scant teaspoon of the onion filling in the indentation and spread it out with your fingers. Don't overfill; a little goes a long way.

Bake for 8 to 10 minutes, until light golden brown. Remove the bialys from the oven and serve warm; or cool on a rack and save for toasting later.
Nutrition Information
Serving Size

1 bialy, 129g

Servings Per Batch

12 servings
Amount Per Serving:
Calories

272

Calories from Fat

20

Total Fat

3g

Saturated Fat

0g

Trans Fat

0g

Cholesterol

0mg
Sodium

561mg

Total Carbohydrate

52g

Dietary Fiber

3g

Sugars

1g

Protein

9g
* The nutrition information provided for this recipe is determined by the ESHA Genesis R&D software program. Substituting any ingredients may change the posted nutrition information.
Tips from our bakers
Resist the temptation to be generous with the onions: the moisture in them can keep the center of the bialy from cooking at the same speed as the edges, causing the center to puff up like a topknot.
Reviews
The onions fall off so I cooked chopped onions and let them dry out a bit. I put all ingredients in my Bread Maker only to knead the dough. I added the onions to the dough and knead awhile longer. It takes patience but it's worth it. Bialys always come out perfect. I still use the shot glass so the middle of Bialy doesn't puff up. Very good recipe.
The way you describe it, I made a 6" pizza looking thing. Tasted great! But...I'm used to them looking like a bagel. Did I stretch them too much?

Sounds like you prefer a smaller, possibly thicker bialy, Evan, and there's nothing wrong with that. Simply stretch the dough out less in step 4. You might need to extend the baking time by 2 or 3 minutes to account for the additional thickness of the dough. Happy baking! Kye@KAF
Great bialys one suggestion add a small amount of bread crumbs to the onion topping. This will dry the onions out and they will bake with little or no moisture. Got this from a professional bialy baker.
Haven't made this recipe since 2016 and it was calling my name. Made one change going outside the box, using 250 grams KAF white-wheat flour. Took a chance that there wouldnt be much change in things and there wasn't. This is a great recipe, wry easy to make and one I will always come back to. Thank you,
I'd like to try this recipe using my 100% hydration sourdough starter. Could you please help me with the proper conversion amounts?

Absolutely, Suzanne. Simply replace 4 oz water and 4 oz flour with 8 oz of your fed starter. You'll have wonderfully tangy bialys in no time! Annabelle@KAF
I always have a problem with the bialy center puffing up and 1/2 way thru baking need to use a spoon to push it down. Why is this happening? Is my dehydrated onion mixture too wet? I also place a weighted top pan on the bialys AFTER I bake them just to flatten them a bit.

Rich, it sounds like the center parts of your bialys is just a bit too thick. Try stretching the center part thinner next time, or as an alternate option, dock the dough with a fork or cut small slits before adding the onion mixture. This will let the steam escape and reduce how much they rise. If you want really flat bialys, consider putting a baking sheet on top of them for the first 5 to 8 minutes of the bake and then remove it to allow them to get golden brown. (We use this approach for English Muffins, and it works wonderfully.) Kye@KAF
Very nice flavor...but...these bialys are enormous! Bialys are only supposed to be 4-5" in diameter, after baking. I grew up in a Brooklyn-Jewish neighborhood, and still return there for authentic bialys, the real deal. This recipe should yield at least 2 dz. bialys.
Great recipe, tasted just like the bialys I buy only much better. I never made them before, but I love to try new recipes of food I usually buy. I had a few different recipes for bialys, but this one intrigued me. Mr. Teel worked hard to perfect this recipe, so I decided to give it a try. Glad I did, they were delicious and my whole family loved them. Thank you Mr. Teel for all hard work and to King Arthur Flour for sharing yet again another great recipe.
This recipe is easy and the Bialys taste like traditional Bialys. When I removed the dough from the refrigerator, the dough had a crust like on top of it. I used a cloth to cover it, should I have used Saran Wrap instead?

Next time use a piece of greased plastic wrap to cover your dough. This will help lock in moisture and prevent it from drying out. You can always put a tea towel over the plastic, too! Kye@KAF
Wanted to give an update as my 2nd time making this recipe is in the oven baking. I would highly recommend that you knead by hand instead of by machine unless you have an industrial mixer. It could be that my KitchenAid is 25 years old and 325 watts, but it totally died on me at the very beginning so I did the kneading my hand. Now I have an excuse to buy a now machine....another KitchenAid, of course. 😉 I would welcome KAF comments on this.

Oh poor mixer! We're simultaneously glad you had a better experience with the bialys and sorry for your loss. Even the 5 qt Kitchenaid mixer should be able to handle this amount of dough from time to time, but it's optimally used for smaller batches. If you often bake on this scale, we'd recommend the larger, higher powered Pro-Line models. We use a 7qt version in our Baking Schools and our Test Kitchen and find it powerful, durable, and sleek. It's so often requested by Baking School visitors that we even carry it on our site. Hope you'll check it out! Mollie@KAF