A customized print-friendly version of this recipe is available by clicking the "Print Recipe" button on this page.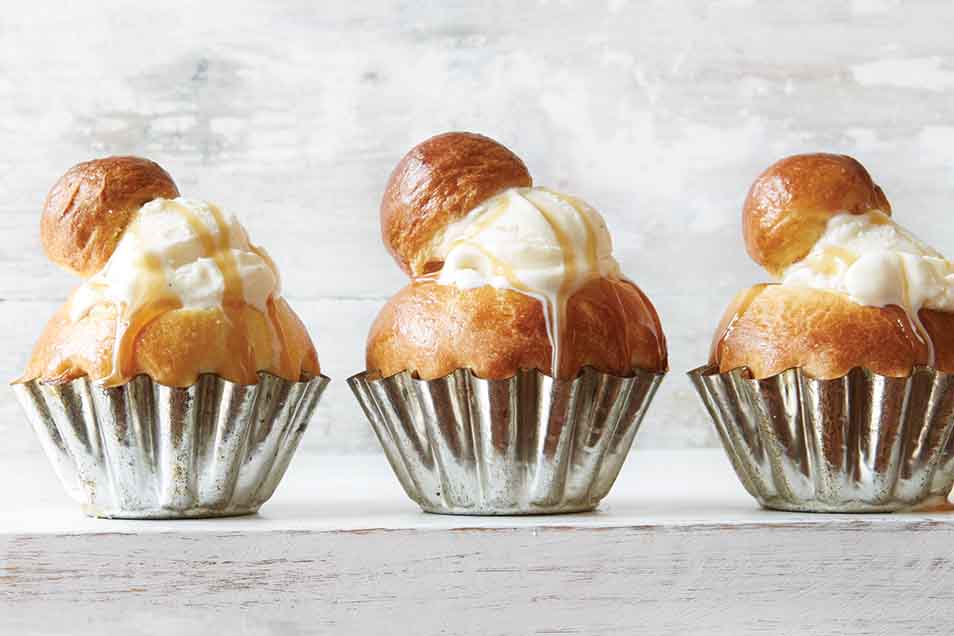 Brioche is a yeast bread that's so rich, it can be eaten pleasurably with absolutely no adornment at all. Which isn't to say that a tart-sweet raspberry preserve or orange marmalade, or peach jam, Devon cream or butter aren't all welcome additions; simply that a bite of brioche can proudly stand alone.

With all of its butter, this is a difficult dough to develop by hand, and we don't suggest trying it. An electric mixer or bread machine is ideal for the task; if you have access to either of these helpers, don't hesitate to tackle this recipe. It's only a tad more challenging than any other yeast bread recipe, and the results are out of this world.
Ingredients
Egg wash
1 large egg
1 tablespoon water
Instructions
Place 1 1/2 cups (6 1/4 ounces) of the flour, the yeast, water, and eggs into the bowl of a mixer or the bucket of your bread machine. Beat at medium speed (or knead in the bread machine) until smooth. Cover the mixture and let it sit for 45 minutes.

After 45 minutes, the sponge will have developed some bubbles, but not risen much because the mixture is thin. The yeast is getting a jump start.

Add the remaining 1 1/4 cups (5 1/4 ounces) flour; the sugar, and salt.

Beat for 8 to 10 minutes (switch to a dough hook if you're using a mixer), or knead in the bread machine, until the dough cleans the sides of the bowl and becomes shiny and elastic.

With the mixer or bread machine running, add the butter 2 tablespoons at a time, letting the butter become absorbed before adding the next chunk. Repeat until all of the butter is added.

Cover the dough and let it rise for 1 hour. It'll be very soft at this point, and should have grown by about a third. Turn the dough out onto a lightly floured surface and gently fold it over several times (use a bench knife to scrape up any bits that stick to the table). Place the dough in a greased bowl, cover the bowl, and refrigerate it for a minimum of 4 hours and up to about 16 hours. The dough will firm up considerably.

To make large brioche, remove the dough from the refrigerator, take a piece of the dough the size of a golf ball and set it aside. Form the rest into a round loaf. Grease a brioche pan and place the loaf into it. Take a small bowl and grease the inside and the outside of it; place this little bowl on top of the dough, and shape the reserved small piece of dough into a ball. Put this ball inside the bowl and allow the dough to rise for 1 to 1 1/2 hours, until it's an inch above the edge of the pan and looks puffy. Preheat the oven to 375°F.

Once the dough is risen, remove the small bowl and gently replace the topknot. Whisk together the egg and water, and brush the bread with the egg glaze. Bake for 40 minutes, until the center of the bread tests 190°F when measured with an instant-read thermometer. Check the bread after 20 minutes: if it's browning too quickly, tent the top with aluminum foil. Traditional brioche is a very deep golden brown, as the photo illustrates, but if you want a lighter crust the foil tent will do the trick. Remove the bread from the oven and cool on a rack for 10 minutes before loosening the edge of the bread from the pan and tipping it out. Place the bread on a rack to finish cooling completely before slicing.

To make individual brioche, divide the dough into 12 pieces. Take a marble-sized piece of dough from each of the 12 pieces and set it aside. Roll each larger bit of dough into a ball; place them in greased brioche tins or paper pans. Roll the small pieces into balls. Set them aside and let them rise with the small brioche for 45 minutes to 1 hour.

When the dough has risen and is puffy-looking, preheat the oven to 375°F. Grease your finger, and poke a "belly button" into the center of each individual brioche. Gently place the small marble of doughs into these dents, then brush the tops with egg wash. Bake the brioche for 25 to 30 minutes, until the centers test 190°F when measured with an instant-read thermometer. Remove the brioche from the oven an cool on a rack before serving.
Nutrition Information
Serving Size

66g

Servings Per Batch

12
Amount Per Serving:
Calories

249

Calories from Fat

154

Total Fat

17g

Saturated Fat

10g

Trans Fat

0g

Cholesterol

111mg
Sodium

171mg

Total Carbohydrate

18g

Dietary Fiber

1g

Sugars

0g

Protein

5g
* The nutrition information provided for this recipe is determined by the ESHA Genesis R&D software program. Substituting any ingredients may change the posted nutrition information.
Tips from our bakers
Brioche makes wonderful bread pudding or French toast; its richness and tender, close grain make it the ideal bread for soaking up flavored egg mixtures.
For a savory version of brioche, add chopped herbs to the dough. Small savory brioche make wonderful bases for Eggs Benedict or poached eggs Florentine.
Brioche dough can also be divided into golf ball-sized pieces, rolled into rounds, and placed side by side to make a ring that can be pulled apart. Feel free to braid the dough if you like, or bake it as a sandwich-style loaf.
To make mini brioche sundaes, slice off the top knot and scoop out about a tablespoon of the inside of the bread. Fill with vanilla ice cream and top with warm caramel sauce. Place the top-knot back and dust with confectioner's sugar (if desired).
Reviews
I like the recipe, but I used milk and added an extra egg yolk since my eggs seemed really small for large eggs. Problem then was that the dough wouldn't clean the bowl so I had to gradually add extra flour. I baked in 2 standard loaf pans because I made this for a Bread Pudding recipe. I've never made or eaten Brioche so I am at a loss for what it is supposed to be like. This ended up based on my interpretation and rise time like a white loaf with a very light and tender texture. I was assuming it would be more dense.
In step number 1 above, should I use the whisk attachment or paddle attachment of my KitchenAid stand mixer?

Start with the paddle attachment and then switch to the dough hook at step 4. This will make mixing your brioche dough a breeze. Happy baking! Kye@KAF
Yes! Great recipe. Definitely recommend using a mixer as the recipe indicates. I hand mixed and kneaded this and it was a lot of effort, well worth it still, but I'll be using the stand mixer next time.
Excellent recipe! The middle was so tender, almost cotton candy like. The only thing I changed was more sugar and I did 3 eggs and 4 yolks for a sweeter, richer, and more yellow result.
HI. CAN I HAVE A SWEET FILLING AND A SAVOURY FILLING RECIPE OF BRIOCHE. THANK YOU

Looking to fill your brioche? Check out our Vanilla Cream-Filled Brioche as well as our Ham & Cheese Brioche recipes. You can find them by typing these names into the search box in the recipe section of our website. Happy baking! Kye@KAF
I loved this brioche recipe! The only thing I changed about the dough was that I proofed the yeast in milk instead of water. It was rich and buttery and perfect for a snowy morning cinnamon buns!
Question for the omniscient bakers at KAF... If I wanted to divide the finished dough in half to bake in two standard loaf pans, should I adjust the cooking temp and/or baking time? I've made the recipe before as a large boule and loved it, but wanted to try loaf style this time around. Merci beaucoup!

De rein! If you divide the brioche into two smaller loaves, bake them at 375 degrees for about 30-35 minutes. Check the loaves after 15 minutes; tent with aluminum foil if it appears to be browning too quickly. Brioche should be a deep brown when done, should sound hollow when tapped, and will read 190°F at the center using an instant-read thermometer. (It's easy to underbake, since it browns so quickly!) Remove the brioche from the oven, and after 10 minutes remove it from the pan to cool completely on a rack. Happy baking! Kye@KAF
People keep raving over brioche and keep trying it, but I'm never wowed. So I thought I'll make it myself. King Arthur's recipes are reliable, so I'll try their recipe. At every step the dough looked and acted as described. The baked loaf looks amazing. Never-the-less, and I can hardly believe it, what with the eggs and all that butter, the result was just as I have always found brioche, practically tasteless except for a slightly bitter aftertaste. It must just be me. I guess I better stick to challah.
Okay. I last rated this 4 stars. I wanted to try again. Now I am rating this 5 stars. I found that this bread is used a lot as a dessert ingredient. I made the best bread pudding ever! I could never go back to any kind of leftover breads for bread pudding. This bread also came out better than the last one. I have a feeling I over cooked the last Brioche. This recipe, I will use it again, and again. Loved the taste better this time. I braided this last loaf. It's beautiful!
Bonnie, we're so glad to hear that you made this recipe again and were more pleased with the results second time around. Persistence pays off! You're very right about brioche making the best bread pudding--it is one of my favorite ways to enjoy this sweet bread. Happy baking! --Kye@KAF
I have not made this yet, so no stars, no recommendation...What purpose does the "golf ball" to serve? Can it be made without it? Also, would this work in a small pullman pan? We would love to answer this question for you. Please contact us at the Baker's Hotline at 855-371-2253 so that we can answer your question and hopefully encourage you go to ahead and try making this soft, supple bread for yourself. -Kye@KAF