A customized print-friendly version of this recipe is available by clicking the "Print Recipe" button on this page.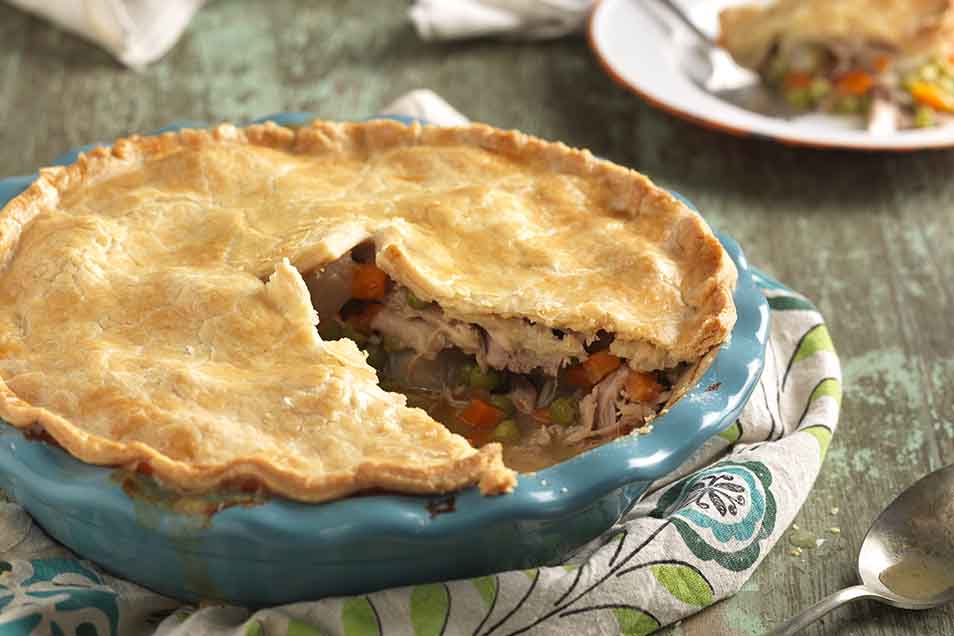 A really good chicken pie, Vermont-style, is one of the most comforting foods we know. See "tips from our bakers," below, to make four individual pies from this recipe.
Ingredients
Crust
1 1/2 cups Pastry Flour Blend or King Arthur Unbleached All-Purpose Flour
1 tablespoon buttermilk powder, optional
1/4 teaspoon salt
1/4 teaspoon baking powder
1/4 cup (1/2 stick) butter
1/4 cup vegetable shortening
1 teaspoon white or cider vinegar
4 to 5 tablespoons ice water
Filling
2 1/2 cups chicken stock
6 tablespoons butter
6 to 7 cups boneless, skinless cooked chicken (or turkey), torn into 1" pieces
6 tablespoons King Arthur Unbleached All-Purpose Flour
1/4 teaspoon salt
16-ounce bag frozen peas and carrots*
1/2 of a 16-ounce bag frozen pearl onions; if you love onions, use the entire bag*
Instructions
To make the crust: Combine the flour, buttermilk powder, salt, and baking powder, then mix in the butter and shortening till crumbly, leaving some pea-sized lumps.

Mix the vinegar with 4 tablespoons of the water. Sprinkle onto the dry ingredients, stir, and squeeze the dough together; if it's not totally cohesive, add an additional tablespoon of water (enough to make the dough stick together nicely, without crumbling).

Shape the dough into a flattened rectangle, wrap it in plastic wrap, and refrigerate for 30 minutes.

To make the filling: Heat the butter till melted, then stir in the flour. Gradually pour in the stock, whisking constantly. Cook and stir the sauce over medium heat till it comes to a boil, then reduce the heat and simmer for 5 minutes.

Stir in the chicken and salt. Add ground black pepper, additional salt to taste, and the vegetables. Spoon the filling into a 9" x 13" (2- to 3-quart, or similar size) deep casserole dish.

Roll the crust out slightly larger than the dish. Place it on top of the filling; cut several vent holes, and use any scraps of dough to decorate.

Bake the pie in a preheated 375"F oven for 50 to 60 minutes, until the crust is golden brown and the filling is bubbly.
Tips from our bakers
If you use fresh uncooked vegetables rather than frozen, increase the amount of stock to 3 to 3 1/2 cups.
This recipe makes a fairly juicy filling. For a thicker filling, reduce the amount of chicken stock; or cook and drain the peas, carrots, and onions before adding them to the filling.
To make four individual pies, spoon the filling evenly into four 12-ounce mini pie dishes. Roll the crust out to ¼" thick and cut out four 6" circles. Place each piece on top of the filling; cut several vent holes, and use any scraps of dough to decorate; small heart shapes are lovely. Bake the pies in a preheated 375°F oven for 45 to 50 minutes, until the crust is golden brown and the filling is bubbly.
To make a 9" deep-dish pie: Prepare the crust and filling according to the recipe instructions, shaping the crust dough into a flattened disk before wrapping it in plastic and refrigerating. Roll the crust dough out slightly larger than the inside top diameter of the pie pan; spoon the filling into the pan; place the crust on top of the filling, and cut several vent holes. Place the pie on a baking sheet (there may be some drips once the filling begins to bubble), and bake in a preheated 375°F oven for 40 to 50 minutes, until the crust is golden brown. Note: You may have some leftover filling, which makes a wonderful meal in itself, warmed through and served with a slice of crusty bread.

To bake with a pie bird: Place the bird upright in the center of an empty pie plate. Cut a small cross or hole (big enough to fit the bird) in the center of your rolled-out pie crust circle. Spoon the filling around the bird, then place the pastry circle on top with the hole or cross centered over the bird.
Reviews
This was a HUGE hit with my husband! This recipe produced a savory, delicious meal. I did add more vegetables, as carrots are my favorite and I find myself picking them out. The broth/gravy was wonderfully flavored. This will be my go to every time. Thank you King Arthur Flour for sharing such a wonderful recipe. I love your products and your flours cannot be beat.
This was delicious! The only issue I had was I had to roll the crust thin like a regular pie crust, I really wanted to taste more crust. If I doubled the crust recipe and let the crust be thicker (double the regular thickness) would that work alright? Would it cook all the way through or are there other issues to look out for?

You're a true crust-lover, Bob! You might consider starting with 1.5x the crust recipe to ensure it still bakes all the way through and you're not left with raw dough at the end of the bake time. Another option to consider is using a biscuit-like topping if you're looking for something more satisfying on the top of your pot pie. You can use our Never-Fail Biscuit recipe and dollop the dough on top of the pot pie filling for this style of dish. We hope this helps, and happy baking! Kye@KAF
The next time I make this, I'm going to try brushing egg wash on the crust. The crust, while not overly acidic to taste, is too acidic for a nice and even maillard reaction to get going. Don't take me wrong, the taste of the crust was great, and I would hate to leave out the vinegar or buttermilk, but I think it would be even better with the slightly nutty flavor browning brings, and hopefully a quick egg wash application would give it that.
Although the pie came out as I'm sure the recipe anticipated, it was not a savory pie. As others have noted, it lacked spice and depth of flavor. The crust was perfect so I will use that again but will look elsewhere for a savory filling recipe.
Good basic recipe. I used fresh potatoes and carrots that i browned before adding to mix. As such, my filling was too dry so i think ill need at least ten more ounces of fluid next time (frozen veggies in recipe probably have a lot of moisture). Added fresh garlic, sage, rosemary, and a little marjoram. Cant imagine recipe without more spices. Crust was a little hard to work with but turned oit very crispy. Used pie bird. Will definitely use recipe as a reference in the future
My family loved this. I doubled the crust recipe so I could lay a bottom crust. I didn't use buttermilk powder. It was flaky and did not get soggy with the filling. I also brushed it with milk for a nice shine. Everyone loved the crust.
This came out fantastic, just the way I wanted it. That said I didn't have 7 cups of meat so I added more veggies and a can of mushrooms. I also added a shot of dry sherry to the broth and cayenne pepper, dill and nutmeg to the sauce. Everyone loved it.
Made this gluten free by using McCormick's gluten free turkey gravy mix, chicken and a bag of frozen veggies. Topped it off with King Arthur gluten free crust. Delicious!
This is a solid base recipe for chicken pot pie, but it needs a little extra love to make it spectacular. Like lots of ground pepper, rosemary, and thyme in the filling. Oh, and double to triple the fluid - the first two times I made it, I used the called-for amount of stock and roux, and it turned out terribly dry. Last night, I doubled the fluid and halved the chicken and veggies, and the consistency was perfect. The crust is phenomenal and makes up for the recipe's (very fixable) shortcomings, though. It's the primary reason I keep coming back to this recipe.