A customized print-friendly version of this recipe is available by clicking the "Print Recipe" button on this page.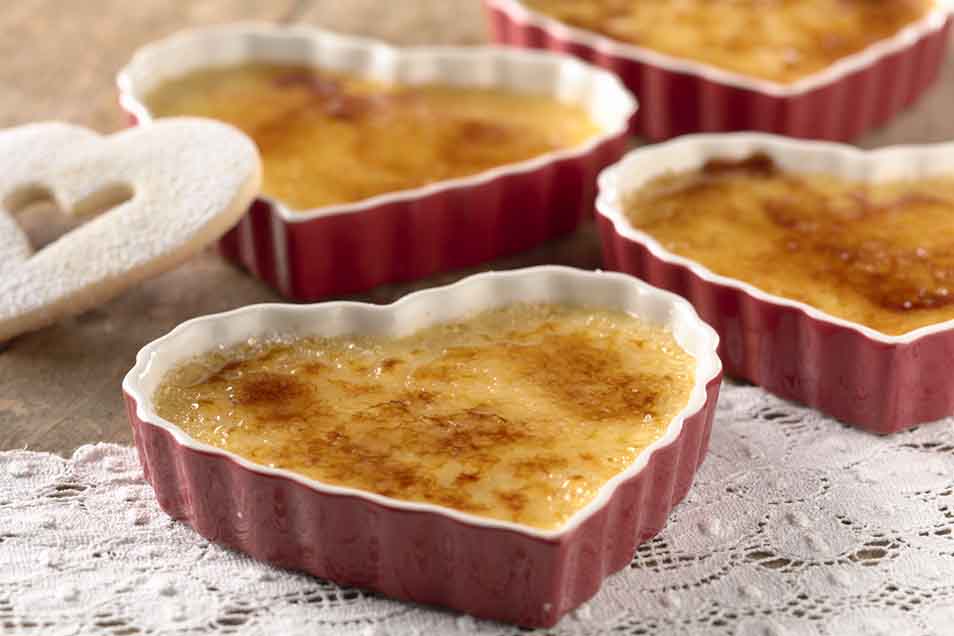 This classic version of one of France's signature desserts is surprisingly easy to make.
Ingredients
2 cups heavy cream (or 1 cup half & half and 1 cup heavy cream)
5 tablespoons sugar
4 large egg yolks
1 teaspoon vanilla bean paste
3 tablespoons sugar (Demerara or coarse white sparkling sugar work well)
Instructions
Preheat the oven to 350°F.

Pour the cream into a 1-quart saucepan, and heat the cream just until it almost comes to a boil. Remove it from the heat.

Whisk together the sugar and egg yolks until the sugar dissolves.

Add the hot cream a little at a time; mix well.

Stir in the vanilla bean paste.

Pour the custard through a fine sieve or strainer, and pour it into four heart molds, or 1/2-cup capacity ramekins about 2" tall.

Place the molds or ramekins in a large baking pan. Pour enough hot water into the pan to come halfway up the sides of the dishes.

Bake until the custard is set but still a bit jiggly in the center, about 30 minutes.

Remove the dishes from the water and let cool completely. Refrigerate for 1 to 2 hours, or up to overnight; no need to cover.

To serve, sprinkle the sugar evenly over the custards. For easiest caramelizing, run a torch evenly over the tops of the custards until the sugar is a deep golden brown. Or caramelize the sugar by placing molds or ramekins under your oven's broiler; watch carefully, as a broiler element can turn sugar from browned to burned quickly.
Reviews
I had never tasted creme brulee but knew it was one of my son-in-law's favorite desserts and the kids had gotten me a kitchen torch for my birthday so I chose your recipe and it was fantastic. It will be one of my go to recipes when I entertain from now on. I let everyone torch their own sugar too which was a big hit! Thanks for the recipe.
This recipe is very easy to make and the taste is fantastic. Who knew creme rules was so easy to make! I've this several times and it's always perfect.
Outstanding. My favorite desert and no longer a mystery. Could not find vanilla bean paste in my small town so I harvested from 3 vanilla beans. Used my torch to glaze the course sparkling sugar on top. Thanks KA for including a great recipe even though it contains no flour.
I was shocked at how quick and easy this was!
Very easy to make! I got to use vanilla bean paste that was sitting around in my spice cabinet for a few years. It was wonderful and super easy! Do you know how I can use up my vanilla bean paste?
You can use the paste whenever vanilla extract or vanilla bean is called for in a recipe. ~Amy