A customized print-friendly version of this recipe is available by clicking the "Print Recipe" button on this page.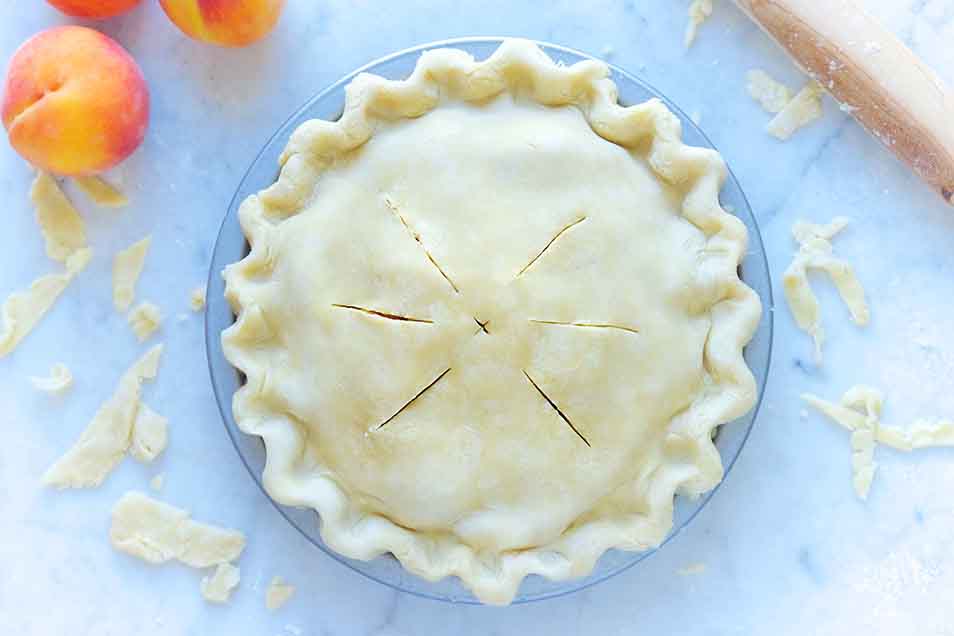 There are probably as many pie crust recipes out there as there are bakers. Many of us struggle with pie crust; this crust is a good go-to recipe for those of you who haven't yet settled on a favorite. Easy to roll, buttery-tasting, and somewhere between flaky/crumbly, it's like an old friend: reliable and forgiving. This recipe makes 2 crusts, enough for 2 single-crust pies or 1 double-crust pie.

Baking gluten-free? For great results, substitute King Arthur Gluten-Free Measure for Measure Flour for the all-purpose flour in this recipe; no other changes needed.
Ingredients
Crust
2 1/2 cups King Arthur Unbleached All-Purpose Flour or Pastry Flour Blend
1 1/4 teaspoons salt*
1/4 cup vegetable shortening
10 tablespoons very cold unsalted butter
6 to 10 tablespoons ice water**
*Reduce the salt to 1 teaspoon if you use salted butter.
**Use the lesser amount of water if you use Pastry Flour Blend.
Topping (optional)
1 teaspoon milk
1 tablespoon coarse sparkling sugar
Instructions
Whisk together the flour and salt.

Add the shortening, working it in until the mixture is evenly crumbly.

Cut the butter into small (about ½") cubes.

Add the butter to the flour mixture, and work it in roughly with your fingers, a pastry cutter, or a mixer. Don't be too thorough; the mixture should be very uneven, with big chunks of butter in among the smaller ones.

Add 4 tablespoons of water, and toss to combine.

Toss with enough additional water to make a chunky, fairly cohesive mixture. It should hold together when you gather it up and squeeze it in your hand.

Divide the dough in half, and gather each half into a rough disk. Smooth the disks; it's OK if they have a few cracks in the surface. Smooth the disks' edges by running them along a floured surface like a wheel.

Wrap in plastic, and chill for 30 minutes, or up to overnight. Or wrap in aluminum foil over the plastic, and freeze for up to 2 months.

When you're ready to make pie, remove the crust from the refrigerator or freezer, leaving it wrapped. Allow it to thaw (if it's frozen) or warm a bit (if it's been chilled longer than 30 minutes), until it's softened enough to roll, but still feels cold to the touch.

Next, measure the bottom diameter, and up the sides of your pie pan. If your pan is 7" across the bottom, and 1 ½" up each side, that's a total of 10". This means you should roll your bottom crust to a diameter between 11" and 12", which gives you enough extra for crimping the edges.

Place the crust on a floured work surface; our silicone rolling mat is a fine choice. Roll it to the desired width. See the big chunks of butter? That's a good thing.

Place the crust in the pan by folding in quarters and placing in the pan. Or you can simply pick it up with a piecrust lifter, and move it that way.

For a single-crust pie, fold the edges of the crust under, and gently squeeze them together. Crimp as desired. It's nice to make a tall crimp, as the filling for a single-crust pie is usually fairly liquid (think pumpkin or custard), and it's good to have that tall "dam."

For a double-crust pie, leave the edges of the bottom crust as is (no folding or crimping). Once you've added the pie filling, roll out the top crust to the outside diameter of your pan, and place it atop the filling.

Trim excess crust with a pair of scissors, then press the two edges together.

Crimp as desired. A simple fork crimp is fast and easy. At this point, it helps to return the pie to the refrigerator for 20 to 30 minutes; this chills the fat, which ultimately increases the crust's flakiness.

Cut a hole in the center of the crust for steam to escape. Or slash the pie's top surface several times.

Brush with milk and sprinkle with coarse sparkling sugar, if desired.

Bake... enjoy!
Nutrition Information
Serving Size

74g

Servings Per Batch

8
Amount Per Serving:
Calories

320

Calories from Fat

180

Total Fat

21g

Saturated Fat

10g

Trans Fat

.5g

Cholesterol

40mg
Sodium

370mg

Total Carbohydrate

30g

Dietary Fiber

1g

Sugars

1g

Protein

5g
* The nutrition information provided for this recipe is determined by the ESHA Genesis R&D software program. Substituting any ingredients may change the posted nutrition information.
Tips from our bakers
The following ingredients, included in a previous version of this recipe, are all optional: 1 teaspoon baking powder; 2 tablespoons confectioners' sugar; 2 tablespoons buttermilk powder or nonfat dry milk powder; 1 teaspoon vinegar. We've made the crust both with these optional ingredients, and without. Each changes the crust subtly: baking powder adds "poof;" sugar and milk powder help browning and add a bit of flavor; and vinegar tenderizes it slightly. However, for the very flakiest crust, we omit these optional ingredients.
Looking for a pie crust recipe that doesn't use shortening? Try our All-Butter Pie Crust.
People get nervous about pie crust, and in their anxiety they tend to work the dough too much. Cutting the butter in too far makes a mealy crust. Kneading it too much and/or adding too much water toughens the dough, making it more difficult to roll out.
A tip for creating ultimate flakiness: When the dough is almost moist enough to hold together, pour the shaggy mixture out onto a piece of parchment paper. Use a spray bottle to moisten the dry parts of the dough without water-logging it. Then fold the dough over on itself, like a business letter. Repeat the process until all the dry bits of dough are evenly moistened. This will create lots of nice layers in the dough. Click on the video, above right, to see this being done.
Be sure to use cold butter and ice water when making the crust; it helps keep the butter and shortening from dispersing throughout the dough, which in turn helps keep the crust flaky. Also, resting the dough in the refrigerator, both after mixing and rolling out, will dramatically increase the quality of your results. This "time out" both allows the gluten in the dough to relax (making the crust more tender), and firms up the fats in the dough (helping it stay flakier).
Lightly grease the pie plate with non-stick spray before putting in the bottom crust; this will make taking the slices out of the pan much easier later.
To keep the bottom crust from getting soggy, try brushing it with egg white and chilling before adding the filling. You can also use melted butter to create a barrier between the fillings moisture and the crust.
Can you make this crust ahead and freeze it? Absolutely. For a double-crust pie, make it up to the point where the two dough disks are wrapped in plastic and ready to chill; add an over-wrap of aluminum foil, and freeze for up to 2 months. For two single-crust pies, roll each chilled crust, and place in a metal pie pan. Trim, crimp, wrap the pans well in plastic, and freeze.
Test kitchen tip: For an extra-tender crust, add an additional 1 tablespoon shortening to the recipe.
Our Gluten-Free Measure for Measure Flour makes it easy to make many of your favorite traditional recipes (like this one) gluten-free. Simply substitute Measure for Measure flour 1:1 for the flour called for in your recipe; no additional ingredients or other changes needed.
Reviews
I used this recipe to make 2 6" apple pies. For the bottom, recipe exactly as written. For the top part of the crust, I used the idea (I think it was from the oil pie crust recipe from here) to mix cinnamon and sugar and mix in. I tore the crust into pieces and mixed in the dough crust. And then rolled it out and tore off pieces to put on as the top crust. Baked on bottom rack to make sure bottom was done (I had read reviews of crust not getting done on the bottom)( and went with your suggestion). They turned out so awesome. The crust was tender and flakey. Best crust I have ever made. And my very picky husband totally loved it. That's a big deal around here And baked up the leftover cinnamon sugar crust in pieces. It was awesome by itself. Tonight, making single serve beef pot pies with leftover roast beef and sauteed veggies and home made gravy. This is my go to recipe for crust. Thank you so much for all of your help!
I have tried a handful of pie crust recipes. I can never get it right. I tried this one and followed it exactly and my pie crust turned out wonderful. Look no more and please try this recipe. I'm very glad I did.
This dough was very easy to deal with and roll out. I like the combination of butter and shortening. It came out super flaky and tender. Suggestion- try Spectrum non-hydrogenated organic all-vegetable shortening
I have discovered the joy and challenges of baking since my stroke put me on the disabled list and out of a job. I have tried and tried many different apps and web sites. King Arthur Flour is my go to site. I used this to make a double crust cherry pie and a single crust pumpkin pie. I brushed the insides of the pie crust with egg whites and chilled to keep the crust from becoming soggy. I brushed the top of the cherry pie with egg whites and sprinkled with raw sugar. The pie crusts were perfect! The top crust of the cherry pie was a perfect golden brown and the crust of the pumpkin pie was a nice brown. Both crusts had a nice buttery taste and were flaky. This is definitely my go to from now on.
I used this last week for blackberry dumplings and they were just perfectly delicious. Tonight it was the crust for chicken pot pie. WOW ...... it was AmaZing. This is the very best recipe, it cooks well on the bottom, it browns nicely, it's flaky and most importantly, DELICIOUS!!!
Used this recipe to make 6 pies for Thanksgiving and they worked well.
This is the best pie crust recipe I hav3 e er tried. Sorry, Mama in Heaven....never could master yours..,always successful
I don't know if I did something wrong, but this was by far the toughest pie crusT I have ever made. I had high hopes with the mix of shortening and butter, but from here on out, I will stick to an all-shortening crust.

Hi there, Jodi! We're sorry to hear that this well-loved recipe didn't do the trick for you. For helpful pie dough making tips, we would suggest checking out our blog post titled Flaky, tender pie crust: Two quick tips. If we can help troubleshoot or pick out a recipe that better fits your tastes, please give our Baker's Hotline a call at 855-371-BAKE. Kindly, Morgan@KAF
I made my first ever pie crust yesterday, November 19, 2018. I am 59 years old and an accomplished baker but had never attempted a crust. Well, using this recipe and my Kitchen Aid stand mixer, I made the most delicious, tender, and flaky crust I have EVER eaten! Thank you, KA, for this amazing recipe and flour!
I decided to test a shortening only KAF recipe and this recipe. This recipe is far superior, tender and flaky. I also placed a parchment circle in the bottom of my metal pan and placed the pie on a parchment lined metal sheet pan to catch the significant drippings. I would also double the recipe if you like to do a crimp border and to prevent panic if there isn't enough dough. This recipe also freezes beautifully and thaws perfectly.