A customized print-friendly version of this recipe is available by clicking the "Print Recipe" button on this page.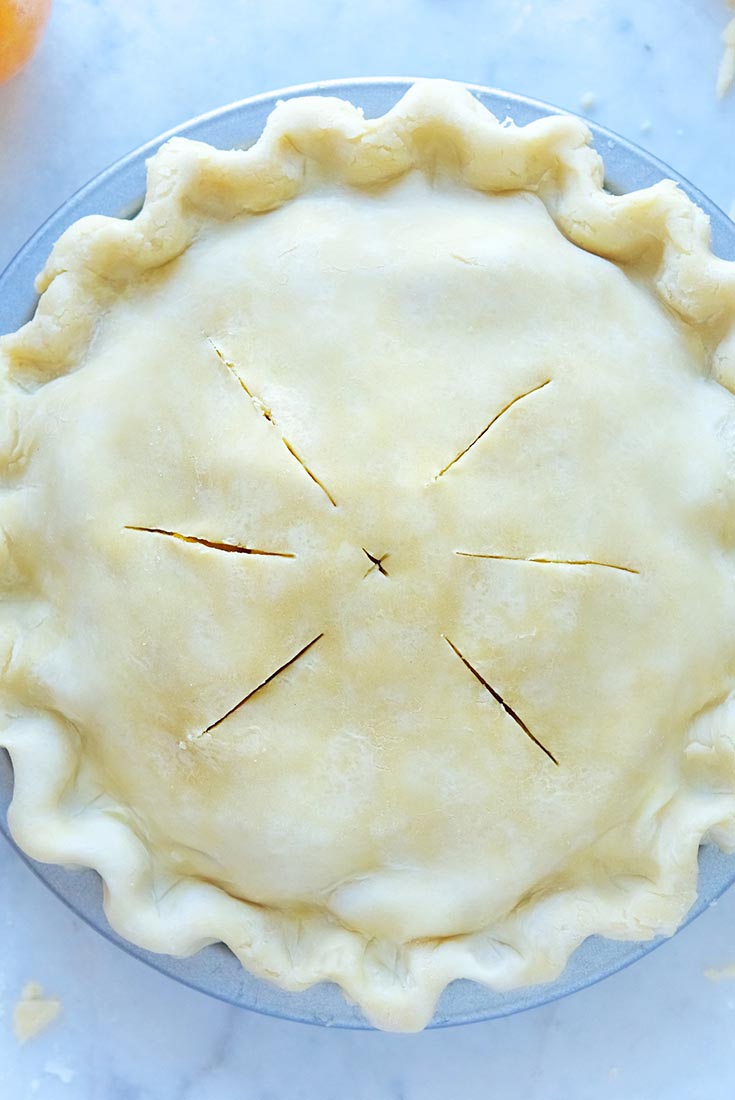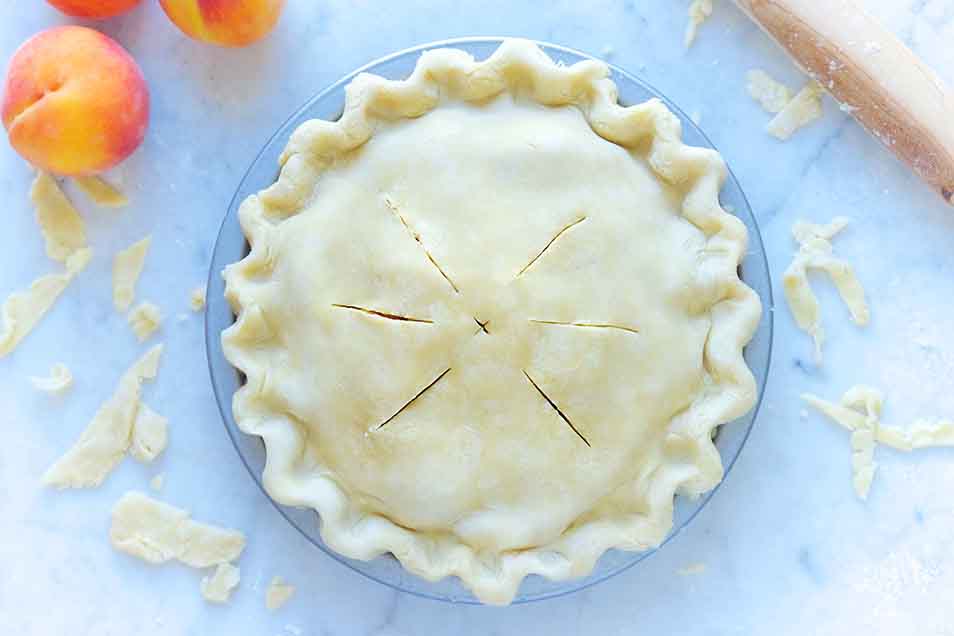 There are probably as many pie crust recipes out there as there are bakers. Many of us struggle with pie crust; this crust is a good go-to recipe for those of you who haven't yet settled on a favorite. Easy to roll, buttery-tasting, and somewhere between flaky/crumbly, it's like an old friend: reliable and forgiving. This recipe makes 2 crusts, enough for 2 single-crust pies or 1 double-crust pie.

Baking gluten-free? For great results, substitute King Arthur Gluten-Free Measure for Measure Flour for the all-purpose flour in this recipe; no other changes needed.
Ingredients
Crust
2 1/2 cups King Arthur Unbleached All-Purpose Flour or Pastry Flour Blend
1 1/4 teaspoons salt*
1/4 cup vegetable shortening
10 tablespoons very cold unsalted butter
6 to 10 tablespoons ice water**
*Reduce the salt to 1 teaspoon if you use salted butter.
**Use the lesser amount of water if you use Pastry Flour Blend.
Topping (optional)
1 teaspoon milk
1 tablespoon coarse sparkling sugar
Instructions
Whisk together the flour and salt.

Add the shortening, working it in until the mixture is evenly crumbly.

Cut the butter into small (about ½") cubes.

Add the butter to the flour mixture, and work it in roughly with your fingers, a pastry cutter, or a mixer. Don't be too thorough; the mixture should be very uneven, with big chunks of butter in among the smaller ones.

Add 4 tablespoons of water, and toss to combine.

Toss with enough additional water to make a chunky, fairly cohesive mixture. It should hold together when you gather it up and squeeze it in your hand.

Divide the dough in half, and gather each half into a rough disk. Smooth the disks; it's OK if they have a few cracks in the surface. Smooth the disks' edges by running them along a floured surface like a wheel.

Wrap in plastic, and chill for 30 minutes, or up to overnight. Or wrap in aluminum foil over the plastic, and freeze for up to 2 months.

When you're ready to make pie, remove the crust from the refrigerator or freezer, leaving it wrapped. Allow it to thaw (if it's frozen) or warm a bit (if it's been chilled longer than 30 minutes), until it's softened enough to roll, but still feels cold to the touch.

Next, measure the bottom diameter, and up the sides of your pie pan. If your pan is 7" across the bottom, and 1 ½" up each side, that's a total of 10". This means you should roll your bottom crust to a diameter between 11" and 12", which gives you enough extra for crimping the edges.

Place the crust on a floured work surface; our silicone rolling mat is a fine choice. Roll it to the desired width. See the big chunks of butter? That's a good thing.

Place the crust in the pan by folding in quarters and placing in the pan. Or you can simply pick it up with a piecrust lifter, and move it that way.

For a single-crust pie, fold the edges of the crust under, and gently squeeze them together. Crimp as desired. It's nice to make a tall crimp, as the filling for a single-crust pie is usually fairly liquid (think pumpkin or custard), and it's good to have that tall "dam."

For a double-crust pie, leave the edges of the bottom crust as is (no folding or crimping). Once you've added the pie filling, roll out the top crust to the outside diameter of your pan, and place it atop the filling.

Trim excess crust with a pair of scissors, then press the two edges together.

Crimp as desired. A simple fork crimp is fast and easy. At this point, it helps to return the pie to the refrigerator for 20 to 30 minutes; this chills the fat, which ultimately increases the crust's flakiness.

Cut a hole in the center of the crust for steam to escape. Or slash the pie's top surface several times.

Brush with milk and sprinkle with coarse sparkling sugar, if desired.

Bake... enjoy!
Nutrition Information
Serving Size

74g

Servings Per Batch

8
Amount Per Serving:
Calories

320

Calories from Fat

180

Total Fat

21g

Saturated Fat

10g

Trans Fat

.5g

Cholesterol

40mg
Sodium

370mg

Total Carbohydrate

30g

Dietary Fiber

1g

Sugars

1g

Protein

5g
* The nutrition information provided for this recipe is determined by the ESHA Genesis R&D software program. Substituting any ingredients may change the posted nutrition information.
Tips from our bakers
The following ingredients, included in a previous version of this recipe, are all optional: 1 teaspoon baking powder; 2 tablespoons confectioners' sugar; 2 tablespoons buttermilk powder or nonfat dry milk powder; 1 teaspoon vinegar. We've made the crust both with these optional ingredients, and without. Each changes the crust subtly: baking powder adds "poof;" sugar and milk powder help browning and add a bit of flavor; and vinegar tenderizes it slightly. However, for the very flakiest crust, we omit these optional ingredients.
Looking for a pie crust recipe that doesn't use shortening? Try our All-Butter Pie Crust.
People get nervous about pie crust, and in their anxiety they tend to work the dough too much. Cutting the butter in too far makes a mealy crust. Kneading it too much and/or adding too much water toughens the dough, making it more difficult to roll out.
A tip for creating ultimate flakiness: When the dough is almost moist enough to hold together, pour the shaggy mixture out onto a piece of parchment paper. Use a spray bottle to moisten the dry parts of the dough without water-logging it. Then fold the dough over on itself, like a business letter. Repeat the process until all the dry bits of dough are evenly moistened. This will create lots of nice layers in the dough. Click on the video, above right, to see this being done.
Be sure to use cold butter and ice water when making the crust; it helps keep the butter and shortening from dispersing throughout the dough, which in turn helps keep the crust flaky. Also, resting the dough in the refrigerator, both after mixing and rolling out, will dramatically increase the quality of your results. This "time out" both allows the gluten in the dough to relax (making the crust more tender), and firms up the fats in the dough (helping it stay flakier).
Lightly grease the pie plate with non-stick spray before putting in the bottom crust; this will make taking the slices out of the pan much easier later.
To keep the bottom crust from getting soggy, try brushing it with egg white and chilling before adding the filling. You can also use melted butter to create a barrier between the fillings moisture and the crust.
Can you make this crust ahead and freeze it? Absolutely. For a double-crust pie, make it up to the point where the two dough disks are wrapped in plastic and ready to chill; add an over-wrap of aluminum foil, and freeze for up to 2 months. For two single-crust pies, roll each chilled crust, and place in a metal pie pan. Trim, crimp, wrap the pans well in plastic, and freeze.
Test kitchen tip: For an extra-tender crust, add an additional 1 tablespoon shortening to the recipe.
Our Gluten-Free Measure for Measure Flour makes it easy to make many of your favorite traditional recipes (like this one) gluten-free. Simply substitute Measure for Measure flour 1:1 for the flour called for in your recipe; no additional ingredients or other changes needed.
Reviews
Wow, thus crust topped off our chicken pot pie..crisp tasty crust
Can you double or triple and freeze this recipe with good success?

Doubling, Lynn? No problem Tripling? Things can get a bit wonky. Go forth and double! Annabelle@KAF
I made this recipe using the make ahead method on the blog. I mixed all the ingredients with the exception of the water. Then weighed the whole mixture, decide by number of crusts to get a gram weight per crust. Makes for easy prep when you go to use your crust. I must say it was the most flakey and tasty crust I have ever made and this will be my go to recipe for years to come.
Very good recipe. Impressed with the flakiness and ease to roll out. I used a food processor for mixing.
Ok recipe, but I needed to nearly triple the shortening to get the crust to stay together. However the flavor and workability was superior, just know the recipe is a very loose guide. If you follow the ingredients you may fail.

We're surprised to hear your dough needed so much additional shortening to help it hold together, Mick. Typically we recommend sprinkling in a few teaspoons of water at a time until the dough comes together. It's normal for the dough to look somewhat shaggy, but once the dough rests in the fridge, it should be more fully hydrated. Consider adding a bit of extra water next time to see if that reduces the amount of shortening you have to use to get it to hold together. Kye@KAF
This makes a delicious crust with a great texture...but has anyone else had issues with fragility? I omitted the optional ingredients, and followed the directions for a full batch. After resting in the fridge overnight, the crust crumbles, even after misting with water. It has to be worked pretty much at room temperature. And it sticks even to greased parchment paper when taking out the baking beans during blind-baking, so then I had to press some extra dough back in. And then it totally falls apart on the edge when taking it out the oven, ruining my pretty crust design. Definitely not the recipe to use before traveling 6 hours on a bumpy road trip for Thanksgiving. I wonder if this is more like a shortbread than a traditional pie crust? Which is odd, I'd think the shortening is there to help with structural issues, and would make it less shortbread-crumbly-like. Never using shortening in pie crust again.

Justine, fragile pie crust is a common challenge faced by many bakers. This recipe is a traditional pastry dough that produces a light, flaky crust when properly made. We'd love to help you achieve that too! It sounds like you might want to try adding a bit more water next time, and also be sure you're using King Arthur All-Purpose Flour for best results. (Other brands tend to be more delicate and crumble easier.) We also recommend checking out the tutorial on our blog called, "How to make flaky, tender pie crust," to get an idea of the best way to bring your dough together. Kye@KAF
Not a review but a question. Does your GF one for one flour already have Xantham gum?

Yes, Nita. Our Gluten-Free Measure for Measure Flour has xanthan gum added to it, so you can use it in place of the all-purpose flour in (non-yeast) recipes. Our Gluten-Free Flour, on the other hand doesn't have xanthan gum added to it so you can have more control over your baking. Kye@KAF
Actually this 5-star rating is for ME! I'm a pretty good cook - my family thinks so anyway, but I have always had two fears: yeast and ... Pie Crust! King Arthur Flour, you have totally cured my fear of yeast; I'm all over a dozen KAF breads and rolls. This morning I faced Pie Crust. In wisdom, I decided to "practice" today and not wait till Thanksgiving to test out a new recipe. My cherry pie is in the oven. I'm calm and serene, but most of all grateful to you all for your fabulous instruction and many "Don't-worry-if's." It's like you've read my mind AND seen me in the kitchen. Thank you!!!

We agree, Dorothy, five stars indeed for facing down your kitchen fears! Thanks for making us your partner in it all! Mollie@KAF
My recipe is very similar, except that I use a bit of leaf lard that my Amish friends make for me. Also, a really helpful & very old tip from my Italian Grandma that works so much better than the standard "adding tablespoons of ice water": mix 1/4 cup of ice water with 1/4 cup of flour, then pour over dough/shortening.butter.leaf lard mixture. The dough comes together so much quicker & easier with much less mixing. I own a small bakery & make an average of 50+ pies from scratch for Thanksgiving alone.
Just wondered what temp and baking time you recommend ?

The baking time and temperature will vary based on what kind of pie you're making. The recipes for the pies themselves should include baking times and temperatures that are specific to the filling. Use this recipe to build a delicious foundation for your pie, and then use another recipe from there. Happy baking! Kye@KAF