A customized print-friendly version of this recipe is available by clicking the "Print Recipe" button on this page.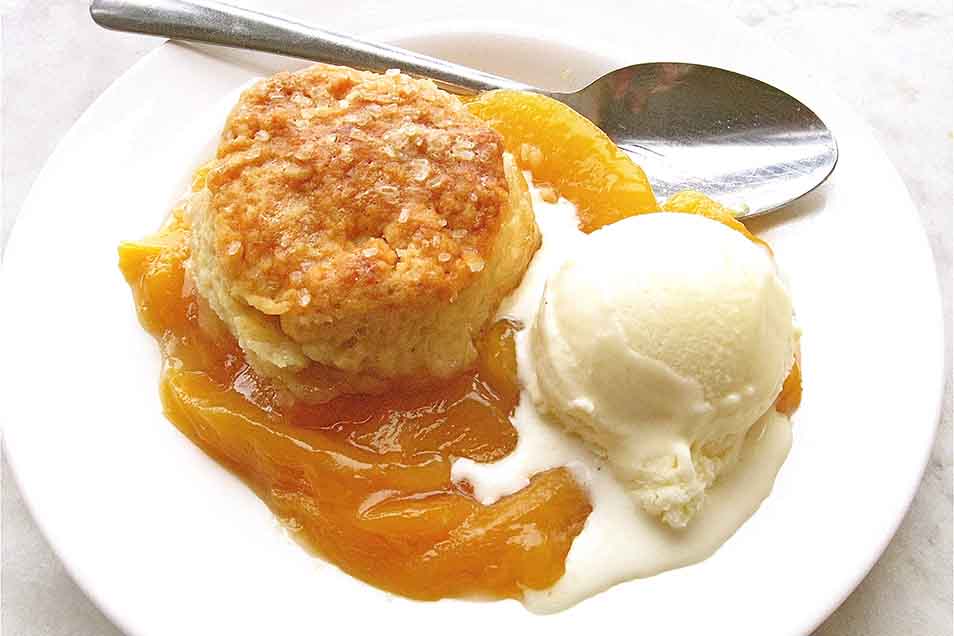 There's nothing that says summer like peach cobbler — even when it's made with frozen peaches! The vibrant orange-gold color of the peaches; the aroma of baking biscuits, and the slowly melting ice cream on top just beg for a warm summer evening on the deck, friends at the table, and cares set aside.

Our online baking forum, bakingcircle.com, was graced almost from the beginning by David Lee, a baker who loved sharing his recipes, tips, and baking lore, and was known for his calm, friendly online presence. David has sadly passed away, but his cream biscuits — which we use in this recipe — live on.
Ingredients
Filling
5 or 6 ripe peaches (about 2 pounds unpeeled), peeled, pitted, and sliced (4 heaping cups, a scant 2 pounds); or 2 pounds frozen sliced peaches*
2/3 cup sugar
2 tablespoons lemon juice
1 teaspoon vanilla extract
1/4 cup King Arthur Pie Filling Enhancer**
1/8 teaspoon salt
*If using frozen peaches, be sure they're thawed and at room temperature before proceeding.
**Don't have Pie Filling Enhancer? See tips, below.
Topping
2 cups Pastry Flour Blend or King Arthur Unbleached All-Purpose Flour
1 teaspoon salt
1 tablespoon baking powder
2 teaspoons sugar
1 to 1 1/4 cups heavy cream, enough to make a cohesive dough
1 to 2 tablespoons milk or melted butter, for brushing on top
coarse white sparkling sugar, for sprinkling on top, optional
Instructions
Preheat the oven to 350°F. Lightly grease a 9" round pan.

To make the filling: Combine all the filling ingredients, and spoon the peaches into the prepared pan.

To make the topping: Whisk or sift together the flour, salt, baking powder, and sugar.

Stir in enough heavy cream to moisten the dough thoroughly. You'll probably use about 1 cup in the summer, 1 1/4 cups in the winter, and 1 cup + 2 tablespoons at the turn of the seasons. You want to be able to gather the dough together, squeeze it, and have it hang together, without dry bits falling off.

Pat the dough into a lightly greased 9" round pan. Use a 2" round biscuit cutter to cut as many biscuits as you can, leaving them in the pan. Turn the pan over onto a lightly greased or lightly floured surface, rapping it a few times to make the dough fall out. Lift off the pan, pick up the cut biscuits, and space them atop the peach filling. You'll have leftover biscuit dough; shape it into additional biscuits to bake separately, if desired.

Brush the biscuits with milk or butter, and sprinkle with coarse white sparkling sugar, if desired.

Bake the cobbler for 45 to 50 minutes, until the filling is bubbly and the biscuits are golden brown.

Remove the cobbler from the oven, and let it rest at room temperature for about 20 to 30 minutes before serving; this allows the filling to set somewhat. Don't worry, it'll still be warm when you serve it.

Scoop the cobbler into serving dishes, including a biscuit with each serving. Top with vanilla ice cream, if desired.

Yield: about 12 servings.
Tips from our bakers
Best, easiest, and fastest way to peel peaches? See our knife-free peeling tip.
Want to make this cobbler with our easy-to-use self-rising flour? Substitute self-rising flour for the pastry blend or all-purpose flour in the topping ingredients, reducing the salt to 1/4 teaspoon and omitting the baking powder. Reduce the cream to 3/4 to 1 cup, using as much as necessary to make a cohesive dough.
Pie Filling Enhancer, a combination of extra-fine sugar, thickener, and ascorbic acid, improves both the flavor of the fruit, and provides the necessary thickening. Replace it with 2 tablespoons cornstarch mixed with the sugar before adding to the fruit, if desired. If you make this substitution, increase the sugar in the recipe to 3/4 cup.