A customized print-friendly version of this recipe is available by clicking the "Print Recipe" button on this page.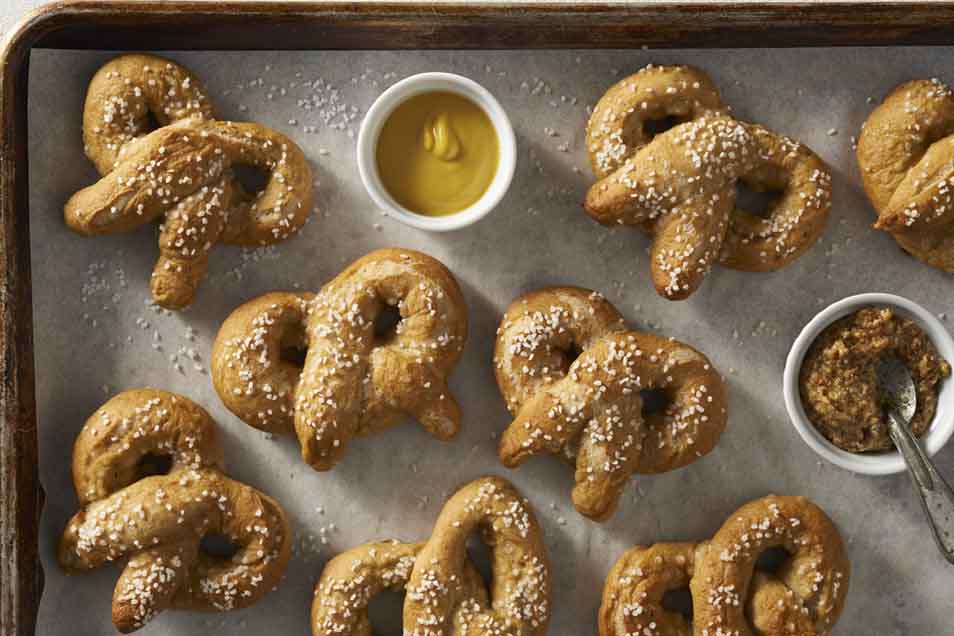 These old-fashioned "Philadelphia-style" pretzels are almost like bagels — smooth and shiny on the outside, chewy within.
Ingredients
Water Bath
6 cups water
2 tablespoons baking soda
Topping
pretzel salt or kosher salt
Instructions
Mix the sugar, water and yeast; stir to dissolve. (If you're using instant yeast, skip this step, simply combining all of the ingredients at once.) Add the white wheat flour, malt, salt, and enough unbleached flour to make a soft (but not sticky) dough.

Knead well, place in a bowl, and let rise until puffy, about 60 minutes.

Divide the dough into 16 pieces. Roll each piece into a log, and shape the logs into pretzels. (See "tips", below.)

Preheat the oven to 450°. Lightly grease (or line with parchment) a baking sheet.

In a large pot, boil together 6 cups of water and 2 tablespoons baking soda. Put 4 pretzels at a time into the boiling water, and cook for 1 minute. Transfer boiled pretzels to the baking sheet.

Sprinkle the pretzels with salt, and bake for 12 to 15 minutes, or until the pretzels are well-browned.

Store, well-wrapped, for up to 3 days on the counter, and freeze for up to a month.
Tips from our bakers
To shape the pretzels, take each rope and make a U-shaped loop with fairly short ends. Cross the rope near the ends, twist the ends a second time, and fold the twist into the middle of the U. Press the ends of the rope on either side of the bottom center of the loop, creating the classic pretzel shape.
Reviews
In my posting just below, I mixed up my words, what i meant to ask is can i substitute the all purpose flour for the white whole wheat flour to make the pretzel color whiter inside? Sorry for the mix up.

We're glad you clarified your question, Robin. We understand now that you're hoping to replace the White Whole Wheat Flour with All-Purpose Flour in order achieve a more distinctly white crumb color in your pretzels. You're more than welcome to go ahead make this substitution, noting that you may need to use slightly less water. Hold back the last 2 tablespoons of water and add it only if the dough feels stiff or dry during kneading. Happy baking! Kye@KAF
This recipe was good, the directions were very clear to understand. They were very fun to make although i need to practice my pretzel twisting/shaping skills!! I would like the pretzel to be lighter in color on the inside, is it possible to substitute the all purpose flour for the white whole wheat flour?

A little wheat would be lovely, Robin! We'd recommend using whole wheat flour for half of the flour in this recipe. If the dough seems too stiff or dry, drizzle in extra water a teaspoon at a time until it's soft and tacky. Happy baking! Annabelle@KAF
Bagels came out tasting great, but not shiny. Am I missing the egg wash in the recipe? I 've looked several times but can't find it. Should I do the egg wash after boiling but before salt?

Hi Paul. Our recipe doesn't use an eggwash because the salt sticks to the slightly tacky dough after boiling, but you're welcome to brush some on in between boiling and adding salt. Annabelle@KAF
Nice and easy recipe, great results.
I'm from Philly. For those who ask about the baking soda, it's what gives the pretzel flavor. No baking soda, NOT pretzels, just baked bread dough. It's not about the color, it's about the pretzel flavor. Take my advice to the bank!
I really can't comment because I didn't make it yet, but the recipe looks. My kids have egg allergies, so I am always looking for good egg-free recipes. Is there a substitute for the egg before baking?
You can use an egg replacer to brush on the dough, or just lightly brush it with water or butter. It's basically to help brown the tops and adhere the toppings. If you have any other questions, please give us a call on the Baker's Hotline. ~Mel
A little request...could you list the baking soda in the main ingredients? I have never made pretzels, and chose this recipe because I had all the ingredients on-hand. I didn't realize I'd need baking soda until the dough was rising, and I don't have baking soda in the house! Would have been nice to know that ahead of time.
I'll let the recipe team know. Sorry about the difficulty. Frank @ KAF.
From a Philly girl who is well acquainted with good soft pretzels, these were great! I've tried other recipes before, and this was by far the best. A few thoughts: For storing: a lot of people up this way store extra pretzels in the freezer. People will buy a bunch from a local pretzel bakery and stash them in ziplock bags in the freezer. To re-heat, you can use the microwave, but the oven or toaster will give you better results. For baking: I left out the egg wash on the second batch and they turned out just fine. The second batch also had a little time to rise before I poached them in the baking soda bath. Next time, I'll give the first batch a little time to rise, too. Yummy!
Delicious! I used brown sugar instead of the barley malt extract, and they turned out great-- chewy yet soft and just salty enough, with that distinct pretzel flavor. They were also very fun to make!
Great recipe. Easy and great tasting. Will definately make again.