A customized print-friendly version of this recipe is available by clicking the "Print Recipe" button on this page.
Classic Pumpernickel Bread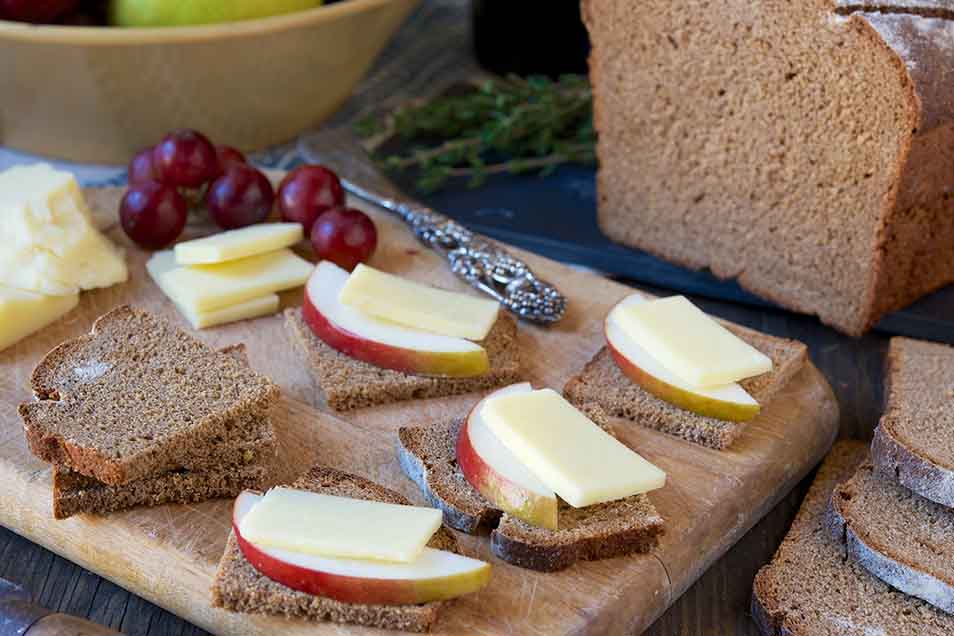 Molasses and a tiny bit of cocoa powder give this bread its rich, dark color. This moist, dense-grained bread, with the texture of the popular imported pumpernickel you can buy in the gourmet food section of some stores, is perfect for slicing thinly and using as a base for canapes (chopped liver and onions or pickled herring come to mind). Spread with sweet butter, it's also a tasty accompaniment to cheese and fruit, and makes a superior sandwich. Just remember to slice it thinly; it's heavy, and a little goes a long way. Once you try this homemade pumpernickel, you'll never have to buy it at the supermarket again!
Ingredients
1 1/2 cups water
1/2 cup cornmeal
1/4 cup molasses
1 tablespoon butter
1 1/2 teaspoons salt
2 teaspoons sugar
2 teaspoons caraway seeds
1 tablespoon unsweetened cocoa
1 tablespoon active dry or 2 1/2 teaspoons instant yeast
1 cup King Arthur White Whole Wheat Flour or Premium 100% Whole Wheat Flour
1 cup cooked, mashed potatoes
Instructions
Combine 1 cup of water with the the cornmeal in a saucepan and cook over low heat until thick, stirring often (about 5 minutes). Remove the pan from heat and add the molasses, butter, salt, sugar, caraway seeds and cocoa powder. Stir to combine and set aside to cool to lukewarm.

Put the remaining 1/2 cup water in a large mixing bowl and add the yeast. If using active dry, stir and let the mixture "proof" for 10 minutes. If using instant, no waiting time is necessary.

Add the molasses mixture and mashed potatoes.

Stir in the pumpernickel and whole wheat flour. Mix and knead the dough at medium speed for 10 minutes.

Transfer the dough to a greased bowl. Sprinkle the top with flour. Cover the bowl and let rise until the dough is not quite doubled; about 1 hour.

When the dough is risen, it will have expanded and you'll see cracks in the flour you sprinkled.

Shape the dough into a loaf and place in a greased 8 1/2" x 4 1/2" loaf pan. Sprinkle the top with more flour or brush with a mixture of 1 egg white beaten with a tablespoon of water.

Slash the top in a decorative design, and bake in a preheated 375°F oven for 55 to 65 minutes, until the center measures 200°F when measured with an instant-read thermometer. Remove from the oven, tip out of the pan, and cool on a rack completely before slicing.

Store at room temperature, well wrapped, for several days; freeze for longer storage.
Nutrition Information
Serving Size

1 slice, 69g

Servings Per Batch

20 thin slices
Amount Per Serving:
Calories

165

Calories from Fat

17

Total Fat

2g

Saturated Fat

1g

Trans Fat

0g

Cholesterol

2mg
Sodium

208mg

Total Carbohydrate

28g

Dietary Fiber

7g

Sugars

3g

Protein

9g
* The nutrition information provided for this recipe is determined by the ESHA Genesis R&D software program. Substituting any ingredients may change the posted nutrition information.
Tips from our bakers
You can mix this dough in a bread machine, but be aware you'll need to scrape the corners and sides of the bread machine's pan; the dough is very thick and doesn't move around a lot once it starts to come together. Just give it a little help with a rubber spatula from time to time, and the dough will be fine.
When made correctly, this is a very sticky dough. Grease or flour your hands very well before trying to work with it.
Reviews
This is indeed a heavy and dense bread. the texture is more like a dense cake rather than a bread because of the pumpernickel flour. My husband took the bread out of the oven for me and totally surprised him on how heavy the loaf was. I followed the recipe exactly and it turned out very well. It indeed taste even better after a day in the fridge; the flavor developed a lot more. I did all the mixing and kneading with my Kitchenaid - definitely do NOT do this by hand. It you don't have tennis elbow, you will after this :-)
I'm a newcomer to breadbaking, and have been so pleased with my results, thanks to your recipes. This was my first venture into something a little 'outside of the box' .... wasn't sure how I'd do with such a 'soggy' dough. It was terrific! I might suggest, however, you emphasize for us newbies that you really do need only one rise - I was afraid it was an error in the recipe, and it wasn't until I read someone's review that I realized you really did intend to shape the loaf and bake without the second rise. Thanks for your recipes - they're as good as your ingredients!
I baked this loaf in a round Pyrex casserole dish in order to get a boule shape, which I carved out and served vegetable soup-sour cream dip in. It was a hit, and I was asked for the recipe by guests. The bread was perfect, moist, hearty, and delicious. I'm going to bake another one tomorrow to slice for toast and sandwiches.
Can you bake this bread completely in the bread machine?

Wanda, the initial steps of cooking the cornmeal with water need to be completed in the stovetop, and then the dough can be mixed in a bread machine (although you'll need to scrape down the sides of the bucket periodically). We prefer baking breads like this by hand rather than using the bread machine because you'll end up with a prettier, more evenly baked loaf. Often times bread machines don't bake for as long as this loaf requires, but you can experiment with using dark crust settings and see if you like the result. Happy baking! Kye@KAF
I enjoyed the bread most after sitting a day and allowing the caraway to better permeate the loaf. It was definitely a sticky dough and a little difficult to handle when kneading. Hot soapy water on hand is a must when you're all through. If you have a mixer capable of kneading stiff dough then I'd recommend it. Sadly, my Kitchenaise is on the fritz and my wrists are killing me this morning. Overall this was an adventure since I've never handled a dough like this before and now that I know how it all comes together pumpernickel and Jewish rye are going to be a regular on my table. Next time I'm going to do the following and see if it comes out more to my liking: A bit less cornmeal, maybe 1/3 cup and reduce the sugar by half. Replace the lost cornmeal with whole wheat flour. Another 1/2 teaspoon of caraway would be great too. I'd also use 2 tablespoons of water in the egg wash. I guess I found the bread just a little too sweet for my tastes and the crust unpleasantly hard.
It took me 3 times to get this right, and I learned a few of things. 1) When they say, "This is a very sticky bread," it should be underlined, in bold with 3-6 exclamation points behind it. Don't own a plastic dough scraper? Now's the time, buddy. Flour your hands, flour the counter, flour the kids and the dog. What I'm saying is, it's sticky, okay? 2) Rye meal is not Rye flour. Yeah, I know. 3) When they say to mix on medium, they mean medium. I tried to knead this dough with the dough hook on the regular knead setting (2 on a Kitchenaid) and all it does is push the dough to the sides of the bowl. Crank the infernal machine up to 5 and let 'er rip. 4) No matter how much you knead, this will never come together like a regular, kneadable dough. You'll know it's done when you can see the dough starting to stretch behind the dough hook. It should be fairly soft, by the way. All that said, this is a great tasting Pumpernickel. Follow the recipe exactly, and you"ll be fine!
I followed the directions, and ended up with a nice tasting Pumpernickel brick. I know my yeast is not to blame, at least it's not inactive. Any ideas on what I could have done wrong?

We're glad the taste was good at least, Laura! Keeping in mind that this is a heavier, denser bread by nature, the most common path to a brick-like loaf involves unintentionally measuring out a heavy cup of flour. This can very easily be done when measuring by volume, so we recommend measuring by weight whenever possible. If you do measure by volume, we recommend fluffing the flour up in the container, sprinkling it into the measuring cup, and sweeping off the excess. This should help to achieve the relatively light cup of flour our recipes intend, and consequently a lighter, loftier loaf. Mollie@KAF
I just baked a loaf of the Classic Pumpernickel Bread recipe for the 1st time and my wife and I really enjoyed it! GREAT flavor and nicely moist! I will say though, I didn't understand not allowing for an "in-the-pan" rise but nevertheless, great bread!

Mike, we're glad you loved the taste and texture of this bread. A single rise is the nature of these pleasantly dense, pumpernickel-based breads. Some pumpernickel recipes will either skip the first rise and go right into the pan or vice versa, like with this recipe here. Any kind of rye flour ferments must faster than wheat flour, and since pumpernickel is whole rye flour, this is the case with this recipe. It sounds like the single rise worked well for you here. Happy baking! Kye@KAF
I followed the recipe to a "t" did not get anything even close to pumpernickel bread. Not the color, not the taste, not the texture. Very disappointing as I bought two bags of KA pumpernickel flour.

Maddie, we're sorry to hear this recipe didn't meet your expectations. We'd love to help you make the kind of bread you're looking for using our Pumpernickel Flour. Please consider giving the Baker's Hotline a call at 855-371-BAKE(2253) so we hear more about what you're looking for and suggest the right recipe. We hope to hear from you soon! Kye@KAF
Fail for me. I'm a pretty experienced bread maker -- I make bread almost every week -- and this was just a total fail for me. I subbed potato flour (1/4 cup) for the mashed potatoes; called the baker's hotline, and was told I'd only need to add a couple extra T. water. Well, the dough was *extremely* dry so I kept adding more water to try to achieve the "very sticky" consistency. Part of the problem is, going off recipe, I didn't know how wet/sticky I was aiming for. The resulting dough was impossible to work with (sticking to hands is an understatement) and it never pulled together while kneading. Although the dough did rise fine, the resulting baked loaf got no rise & is truly a "brick." LOVE KAF - this recipe just wasn't for me.