A customized print-friendly version of this recipe is available by clicking the "Print Recipe" button on this page.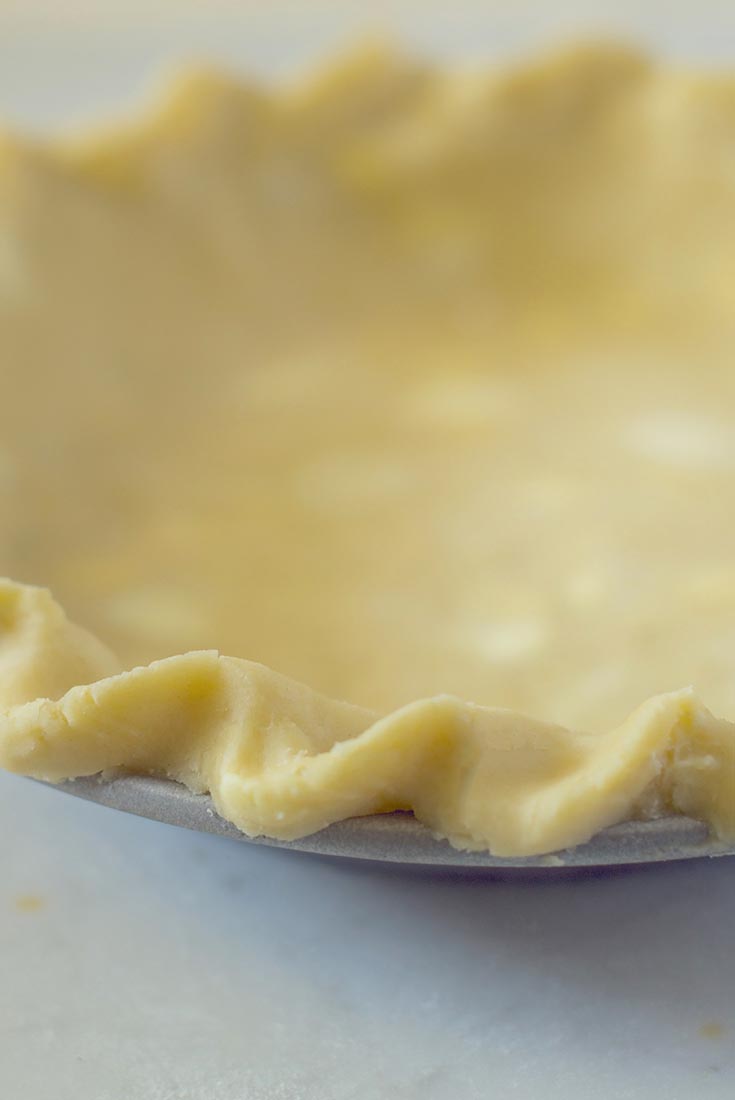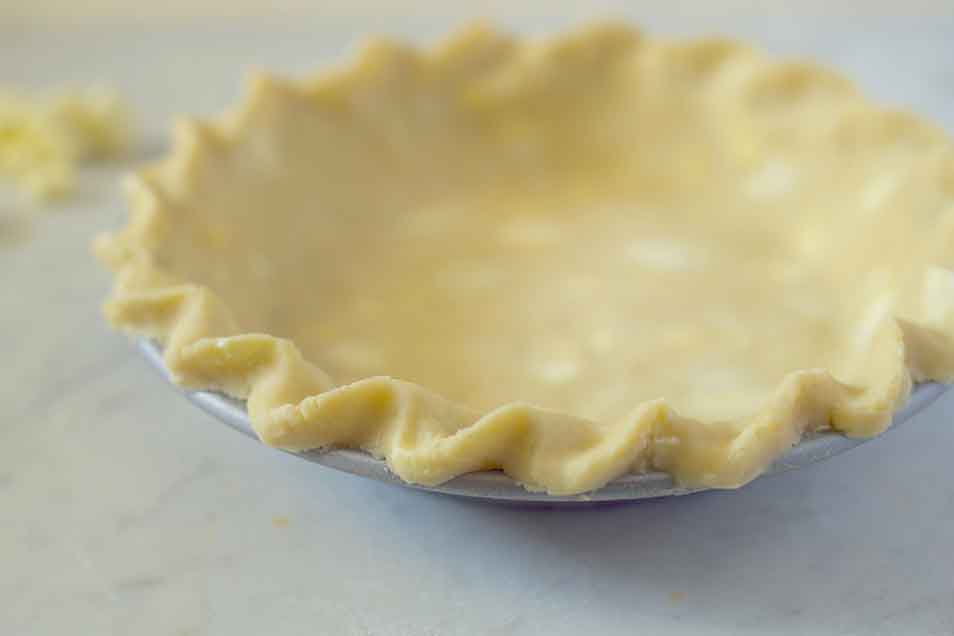 We figure we can't repeat too often our formula for the flakiest, most tender pie crust — so here it is. The following formula is perfect for a single-crust, 8" to 10" pie.
This recipe, formerly called Our Favorite Pie Crust, has been simplified to use fewer ingredients, for a more traditional end product. See "tips," below, for the optional ingredients the recipe previously called for.
Ingredients
1 1/2 cups King Arthur Unbleached All-Purpose Flour or Pastry Flour Blend
1/2 teaspoon salt
4 tablespoons shortening
5 tablespoons unsalted butter
3 to 5 tablespoons ice water
Instructions
Whisk together the flour and salt.

Add the shortening, working it in until the mixture is evenly crumbly.

Add the butter to the flour mixture, and work it in roughly with your fingers, a pastry cutter, or a mixer. Don't be too thorough; the mixture should be very uneven, with big chunks of butter in among the smaller ones.

Add 2 tablespoons of water, and toss to combine.

Toss with enough additional water to make a chunky mixture. It should barely hold together when you squeeze a handful, though the remainder may look quite dry.

Scoop the mixture out onto a piece of parchment or waxed paper, and flatten it out a bit. Take a spray bottle of water, and spritz the dry parts with the water.

Using the parchment or waxed paper, fold the dough over on itself — first from one side, then from the other. You'll find that the dry crumbs are becoming incorporated with the cohesive dough. If there are still dry areas, spritz them with additional water, and fold the dough in on itself again. Keep folding and gathering until just a few dry crumbs remain unincorporated; this should only take a few folds. For a visual demonstration of this technique, see Pie, Any Way You Slice It.

Shape the dough into a disk about 1" thick, and refrigerate it for 30 minutes or longer; this resting period allows the flour to absorb the water, making the dough easier to roll out.

When you're "ready to roll," remove the dough from the fridge. If the dough has been refrigerated longer than 30 minutes, let it rest at room temperature for 10 to 15 minutes before rolling, to allow the butter to soften up a bit.

Roll the dough to the size needed (about 12" for a 9" pie). Place it in a pie pan, and refrigerate it while you prepare your filling. Fill and bake as directed in your recipe.

Yield: one crust for a single-crust pie.
Nutrition Information
Serving Size

1 (45g)

Servings Per Batch

8
Amount Per Serving:
Calories

200

Calories from Fat

120

Total Fat

14g

Saturated Fat

6g

Trans Fat

0g

Cholesterol

20mg
Sodium

150mg

Total Carbohydrate

17g

Dietary Fiber

1g

Sugars

0g

Protein

3g
* The nutrition information provided for this recipe is determined by the ESHA Genesis R&D software program. Substituting any ingredients may change the posted nutrition information.
Tips from our bakers
You may be comparing this recipe with our Classic Double Pie Crust, and wondering why it's not exactly half the size of that recipe. Think about it; can you guess? A single-crust recipe is made assuming it will be used as the bottom crust of a pie; and the bottom crust, usually rolled to a diameter of 12" or so, requires more pastry than a top crust, usually rolled 9" to 10" diameter. Thus this recipe is slightly more than half the size of a typical double-crust recipe.
Water tends to reduce crust's flakiness and tenderness; so the less water you use, the better. Keep that in mind as you're gradually adding enough water to bring the pastry together; using a water bottle to moisten dry areas of the pastry is a good way to keep your water usage down.
If desired, add any or all of the following to the pastry: 1 tablespoon buttermilk powder; 1/4 teaspoon baking powder; 1 teaspoon vinegar. We've made the crust both with these optional ingredients, and without. Each changes the crust subtly: baking powder adds "poof;" buttermilk powder helps browning and tenderness, and adds a bit of flavor; and vinegar tenderizes it slightly. However, for the very flakiest crust, we omit these optional ingredients.
You may want to bake the crust prior to filling ("blind bake"); this is typically done when the filling itself doesn't need to be baked (e.g., lemon meringue, chocolate cream). To bake an unfilled pie crust, preheat the oven to 400°F. Line the chilled crust with foil or parchment paper, and fill it with pie weights or dried beans. Bake the crust for 20 minutes. Remove it from the oven, and gently remove foil or parchment with the weights or beans. Return the crust to the oven for 10 to 20 more minutes, until it's golden brown all over. If the edges of the crust start becoming too brown, cover them with a pie shield, or strips of aluminum foil. Remove the crust from the oven and cool completely before adding the filling.
Reviews
Such a great pie crust! I prepared three times to use as pastry for mini-tarts and every time was successful, exactly as written. Rolling out between sheets of wax paper was an excellent method for this pastry dough. Can't wait to use again for a full pie.
I have NEVER made a successful pie crust in my life until I tried this recipe! The step-by-step directions were great, I know that was the biggest help to me. My husband is a a bit picky about pie crust...he loved this one. I used lard instead of shortening and it turned out so light and flaky. This recipe gets two thumbs-up from us.
I'm just wondering (because I'm making lemon meringue soon) -- this blind bake says 400 for 20 min, and then 10-20 more. The 'how to blind bake pie crust' page says 375 for 20 min, and then 15-20 more. Does it matter? Or does either work as long as you keep an eye on it?

Thanks for bringing this to our attention. There are many different ways to successfully blind bake a pie crust, and both the methods outlined in the blog and here in the Baker's Tips will work. If your oven tends to run a bit hot, you might want to choose the 370°F option. Happy baking! Kye@KAF
I'm not a big fan of pie crusts. I tend to 'gut' pies and my husband eats the crust. This pie crust is a game changer! I've done the spray bottle thing, but I'll be honest. I wanted a simpler way to mix the pie dough. So, I modified the directions by pulsing the flour, salt and shortening until crumbly. I cut up the butter into small pieces and added that, along with the ice water. I used short pulses until there were large chunks of dough. I then dumped the dough onto plastic wrap and shaped it into a disc. Know what? It worked! The dough rolled out beautifully, and I used this recipe to make your Mile-High Lemon Meringue Pie (which is outstanding by itself). The crust was very tender, and this is now my 'go to' pie crust recipe. Thanks again, KAF.
I tried this recipe, and the crust came out extremely salty. Maybe I did something wrong? But I honestly did not like the way it turned out.

We're genuinely surprised that this wasn't to your liking and thank you for letting us know! 1/2 teaspoon salt for a full pie crust is a fairly small amount. Is it possible that you used salted butter? Different salted butters contain varying amounts of salt so it's possible that the combination of the 1/2 teaspoon salt plus the butter made the final dough saltier than expected. We'd love to chat with you about this is figure out where things may have gone awry or come to a solution for next time at 855-371-BAKE (2253). Kindly, Annabelle@KAF
I have watched my Grandma ,and my Mom make pies, and an elDer friend and always made good crust, but when I tried the never fail pie crust , lol guess what ,it failed but watch ing the friend ,and kept trying , but they used crisco shortening, all purpose flour, ice cold water. Makes good crust. But I now use butter flavor crisco, turns out just as good. I now make 5 crust at a time. For all who makes crust just think if stores are out of crust , you dnt have to worry ,you can make 1. And you cake make crust ahead and freeze then, just take out when needed. I like reading all experience s ,
Just finished baking a BlackBerry/apple pie. The crust is amazing - Flaky, Light and taste wonderful!
I watched my Grandmother make pies all thru my childhood, but I never had her watch and critique my technique. My pie crust has always been horrible until I got onto King Arthur web site. I watched the video on pie crust. This recipe is my favorite. I grate a stick of butter into a small stainless steel bowl and stick it into the freezer for at least 1/2 hour before I cut the butter into my sifted flour with a pastry blender. I never touch the dough with my hands, use 2 forks when incorporating the water. I spritz onto my dough, then stab the ball with a fork and stick it in a bag, flatten it out & put into the fridge for at least another 1/2 hour before I roll it out. Rolling it out is the only time I touch it with my hands. Don't wanna melt that butter. I did buy a pie weight and a crust sheild, and they are worth the investment! My pies are beautiful, full of flavor, and flaky now. Thank you King Arthur.
I have been making the same pie recipe for years. After watching all the great baking shows on TV, I was inspired to try a new pie crust. This is simply fabulous. My husband even noticed the difference. It is a few more steps than my last recipe, but not difficult at all. This will now be my go to pie crust.
Beautifully golden and flaky! My other favorite crust recipe makes 6 single crusts. This is my new favorite!!