A customized print-friendly version of this recipe is available by clicking the "Print Recipe" button on this page.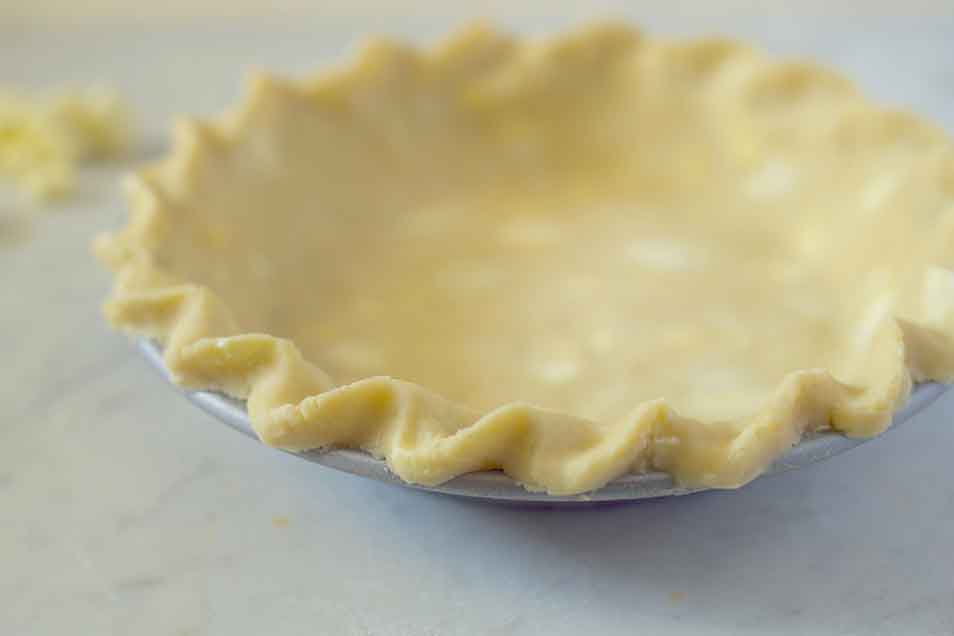 We figure we can't repeat too often our formula for the flakiest, most tender pie crust — so here it is. The following formula is perfect for a single-crust, 8" to 10" pie.
This recipe, formerly called Our Favorite Pie Crust, has been simplified to use fewer ingredients, for a more traditional end product. See "tips," below, for the optional ingredients the recipe previously called for.
Ingredients
1 1/2 cups King Arthur Unbleached All-Purpose Flour or Pastry Flour Blend
1/2 teaspoon salt
4 tablespoons shortening
6 tablespoons unsalted butter
3 to 5 tablespoons ice water
Instructions
Whisk together the flour and salt.

Add the shortening, working it in until the mixture is evenly crumbly.

Add the butter to the flour mixture, and work it in roughly with your fingers, a pastry cutter, or a mixer. Don't be too thorough; the mixture should be very uneven, with big chunks of butter in among the smaller ones.

Add 2 tablespoons of water, and toss to combine.

Toss with enough additional water to make a chunky mixture. It should hold together nicely when you squeeze a handful, though it shouldn't be at all sticky or wet.

Shape the dough into a disk about 1" thick, and refrigerate it for 30 minutes or longer; this resting period allows the flour to absorb the water, making the dough easier to roll out.

When you're "ready to roll," remove the dough from the fridge. If the dough has been refrigerated longer than 30 minutes, let it rest at room temperature for 10 to 15 minutes before rolling, to allow the butter to soften up a bit.

Roll the dough to the size needed (about 12" for a 9" pie). Place it in a pie pan, and refrigerate it while you prepare your filling. Fill and bake as directed in your recipe.

Yield: one crust for a single-crust pie.
Nutrition Information
Serving Size

1 (45g)

Servings Per Batch

8
Amount Per Serving:
Calories

200

Calories from Fat

120

Total Fat

14g

Saturated Fat

6g

Trans Fat

0g

Cholesterol

20mg
Sodium

150mg

Total Carbohydrate

17g

Dietary Fiber

1g

Sugars

0g

Protein

3g
* The nutrition information provided for this recipe is determined by the ESHA Genesis R&D software program. Substituting any ingredients may change the posted nutrition information.
Tips from our bakers
You may be comparing this recipe with our Classic Double Pie Crust, and wondering why it's not exactly half the size of that recipe. Think about it; can you guess? A single-crust recipe is made assuming it will be used as the bottom crust of a pie; and the bottom crust, usually rolled to a diameter of 12" or so, requires more pastry than a top crust, usually rolled 9" to 10" diameter. Thus this recipe is slightly more than half the size of a typical double-crust recipe.
Water tends to reduce crust's flakiness and tenderness; so the less water you use, the better. Keep that in mind as you're gradually adding enough water to bring the pastry together; using a water bottle to moisten dry areas of the pastry is a good way to keep your water usage down (see details in our blog post: Pie, Any Way You Slice It.)
If desired, add any or all of the following to the pastry: 1 tablespoon buttermilk powder; 1/4 teaspoon baking powder; 1 teaspoon vinegar. We've made the crust both with these optional ingredients, and without. Each changes the crust subtly: baking powder adds "poof;" buttermilk powder helps browning and tenderness, and adds a bit of flavor; and vinegar tenderizes it slightly. However, for the very flakiest crust, we omit these optional ingredients.
You may want to bake the crust prior to filling ("blind bake"); this is typically done when the filling itself doesn't need to be baked (e.g., lemon meringue, chocolate cream). To bake an unfilled pie crust, preheat the oven to 400°F. Line the chilled crust with foil or parchment paper, and fill it with pie weights or dried beans. Bake the crust for 20 minutes. Remove it from the oven, and gently remove foil or parchment with the weights or beans. Return the crust to the oven for 10 to 20 more minutes, until it's golden brown all over. If the edges of the crust start becoming too brown, cover them with a pie shield, or strips of aluminum foil. Remove the crust from the oven and cool completely before adding the filling.
Reviews
Made the recipe with AP flour but have a question about pastry flour and KAF pastry flour blend. If using an 8-9% protein pastry flour (not blend)) do I need to adjust amount of water or handle the dough differently?

Hi there! If you'd like to use a lower protein flour, we'd suggest starting with the lower amount of water called for. We find that we prefer a flour with medium protein content because pastry flour pie crust is harder to roll without cracking, and can split apart at the seams while the pie is baking. You might like to check out our blog article, How to make the best pie crust, which has more information about using pastry flour to make pie crust. Happy baking! Morgan@KAF
No sure..I baked it blind til it looked dry and made sure there were no holes. I added my quiche filling and it all ran out under the crust. What a mess! What did I do wrong?

Hi Chris! Sometimes those holes are so tiny you can't see them, until liquid (or quiche filling) is falling through them, unfortunately. Once the crust has cooled after blind baking, brush it with egg white. You can use one of the eggs in the recipe to do this and just throw the yolk and any remaining white into the filling once you're done brushing the crust. This helps fill in any potential "hairline fractures" that would allow the filling to leak through. We hope this helps! Annabelle@KAF
I have always used Julia Child's recipe but decided to try this one. Blind baking at 400 with ceramic weights was ok; however, when I removed the weights and went another 10 minutes, it burned to a crisp.

We're sorry to hear that the crust baked so quickly in your oven, Joyce. It sounds like your oven may be a little hotter than ours, or that the pie was closer to the heating element than ours and it caused it to darken much faster. We encourage you, if you'd like to try again, to keep an eye on the pie through the oven window once you've removed the weights so you can pull it just when it's golden. Then, you'll know the perfect timing for your oven and you can add a note to the recipe for next time. Annabelle@KAF
After watching the GBBS, I have definitely come to realize that a flaky crust comes from minimal handling and the smallest amount of water necessary to bring the dough together. That being said, I have never found that the MAXIMUM amoint of water stated in any dough recipe is enough to bring together my dough when I use KAF. That being said, I ALWAYS use KAF and just know that I'm going to add extra water...sometimes as much as 2-3 TBS more. I have no idea why that's always the case but I've learned to just go with it. And my crusts are flaky!

Hi Susan! Thank you for being such a loyal baker, we truly appreciate it! One of the most common reasons why a dough requires additional liquid is because too much flour is used. To ensure you're using the right amount, we recommend checking out the "Recipe Success Guide," link next to the ingredients header above. You'll see that either measuring your flour by weight using a scale, or fluffing and sprinkling the flour into your measuring cup are the best ways to ensure your recipe turns out perfectly. We hope this provides a little bit of background information and is helpful for future baking adventures! Kindly, Morgan@KAF
I hate making pie crusts...would even buy crusts rather than making them. This is about the 3d or 4th time I've made this recipe and they have worked every time. The only problem I have with King Flour is the lack of an app for my iPad!
Game changer, indeed! Coating the flour with shortening first really made a difference; it also helped control me when cutting in the butter to not over mix it. Very flaky crust! Not afraid of pie crusts anymore. Thanks, KAF!
I have always hated making pie crusts but I love this recipe so much. Coating the flour with the shortening before adding cold butter/water was a game changer for me. The softer flour blend was really nice and produced a tender crust. I won't use AP again for this application!
This recipe is dynamite! I was glad to have the tips and the visual on the double-crust apple pie site you linked to. I rolled between plastic wrap and lightly floured parchment and it landed in the pan nicely. I've gone back and forth between recipes trying to figure out which would work best and came here for what I knew would work (from previous experience with other KAF recipes). I've gotten many compliments on this crust and will use it again as soon as possible! Thanks again!
I'm sure I did something wrong. This dough came out wet and sticky no matter what I tried. Based off another review I switched to the double crust pie recipe and everything went smoothly. I definitely will not use the Classic Single Pie Crust recipe again but will definitely use the Double Crust Pie recipe!

Greg, we're sorry you struggled with this recipe! The Classic Double Pie Crust recipe is just a larger version of this one with the same ratios, so the texture should be about the same. We do encourage bakers to be careful with the water content of their pie crust, and to add water very carefully and sparingly. If you ever need help with a recipe, we also encourage you to try calling our Baker's Hotline at 855-371-BAKE (2253). They can help you through the process in more detail than we can here. We're very glad that the double pie crust is working very well for you in the meantime, though! Kat@KAF
This is an excellent pie crust ! I also followed the instructions on using the stand mixer to put it all together and it was perfect. This is going to be my go to pie recipe from now on.