A customized print-friendly version of this recipe is available by clicking the "Print Recipe" button on this page.
Clay's Multigrain Sourdough Sandwich Bread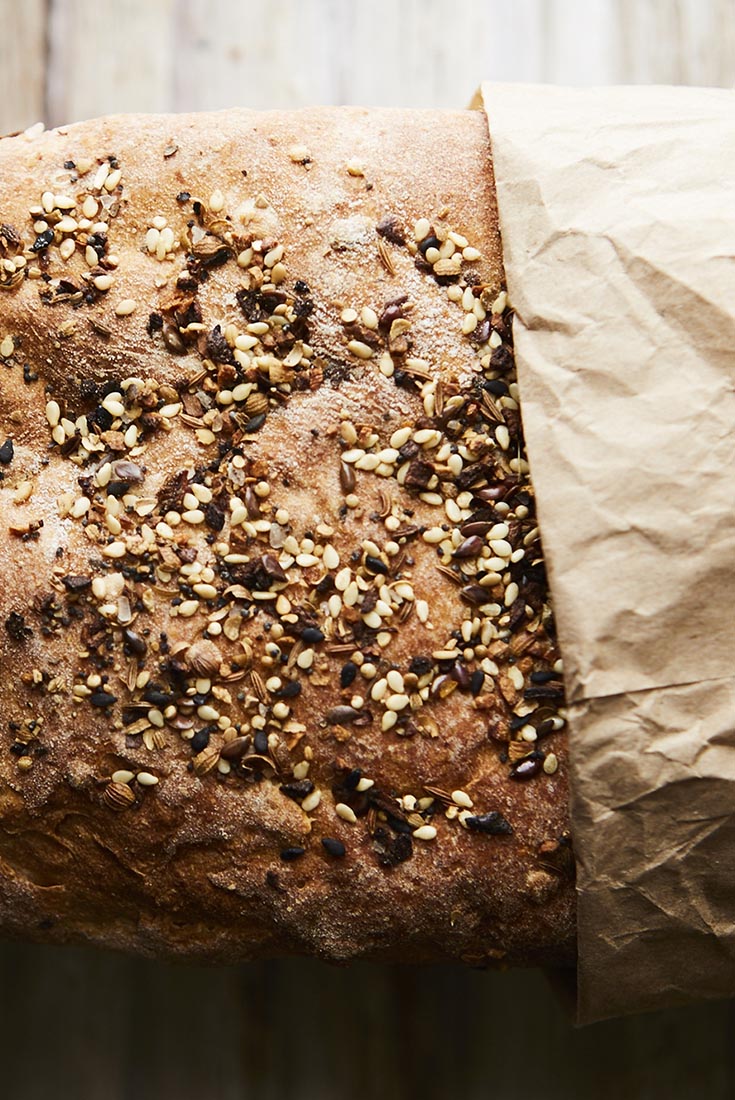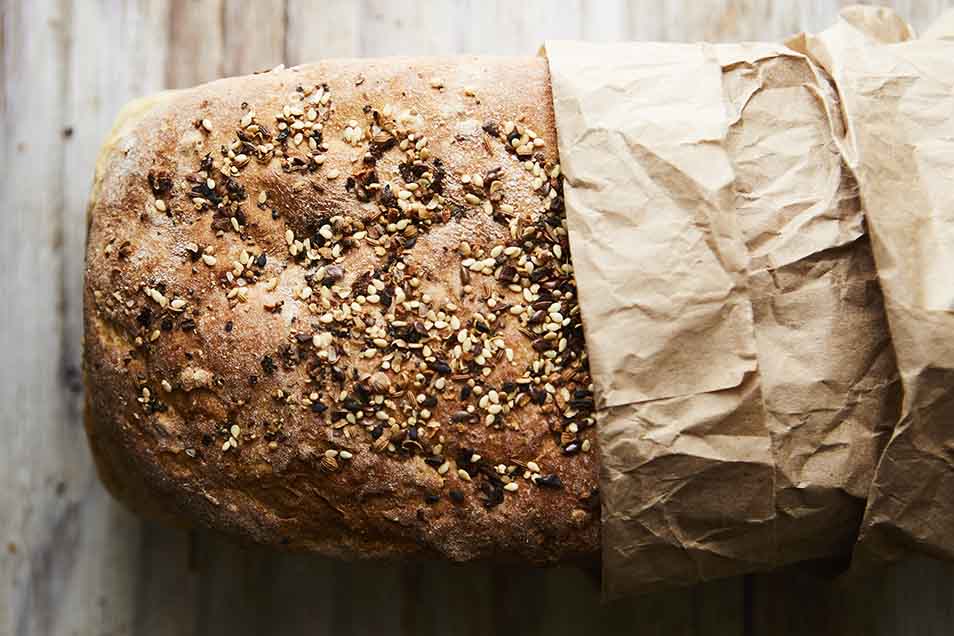 This unusual sandwich bread has the chewy texture of an artisan loaf, rather than the soft/tender texture of a typical loaf-pan bread. Happily, this makes it perfect for sandwiches: easy to slice (no crumbling), and sturdy enough to pack for lunch. And its tangy, rich taste is perfect with grilled veggies, ham and cheese, chicken salad, and all manner of favorite fillings.

Our thanks to reader Clay Blackwell of Lynchburg, Virginia, who shared this recipe with us.

New to sourdough? Find the help you need for all of your sourdough baking at our Sourdough Essentials page.
Instructions
Combine all of the ingredients — in a bowl, the bowl of an electric mixer, or the pan of your bread machine — and mix and knead to form a smooth dough. The dough may start out shaggy, then become stickier as you knead; if you use a stand mixer, by the end of a 7-minute knead it'll be sticking heavily to the sides of the bowl. That's OK; if you can scrape it off the sides of the bowl and it feels firm enough to hold its shape, and doesn't stick to your floured or oiled hands, it's fine.

Cover the dough, and allow it to rise for 1 1/2 to 2 hours; it'll become puffy, though it may not double in bulk.

Lightly grease an 8 1/2" x 4 1/2" bread pan. Gently deflate the risen dough, and shape it into a log. Place it in the pan, cover it lightly, and allow it to rise until it crests at least 1" over the rim of the pan, 1 1/2 to 2 hours. The bread doesn't have much oven-spring (i.e., it won't rise much once it's in the oven), so be sure to let it rise fully before baking. A loaf risen 1" over the rim of the pan will be denser and more close-grained; letting it rise higher will give you a "spongier," lighter bread. Towards the end of the rising time, preheat the oven to 350°F.

Bake the bread for 30 to 35 minutes, tenting it with foil after 20 minutes if it's as brown as you like it. When it's done, the bread will be golden brown, and will register 190°F on an instant-read thermometer inserted into the center.

Remove the bread from the oven, and turn it out of the pan onto a rack, to cool completely.

Yield: 1 loaf, 16 slices.
Nutrition Information
Serving Size

32g

Servings Per Batch

16
Amount Per Serving:
Calories

97

Calories from Fat

Total Fat

1g

Saturated Fat

Trans Fat

Cholesterol

0g
Sodium

168mg

Total Carbohydrate

17g

Dietary Fiber

1g

Sugars

1g

Protein

3g
* The nutrition information provided for this recipe is determined by the ESHA Genesis R&D software program. Substituting any ingredients may change the posted nutrition information.
Tips from our bakers
Doesn't sourdough starter need to be fed before using? Well - not necessarily. So long as you're using a recipe with added yeast, you can use sourdough straight from the fridge; just assume your rising times will be slightly longer. One caveat: if your sourdough hasn't been fed in a long time - e.g., it has a layer of dark liquid on top - best to feed it before using.
Since sourdough starters vary quite a bit in consistency, from thin as popover batter to thick as soft dough, it's difficult to give an exact amount of flour. If your starter is very thin, you may need an additional 2 to 4 tablespoons of flour, beyond the 1 1/2 cups, to make a dough that's sticky, yet still stiff enough to hold its shape.
If you find you haven't left yourself enough time to complete this bread on schedule, shape and place in a loaf pan; cover the pan, and refrigerate overnight, or for up to 18 hours. The bread will rise slowly in the fridge. Next day, let the loaf rest at room temperature for a couple of hours, or till it's as risen as you like; then bake as directed.
Reviews
This was the second bread I made using my recently established sourdough starter. I used fed starter (which is optional with this recipe). I had let it rise about 1 1/2" above the top of the pan. It also took forever to rise the second time. Delicious flavor but for some reason the loaf didn't have any oven spring, so the loaf was a conservative height. Any feedback would be appreciated.

Hi Sandi. Sourdough breads tend to take a long time to rise, but the lack of oven spring may have been caused by over-proofing during the first rise. If dough overrises initially, it has a slow and weak final rise and little to no oven spring just because the gluten strands have tuckered out. Try shortening up the first rise and you should have better results. Happy baking! Annabelle@KAF
A double recipe fit my large loaf pan perfectly and I've made this bread almost once a week since I discovered the recipe, varying the flours with what I have around. It's easy to slice thinly which is an added plus.
This recipe has intrigued me and when I had the multigrain, I whipped some up. It was sticky, somewhat shaggy but easy to handle. At first I thought it would be too dry, but after following the 7 min knead cycle, it was perfect. I was more interested in getting it stenciled - my current bread craze- & forgot to brush with butter. I was able to apply it by dabbing around the stencil and it browned up nicely even though it was 10-15 min into bake time. The aroma was really enticingly rich and we had to resist the urge to slice into it. When cool and sliced the flavor was intriguing..the multigrain subtleties changed the flavor profile with each bite. Wonderful crumb, great texture, this would make really good dinner rolls. By the way, the wheat stencil applied with powdered instant coffee turned out great!
This is probably the simplest sourdough recipe I have come across but it is also really good. I think all sourdough beginners (myself included) should start with this recipe. My only complaint is that my bread never has a golden brown crust; it browns very slightly but not like the pictures. But it doesn't affect its taste which is still really good!

To encourage more browning, try using 1-2 tablespoons of honey instead of sugar in the recipe and also brush the dough with melted butter right before it goes into the oven. This should produce the golden brown crust you're looking for. Happy baking! Kye@KAF
This is my first bread using my few month old sourdough starter, and I'm thrilled with the results. I have taken several KAF sponsored Craftsy bread classes online, and have been baking bread (mostly no-knead method) for years. I would strongly suggest weighing ingredients and using the stretch and fold method to knead by hand. I used 2 t vital wheat gluten and my own blend of flaxseed and millet instead of the KAF grain blend (though I will buy this for future recipes). I also used oil on my hands and the counter with kneading to reduce stickiness. Delicious taste, very soft fluffy crumb, and still going strong on day 3. Thank you KAF!
I have baked many of the sourdough recipes on this website and this is the first one that does not come out well. There was trouble with rising- finally baked it and it is just ok. I will not be making this one again.

Sounds like you're a seasoned sourdough baker, Cag! If you'd like to chat with one of our bakers about ways to improve the rise in the future (with this recipe or any other), feel free to give us a call: 855-371-BAKE(2253). Kye@KAF
I actually love this recipe, but I must admit that I add as much as twice the amount of starter than is called for, and vital wheat gluten instead of the KS dough conditioner. I get good rises as well as a pretty decent oven spring amazingly enough. I also get pretty consistent results doing it this way
I empathize with Laura from ME (review 2/2/17), who has tried this recipe a number of times and had trouble. On the 5th try, weighing ingredients each time, and using least amount of flour, extra water, and extra vital wheat gluten (1 T, instead of 2 t KA whole grain bread improver), shorter 1st rise (dough doubled in an hour in Austin's summer like climate) and 2 hour second rise, I finally got a decently lofty loaf from it. The flavor is great, and it lasts well through a few days. Only gave 2 stars because of the trial and error I had to do with the recipe to get a good rise from it. Also, never could get a decent rise when kneading by hand. Only got this recipe to work well when I broke down and bought a KitchenAid mixer, which is unfortunate because hand kneading and mixing is the most fun part of baking bread, to me. Maybe it was the mixer, maybe it was the extra wheat gluten that did it for me this time, not sure. For some of us experienced bakers, this recipe isn't as forgiving and foolproof as it seems to be for other reviewers!

Mary, it sounds like perfecting this recipe has been a bit of a process for you, but we're glad to hear you've persevered. If you have additional thoughts about how we could make this recipe easier to master, please feel free to share your feedback with us on the Baker's Hotline (855-371-BAKE). Kye@KAF
I found this recipe this morning while searching for a sourdough honey wheat. I had some very active unfed starter,that was begging to be made into bread instead of being dumped down the drain. I had to make some substitutions as I didn't have all ingredients on hand. Instead of potato flour I added more whole wheat and instead of sugar I used honey also I added rolled oats. Everything went into the bread machine on dough setting. After the first raise,in a bowl instead of the machine, I shaped it into a loaf and left it to rise. An hour later the happy little loaf was ready to bake. It crowned 1 inch or so above the pan and I expected it not to spring in the oven so all was good. 350 in the convection oven for 22 minutes and this loaf much to my surprise was standing up like a full size loaf. It really puffed up. I just tasted the bread and it is delicious. It will be perfect for sandwiches and toast. Light and fluffy. With a nice crumb but still a bit chewey. I think I've found the best loaf for sandwiches and such. Thanks so much for putting this recipe on here. I may try baking it your way later but for now this is the best.