A customized print-friendly version of this recipe is available by clicking the "Print Recipe" button on this page.
Clay's Multigrain Sourdough Sandwich Bread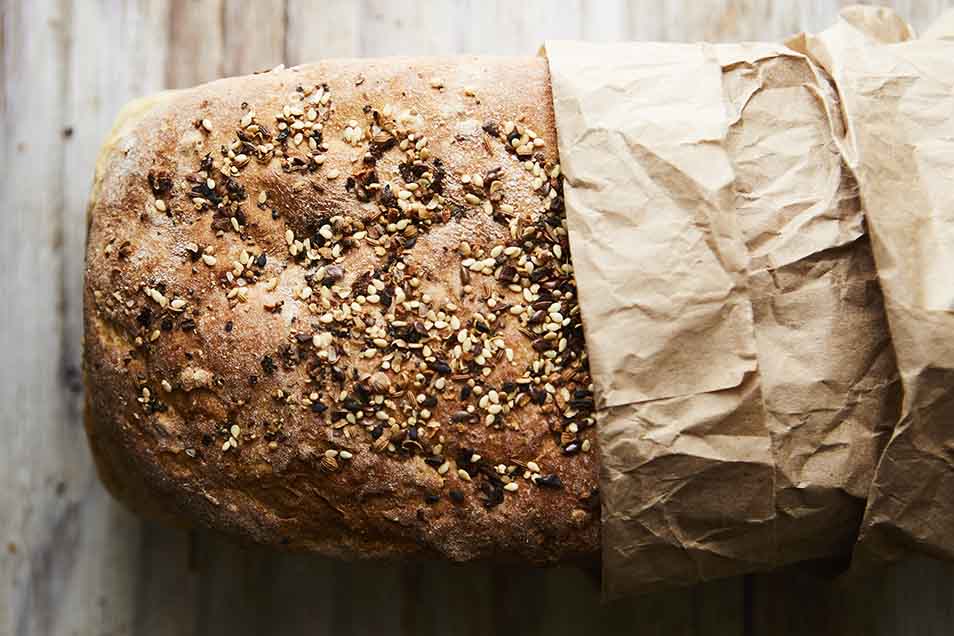 This unusual sandwich bread has the chewy texture of an artisan loaf, rather than the soft/tender texture of a typical loaf-pan bread. Happily, this makes it perfect for sandwiches: easy to slice (no crumbling), and sturdy enough to pack for lunch. And its tangy, rich taste is perfect with grilled veggies, ham and cheese, chicken salad, and all manner of favorite fillings.

Our thanks to reader Clay Blackwell of Lynchburg, Virginia, who shared this recipe with us.

New to sourdough? Find the help you need for all of your sourdough baking at our Sourdough Essentials page.
Instructions
Combine all of the ingredients — in a bowl, the bowl of an electric mixer, or the pan of your bread machine — and mix and knead to form a smooth dough. The dough may start out shaggy, then become stickier as you knead; if you use a stand mixer, by the end of a 7-minute knead it'll be sticking heavily to the sides of the bowl. That's OK; if you can scrape it off the sides of the bowl and it feels firm enough to hold its shape, and doesn't stick to your floured or oiled hands, it's fine.

Cover the dough, and allow it to rise for 1 1/2 to 2 hours; it'll become puffy, though it may not double in bulk.

Lightly grease an 8 1/2" x 4 1/2" bread pan. Gently deflate the risen dough, and shape it into a log. Place it in the pan, cover it lightly, and allow it to rise until it crests at least 1" over the rim of the pan, 1 1/2 to 2 hours. The bread doesn't have much oven-spring (i.e., it won't rise much once it's in the oven), so be sure to let it rise fully before baking. A loaf risen 1" over the rim of the pan will be denser and more close-grained; letting it rise higher will give you a "spongier," lighter bread. Towards the end of the rising time, preheat the oven to 350°F.

Bake the bread for 30 to 35 minutes, tenting it with foil after 20 minutes if it's as brown as you like it. When it's done, the bread will be golden brown, and will register 190°F on an instant-read thermometer inserted into the center.

Remove the bread from the oven, and turn it out of the pan onto a rack, to cool completely.
Nutrition Information
Serving Size

32g

Servings Per Batch

16
Amount Per Serving:
Calories

97

Calories from Fat

Total Fat

1g

Saturated Fat

Trans Fat

Cholesterol

0g
Sodium

168mg

Total Carbohydrate

17g

Dietary Fiber

1g

Sugars

1g

Protein

3g
* The nutrition information provided for this recipe is determined by the ESHA Genesis R&D software program. Substituting any ingredients may change the posted nutrition information.
Tips from our bakers
Doesn't sourdough starter need to be fed before using? Well, not necessarily. So long as you're using a recipe with added yeast, you can use sourdough straight from the fridge; just assume your rising times will be slightly longer. One caveat: if your sourdough hasn't been fed in a long time — e.g., it has a layer of dark liquid on top — best to feed it before using.
Since sourdough starters vary quite a bit in consistency, from thin as popover batter to thick as soft dough, it's difficult to give an exact amount of flour. If your starter is very thin, you may need an additional 2 to 4 tablespoons of flour, beyond the 1 1/2 cups, to make a dough that's sticky, yet still stiff enough to hold its shape.
If you find you haven't left yourself enough time to complete this bread on schedule, shape and place in a loaf pan; cover the pan, and refrigerate overnight, or for up to 18 hours. The bread will rise slowly in the fridge. Next day, let the loaf rest at room temperature for a couple of hours, or till it's as risen as you like; then bake as directed.
Reviews
My dough barely rose once into the loaf pan. I finally ran out of patience and baked it when it was just level with the top of the pan. It turned out moist, delicious and light and was yummy with some butter that melted while the slice was still warm.
Done this recipe four times. The second rise, in the bread pan, has split and failed to rise. The result has been a flat, dense, unpalatable bread.

Hi there. We're sorry to hear that this well-loved recipe is giving you some trouble. It sounds like maybe your first rise might be a little too long, so by the time your dough is onto the second rise the yeast has given out. The splitting of the loaf is interesting — it sounds like the dough could be getting a little dried out and a skin is forming which cracks while rising. If we can help troubleshoot or pick out a recipe that better fits your tastes, please give our Baker's Hotline a call at 855-371-BAKE. Kindly, Morgan@KAF
Fabulous recipe, with easy to follow, complete instructions. It works. My pans are 9x5, so I multiplied all the ingredients by 115%. Using a very active wild sourdough that's been tended daily at room temp in my kitchen for a month. Mixed on a stand mixer with dough hook for 7 minutes. The first rise fully doubled in volume in an hour, so I punched it down early. The 2nd rise crested the pan by 2" in about 90 minutes, just like in the photo, so into the oven it went. 30 minute bake at 360*. Delicious. I'm quite new at baking. Had some early so-so success with basic flour-salt-water sourdough loaves, but this is my first successful loaf that used active dry yeast. I'll be making it a household staple.
I baked this recipe and followed the baker's tip to refrigerate the loaf overnight. The loaf turned out beautifully with a soft texture and outstanding flavor. If you are looking for a multigrain bread, I highly recommend this one!
Wish it has more rye flavor, but like it better than Marilyn's recipe. Really like the harvest grains addition. My one mistake was spraying the dough before baking and patting some harvest grains into the top. It deflated the dough, so next time I won't pat them. I will use some deli rye flavor as well, and proof in the refrigerator to develop more flavor. Great recipe!
Excellent results. I bake a lot of sourdough and this one was perfect the first time around. I did not change a thing.
First time sourdough bread baker in the house. I chose this as my first recipe as I had a considerable amount of discard to work with. From start to finish the whole process was easy and went smoothly. Instead of Harvest Grains Blend, I used a combination of flax seeds, hemp hearts and rolled oats. I baked the bread yesterday and just toasted up a couple of lovely slices for lunch. The only 5ing keeping me from giving the bread 5 stars is that my palette wanted a touch more salt, but really, only a touch. This was a great recipe for a first foray into sourdough bread. Thank you Clay and the great folks at KAF.
In a word- YUM. The crumb is tender, airy and moist and honestly we didn't wait for it to cool completely. Very different for than a y other multigrain. One tricky part for us- seems our kitchen is the optimal "rapid rise" proof box! Our bread double in about 30 minutes at room temp (~77F). Second rise therefore ended a bit flat because of lost "poofing" power. It still held the air beautifully but sank just a bit more during baking. Any thoughts? PS- did not butter top so it did not get deeply golden and didn't care- still lightly browned and crusty!

Sounds like a quick riser, indeed! Next time try reducing the yeast to 1 teaspoon and use cool water. This will slow down the rising action so that you'll get a better, more sturdy structure and also more flavor (a bonus). Happy baking! Kye@KAF
I baked this bread today, WITHOUT YEAST but could not use more than few tblsp of the AP flour, when the recipe calls for more than a cup of AP flour. If I had used all of the recommended AP flour, it would have made a very dry dough. The loaf did not rise too high like my regular yeast loaf. It's a soft bread. My starter was ripe and very robust. What can I do to get a higher loaf? I made sure the dough left a hole in it when I poked with the finger, to make sure it had proofed well. So it was not underproofed.

Hi Swati. Omitting the yeast will almost always lead to a loaf not rising as high as its missing some of the oomph you get from yeast. You were smart to not add all of the flour and stop when the dough had come together. It's possible that your starter is thicker than the one we use here in our test kitchen (which is 100% hydration and the consistency of thick pancake batter) which would lead to needing less flour in the actual dough. We'd love to chat further about your recipe, so we encourage you to reach out to our friendly Baker's Hotline staff to help troubleshoot at 855-371-BAKE (2253). Kindly, Annabelle@KAF
WOW!!!! This bread is incredible. I have made a single plus a double batch of this bread in under two weeks. My finicky family LOVES it! When I did the double batch, I made 1 in a loaf pan, and then made 2 giant sized panini type rolls/mini loaves. They were gobbled up within 2 days, and more requested. Thank you for the recipe.