A customized print-friendly version of this recipe is available by clicking the "Print Recipe" button on this page.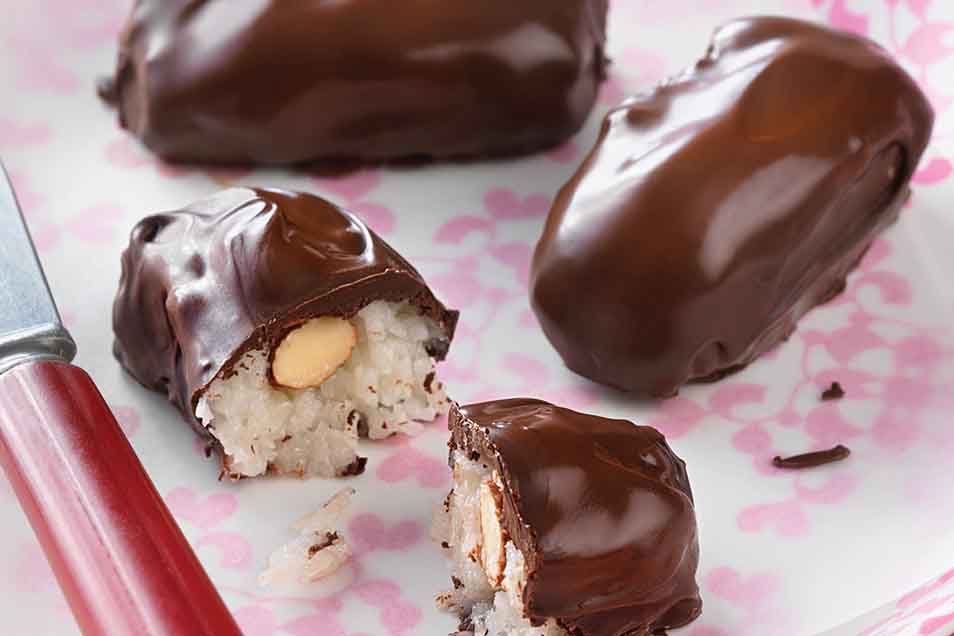 Oh, joy! This coconut-almond-chocolate combination is one that many people know well. Bringing this no-bake treat together is quick and easy, guaranteeing a treat that will be ready to enjoy in less than an hour.
Ingredients
1/3 cup boiling water
1/4 cup melted unsalted butter
3/4 cup sugar
1/4 teaspoon salt
1 cup coconut milk powder
2 1/2 cups unsweetened shredded coconut
1 cup toasted whole almonds
2 cups chopped bittersweet chocolate or chocolate chips, melted
Instructions
In a large bowl, beat together the water, butter, sugar, salt, and coconut milk powder until thick and smooth, scraping the bottom and sides of the bowl as necessary.

Add the coconut and stir to combine.

Scoop the mixture by tablespoonfuls (a tablespoon cookie scoop works well here), and shape into round mounds. Place on parchment-lined baking sheets, topping each mound with 2 almonds.

Freeze the candies for 30 to 60 minutes, until they're firm enough to handle easily.

Coat the candies with the melted chocolate, and place back on the baking sheets. Cool until the chocolate is firm.

Yield: 28 candies.
Nutrition Information
Serving Size

1 piece (41g)

Servings Per Batch

28
Amount Per Serving:
Calories

220

Calories from Fat

160

Total Fat

17g

Saturated Fat

11g

Trans Fat

0g

Cholesterol

5mg
Sodium

35mg

Total Carbohydrate

17g

Dietary Fiber

3g

Sugars

12g

Protein

3g
* The nutrition information provided for this recipe is determined by the ESHA Genesis R&D software program. Substituting any ingredients may change the posted nutrition information.
Reviews
Can canned liquid light coconut milk be substituted for the powder?

Hi there, fellow baker! Becuse it is such a large amount we wouldn't suggest replacing the coconut milk powder with liquid coconut milk. The filling will be too soupy to scoop and shape. For best results we'd suggest using coconut milk powder. Kindly, Morgan@KAF
Update of my last review. After placing the Candies in the freezer to set, the filling was not as soft, and the chocolate did have a shine and snap to them. After one of my son's and daughter-in-law tasted one, they ended up taking a tin full of these candies back home with them. When I receive my second order of Coconut Milk Powder, I plan on making heart-shaped candies for Valentine's Day. I just need to find heart-shape cutters.
I just made a batch of the Coconut-Almond Candies this afternoon. I also found the coconut mixture to be soft when I sampled one. These taste like Almond Joy Candy Bars, which I love! I only have one question. After dipping the coconut mixture into the melted chocolate, (I used Ghirardelli bittersweet wafers) how do you get the chocolate to keep the shine after the candy rest on the parchment line baking sheet?

While simply melting your chocolate will work here, you'll want to use the tempering process to ensure shine and snap. As we explain in our Chocolate Tempering Guide, "tempered chocolate has been melted, cooled, and handled in a manner that allows very specific fat crystals (called beta crystals) to form. The result is chocolate that's shiny, will snap when broken, and isn't tacky to the touch." For detailed directions, you can find the full guide under the 'Learn' section of our site, under 'Resources & References'. Hope it helps! Mollie@KAF
I made one-third recipe to use up the last 42 grams of my coconut milk powder. My filling was kinda loose, and most of the mounds fell apart while dipping. I probably put a few too many grams of water. So, watch out for that, y'all!
I have made these on more than one occasion and brought some to work. I have people that ask me to make them again. Also a couple who offered to buy them from me and pay for the ingredients if I would make them. Very easy!
I made these for my granddaughter. She said she loved them except that the dark chocolate wasn't her favorite so I told her to offer them to her other grandparents but she refused saying she liked them too much to share. I ordered KAF milk chocolate for which I'll use with the next batch. My husband has confiscated the ones I left at home and tells me every time he eats one how much he "loves" them. So there you go.
When I made this recipe I only had sweetened coconut flakes. Used less sugar and it still worked. It helps to keep the candy in the refrigerator a good, long while. I really liked this recipe.
I love the flavor of this recipe. However, even after freezing prior to dipping in chocolate, once they were set and the chocolate was hard, the coconut mixture inside was very soft, and some of them had tiny drops of liquid that came out through the chocolate. Any tips? Add more coconut? I'm not sure how to not have this issue.
I am sorry this recipe did not work out this time around. Were you sure to use unsweetened coconut? We would love to take a deeper dive so please call the hotline, 1-855-371-2253(BAKE). Elisabeth@KAF
I'm sure this is quite tasty...however, Lisa from Chicago has a valid question. How DO you measure coconut. The measurement in this recipe is in volume, not weight. If you're going to use a scale, I think weight would be a fairer way to measure. If it takes 2 1/2 cups, how do you measure? I don't think this reply correctly answers her question. "A scale is the most accurate way to measure ingredients".~Jaydl@KAF Help??!
The recipe lists the ingredients by volume, ounces and grams. Measuring by weight is the most consistent. If you prefer to use measuring cups, please scoop the coconut with your cups.~Jaydl@KAF
These are delicious and pretty easy. I had a problem with measuring the coconut. I had a bag of coconut and measured it out, it measured 2 1/2 cups, and I noticed on the back of the package it said a serving was 1/4 cup and there were 6 servings in a package so that would tell me there was 1 1/2 cups in the bag. So I used the whole bag of coconut, but only got about 18 candies. I put them all back in the bowl, added another cup of coconut and then I was able to make 28 pcs. So how do you measure coconut?
A scale is the most accurate way to measure ingredients.~Jaydl@KAF