A customized print-friendly version of this recipe is available by clicking the "Print Recipe" button on this page.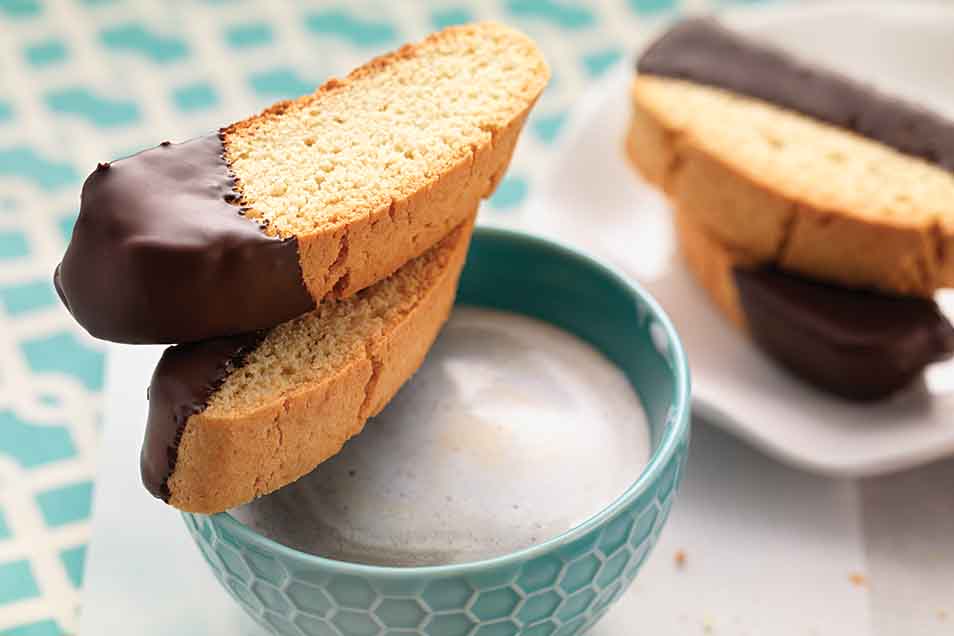 These coconut biscotti, plain or dipped in chocolate, are crunchy and delicious. This recipe makes sturdy cookies that keep well, and are perfect for sending away to friends and relatives.
Instructions
Preheat the oven to 350°F. Lightly grease (or line with parchment) one large (about 18" x 13") baking sheet.

Combine the flours and coconut, stirring until well blended. Set aside.

In a medium-sized bowl, beat together the butter, sugar, salt, vanilla, coconut extract or flavor, and baking powder until the mixture is smooth and creamy.

Beat in the eggs until well incorporated. The batter will slightly curdled, but it will smooth out when you add the flours.

With your mixer running at low speed, add the flours and coconut, stirring until blended and the dough is sticky.

Plop the dough onto the prepared baking sheet. Divide it in half, and shape it into two 9 1/2" x 2" logs, about 3/4" tall. Straighten the logs, and smooth their tops and sides; a wet spatula or wet bowl scraper works well here. Sprinkle with coarse white sparkling sugar, if desired, pressing it in gently.

Bake the dough for 25 minutes, then remove it from the oven.

Using a spray bottle filled with room-temperature water, lightly but thoroughly spritz the logs, making sure to cover the sides as well as the top. Softening the crust just this little bit will make slicing the biscotti much easier. Reduce the oven temperature to 325°F.

Wait 5 minutes, then use a sharp chef's knife or serrated knife to cut the log crosswise into 1/2" to 3/4" slices. Or cut the biscotti on the diagonal, for fewer, longer biscotti. As you're slicing, be sure to cut straight up and down, perpendicular to the pan; if you cut unevenly, biscotti may be thicker at the top than the bottom, and they'll topple over during their second bake.

Set the biscotti on edge on the prepared baking sheet. Return the biscotti to the oven, and bake them for 25 to 30 minutes, until they feel very dry and are beginning to turn golden. They'll still feel a tiny bit moist in the very center, if you break off a piece; but they'll continue to dry out as they cool.

Remove the biscotti from the oven, and transfer them to a rack to cool. Store airtight at room temperature; they'll stay good for weeks.

Yield: 30 to 40 biscotti, depending on size.
Reviews
Absolutely delicious! I am not always a huge coconut fan, but the delicate flavor in these, especially after you toast the flakes, is perfection. As other reviewers have mentioned, these were not rock-hard at all, and were instead pleasantly crisp. I topped mine with dark chocolate and it only improved them. Shaping the logs is a little tricky; I ended up using wet fingers to pat it into a better shape and although it looked icky in the moment, it got the job done! I will definitely be making these again... so delicious dipped in coffee in the morning!
This was my first time making biscotti and they came out delicious. I followed the recipe aside from subbing white whole wheat flour for the all-purpose and chose not to dip them in chocolate because wow - these biscotti hold their own because they are just perfectly crunchy. My mom, who has had some bad experiences with too-hard biscotti she's been gifted, love them. Dipping them in coffee makes for a perfect dessert/snack. I want to make these again and try adding some orange zest/extract.
I cooked the cake in a narrow mold of 20 x 5 cm, which proved to be very successful since the dough is quite soft, the cake in combination with dark chocolate is great.
I baked this for the first time just this last weekend and I added 60% cacao Ghirardelli chips because I know my audience likes chocolate with their coconut. The recipe came together very well and cooked up nicely. The complaint from the audience was that the coconut doesn't really pop until you dunk the biscotti into a liquid. Since these were consumed in a rush, often without benefit of a hot liquid, I find it difficult to believe that any part of the biscotti was not first rate. I did notice that there was plenty of coconut flavor after the first bake but that after the second bake it receded into the background perhaps overwhelmed by notes of crisp flour and chocolate. I plan to bake these again soon and perhaps see what I can do to amp up the coconut. No chocolate next time.
I just tried a half recipe* and substituted KAF Measure for Measure. I added an extra 1/4 tsp. xanthum gum, and an extra egg white, just for insurance. Omitted the shredded coconut to balance the texture, so I included 1/4 coconut sugar by volume for improved coconut taste. The sugar produced a darker color dough, and might have decreased the baking time by a few minutes, or else my oven was being temperamental. I also added 1 cup of diced dried pineapple and papaya. But I can vouch for this recipe producing a crisp (my favorite) and tasty GF biscotti. *I'll often experiment with an expensive ingredient recipe by cutting it in half, giving me less to throw away in case the oven mitt hits the fan.
Excellent recipe! I didn't have the coconut flavor but using the coconut flour and flakes gave enough flavor. Waited till completely cooled before slicing and had no problems. Will make it again
Excellent recipe, crunchy and not too sweet. I think the key is using good, flavorful ingredients so that the biscotti won't be bland. A few observations/modifications: 1. I added toasted coconut flakes to give it more depth, but the large flakes made slicing them more difficult and hard to get a neat cut. Will either omit or use toasted desiccated coconut instead. 2. Did not have anything to spray water on the loaves after the first bake. Just covered them with a damp towel for 5 minutes before slicing. It worked. 3. Added some leftover white chocolate chips to one-half of the dough. Came out great! (But the plain ones were equally good).
Used this recipe in my first attempt with biscotti. Even with the challenges of high altitude baking, this turned out perfectly. I dipped them in white chocolate, which was delicious. Now enjoying a cup of coffee and Coconut Biscotti. I will be making these again.
These are terrific -- I'm a huge coconut fan so had to try them and wasn't disappointed.
I just made a batch of these cookies but they cracked while baking and when I was cutting them they crumbled quite a bit. Can you tell me what I could've done wrong? I liked the flavor and would like to make them again some time with better results. Thanks!

Liana, it sounds like your biscotti may have had a bit too much flour added to it. When the dough is too dry, it tends to crack in the oven. To ensure you're using the right amount of flour, we recommend either measuring your flour by weight using a scale, or fluffing and sprinkling the flour gently into your measuring cup one spoonful at a time before leveling off with a knife. This will help you measure light cups of flour that weigh about 4 1/4 ounces per cup. Happy baking! Kye@KAF