A customized print-friendly version of this recipe is available by clicking the "Print Recipe" button on this page.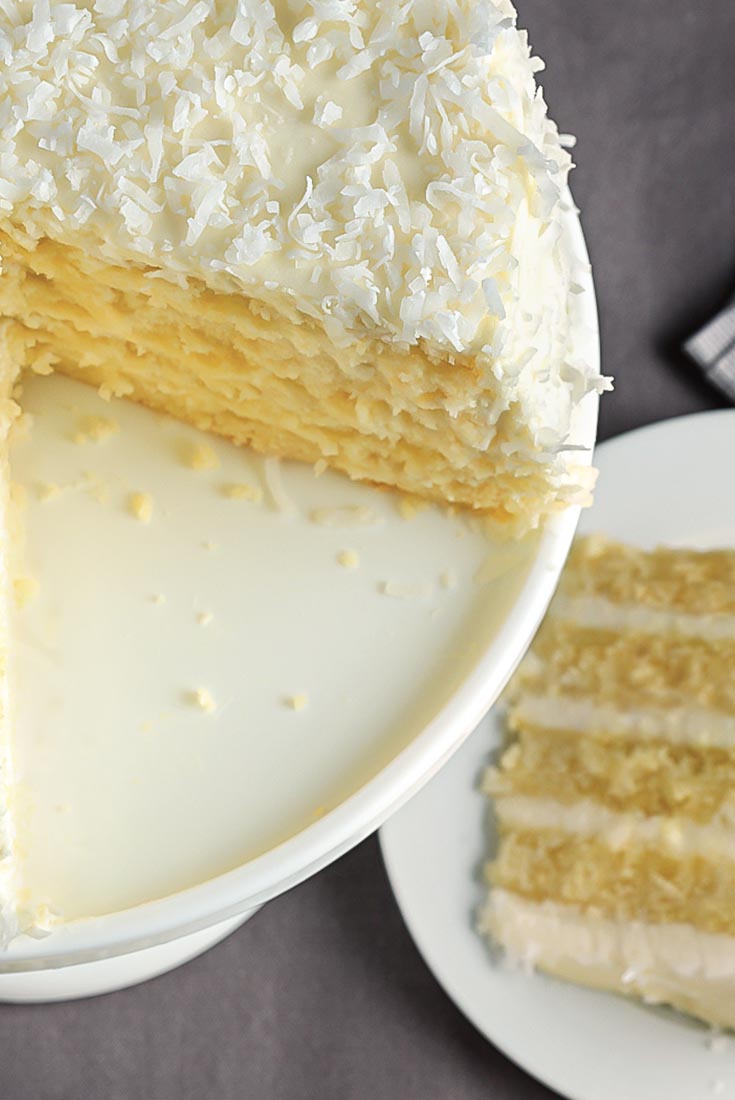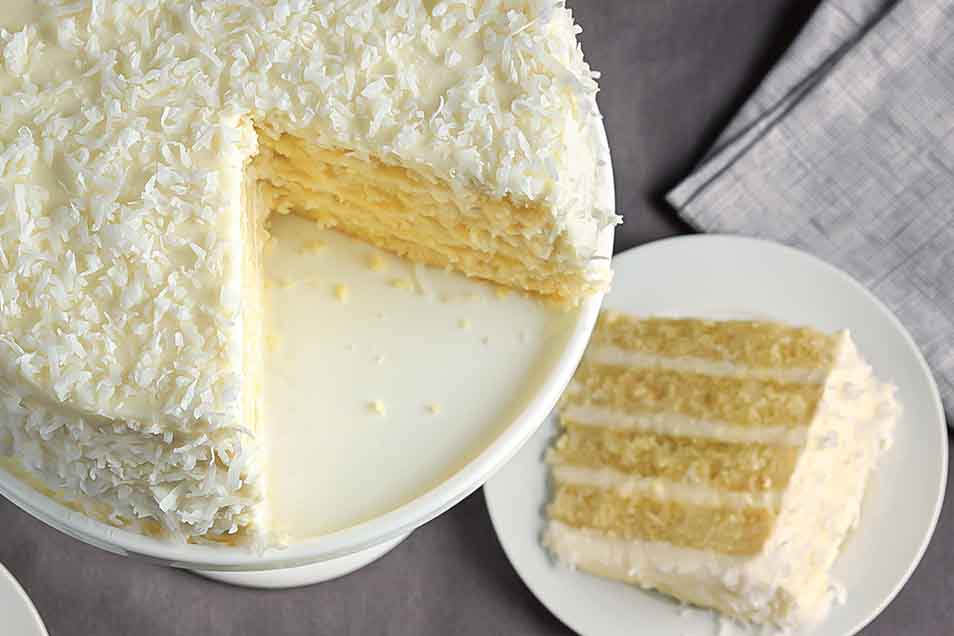 This moist coconut cake is reminiscent of the venerable classic that was a staple of birthdays for years, and is now most often found in the freezer case at the grocery store. Still, there's nothing like a fresh, moist, homemade coconut cake. If you've never made one, here's a great place to start.

Thanks to feedback from you, our fellow bakers, we have simplified our recipe for the frosting, adding cream cheese for a touch of tang to balance out the sweetness
Ingredients
Cake
3 cups King Arthur Unbleached Cake Flour or King Arthur Unbleached All-Purpose Flour
2/3 cup coconut milk powder*
1/2 teaspoon salt
4 teaspoons baking powder
1/2 cup plus 2 tablespoons (10 tablespoons) unsalted butter
1 1/2 cups sugar
6 large egg whites (about 1 1/4 cups; packaged liquid egg whites work fine, too)
1 1/2 cups whole milk, at room temperature
1 1/2 teaspoons vanilla extract
4 drops coconut flavor
*See "tips," below.
Frosting
15 tablespoons unsalted butter, at room temperature
1 1/4 cups cream cheese, at room temperature
3/4 teaspoon vanilla extract
3/8 teaspoon salt
1/4 teaspoon coconut flavor, optional, for enhanced flavor
1/4 cup + 1 tablespoon coconut milk powder
4 1/4 to 4 1/2 cups confectioners' sugar
Garnish
1 1/2 cups shredded sweetened coconut
Instructions
Preheat the oven to 350°F. Soak two cake strips, if you have them. Grease and flour (or line with parchment circles and spray with non-stick spray) two 8" square cake pans (or two 9" round cake pans) that are at least 2" deep. Note: If you want a taller cake, use two 8" round cake pans that are at least 2" deep.

To make the cake: Whisk together the cake flour, coconut milk powder, salt, and baking powder; set aside.

In a large bowl, beat together the butter and sugar until the mixture is extremely light and fluffy; scrape down the sides and bottom of the mixing bowl after 2 minutes of beating, and beat for at least 3 minutes more. Add 1/4 of the dry ingredients; mix until combined, and scrape the mixing bowl.

Combine the egg whites, milk, and flavors; add 1/3 of the mixture to the ingredients in the bowl and mix until combined. Continue adding dry and wet ingredients by turns, until all are incorporated. Scrape the sides and bottom of the bowl one last time, and mix for another minute.

Divide the batter between the two pans, and wrap the outsides with the soaked cake strips. If you don't have cake strips, place the pans in larger pans; add water to the larger pans until it's halfway up the sides of the cake pans. Bake for 30 to 35 minutes, until the cake springs back when lightly touched in the center and the edges just begin to pull away from the sides of the pan. A toothpick inserted into the center will come out clean, or with a few moist crumbs clinging to it.

Remove the cakes from the oven and place on a rack; remove the cake strips. Let the layers cool for 20 minutes, then turn out of the pan and return to the rack to finish cooling completely before filling and frosting.

To make the frosting: Combine the butter, cream cheese, vanilla, salt, and coconut flavor in a large mixing bowl. Beat the ingredients together at medium speed until smooth, scraping down the sides of the bowl as needed.

Sift the coconut milk powder and confectioners' sugar together in a separate large bowl. Gradually add the sugar mixture to the butter and cream cheese mixture, mixing at low speed until fully incorporated then beating at medium-high speed until the frosting is light and fluffy.

To finish the cake: Split the cooled cake layers horizontally. Place half of one layer on a serving plate; spread with a scant cup of frosting. Place the other cake half on top, spread with another scant cup of frosting. Repeat with the remaining layers until you've used them all. Frost the top and sides of the cake with the remaining frosting.

To decorate the cake: Press some coconut onto the sides of the cake and sprinkle the remaining over the top.

Refrigerate the cake until ready to serve, and let it stand at room temperature for an hour before slicing and enjoying.
Nutrition Information
Serving Size

175g

Servings Per Batch

16
Amount Per Serving:
Calories

520

Calories from Fat

180

Total Fat

20g

Saturated Fat

14g

Trans Fat

.5g

Cholesterol

35mg
Sodium

310mg

Total Carbohydrate

83g

Dietary Fiber

2g

Sugars

63g

Protein

6g
* The nutrition information provided for this recipe is determined by the ESHA Genesis R&D software program. Substituting any ingredients may change the posted nutrition information.
Tips from our bakers
From test kitchen baker and Sift editor Susan Reid: This cake uses one of our favorite ingredients: powdered coconut milk. While our Baker's Catalogue sells coconut milk powder, I've also bought it at natural foods markets and Asian grocery stores, where it's usually in the Thai section." If you really can't get your hands on coconut milk powder, substitute 2/3 cup nonfat dry milk powder. The coconut flavoring will lend enough flavor on its own. We've substituted canned light coconut milk in place of the coconut powder and some of the milk, but found that the cake was paler and flatter than desirable, so we recommend against this.
Reviews
I baked it in two 8 inch pans and put them inside two 9 inch pans with water. My only issue with the cake, which was minor issue, was that it was hard to tell when the cake was done. Toothpick came out clean, seemed springy, but middle wasn't cooked. I'm sure I will do better next time now that I have a feel for the recipe. Cake still looked great and you could not tell middle wasn't baked properly. Good moist cake with great coconut flavour. Husband loved it. I usually use The Majestic's coconut cake, but. I think I like this one better.

Cindy, it can be difficult to tell when cakes are done sometimes. Look at the edges of the cake; they should be slightly golden and start to pull away from the sides of the pan. Also, if you have an instant-read thermometer, it should read about 200°F when it's done. We hope this helps, and happy baking! Kye@KAF
This recipe was terrific and I revised it to make it gluten free. I replaced the flour with Bob Red Mills 1-for-1 and used nonfat milk powder for the coconut milk powder. I put two extra cake pans of water on the bottom shelf of the oven. I baked the two cakes in the pans for 25 minutes, but it wasn't long enough as the bottom half of one of the cakes was uncooked and had to be thrown out. But the remaining three layers were perfect. (Will bake longer next time). I beat 2 8-oz of softened Philadelphia cream cheese, 2 sticks of softened unsalted butter, 7 cups of XXX sugar, 1.5 teaspoon of vanilla extract and 1 teaspoon of coconut extract, and 1.5 cups of toasted sweetened flaked coconut to make an easier frosting/filling. The cake got rave reviews from non gluten free fans and definitely the gluten free guest. The cake tasted like the best quality dense, moist wedding cake and the frosting/filling was incredible. I put some non-toasted coconut around the sides and top of the cake. This was a cake to impress guests! I will make this again and again. Thank you!!
This is by far the best coconut cake recipe I have tried, and I search around every year for one because my husband loves this kind of cake for his b-day. The cake is incredibly moist, slightly dense, and rich, and I loved the icing especially. The overall effect is a cake that's sweet and coconutty, but not too sweet (I did use just a bit less confectioners sugar in the icing than is called for--that's just my taste). I made a couple of other adjustments: I didn't do a traditional water bath, but I did put a pan of water in the oven so there would be steam in there while the cakes baked. I also didn't get the "coconut flavor" and used extract instead (estimating the amount of extract needed). This worked fine, although if I had the time to order the coconut flavor, I would try that next time. This was great! Thanks for the recipe, King Arthur Flour chefs!
I have never been more careful on a cake. Weighed the dry ingredients. Followed instructions carefully. The texture is between a cake and an angel food cake. I almost didn't frost it but decided to go ahead. Will know more when we cut into it for the Thanksgiving meal. At least the frosting and coconut on top taste good.
I followed the recipe as written except for the water bath as I don't have pans large enough to hold the cake pans. The cake was delicious and would likely be even more delicate in the bath. The frosting was too sweet for my taste (a sentiment I've never had before) and it didn't hold up well, sliding off the side of the cake. This was likely because of the coconut "cream" which was still just milky after 4 hours of attempted straining.

We're happy to hear that you so enjoyed the cake, Jackie! For best results straining the coconut milk, it helps to let the can settle for a bit, rather than shaking it up. You're looking to separate out the thick, creamy portion from the more liquidy milk during straining. It may also help to add the strained coconut milk just a couple tablespoons at a time, adding just as much as needed to reach the desired smooth, spreadable consistency. Hope this helps! Mollie@KAF
I adapted this to be gluten free using cup-for-cup GF flour and it was delicious. A few other modifications include: I made lemon curd for between the layers, I baked it in 3 layers using round cake pans rather than making 4 layers and slicing them in half later. I only made 3/4 of the quantity of frosting since I made lemon curd. This made perfect use of the 6 egg yolks left from making the cake itself. Using GF flour and butter that was light in color yielded a stark white cake so the yellow lemon curd was a nice contrast. Because of the unusual texture of this cake in general, it was actually just as good at room temperature as it was refrigerated, something unusual for GF cakes which generally aren't good cold. My GF and non GF friends and family all loved this.
I have never baked a Coconut Cake before. I followed the recipe to the letter. Obtaining coconut cream from draining the coconut milk was kind of a waste of time. It clogged up the tea towel and did not seem much thicker than the coconut milk. I ended up using some of the coconut milk as liquid in the frosting. Now, for the end result. I won first place in my county fair! We had to give up 1/4 of the cake for the entry, the rest went really fast - it was fantastic! It would make a beautiful birthday cake. Thank you King Arthur for another great recipe.
This cake exceeded my wildest expectations! The frosting was heavenly. I was excited to try using the powdered coconut milk in the cake batter, but couldn't find any--and didn't have any powdered dairy milk, either. So I took a leap of faith and added an extra few tablespoons of flour. (I used cake flour for this recipe instead of all-purpose. I generally don't endorse fiddling around with a cake batter recipe, but I've been baking for 56 years, and thought it couldn't hurt, as this batter was a lot like another white cake I'd made recently.) The angels sang! I wonder whether the folks who complained that the cake was dense and heavy might have made out better using cake flour instead of AP.

Hi Hane, the Coconut Milk Powder is a product that's exclusively available at our flagship location in Vermont or through the Baker's Catalog (it can also be ordered online). It sounds like you loved the way your Coconut Cake turned out, but if you want to try giving it that extra boost of flavor, now you know where you can turn. Kye@KAF
Followed the recipe to the letter. Unfortunately I was disappointed with the finished product. The cake layers were somewhat dry and the icing was not tasty or attractive. This recipe is not a keeper for me. Glad others liked it, everyone has different tastes. Going back to my old faithful recipe from the church cookbook.

We're sorry you didn't have fabulous results with this recipe, Stella. But we agree with your sentiment--to each, their own. It sounds like this isn't quite the right recipe for you, but if you'd like to talk over some of the finer points or get some tips from our bakers, feel free to give us a call: 855-371-BAKE(2253). We're always here to help. Kye@KAF
Baked this cake just now! Based on the flavor and texture of the frosting and of the crumbs in the pans, it's going to be a hit! More reviews to come after we serve dessert.