A customized print-friendly version of this recipe is available by clicking the "Print Recipe" button on this page.
Coconut Caramel Candy Bars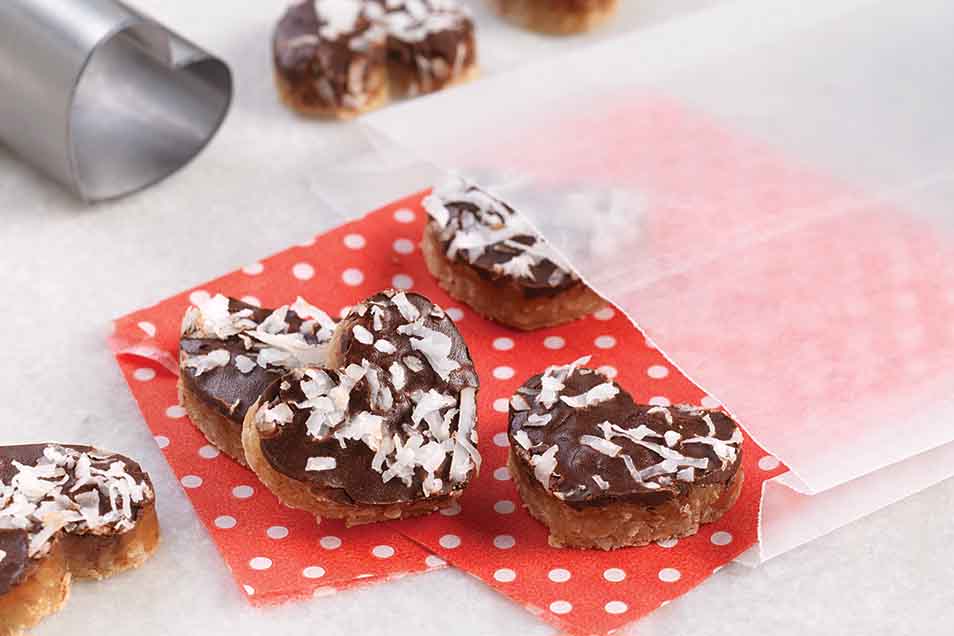 Chewy, chocolate-y, caramel-y — this treat is half cookie, half candy (bar)!
Ingredients
6 tablespoons butter
1 1/2 cups brown sugar
2 teaspoons vanilla extract
1 large egg
1 1/4 cups King Arthur Unbleached All-Purpose Flour
1/2 teaspoon salt
1/2 teaspoon baking powder
1 3/4 cups toasted shredded coconut, divided; 1/4 cup reserved for topping
1 1/4 cups chopped caramel, 1/4" pieces
1 tablespoon heavy cream
3/4 cup chopped bittersweet or semisweet chocolate or chocolate chips
Instructions
Preheat the oven to 350°F.

In a large bowl, beat together the butter, brown sugar, vanilla, and egg.

Mix in the flour, salt, baking powder, and 1 1/2 cups of the coconut. Spread the mixture in an ungreased 9" x 13" pan.

Bake for 15 minutes.

While the crust is baking, melt the caramel with the cream in the microwave, or in a saucepan set over a burner. Stir to combine.

Drizzle the caramel over the crust, and return it to the oven for 10 to 12 minutes, until the crust is medium brown.

Remove the pan from the oven, and sprinkle the chopped chocolate atop the crust. Allow the chocolate to soften for about 5 minutes, then spread it evenly over the crust.

Sprinkle the reserved coconut on top.

Cool for 30 minutes; while still slightly warm, loosen the edges and cut into bars. Cool completely before serving.

Yield: 24 bars.
Nutrition Information
Serving Size

1 bar (44g)

Servings Per Batch

24 bars
Amount Per Serving:
Calories

190

Calories from Fat

70

Total Fat

8g

Saturated Fat

6g

Trans Fat

0g

Cholesterol

15mg
Sodium

85mg

Total Carbohydrate

29g

Dietary Fiber

1g

Sugars

21g

Protein

2g
* The nutrition information provided for this recipe is determined by the ESHA Genesis R&D software program. Substituting any ingredients may change the posted nutrition information.
Tips from our bakers
For shaped bars: Cool the bars to room temperature, then use your favorite cookie cutter (hearts are nice for Valentine's Day) to cut out individual shapes. Yield: about 3 dozen 1 1/2" to 2" shaped bars.
Reviews
Are you kidding me? These are to the moon and back fantastic! I made them for the first time today for a casual gathering of family and friends. I cut enough of them to fill a plate and when I saw a guest slip into the kitchen to get more from the pan, I knew then that this recipe was a "keeper"! I am adding this to my list of favorites! After spreading the chocolate, I sprinkled it with flaked salt and then the reserved coconut! Oh, my....a perfect combination of "salty and sweet"! I will be making these again and again and again and...yep, you guessed it...AGAIN! Thanks King Arthur for another fantastic recipe!
We appreciate your enthusiastic review, Liz. It sounds like that guest really wanted all the rest of the bars (and maybe all the edges, too)! Nice sleuthing.....happy baking - Irene@KAF
I don't bother to chop the caramel like I did for the cookbook version without cream. I've tried the coconut toasted and not, but prefer it untoasted for the shortbread. I think the sweetness is just right with unsweetened coconut and 60% cacao chips.
Love the it soooooooooooooo much. Coconut is the best
Surprisingly good despite fear this would cause a toothache given the inordinate amount of sugar. This is truly a candy bar, or what we here in the UK would call confectionery/chocolate bar over proper 'candy', i.e. a boiled sweet, so I should have known better. Nevertheless, love the chewiness. Never anticipated the crust to bake so chewy, but I did use coarse dessicated coconut over something finer. Love the crust texture, and how the caramel absorbs slightly to give extra fudgy chewiness. It hits all the right notes for a sugar hit, but agree with others, could be more interesting and needs contrast, A sprinkle of sea salt at the end with the coconut adds some contrast but not enough. Some black pepper would give a spicy kick. And, it needs to be reduced in sweetness overall for something more adult. (I used 250g sugar in the base only, and still found it all too sweet'.) Also, mine baked up with a marbled chewy caramel and milk chocolate top (I didn't have enough chocolate for the layers) which was delightful to behold. Preferable would be really bitter dark chocolate over milk. Overall, like a better 'Bounty' bar full of coconut flavour.
These were great -- WITH MODIFICATIONS. I finely chopped the coconut in the Cuisinart so the cut bars had a cleaner cut, I used the Kraft Caramel Bits (2 cups plus 2 Tbs. cream for a double recipe) and -- here's the most important part -- I LIBERALLY sprinkled Maldon sea salt over the top of the still warm chocolate/coconut topping (about 2 tsp. total). They're too sweet/boring without the salt. I'll make them again (and lots) but only with the Maldon salt! Cut them very small.
These are worth the calories! They're very similar to the Grand Prize Coconut-Caramel Bars, so I combined the two recipes. I used 1 stick of butter in the cookie base, half an 11-oz jar of caramel sauce over the cookie base (instead of melting caramels), and 6 ounces (about 1 cup chips, instead of 3/4 cup) of bittersweet chocolate to spread over the top.
Ten stars. These were absolutely delicious. I was advised that I could use caramel sauce in lieu of the caramel/cream mixture, so I used a jar of Trader Joe's sauce which worked fine. Second, I didn't have any of the KA toasted coconut, which is lightly sweetened. I toasted a bunch of unsweetened (a little more than what was called for) and added it to the dough, but for the topping I toasted a much smaller separate batch of the unsweetened coconut in a (very) little glazing sugar while still hot to give it that light sweetness. It worked great. These are chewy, and they blur the line between cookie and candy in a wonderful way. They've got great texture from the coconut, and the caramel part kind of melts into the cookie base when you put it on. It's fantastic. My only problem is that I have to hide them from myself; they are SO good! And they last pretty well for days; I had them out for at least 3 days and they were great the whole time. A fairly easy recipe that is wonderful for those who love the flavors of chocolate, caramel and coconut together. These are now firmly established in my repertoire.
Easy to prepare and exceptionally tasty! I found the recipe in the KAF catalog and thankfully was on my way to the supermarket because these were well worth it. The direction were very clear and easy to follow and the results were excellent. As my Facebook status currently states "I love you King Arthur!"
This would have been perfect, but I tried a shortcut that didn't pan out. I didn't melt the caramel with the cream and just sprinkled it on top like I read in another comment to melt in the oven. The crust was excellent, but the caramel layer was like a hard candy and not easy to eat. Of course it's still chocolate, caramel and coconut so I'm going to eat it anyway! Next time I will follow the recipe exactly.
This recipe is wonderful! Every time I bring this to a gathering, they don't last long... A couple things I do is 1. Make extra toasted coconut (because I LOVE it) 2. For the caramel, I use the Peter's brand 5lb brick (I get this at my local cash and carry) and just chop up little pieces, I do not melt it with the cream, instead just place the pieces on top and melt as directed. 3. I place the reserved toasted coconut on top of the hot caramel (so it sticks) and then drizzle melted chocolate on top of the coconut (I feel like that helps it stick better!)