A customized print-friendly version of this recipe is available by clicking the "Print Recipe" button on this page.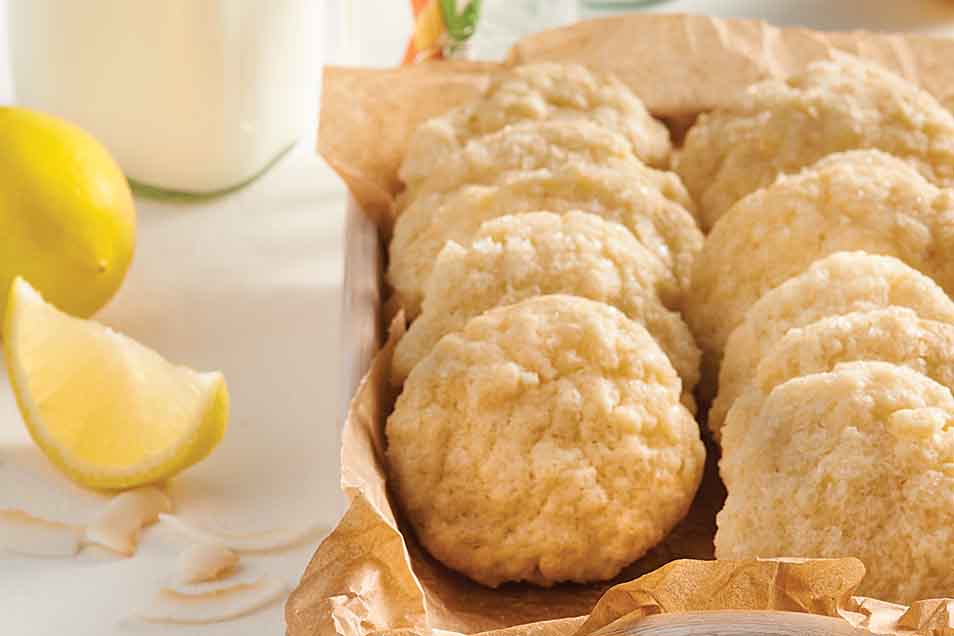 If you're a citrus fan, or an enthusiastic follower of the tart, refreshing flavor of lemon or lime, these cookies are for you. See "tips" below, for a variation.
Instructions
Preheat the oven to 350°F. Lightly grease (or line with parchment) two baking sheets.

To prepare the dough: In a medium-sized bowl, combine the butter and sugar.

Add the egg, vanilla, baking powder, salt, lemon oil, and lemon juice powder, beating until well blended.

Add the flour and coconut, stirring until combined.

Use food color to tint the cookies yellow. Gel-paste food color will give the most intense color; be aware that with paste colors, you only need to add the merest touch. Dip a toothpick in the color, and then dip it into the dough. Repeat a couple of times. Mix the dough, adding more color until it's as intense as you like.

To shape the cookies: Place the sparkling white sugar in a small bowl.

Drop the dough by tablespoonfuls into the bowl, one at a time, shaking the bowl to coat with sugar.

Gently roll cookies into smooth balls with your hands, then transfer to the prepared baking sheets.

To bake the cookies: Bake the cookies for 9 to 10 minutes, for soft cookies.

For crunchier cookies, bake for 12 minutes, until they're barely beginning to brown around the edges.

Remove from the oven, and after a few minutes transfer them to a rack to cool.

Store, in a closed container, for 5 days, or freeze for up to a month.
Tips from our bakers
Variation: You can make these cookies using fresh lemons instead of lemon powder and lemon oil (though they won't be nearly as intensely citrus-y). Substitute 1/4 cup freshly squeezed lemon juice (the juice of one medium-large lemon), and the grated rind from one lemon. You may also omit the coconut and/or food coloring, if you like. Bake the cookies for 12 minutes, until they feel barely set in the center (for softer cookies); or 14 minutes (for crisper cookies).
Our thanks to Claire Introini, whose original Very Lemon Cookies recipe inspired this one.