A customized print-friendly version of this recipe is available by clicking the "Print Recipe" button on this page.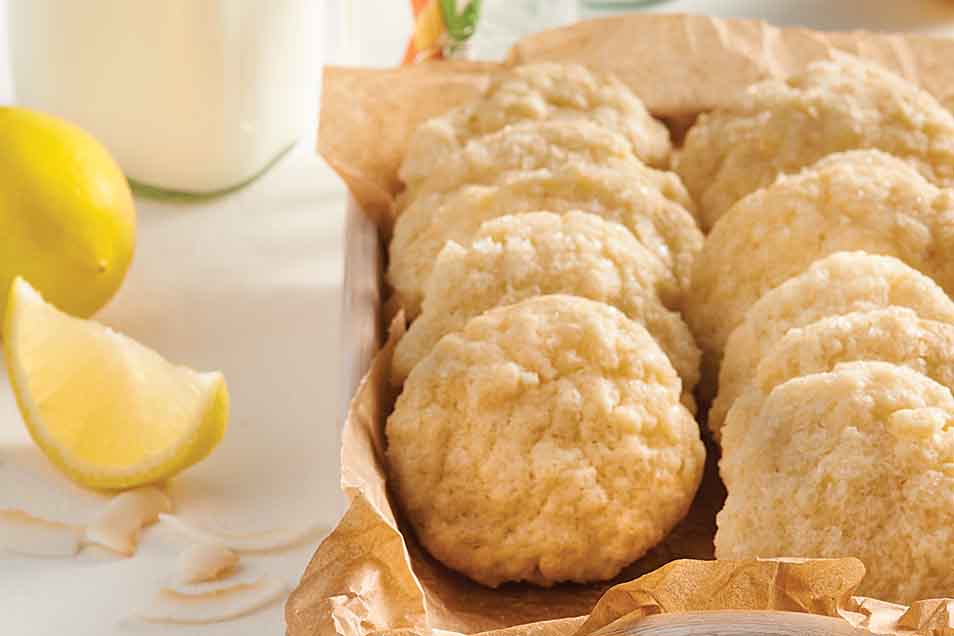 If you're a citrus fan, or an enthusiastic follower of the tart, refreshing flavor of lemon or lime, these cookies are for you. See "tips" below, for a variation.
Instructions
Preheat the oven to 350°F. Lightly grease (or line with parchment) two baking sheets.

To prepare the dough: In a medium-sized bowl, combine the butter and sugar.

Add the egg, vanilla, baking powder, salt, lemon oil, and lemon juice powder, beating until well blended.

Add the flour and coconut, stirring until combined.

Use food color to tint the cookies yellow. Gel-paste food color will give the most intense color; be aware that with paste colors, you only need to add the merest touch. Dip a toothpick in the color, and then dip it into the dough. Repeat a couple of times. Mix the dough, adding more color until it's as intense as you like.

To shape the cookies: Place the sparkling white sugar in a small bowl.

Drop the dough by tablespoonfuls into the bowl, one at a time, shaking the bowl to coat with sugar.

Gently roll cookies into smooth balls with your hands, then transfer to the prepared baking sheets.

To bake the cookies: Bake the cookies for 9 to 10 minutes, for soft cookies.

For crunchier cookies, bake for 12 minutes, until they're barely beginning to brown around the edges.

Remove from the oven, and after a few minutes transfer them to a rack to cool.

Store, in a closed container, for 5 days, or freeze for up to a month.
Tips from our bakers
Variation: You can make these cookies using fresh lemons instead of lemon powder and lemon oil (though they won't be nearly as intensely citrus-y). Substitute 1/4 cup freshly squeezed lemon juice (the juice of one medium-large lemon), and the grated rind from one lemon. You may also omit the coconut and/or food coloring, if you like. Bake the cookies for 12 minutes, until they feel barely set in the center (for softer cookies); or 14 minutes (for crisper cookies).
Our thanks to Claire Introini, whose original Very Lemon Cookies recipe inspired this one.
Reviews
I am a complete amateur baker but following the directions of this recipe resulted in the perfect cookie! I used both a double bottom cookie sheet and a dark, single bottom aluminum cookie sheet in a convection oven. The cookies from the double bottom cooked all the way through without browning, but the cookies from the single bottom sheet browned significantly, but I retrieved them before burning. Both versions were delicious. Even my wife who is not a big fan of sweet deserts loved them. I definitely will be making these again! Thanks King Arthur!
Wow. Great summer cookie. I baked them to the soft stage, rather than crispy. Also I didn't have baking powder, but substituted Bakewell Cream (from KAF, of course). Although I'd read in an online blog to substitute 1 for 1, the Bakewell Cream label said 2 to 1, with 1 to 1 of baking soda (e.g. 1 tsp baking powder = 2 tsp. Bakewell Cream & 1 tsp. baking soda). Also, I put the dough in the fridge while baking one sheet at a time. Result? These were amazing. I'm glad I doubled the recipe, because these will be gone fast. Thanks KAF!
LOVE THIS! My mother was coming to visit and lemon is her favorite -- she has made them twice since she went home just a few weeks ago. I do have a question about this recipe and also a lemon pound cake that I made -- why do lemon flavored recipes call for vanilla extract? Why not lemon extract?

Think of vanilla extract as the backbone to most baked goods, RM. Even if there's another flavor (like lemon), that features prominently in the recipe, vanilla rounds out the taste making it more complex, rich, and satisfying. We encourage you to use it when called for in recipes; that way your baked goods will be extra delicious! Kye@KAF
These cookies where a high hit with my family and guest. I did not have lemon powder or oil so I used the zest and juice of one lemon which work out well. The texture and flavor of this cookie was lovely. I will differently make them again.
i thought the idea was great, but i didn't get much love back from my family, normally a bunch of sweet tooths, but i couldn't pay them to eat these cookies. chaque a son gout.

To each their own is right, Brushjl! We're sorry this recipe didn't surprise and delight your family, but we hope you keep on your baking quest to find the right tropical-flavored cookie for their taste buds. Perhaps a classic coconut macaroon is what they're looking for? If so, consider giving the recipe called "Our Bakery's Coconut Macaroons," a try. It's delicious! Kye@KAF
These cookies are delicious! And easy to put together. I used all the listed ingredients, and used my tablespoon scoop and got just about the same number of cookies as the recipe (which I note because often I get far fewer that the listed yield even when using the scoop recommended.) I have brought them to 2 different events and gotten rave reviews at both. This is definitely going to be one of my go-to recipes when I am asked to bring some somewhere. The lemon flavor is wonderful, and the coconut more of a subtle taste, which is good as it's not my favorite flavor. But it definitely works in this recipe. Highly recommended if you like lemon! One note - I did end up needing more sparkling sugar than the recipe calls for, maybe because I like rolling mine until they are fairly covered.
These were easy to make and were delicious, with a nice soft interior texture. Everyone who tried them loved them (I have testers who are honest and blunt, too!). I did not have lemon oil, but used lemon extract. Also, I don't like the sweetened coconut available at my local store, so I used my large flake coconut which comes unsweetened, but I sweetened myself and that was easy to do. Everyone could taste the coconut and the lemon so neither overpowered the other.
I was set to make this recipe today. Last night I was making something that needed the juice of the lemon. I decided to zest it first and save the zest. I am so glad I did. I wrapped it in waxed paper and sealed it in a jar in the fridge. This morning I was getting all of my ingredients together and darned f I could find my lemon oil It had to be there....well I couldn't find it. I ended up rubbing the zest thoroughly into the sugar and letting it stand for about 20-30 minutes to flavor the sugar. It worked well and the cookies are delicious. I still can't find my oil but the zest was a good save!
Because it's what I had, I made these with lemon oil and lime powder. And they were really good but I couldn't really taste the coconut. But then they got me thinking about a Charles Chips cookie I'd loved when I lived in the Midwest, so I took a chance and dusted them in powdered sugar and that did the trick. Took them from really good to divine. Got lots of compliments and know I'll be making these again and again.
These cookies remind me of the Lemon Drop cookies from the Pacific Cookie Company in Santa Cruz, CA. I used the zest & juice from one lemon, subbed 1/2 C whole wheat pastry flour for white flour. Feeling lazy, I just used my cookie scoop to drop the dough onto the baking sheet. The cookies were perfectly round with a crisp outer edge & a chewy center. Love the addition of the coconut with the very intense lemon flavor. I made 18 cookies so next time I'll double the recipe.