A customized print-friendly version of this recipe is available by clicking the "Print Recipe" button on this page.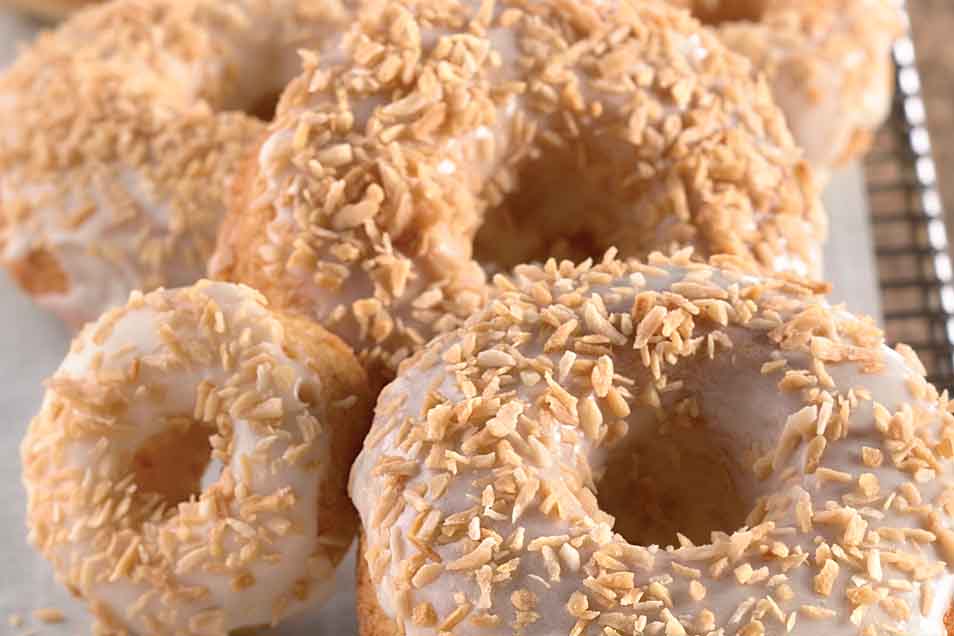 Who doesn't love a coconut doughnut? And this lower-calorie version is baked in a doughnut pan, rather than fried.
Instructions
Preheat the oven to 375°F. Butter or grease your standard doughnut pan.

To make the doughnuts: Whisk together the dry ingredients.

In a separate bowl, beat the egg, water, oil, and flavor until frothy.

Pour the liquid mixture over the dry ingredients, and stir until well combined.

Fill each doughnut form about half full, using ¼ cup batter.

Bake the doughnuts for 12 to 14 minutes, until they spring back when touched lightly and are very light brown on top.

Cool for a few minutes, then spread with glaze, or dust with powdered sugar.

To make the glaze: Whisk together the confectioners' sugar, flavor, and heavy cream until smooth, adding more cream until glaze is the consistency of molasses.

Did the tops of the doughnuts in the glaze or use a spatula to spread the glaze onto the doughnuts.

Sprinkle over the toasted coconut, if desired, and allow the glaze to set before serving.
Tips from our bakers
Prefer sugar-dusted doughnuts instead of glazed? Whisk or sift ½ cup confectioners? sugar with ½ cup coconut milk powder. Place into a bag. Shake slightly warm donuts gently in the bag to coat.
Reviews
very light texture (not sure how it would hold up to shaking). reminiscent of ATK coconut layer cake. subbed flax meal for egg, subbed sunflower oil for vegetable, 1 tsp extract for flavoring, and milk for cream (just microwaved glaze to thicken and add shine because of cornstarch in it). came out of pan easily (although i did run a toothpick around edges to be sure). thanks KAF!
Made this today right by the recipe and it was the BEST baked doughnut I have ever made. I will double the recipe next time! The most amazing texture!
I took suggestions from Monica and used cream of coconut (1/2 cup) instead of the coconut milk powder and water. I also used the cream of coconut rather than heavy cream for the glaze. No coconut flavor.I live in Norway, where some ingredients are not available, so I also used "fin bakst" flour (fine baking flour) rather than the KAF flour. These were great! Everyone loved them.
I made some major tweaks to this recipe and they still came out fantastic! First I used the GF flour blend, and 1 tsp Xantham gum. I replaced the water and coconut milk powder with about 1/2 cup Coconut cream, and used coconut oil instead of vegetable oil. I also skipped coconut flavor. These came out with a wonderful texture, and just the right amount of coconut flavor. Next time I will make the glaze with the remaining coconut cream, I meant to but forgot! I also mixed a little powder sugar with unsweetened coconut flakes for the topping. These disappeared! Worked great in my new doughnut pan.
WOW! This recipe is a winner! Doughnuts are wonderfully moist and cakelike with excellent coconut flavor. The glaze is superb! I made mini-doughnuts and topped some with toasted coconut and some with fresh coconut. Makes a beautiful presentation and they are quick and easy to make.
All I can say is I LOVED these doughnuts. Although the mixes from KAF are delicious, I have been trying to find a recipe for those times when I didn't have the mix on hand. This is it!! These doughnuts were tender, easy to make and tasted great. The only problem I had was trying to get the coconut milk powder to blend in appropriately. Even though I thought I mixed the dry ingredients together enough, I still had small lumps of it in my batter and ended up using my hand mixer to finish the job. I was worried that it would make the doughnuts tough, but it didn't! Thank you so much for this recipe! Anything in the works for a chocolate doughnut recipe for these pans as well?
A chocolate doughnut recipe- what a great idea! You can run your coconut milk powder through a sifter to help with the lumps. ~Amy
We made this recipe last night using the Blinq electric doughnut maker. Even without the potato flour and Mellow Pastry Blend, and substituting with some maltitol and whole wheat flour, the doughnuts were YUMMY! The recipe made EXACTLY 3 batches, none of which lasted more than 5 minutes. Personally, I would recommend the Blinq over the doughnut pans, because I got MUCH better results. Another hit from KAF!
These doughnuts are wonderful. I used whole wheat pastry flour, adding a little extra water, and the texture of the baked doughnuts was still quite light and cake-y. My pan makes mini doughnuts--I got two dozen from the batch. I coated them with the powdered sugar and cocoanut milk powder mixture suggested in the baker's tip. Yum!
These doughnuts are the best! The texture is not at all what I expected from a cake doughnut. They are light, fluffy and moist. They are a family favorite. We have made them four times already!
These are now my husbands favorite! I tried the other baked doughnut recipe and was happy but not thrilled with the results. They ended up being a little different texture than I was wanting in a cake doughnut, but these coconut doughnuts exceeded my expectations! The flavor was to die for, the texture was wonderful AND they were easy to make. Yum!