A customized print-friendly version of this recipe is available by clicking the "Print Recipe" button on this page.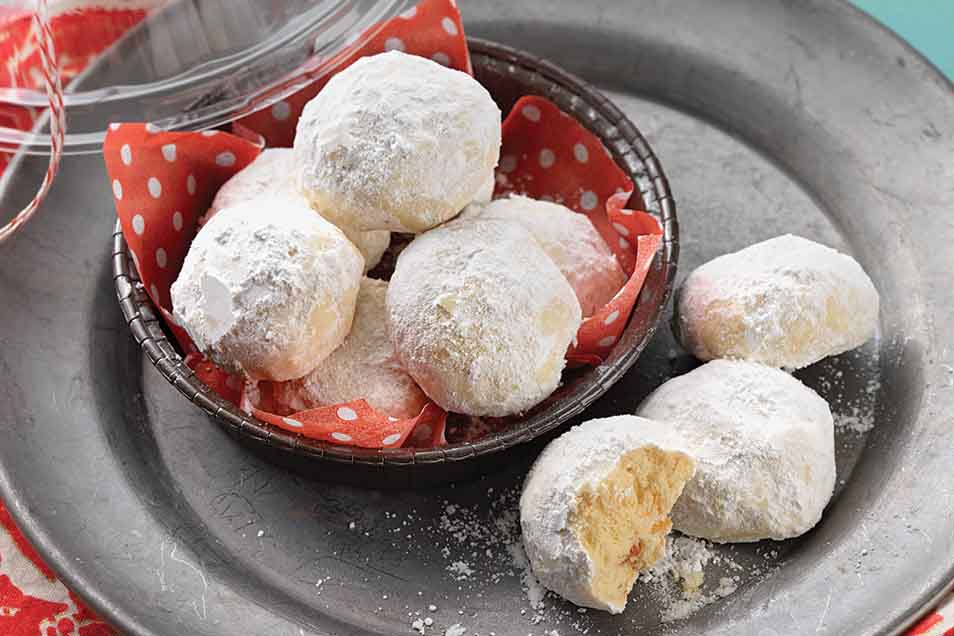 This is a tropical riff on Mexican Wedding Cookies, if you've ever run across that recipe. They literally melt in your mouth.
Ingredients
Coating
1 1/2 cups confectioners' or glazing sugar
1 cup coconut milk powder
Glaze (optional)
3 cups confectioners' or glazing sugar
1 cup coconut milk powder
1/8 to 1/4 teaspoon coconut flavor
8 to 9 tablespoons milk
Garnish (optional)
4 to 4 1/2 cups coconut flakes, slightly crushed
Instructions
Preheat the oven to 350°F.

In a medium-sized bowl, beat together the butter and salt until soft and fluffy.

Mix in the confectioners' or glazing sugar, coconut milk powder, and coconut flavor. Add the flour and toasted coconut, mixing until well combined.

Form the dough into 1" balls; a teaspoon cookie scoop is a real time-saver, and your cookies will be nice and uniform. Place the balls on an ungreased baking sheet.

Bake the cookies for 12 to 15 minutes. They should be very light brown on the bottom, and feel set on top.

Let the cookies cool on the baking sheets for 3 minutes before disturbing; they're very fragile when they first come out of the oven.

Sift the confectioners' or glazing sugar with the coconut milk powder and place in a shallow pan.

Roll the warm cookies in the sugar/coconut coating.

Let the cookies cool completely, then re-roll in the sugar.

When completely cool, store them in airtight containers for 1 week, or freeze for longer storage.

Optional glaze and garnish: Instead of rolling cookies in sugar, you can dip completely cooled cookies in glaze, then roll in flaked coconut, if desired.

To make the glaze: Sift together the sugar and coconut milk powder. Stir in the flavor and 8 tablespoons milk. Add the remaining milk a bit at a time, stirring until the glaze is smooth and the thickness of honey.

Dip each cookie in the glaze, roll in the coconut, then put on a cooling rack to harden. Or skip the flaked coconut, and simply dip each cookie in glaze.

Yield: 50 to 60 cookies.
Tips from our bakers
For a very simple finish to the cookies, prepare a smaller amount of coating mix (sift 1/4 cup powdered sugar with 2 1/2 tablespoons coconut milk powder), and sift lightly over the cookies.
Reviews
I had some coconut milk powder in the pantry that I wanted to use, so I tried these today. These cookies are delicious, and a nice change from the almond flavored version I often make. They are a delightful "afternoon coffee" cookie. Here's to another great recipe from King Arthur!
Wonderful flavor! I have put toasted coconut on the top of the cookies as decoration.
Really good cookie. The dough is a little hard to work with but with patience they come out fine. My daughter takes new cookies into work to get feedback for me and they all loved them. Will definitely be one of my Christmas cookies.
OMG! The best cookie ever! A little messy to make, but so worth the work. Anyone who likes coconut will love these. I've already gotten requests for them for Christmas again this year!
Got great feedback from the coconut lovers on this one! I actually could use even more coconut flavor, believe it or not, since I love the taste so much. The glaze and rolling in flakes process was really messy, but perhaps my technique could use some adjusting. They did look pretty, though, and the taste definitely measured up.
I just rolled in powder sugar since I ran out of coconut powder. These were one of my favorite cookies this Christmas, and I will continue to make them every Christmas!
Unlike the others, I thought these had a strong coconut flavor and I didn't use coconut extract, but vanilla instead. I did use the coconut milk powder and toasted coconut. I'm not a huge coconut fan (like the flavor, but not the texture), but I had a bite and thought they were delicious.
I doubled the recipe, and used 1 tsp of coconut extract. I added 1 tsp of almond extract and 1 tsp of vanilla parse. I used the basic sweetened shredded cocnut you get in the baking aisle, untoasted. I only used half the amount of dried cocount milk and replaced the volume with equal parts flour and confectioners sugar. They took longer to bake than stated- I have a slow oven- I raised the temp 5 degrees and needed to bake the cookies 18 to 20 min to get a slightly golden, set cookie. I did not roll in sugar, while they were still warm i generously brushed the tops with melted semi sweet chocolate and then topped with a mixture of chopped toasted almonds and coconut. (toast a handful of almonds and cool. Pulse a few times in food processor. Add a handful of shredded coconut and pulse a few more times) These are excellent- with a shortbread texture and a buttery, coconut flavor with a hint of almond. I used a one inch cookie scoop. (tablespoon?). It made 85 cookies. For more, smaller, cookies, I need the smaller scoop. This recipe is a keeper!
Good, but not great. As the other reviewer said, they don't scream coconut. For me, something seems to be missing in the flavor and my immediate thought was that Vanilla should probably be added as well as more coconut flavoring. One other thought, the coconut milk powder in the coating is fatty and leaves you with sticky fingers. Maybe a correction would be to use the mixture of coconut milk powder and powdered sugar on the first rolling, but just powdered sugar on the second.
I enjoyed these cookies, but I didn't think they screamed "coconut" enough for me, believe it or not. I think I will increase the extract next time. I also had a TON of leftover coating mixture.