A customized print-friendly version of this recipe is available by clicking the "Print Recipe" button on this page.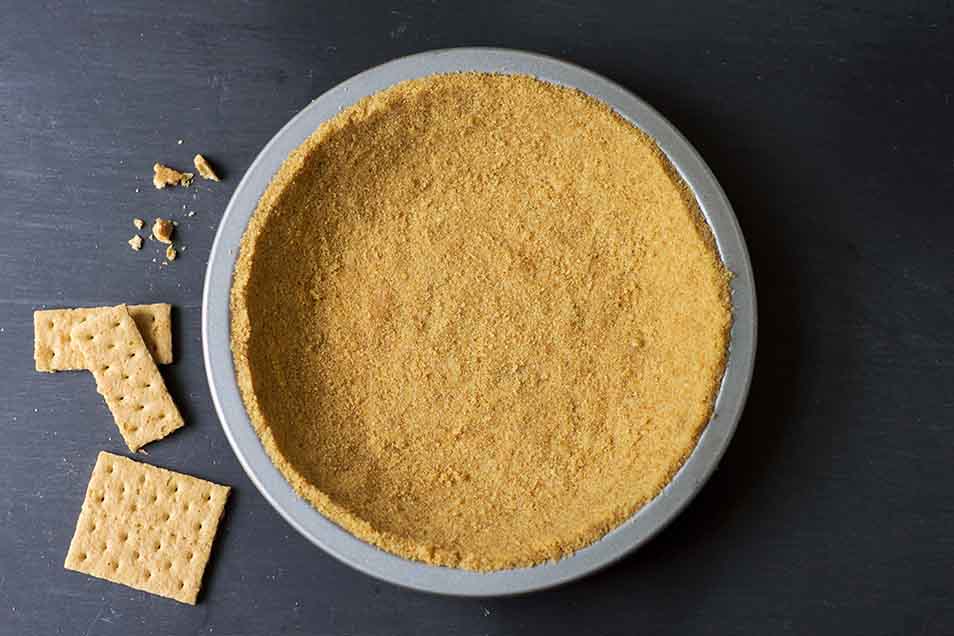 Any crunchy cookie can be turned into a pie crust. You can mix and match crusts and fillings to suit your taste and imagination. Here are some of our favorites, starting with a perennial classic: graham cracker crust.
Ingredients
Graham Cracker Crust
1 3/4 cups graham cracker crumbs
1/4 cup confectioners' or glazing sugar
6 tablespoons butter, melted
Instructions
In a medium-sized mixing bowl, combine the crumbs, sugar, and butter.

Press the mixture into the bottom and partway up the sides of a 9" springform pan, 9" cheesecake pan, or 9" deep-dish pie pan.

If you're using a 9" by 1 1/2" pan, you'll have 1/4 to 1/2 cup of extra crumb mixture. This can become a garnish for the pie, if you like.

To blind-bake the crust, place it in a preheated 375°F oven for 15 minutes, just until set and you smell the cookies toasting. Remove the crust from the oven, cool on a rack, and finish with the filling of your choice.

To make a chocolate cookie crust, replace the graham crackers with 2 cups of chocolate cookie crumbs.
To make a vanilla wafer crust, replace the graham crackers with an equal amount of vanilla wafer cookie crumbs.
To make a gingersnap crust, replace the graham crackers with 2 cups of crushed gingersnaps.
Tips from our bakers
About 11 whole graham crackers will yield 1 3/4 cups. Forty chocolate wafer cookies (9 ounces) will yield 2 cups; 71 vanilla wafer crackers (8 3/4 ounces) will crunch down to 2 cups of crumbs; and 43 gingersnaps (10 3/4 ounces) will crush down to 2 cups of crumbs.
Reviews
For the vanilla wafers I used, this was WAY too much butter. I made it as written. The sides slumped because the mixture was so wet, and there was liquid butter at the bottom, even when the crust cooled off. I'm thinking this may be due to the vanilla wafers I used. The "standard" brands in our grocery are no longer made with real vanilla, so I bought an organic brand. Looking at the package, it was made with canola oil. Perhaps the composition of the wafer affected the recipe? Regardless, I made it over with the remaining wafers, this time using only 3 tablespoons of butter. The result was at least acceptable.
You can use any kind of crisp gluten free cookie to make the pie gluten free. Works very well.
I use Chinese almond cookies for my cheese cake. It makes the crust extra special
I tripled the recipe and divided it between two 9.5" deep dish pie plates and it turned out badly. The sides had slumped down into the middle into a pile with air bubbles. The sides were done and the middle was very wet. I tried flattening the bottom to salvage it. The bottom looks ok, but there are a lot of holes and cracking in the sides.

Mariko, we're sorry to hear you had so much trouble with this recipe. We're wondering what kind of cookies you decided to use as the base, as well as what kind of pan you used. It sounds like the cookie crumbs may have been a bit dry. To ensure the crust stays in place, it's important to press the crumbs firmly into the sides of the pan before baking. Try using a cookie that's a bit more moist next time, and be sure it's ground very finely before adding the other ingredients. We hope that helps! Kye@KAF
This is a followup to my previous review - after re-forming the warm crust using another pie plate to push it into shape and cooling, I poured the pumpkin pie filling and baked as directed - and it came out fine. Needless to say I was quite relieved. So, I would go ahead and recommend this recipe.
I jus tried making this recipe using Nabisco Ginger Snap cookies which I plan to fill for my pumpkin pie. When I pulled it out of the oven, it had risen quite a bit, looking like a huge cookie! Gasp! I used another pie plate to press the crust back down into the pie plate, and am afraid to fill it with pumpkin, thinking it will push up again and make a big pumpkin mess....anyone have any suggestions?

Laurel, we're surprised to hear about the rising action of your crust! This doesn't usually happen with cookie crusts. Next time, try using pie weights to hold down the crust during blind baking. You can also try docking the dough with a fork (poking holes evenly over the surface) and then using a coffee filter and dried beans to hold it down. The weight of the pumpkin filling will hold the crust in place during baking, so don't have any fear there! Kye@KAF
I made this using 9 graham crackers, 5 tablespoons of melted butter, and a scant 1/4 cup of brown sugar. Those quantities made just enough for a "standard" (not deep-dish) pie pan. Fabulous filled with fresh strawberries and whipped cream!
Please note that the crackers should be weighed. The Nabisco Honey Grahams I bought had only nine crackers in the packet, not eleven. Nice recipe!
This is great information and I've tried them all with great results.
So easy!! I've made this crust with the chocolate wafer cookies for an 'ice cream pie' (chocolate crust with coffee ice cream!) and it was perfection.