A customized print-friendly version of this recipe is available by clicking the "Print Recipe" button on this page.
Corn and Scallion Sourdough Pancakes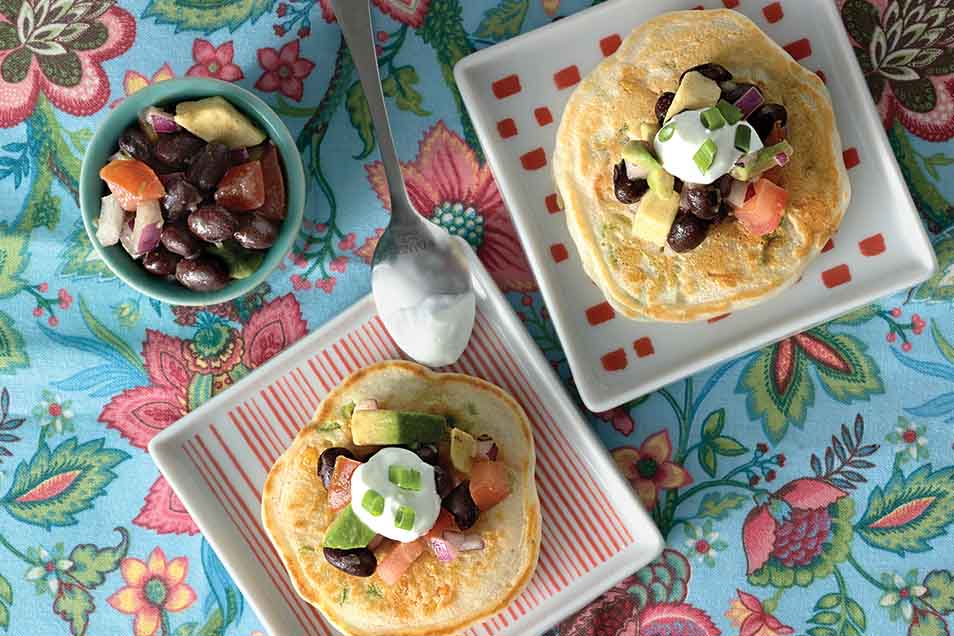 These savory little pancakes make great appetizers. Enhance their presentation by topping with black bean salad.
Ingredients
Pancakes
1/2 cup sourdough starter, ripe (fed) or discard
1 1/4 cups King Arthur Unbleached All-Purpose Flour
1 cup (8 ounces) milk
1 tablespoon vegetable oil
1 teaspoon baking soda
1/2 teaspoon salt
1 large egg
1 cup fresh/cooked or frozen/thawed corn kernels
3/4 cup chopped scallions, white and green part (5 or 6 scallions)
Salad
15 1/2-ounce can black beans
1 cup diced, seeded tomato (about 2 regular tomatoes)
1/2 cup diced red onion (1 small or 1/2 large)
1/2 avocado, diced
1/2 teaspoon salt
1 teaspoon wine vinegar
1 tablespoon vegetable oil
hot sauce to taste, optional
1/2 cup sour cream, to garnish
Instructions
To make the pancakes: Combine the starter, flour, and milk. Cover and let rest for 30 minutes in a warm place.

Add the oil, baking soda, salt, and egg and stir until combined. Fold in the corn and scallions.

Heat a silver dollar pancake pan over medium heat. Lightly grease the pan, then scoop a heaping tablespoon of batter into each of the cups. To make the pancakes using a griddle, heat it to 350°F, grease, and scoop heaping tablespoons onto the surface.

Flip each pancake over when its surface bubbles and the edges are slightly dry. Continue cooking until the bottom is golden.

Repeat with the remaining batter.

To make the salad: Combine all the ingredients except the sour cream. Scoop 1 tablespoon of salad and 1 teaspoon of sour cream onto each warm pancake, and serve hot or at room temperature.

Yield: 20 to 22 small pancakes.
Reviews
Absolutely amazing! Just made these as stated in the recipe with chives because I couldn't find scallions. Very good!
Wow! Okay, I did not make this as pancakes, but as waffles with slight adjustments necessary for them. All my beginning ingredients were cold when I started, so I actually let this mingle on the counter about 2 hours. My flour addition was about half KAF white whole wheat, and all other ingredients the same, plus about 1/2 of a very finely minced fresh jalapeno. But I added 2 Tbsp. extra oil (used avocado oil) so they wouldn't stick to my Belgian waffle maker. And I also separated the egg so that I could whip the white and fold it in at the end. These were completely amazing!!! I didn't make the topping, because I had some leftover sweet potato/black bean stuff to use up, and it worked great with the pancake (waffle!) part of this recipe. I wish I could upload a picture, they were soooo good! :) For next time, I will use milk with some fat content for more richness (today all I had was skim), and I'll probably experiment with fine shreds of cheddar too. I'm thrilled to have found such a great use for sourdough starter that would have otherwise been tossed, and I'm constantly amazed and thankful for the tremendous inspiration I always find on KAF website! YUM
Made this last night for dinner along with grilled salmon. I substituted smoked, spicy olive oil (found at a food & wine show) in the salsa in place of the vegetable oil and it was wonderful! Served leftover pancakes with over easy eggs and ham for breakfast this morning (no maple syrup of course). This recipe is a definite keeper!
These were wonderful for brunch. I used an electric griddle set at 350. The recipe made 12 four inch pancakes. I topped with plain yoghurt instead of the sourcream and used a Slimcado rather than a regular avocado.
Loved this! I added the whole avocado, doubled the white wine vinegar and salt and added about 2 tsp of Sriracha sauce for the kick! I only got about 15 pancakes out of the mix, so I think my starter was a little thick, but will try again tomorrow. Refreshing and easy for a summer appetizer.
Really good, quick and easy.
Loved the pancakes and salad. I made regular-sized pancakes instead of the silver-dollar sized ones mentioned in the recipe.
My starter must be firmer than whatever you were using - I maintain at about equal weights of flour and water. 1 1/4 cupts of flour would have made dough, not batter. I adjusted down, but still had a rather stiff batter. The taste was great, a nice savory treat, but the thickness of the batter made it hard to ensure the middle of the cakes wasn't gummy. Next time I'll go with 3/4 cup of flour and adjust up from there if necessary.
The starter itself should be the consistency of pancake batter (no pun intended - really!). If it isn't, it may be time to use a bit more water than flour the next time you feed it to use for this recipe to get that consistency. Happy Baking! Irene @ KAF