A customized print-friendly version of this recipe is available by clicking the "Print Recipe" button on this page.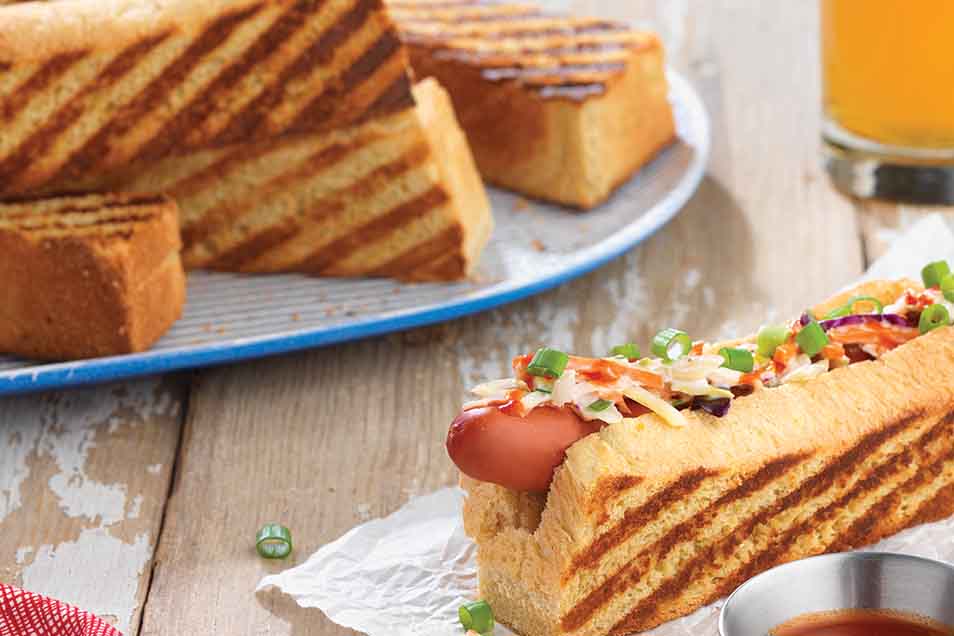 Inspired by corn dogs, these yeasted buns are spiked with cornmeal and have the slight crunch and flavor of cornbread. At the same time, they're just as soft and tender as your favorite traditional hot dog buns, yet still perfectly capable of securely cradling your preferred frank and condiments. For a Vermont-inspired King Arthur Flour dog, top with a sweet maple/Sriracha slaw.
Instructions
Combine all of the ingredients, and mix and knead to make a smooth dough, adding additional flour or water if necessary.

Let the dough rise, covered, until nearly doubled in bulk, 60 to 90 minutes.

Lightly grease a New England Hotdog Bun Pan.

Gently deflate the dough, and stretch it until it's about 15" long and 6" wide. Place the dough into the pan, stretching it to the edges.

Let the dough rise for 45 to 60 minutes, until it comes to within 1/2" of the top of the pan.

Towards the end of the rising time, preheat the oven to 375°F.

Grease a baking sheet, and place it on top of the risen buns, to keep them flat as they bake.

Put the covered buns into the oven, weighing the baking sheet down with something heavy and oven-safe; a cast iron skillet works well.

Bake the buns for 20 minutes, remove the weighted baking sheet, and bake for 2 to 5 minutes longer, if necessary, to brown the buns. A digital thermometer inserted into the center will read 195°F to 200°F.

Remove the pan from the oven, and cool the buns in the pan for 5 minutes. Turn them out onto a rack, rounded side up, to cool completely.

Slice each bun down the middle vertically, without cutting through the bottom; then cut between the buns to separate them.
Reviews
This was the best! I loved it So delicious! Extremely easy and taste so good. Definitely keeping this recipe in my arsenal.
Following the recipe [minus the cayenne] I too made this as a loaf. I have a baking pan that is almost the same dimensions as the hot dog roll pan. The result was disappointing. No problems with the bread itself - it was quite flavorful. But it was extremely dense; I know that corn meal breads are heavier but.... Even when I removed the dough from the bread-maker I felt it was overly heavy for its size. My KAF yeast is well within its expiration date, the dough rose well, so I refuse to blame that as a reason. I sliced the loaf and served it as breakfast bread with jam. It was too good to waste, but it was definitely not hot dog roll material.

Thanks for sharing your baking experience with us, Jeannie. We're glad you enjoyed the flavor of the rolls, and we'd love to see if we can help make the texture equally as pleasing. One of the most common reasons why breads and rolls turn out dry and heavy is because too much flour is used. To ensure you're using the right amount, we recommend checking out the "Measuring Standards," link next to the ingredients header above. You'll see that either measuring your flour by weight using a scale, or fluffing and sprinkling the flour into your measuring cup are the best ways to ensure your recipe turns out perfectly. We hope this helps and happy baking! Kye@KAF
These turned out great. I might leave out the hot pepper next time, my children didn't like the heat.
I made these today, and erred on the subtle side and only used 1/4 tsp cayenne. Next time I'm using 1/2 tsp. Question: Can I sub in the Bees Knees Spicy Honey for the maple syrup? I'm hoping that will give me an extra "oomph" of spice. Overall, great recipe and I'll make it again.

Sounds like a deliciously spicy substitute! We'd probably choose one or the other adjustment to start with, otherwise you may end up some seriously smokin' hot dog buns. Mollie@KAF
i baked this as a loaf of bread instead of using the hot dog bun pan. i didn't alter the recipe except for baking it as a loaf. i really like this bread because it is so versatile. so far i have used it for breakfast toast, french toast, grilled cheese sandwiches, and hot ham and cheese sandwiches. this loaf lasted less than two days and i'll use it again.
This recipe looked so tempting and I just had to try it. I purchased the hot dog pan and made it for our July 4th BBQ. I followed the directions TO THE LETTER but my hot dog buns came out rather dense. I e-mailed KAF regarding why that could be the case and was told that perhaps my yeast was out of date. I keep it in the refrigerator and it had been in there a while. She had recommended that I purchase new yeast and keep it in the freezer so it stays dormant. I will definitely try it again because the taste was certainly there - the cornmeal gave the rolls a nice crunch but didn't overwhelm the hot dog roll. We ate them with our dinner anyway and the next day my kids made toast out of some - but the rest sadly, ended up in the trash with a loud "thump" - that's how dense they were! Other reviews were very favorable so I'm going to try it again and see what happens.
My family really enjoyed these buns. I was so intrigued by the idea of a cornbread hot dog bun that I had to try them and am so glad I did. I do not own the hot dog pan so I had to bake them free form. I recommend dividing the dough into 10 - 12 pieces. I baked mine at 350 for 20 minutes. Will definitely make again.
These came out really great, even my picky 18 month old is in love with them :) They have a subtle corn flavor and crunch but are perfectly soft and fluffy. I wanted large slider style rolls and this recipe made 12 that were just a bit over 3 ounces each. The first rise took a little longer than an average white roll recipe does but rose in about 30 minutes after the final shaping. Brushed an egg wash on top and they came out beautifully brown. Thanks for another great one KAF