A customized print-friendly version of this recipe is available by clicking the "Print Recipe" button on this page.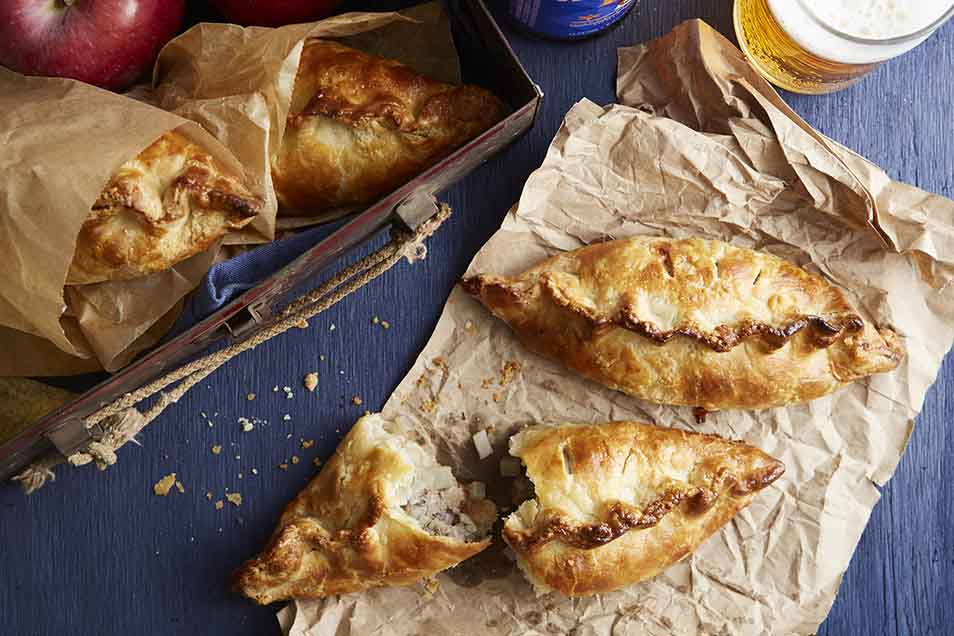 While pastry has served as a container for food for centuries, a Cornish pasty is unique to Cornwall. It's a tangible reminder of its mining past, although people now eat them whenever a quick and portable meal is needed. It was designed to accompany a miner to the mine in his pocket and it contained enough meat and turnips for at least a couple of meals. The miner's initials were usually carved into one end, to vent steam as it baked and so there would be no question to whom the pasty belonged. Editor's note: This recipe has been retested and adjusted to better match the filling and pastry amounts; the new yield (of slightly smaller pasties) is now 6.
Ingredients
The Pasty Pastry
3/4 teaspoon salt
1/2 cup lard, (traditional), unsalted butter, or vegetable shortening
1 large egg, beaten
3 to 5 tablespoons water
2 teaspoons vinegar
A Traditional Miner's Filling
3/4 pound cubed or diced lean beef (uncooked)
1/2 cup diced rutabagas, parsnips, or turnips
1/2 cup diced onion
1 cup peeled, diced baking potatoes
1 tablespoon minced fresh thyme, or 1 teaspoon dried
salt and pepper to taste
Egg wash
1 large egg beaten with 1 tablespoon water
Instructions
For the pastry: In a large bowl, whisk together the flour and salt. Cut the fat into small pieces and distribute evenly over the flour. Cut the fat into the flour until the mixture resembles coarse crumbs.

In a small bowl, beat the egg with the water and vinegar. Drizzle this over the flour mixture while tossing everything together with a fork.

Gather the dough together (a dough scraper is ideal for this), folding it over on itself until it becomes cohesive. Sprinkle any dry or crumbly bits with water, a tablespoon at a time, until the dough comes together. Divide into six pieces, shape them into discs, wrap and chill while you prepare the filling

For the filling: Stir all of the ingredients together in a large bowl (uncooked; they'll cook in the oven).

To assemble and bake: Preheat the oven to 400°F. Line a large baking sheet with parchment.

Remove the wrapped pastry from the refrigerator and roll each piece into an 8" circle. Place 1/2 cup of the filling in the center of each circle. Brush the edge of the circle with water, and bring two opposite sides up and over the filling to pinch together over the filling. Flute the seam as you would a piecrust, so it looks like the back of a dinosaur. turn up the ends a bit to look a little like devil's horns.

Cut a design (or initials) into one of the sides of the pasties to vent the steam. Place, fluted edges up, on the prepared baking sheet. Brush with egg wash.

Bake at 400°F for the first 15 minutes, then reduce the temperature to 350°F and bake for a further 25 to 30 minutes. Remove from the oven and serve warm, or chill to reheat later.

Store, covered, in the refrigerator for up to 5 days, or freeze in an airtight container for up to 2 months.
Nutrition Information
Serving Size

1 pasty, 221g

Servings Per Batch

6
Amount Per Serving:
Calories

520

Calories from Fat

200

Total Fat

23g

Saturated Fat

9g

Trans Fat

0g

Cholesterol

90mg
Sodium

340mg

Total Carbohydrate

55g

Dietary Fiber

3g

Sugars

2g

Protein

22g
* The nutrition information provided for this recipe is determined by the ESHA Genesis R&D software program. Substituting any ingredients may change the posted nutrition information.
Tips from our bakers
Pasties today are a bit smaller and the fillings are not quite the hearty fare they were in the past. This recipe also works with the fillings in Savory Pies for Supper.
As a result of the kneading, you will develop the gluten somewhat, usually a "no-no" in making pastry. In this case, because these are hand-held pastries, you want a dough that will hold together.
For two-bite pasties, roll dough out into ten 3 1/2" circles. Note that the smaller pasties will cook more quickly.
Reviews
I had never tasted these before and thought they looked good enough to try. I always make a new recipe as directed. After that, any changes are made according to whatever inspires me. As with most others, I really liked the crust. I was happy with the results, it held up well for being handheld without being too tough. The filling tasted good. I live in a very dry climate, so I just always assume that I am going to need a bit more water than a recipe calls for and just go for the right consistency to roll out. The filling was tasty and easy, however, I am not a big fan of parsnips. I would probably reduce the amount of them next time or substitute carrots. I may just make up my own fillings as far as that goes because I love the concept of these.
I followed this recipe, aside from adding about 10 tbsp. of water. The pasties were scrumptious, but extremely dry. As a "first-timer", I was amazed how nice the pasty shell came out, and how perfectly cooked the filling was. I don't know why they were so dry. I almost hate to add more water, as I don't want the dough to be too wet. Should I try that next time?

Hi there, Joanne! We're so glad to hear that you enjoyed this recipe but are sorry to hear that your dough was a little dry. One of the most common reasons why a dough might turn out dry and require extra liquid is because too much flour is used. To ensure you're using the right amount, we recommend checking out the "Recipe Success Guide," link next to the ingredients header above. You'll see that either measuring your flour by weight using a scale, or fluffing and sprinkling the flour into your measuring cup are the best ways to ensure your recipe turns out perfectly. We hope this helps for your next baking adventure! Morgan@KAF
Making pasties is my new hobby. I am using the dough recipe, and adding my own fillings. In my experience, the water measurement is about 2 TBL off for the dough. You will definitely want to add another 1 or 2 TBL here. Not too much. Work it in slow. Sprinkle 1 TBL at a time until it just comes together, but is not wet. Probably with a little, slight kneading until the bowl is clean. BTW. This pastry comes out nice. Everyone so far has commented on how good the "crust" is. Also, letting the "discs" (after rolling them out) get super cold in the fridge will help with flaky results, and is worth the extra time. Good recipe.
I had not had a Cornish Pastie for 20 years and got a bee in my bonnet to make my own. I read and watched videos of a lot of recipes but settled on your version. I don't make a lot of pastry anymore so I was happy to read somewhere that this dough was for beginners because it needs to be worked enough to hold together when cooked. I could do that! I loved adding a beaten egg, water and organic apple cider vinegar to the flour. That seemed like a truly vintage treatment. I understood the recipe to say you had to add water by the TBS until the dough came together which I did, then separated it into 6 balls, floured them and put them in a bag in the refrigerator while I assembled the filling. I cubed the turnip and Swede, thinly sliced the potato and onion, increased the onion to a generous cupful. I cut beef tips very thin. Went heavy on the thyme 1.5 tsp. and pepper. Stuck to your salt amount and was perfectly happy. Made 6 perfect pasties, egg washed, steam vented and baked per your directions. Let cool for 20 minutes served with an epic Cheddar Ale Soup. Very happy diners, kudos all the way around. Will make again during winter rotation. I wish I could post a picture they were so beautiful Thank you KAB
I am an experienced home cook/baker and this recipe was referenced to me in responce to some hand pies I had made for friends using cooked chicken and mixed veggies. Normally my pastry formula is flour , 40% cold lard 2% salt and 30% water. I had not used an egg in my pastry before nor had I added vinegar. So this time I held to the KA flour/lard ratio and beat the egg and added water to make 30% and added the vinegar. I was pleased with the resulting dough and made two 6 inch diameter pasties filled with raw pork, potatoes, carrots. celery, and onion. Salt and pepper blend to test. They are at present baking for my supper. I have saved the rest of the pastry dough and filling for later as these are always better fresh than several days old.
To start, I made the pastry in my Cuisinart. I just kept pulsing and adding water in small amounts until it gathered into a ball, and let it rest for about 45 minutes. Next, I added a small bit (2 slices, chopped) of prosciutto) into the filling. I also made 8 instead of 6 pasties, using 1/3 cup of the filling instead of 1/2. The dough was easy to work with, crimped beautifully, and it was tasty as well! I served these alongside a hearty mushroom barley soup and some cheese, and they were well-received.
I had never made a recipe like this. I have made pot pies and other dessert pies but nothing like this. My husband was concerned about there not being any stock and wanted to make me some. I finally got him to calm down, yet he was still skeptical. I had never made a crust with lard either. I used the least amount of liquid at first, like the recipe said it would be quite crumbly. I had slowly added more water til it was easy to separate into disks. I had also increased the recipe another half. Made them pork, peas, cheddar cheese, potatoes, carrots and onions. Spiced it as stated and granulated garlic. With the egg wash and all they came out beautiful. The pastry dough was amazing. I will now use that recipe in all my pot pies. My husband makes very tasty empanadas and said he would like me to make the same dough for his recipe, which I will gladly do. Thanks for the recipe.
I've been making the pastie recipe from the Fall 2017 Sift, I've made them several times. Today I was worried that I was messing up the magazine so I came print it out here. I notice that this version calls for 2 oz. less fat, quite a difference. Next time I'll try the less fat version. Today I'm doing the beef and some lard in the crust that we love and also for our vegetarian daughter a butter and Crisco crust with turnips potatoes and cheese.
I used lard that I rendered from my organic pig. I mixed it in my KitchenAide mixer, first cut in the lard, then wet mix. It worked better than the second batch I did by hand. I liked the first batch better as it was a bit more moist and formed better crimps. Looks great, although I won't eat them until tomorrow!
Although I'm English and have my own recipe for this, I tried it anyway - it's quite nice, and far better than many I've tasted. For those who want a sturdier pastry, a hot water crust pastry (what I use for mine) works very well.