A customized print-friendly version of this recipe is available by clicking the "Print Recipe" button on this page.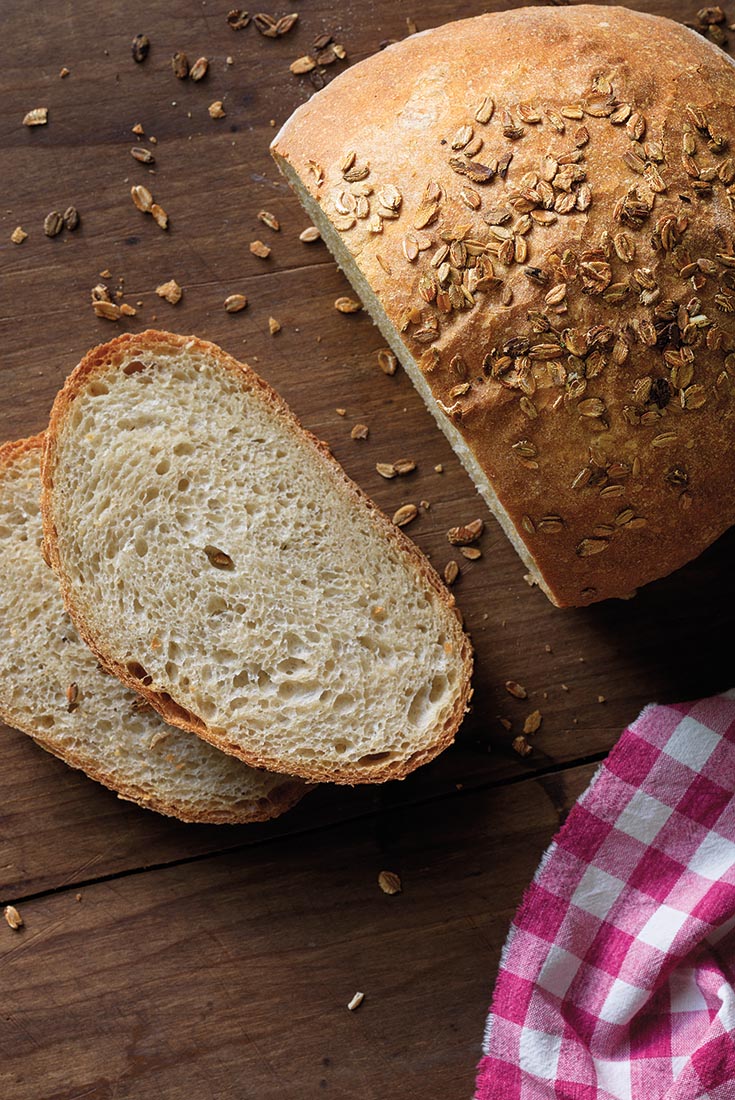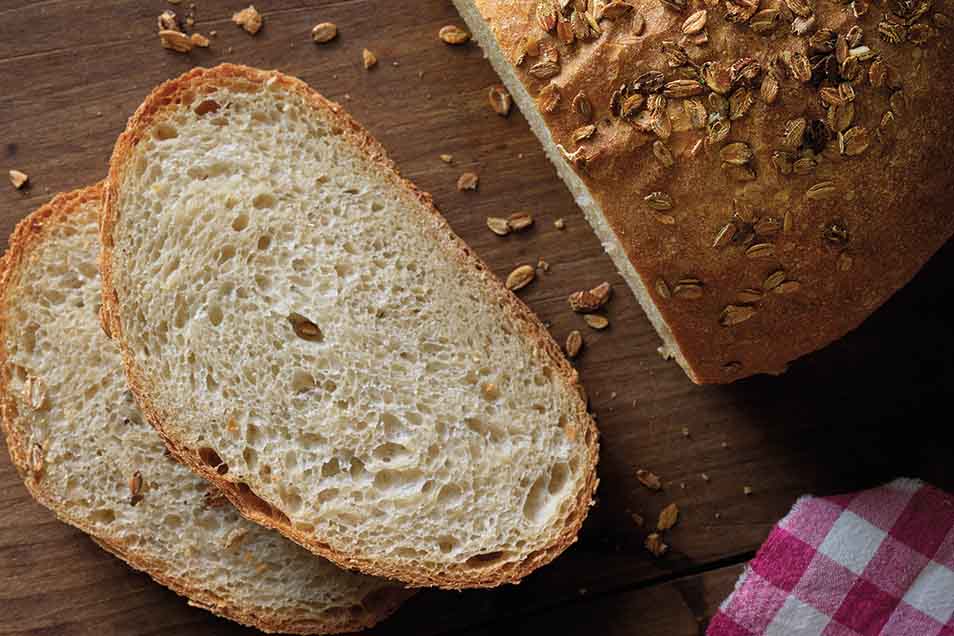 This loaf, like many European loaves, includes a bit of whole grain flour for texture and flavor. For a lighter-colored loaf, cut the pumpernickel or white whole wheat down to just a couple of tablespoons (or eliminate them entirely), while increasing the all-purpose flour to 3 cups.
Ingredients
1 1/8 to 1/4 cups lukewarm water*
1 1/2 teaspoons instant yeast
1/2 cup pumpernickel flour OR King Arthur White Whole Wheat Flour
2 1/2 cups King Arthur Unbleached All-Purpose Flour
1 1/2 teaspoons salt
seeds (sesame, flax, caraway or poppy) OR oat or rye flakes, for sprinkling
*Use the lesser amount of water in the summer or in humid weather; the greater amount in winter, or when the weather is cold and dry.
Instructions
To make dough using a bread machine: Place all of the ingredients in the order listed above into the pan of your bread machine, select manual or dough, and press start. Jump to step 3 below.

To make by hand, or with a mixer: Pour the water into a mixing bowl. Add the yeast and pumpernickel or white whole wheat flour, and let sit for several minutes until the mixture begins to bubble. Stir in the salt and 1 cup of the all-purpose flour and mix well. Gradually add the remaining all-purpose flour until the dough begins to pull away from the sides of the bowl. Turn the dough out onto a lightly floured surface and knead it for 4 to 5 minutes. Let the dough rest while you clean out and grease your bowl; then knead the dough a few more minutes. The dough should be on the slack side and a little tacky, but shouln't be sticky. When the dough is well-kneaded, place it into the prepared bowl, cover, and let rise until doubled in size, 1 1/2 to 2 hours.

If you're using a brotform: When your dough has risen, flour your brotform heavily and sprinkle some seeds (sesame, flax, caraway, poppy...) or some oat flakes or rye flakes in the bottom. Pick up your dough and work it around in your hands a bit, expelling the air. Make the dough into a ball and place it, "nice" side down, into the basket. Drape the dough with lightly greased plastic wrap, and set it aside to rise for 45 minutes, or until it's crowned nicely over the rim of the basket.

If you're not using a brotform, simply round the dough into a ball, and place it on a lightly greased or parchment-lined baking sheet. Let the dough rise for about 45 minutes, or until it's noticeably puffy.

For dough shaped in a brotform:Have a lightly greased or parchment-lined baking sheet ready. Very gently, roll the dough from the basket onto the baking sheet. It should slip out gracefully, without deflating. if it deflates totally (a small settling is OK), simply form it into a smooth ball, put it back in the basket, and let it rise again (only this time not quite as high).

Bake the bread in a preheated 425°F oven for 20 to 25 minutes. For a crunchy, crisp loaf, spray water into the oven with a spray bottle three times during the first 10 minutes of baking. When the bread is done, remove it from the baking sheet, set it on the rack of the oven, turn the oven off, and crack the door open a couple of inches; let the bread cool completely in the oven. If you want a soft loaf, remove the bread from the oven, and from the pan, set it on a rack, and let it cool completely at room temperature.

Yield: 1 large loaf.
Tips from our bakers
This crusty loaf is non-fat, and thus will become stale quickly; it's best enjoyed the same day it's made. For slightly better shelf life, substitute 2 tablespoons olive oil for 2 tablespoons of the water.
Reviews
so I realize it was user error why my dough was so slack... I got dislexic with another bread recipe I made earlier in the day and added about 1/2 cup too much! So I just kept adding flour while kneading until it felt right. It's rising, and I'm sure it'll turn out great when it's baked. Doing it in a Dutch oven
I attempted to make this and it did not turn out right. I used rye flour instead of pumpernickel/whole wheat. It tasted delicious but it did not rise properly. I'm not sure if I did something wrong or it was because I used rye. Otherwise it was easy to follow the recipe and I will give it another shot!
It was our first snowy day of the season, so I decided to make homemade soup and bread. This was a perfect addition. I followed the recipe, using the larger amount of water, then substituting two tablespoons of the water for olive oil. It turned out perfectly. I will definitely make this one again.
It is a perfect sandwich bread. I mixed caraway seeds, flax seeds, sunflower seeds in the dough and it tastes great. I love it.
I absolutely love this recipe. It is so easy, I bake bread every week and was looking for something different. This fit the bill. I substituted 3/4 cup of pickle juice for some of the water and I added 1 T sugar and 1 T caraway seeds to the dough. I also used my new Bread Baking Bowl. (I love that thing!). Came out tasting just like a rye bread I used to have when I was younger. I will continue to make this and also the original recipe. This is a definite keeper.
I've mad this bread with and without the olive oil and I prefer the recipe with the olive oil. I make it in my Zo, take the dough out adding some flour to the board and to my hands then shape it into two loaves instead of one. Slash, let them rise, spray and bake and voila - one goes into the freezer for a day or two and the other is ready to eat. If I'm having company, then I'll bake it as one loaf.
Very easy to make and very good results. Reminds me of a European-style boule (minus the hefty price tag), or Jim Lahey's no-knead bread (minus the required 24-hour period). Speaking of which, will I need to change anything (maybe add a bit more water?) if I bake this in a cast iron pot or a cloche?

Frances, there's no need to change the dough consistency if you'd like to bake this in a cast iron pot or cloche. If your pot can withstand the heat, you might want to try pre-heating the pot empty and then adding the dough once it's fully risen. This method produces dramatically beautiful results! Kye@KAF
Easy recipe and baked nicely. I didn't like the texture of the bread (a bit chewy for my taste) but *love* it as toast. (Gotta have my morning toast!!!) Caraway seeds fell off as I sliced the loaf -- another baker said the same -- so I'll try egg wash next time. Simple fix :)
A very nice, basic loaf. I wasn't expecting an edible loaf based on the turn of events, but it ended up being nicely textured and tasty, despite whatever I did wrong. I made it with my mixer and used the max water (I weigh ingredients). I probably should have added more flour based on what I saw, but I only added a little, enough to get it out of the mixer and into a bowl. The dough was soft and smooth but quite sticky. I used a brotform for the first time, but I had trouble getting the dough out, it was very loose and more "spilled" out of the form. It didn't deflate *completely* so I continued and hoped for the best. It rose more than I expected in the oven but stayed on the flat end of the loaf spectrum. But it had a soft interior and was springy. One thing I noticed that there was a distinct alcoholic smell when I sniffed it after I cut it (it was still a little warm). I guess I overproofed it at some point? I should also say that my kitchen is quite cold and I am forced to proof in a warmed oven. During the brotform proofing, what became the top of the loaf had acquired a skin through the form, so maybe I won't warm the oven next time I use it. Any suggestions would be appreciated.

Katerina, it sounds like you might want to add about 1/4 to 1/2 cup of additional flour to your dough next time to help give it strength, and perhaps add some stretch and folds to the rising process to build up the gluten process. (Give our Baker's Hotline a call if you need more information about how to do this.) Also, resist the urge to use a warm oven; it will compromise the texture of the final bread. Try either using a proofing box or just be patient while the cool, slow rise occurs. We think you'll be more pleased with the final result. Kye@KAF
I tried the recipe again, this time with better results. The dough is very soft, but handled OK with additional flour on the board. Next time I'll use the lower liquid measure. All in all, it is very easy to make using a bread machine, mold and baking in the oven, making it a simple to make everyday bread. It makes excellent toast.