A customized print-friendly version of this recipe is available by clicking the "Print Recipe" button on this page.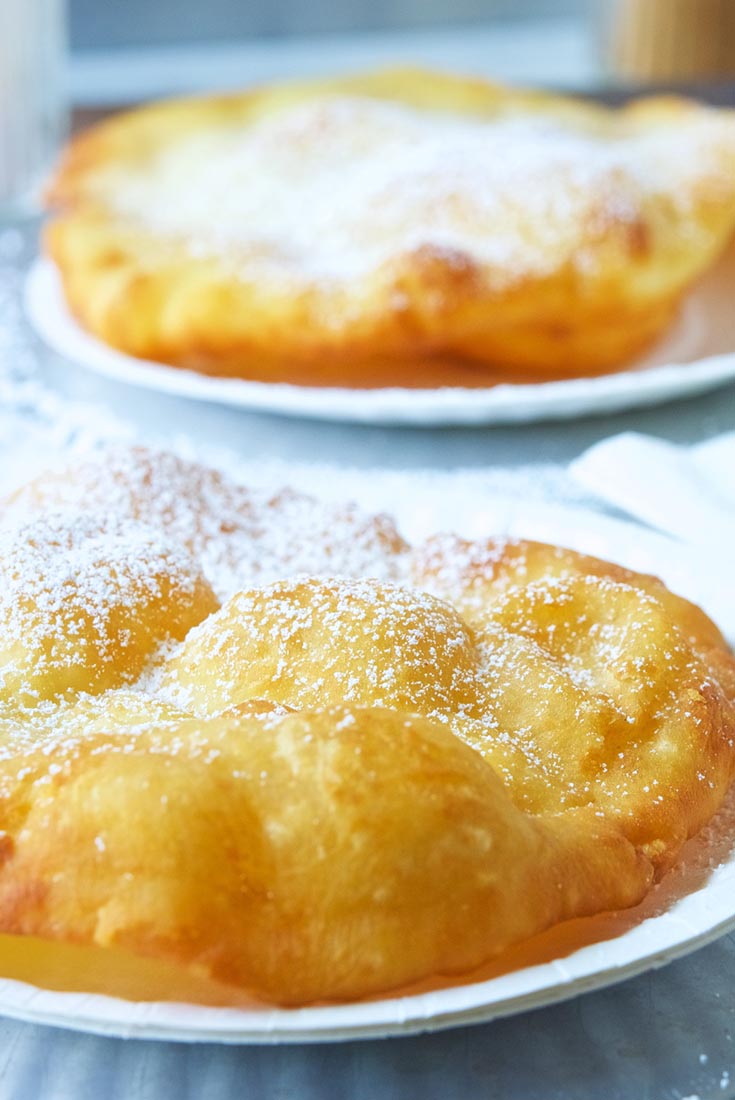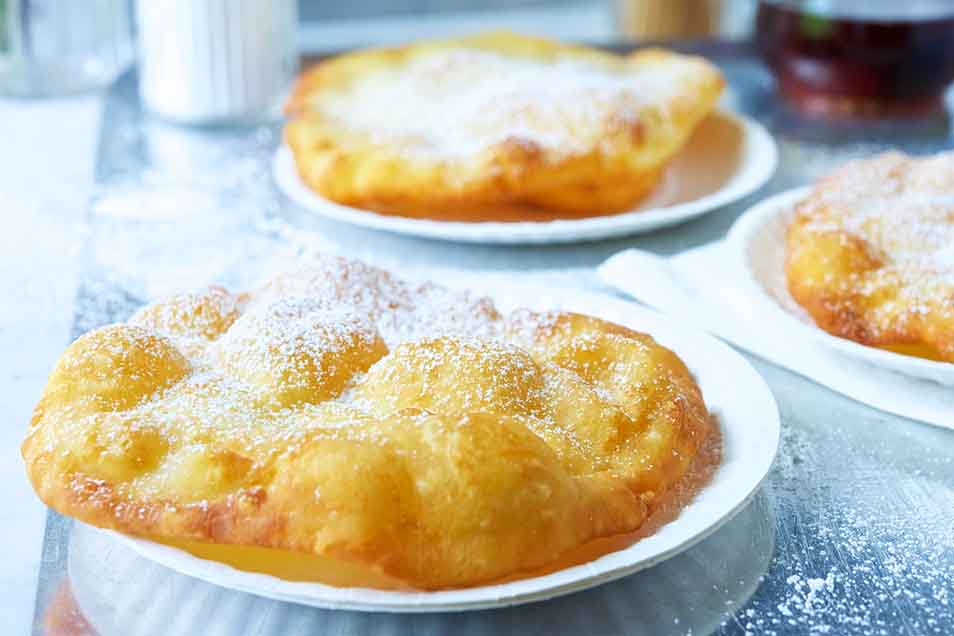 So, you think you need a deep fryer and some kind of special county fair chef expertise to make fried dough? Think again! This easy version uses a simple baking powder dough, and fries in just 1/4" of vegetable oil — no messy deep frying necessary.
Ingredients
2 teaspoons baking powder
3/4 teaspoon salt
2 tablespoons cold unsalted butter, in 1/2" cubes
3/4 cup lukewarm water
*See "tips," below, to make this recipe using King Arthur Unbleached Self-Rising Flour.
Instructions
Mix the flour, baking powder, and salt.

Work in the cold butter, using a pastry blender, your fingers, or a mixer.

Stir in the warm water to make a soft dough. Cover and let rest for 15 minutes.

Divide the dough into eight pieces. Working with one piece at a time, roll into a thin 5" round, about 3/8" thick.

Heat about 3/8" vegetable oil to 375°F in an electric frying pan, or in a pan over a burner. If you're using a 10" diameter pan, this is 2 cups of vegetable oil. If you're not using an electric frying pan, use a candy thermometer to take the temperature of the oil; or guesstimate it by seeing if the first piece of dough fries nicely in the time specified.

Pick up one dough disk, and carefully lower it into the pan. Let it cook for 60 seconds (it'll puff up on top and become light brown on the bottom), then flip it over and cook until light brown on the other side, about 60 seconds. You don't want to cook these too dark; they'll become overly crisp.

Remove from the oil and set on a paper towel-lined baking sheet. Place in a 200°F oven to keep warm while you make the remaining fried doughs.

Serve warm, with maple syrup or cider syrup; confectioners' sugar, or cinnamon sugar; or the topping of your choice — some folks enjoy a savory version, with marinara sauce and cheese.
Nutrition Information
Serving Size

62g

Servings Per Batch

8
Amount Per Serving:
Calories

180

Calories from Fat

70

Total Fat

8g

Saturated Fat

2g

Trans Fat

0g

Cholesterol

1 mg
Sodium

340mg

Total Carbohydrate

23g

Dietary Fiber

1g

Sugars

0g

Protein

4g
* The nutrition information provided for this recipe is determined by the ESHA Genesis R&D software program. Substituting any ingredients may change the posted nutrition information.
Tips from our bakers
Peanut oil is our favorite deep-frying oil; it has a higher smoke point, and neutral flavor.
Want to make fried dough with King Arthur Unbleached Self-Rising Flour? Omit the recipe's baking powder and salt; and decrease the water to 1/2 to 2/3 cup, enough to make a soft (but not sticky) dough.
Reviews
I expected something similar to zeppole or funnel cake, but it ends up being thick and biscuit-y, despite the puff. It becomes very much like a sopaipilla if rolled thinner. It's not bad if you're looking for a quick and cheap dessert and don't want to leave the house. You'd get better tasting results if you buy a can of biscuit dough and fry it

It sounds like this recipe wasn't exactly what you were looking for, Blake, which we're sorry to hear. We do have a recipe for Funnel Cakes if you're looking for something that's a bit more delicate but still delivers that fried-and-sweet flavor combination that's so delightful. We hope you're able to make a treat that satisfies your cravings at home next time. Kye@KAF
A light dusting of powdered sugar, fresh mashed strawberries and fresh whipped cream and I'm back at the farmer's market, YUM!
Used homemade honey butter, it was YUMMY!
Why use unsalted butter but add 3/4 of a tablespoon of salt? Why not use regular butter and then reduce to 2 tsp of salt?

Hi George. The amount of salt in unsalted butter isn't always the same, so we prefer to use unsalted butter so we can know exactly how much salt is going into the recipe. You're welcome to use salted butter and experiment with lowering the added salt if you'd prefer. Annabelle@KAF
Never made any kind of a bread let alone fried dough, and I bake sometimes, but not a lot. I made this on the first try and I didn't even really measure it out exactly... Maybe I got really lucky but it came out great! They were nice and fluffy and super easy to make too. Worked out just fine for Navajo tacos and dessert...
Not a review but a question. Interested in making this fried dough recipe but need to know if gluten free flour can be used instead of all purpose flour. Wondering if it would hold together. Thank you for any advise you can give me.

You're welcome to use our Gluten-Free Measure for Measure Flour in place of the all-purpose flour in this recipe. Be sure to use our Measure for Measure (or another one-for-one gluten-free replacement) rather than a regular gluten-free flour. (Otherwise you'll need to make additional adjustments like adding xanthan gum, as well as possibly another egg or more liquid.) We hope this helps, and happy baking! Kye@KAF
I am a seasoned baker of over 30 years and I am a huge fan of King Arthur products. I cannot in good conscience recommend this recipe. This recipe produces a cake like consistency which is not indicative of a true dough boy. The dough boy has its origins from Italy where it was derived from a yeast based recipe. This lacks in texture, substance and flavor.

We appreciate your honest feedback, John, and we're sorry this recipe missed the mark for you. We've passed along your thoughts to the right team to consider in future discussions about this recipe. We hope you find the dough boy recipe you're looking for. Kindly, Kye@KAF
I have used this recipe a number of times and It's time for me to write a review! This recipe is easy and I guarantee you have the ingredients in your kitchen! It's always my go to when I'm craving fried dough and I usually cut the recipe in half and it still works great! Highly recommend it!! Happy eating
I have used this recipe a number of times and It's time for me to write a review! This recipe is easy and I guarantee you have the ingredients in your kitchen! It's always my go to when I'm craving fried dough and I usually cut the recipe in half and it still works great! Highly recommend it!! Happy eating
These didn't puff up for me. Maybe it takes practice? But ultimately just a delivery system for butter and sugar so still worked out.

There's a number of things that may have been responsible for your slightly flat fried dough, including too much flour (try measuring by weight or fluffing and sprinkling the flour) or oil that wasn't hot enough. Sometimes it helps to fry the dough just one piece at a time to ensure the oil stays piping hot. This direct heat should help the dough puff up a bit as it bakes. We hope this helps, and happy baking! Kye@KAF