A customized print-friendly version of this recipe is available by clicking the "Print Recipe" button on this page.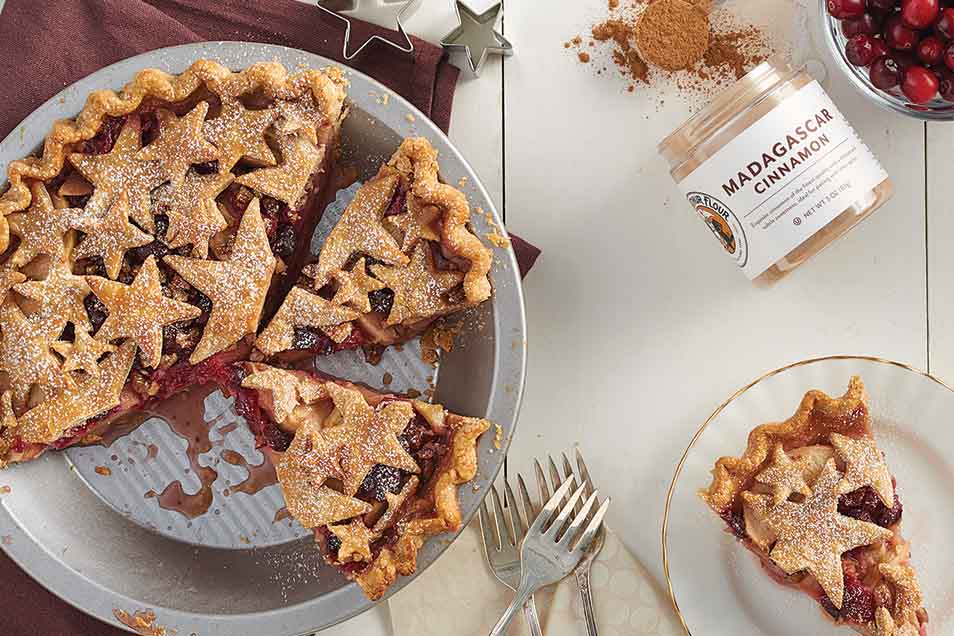 This is the pie we featured in our fall 2011 advertising. We've paired a tangy cranberry and apple filling with a hearty whole grain pie crust to create a pie that will make your autumn occasion special. Cooking the cranberries with sugar and orange peel before combining them with the apples gives the pie better texture and flavor, while the chopped pecans add nice crunch.
Ingredients
Pie Crust
1 teaspoon salt
2 teaspoons sugar (optional)
1/2 cup vegetable shortening
1/2 cup cold butter
6 to 9 tablespoons ice water
Pie Filling
1 1/2 cups chopped cranberries, fresh or frozen
1 cup sugar
1/4 teaspoon orange oil or 1/2 teaspoon grated orange peel (zest)
1 tablespoon King Arthur Unbleached All-Purpose Flour
1/3 cup orange or cranberry juice
6 tablespoons chopped pecans
3 large, firm, tart apples, peeled, cored and sliced
1/2 teaspoon cinnamon
1 tablespoon butter
Instructions
For the crust: In a large bowl whisk together the flours, salt, and sugar if using. With a pastry blender, two knives, or your fingertips, cut the shortening into the flour mixture until it resembles cornmeal.

Dice the butter into 1/2" cubes, toss them in the flour mixture to coat, and cut them in until the largest pieces are the size of a dime.

Sprinkle the ice water over the flour/fat mixture, tossing with a fork, using 2 tablespoons at a time. Continue until the dough is just moist enough to hold together. Gather it into a ball, cut it in half and flatten the halves into two disks. Wrap the pieces of dough and refrigerate to give them a rest for 30 minutes or more before rolling them out.

For the filling: In a medium saucepan, cook the cranberries with the sugar, orange oil or peel, flour and juice over medium heat until the mixture simmers and is slightly thickened. Remove from the heat and cool.

To assemble the pie: Lightly grease a 9" pie plate, and preheat the oven to 425&degF. Roll out half the pie dough and fit it into the prepared plate. Sprinkle half the pecans over the dough. Place the apples on top of the nuts, then dot with butter and sprinkle with cinnamon.

Pour the cooled cranberry mixture over the apples and sprinkle on the remaining pecans. Use the other half of the dough to make a lattice crust, and place it on top of the filling. Seal and crimp the edges.

Bake the pie for 40 to 45 minutes (check after 20 and cover the edges with a pie shield or foil if necessary), until the crust is golden and the filling is bubbling in the center. Remove from the oven and cool before slicing.
Tips from our bakers
There are many different thickening options available for fruit pies, from flour to cornstarch to Instant ClearJel and more. For an easy guide to thickener substitutions, see our Pie Filling Thickeners Guide.
Reviews
This was so good and easy to make. I wanted more of the cranberry sauce and so made some extra for the pie and used two big Macintosh apples. Only did the pecans on the bottom of the pie not on top. I also bought premade pie shells and it didn't affect the results. It was a huge hit! Will definitely make again.
Delicious recipe, what a beautiful pie for thanksgiving. Next time, though, I might sieve some of the juice out of the cranberry mixture prior to adding to the pie crust, to prevent a soggy bottom.
disappointing. made this yesterday as a test for thanksgiving, following the recipe as written. the crust was difficult to roll and had a tough texture. the whole wheat flavor did contrast nicely with the filling. the filling had a great flavor but was very soupy. perhaps tossing the apples with flour would have fixed that. maybe using KA pie filling enhancer (a wonderful product) would have helped. unless there is a way to fix the soupy texture I would not make this again. I also would use my usual pie crust recipe (cooks illustrated, no fail) because of its flaky texture and ease of rolling.

Hi fellow baker, we're glad you gave this recipe a bake beforehand so we could help adjust it more to your liking. If you liked the whole wheat flavor of the crust but found it just a bit tough, then we encourage you to try using 1 cup of Whole Wheat Pastry Flour instead of the White Whole Wheat Flour. It has a lower protein content and should make the dough easier to roll out and also give it a more tender texture.

As for the filling, we're surprised to hear yours turned out soupy, as it's usually quite dry. Some varieties of apples are known to release more liquid than others, so if you're using something soft and juicy (like McIntosh), consider increasing the flour in the recipe or using our Pie Thickening chart (linked in the Baker's tips) for more options to make the perfect consistency. We hope that helps! Kye@KAF
more comments from previous review - full disclosure - I toasted the pecans, and microwaved the apples 4 min. to take the 'crunch' off, and I made the cranberry part the day before to save time! : )
Fabulous Thanksgiving dessert. I used my 'go-to' pie crust, and did add some additional flour to the apples, per suggestions. I will definitely make again!
This is a delicious recipe and was a huge hit. The combination of textures and flavors is wonderful and visually the product is very appealing (I used leaf-shaped dough cutters to make the top crust.) Full disclosure: I used my own pie crust recipe. For the filling, I followed the recipe exactly. It is simple, but there is one change I would make: the apples should be dusted in flour before they are added to the pie. The flour in the cranberry filling is not enough to thicken the apple juice when the pie bakes. That said, the end result was delicious and it was not wet and runny. I look forward to making this again in the near future.
This was a big hit at Christmas, though I was a little surprised because it was a substantial pie and I thought it might be too heavy with a whole wheat crust. My family thought it was festive and tasty.
Excellent crust that was easy to roll out. The filling required more thickener.
I am a novice baker and I got a LOT of great comments about this crust. I am saving this crust recipe for use in other pies. My mother has been baking for 60 years and likes this better than her mother's crust recipe. I made it a LOT easier by using the pie crust bag (online KA)... just roll to the end of the bag and you have a perfect 14" round pie blank. I cut out hearts from the top crust with KA heart mold. The pie was very good. I added KA pie thickening agent and guessed at 1/4 cup, which seemed to work. I make a lot of apple pies and pecan pies so I was looking for a change to enjoy a little variety. Added this to my favorite recipes and will come back to this many times! THANKS for all you folks do.
I have had good luck with this crust and I am not great with crust. I used half white and half whole wheat pastry crust. Nice and flaky.