A customized print-friendly version of this recipe is available by clicking the "Print Recipe" button on this page.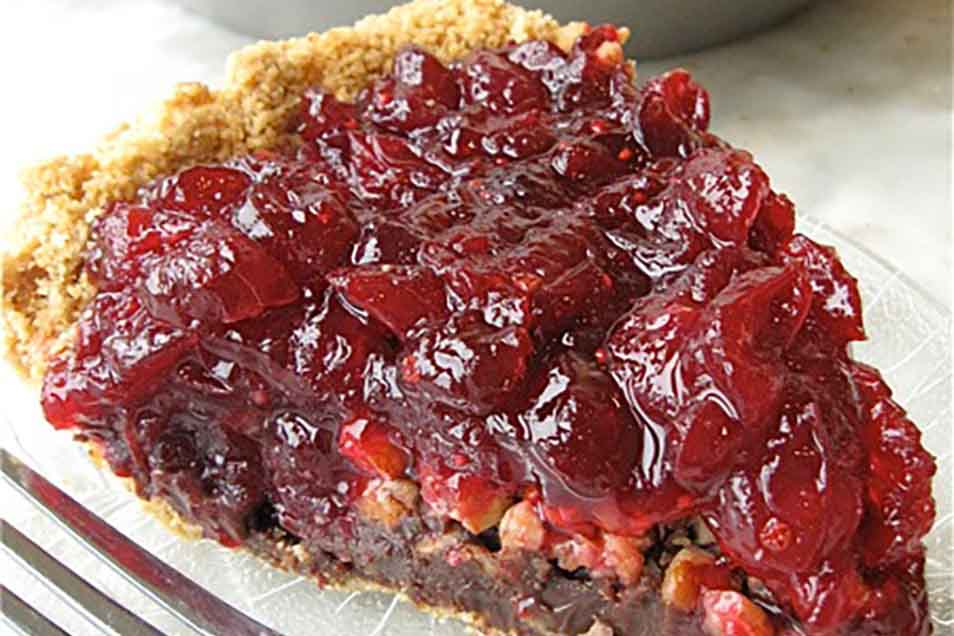 Our good friend Joanna Waldman of Thetford Center, Vermont, a superb baker, asked us recently if we had a good recipe for a cranberry dark chocolate tart. No, actually, we didn't — but that's easily remedied! If you like chocolate-covered cranberries, this pie is for you.
Ingredients
Crust
1 2/3 cups graham cracker crumbs*
1/4 cup confectioners' sugar or glazing sugar
5 tablespoons melted butter
*One cellophane-wrapped packet of graham crackers (9 whole crackers) will yield this amount of crumbs.
Filling
1 cup semisweet chocolate chips or chopped semisweet chocolate*
2/3 cup (5 3/8 ounces) heavy cream
3/4 cup diced walnuts or pecans
*Resist the urge to use bittersweet chocolate; with the acidic tang of the cranberries, it's just too much. You want a dark chocolate that's noticeably sweet; most chocolate chips will be fine.
Topping*
1 cup sugar
1/8 teaspoon salt
1 1/2 cups cranberry juice
1 cup dried cranberries
12-ounce package fresh or frozen cranberries, a generous 3 cups
*You'll need about 15 ounces (a scant 1 1/2 cups) topping for the pie. Enjoy the remainder on its own.
Instructions
Preheat the oven to 375°F.

To make the crust: Process the crackers, sugar, and melted butter in a food processor until crumbly and well combined.

Press into the bottom and up the sides of a 9" pie pan.

Bake the crust for about 7 to 8 minutes, until it's set, but not brown. Remove from the oven and cool.

To make the filling: Put the chips (or chopped chocolate) and cream in a microwave-safe container, and heat for about 90 seconds.

Remove from the microwave, and stir until the mixture becomes smooth and dark brown; you're simply making a basic ganache.

Spoon the hot ganache into the cooled crust, and sprinkle the nuts on top.

Refrigerate the pie for at least 1 hour, probably 2, until the ganache has firmed up.

While the pie is chilling, make the topping. Bring the sugar, salt, and cranberry juice to a boil.

Stir in the dried cranberries, and simmer for about 5 minutes.

Add the fresh or frozen cranberries, and simmer, stirring occasionally, for 5 to 7 minutes, until some of the berries have burst.

Remove the cranberries from the heat, spoon into a bowl, and chill.

To finish assembling the pie: Spoon 1 1/2 cups cranberry sauce atop the fudge/nut filling. Chill until ready to serve.

Yield: 9" pie, 8 to 10 rich servings.
Tips from our bakers
Toasting brings out the flavor of nuts. Toast nuts in a preheated 350°F oven for 8 to 10 minutes before using, if desired.
Reviews
I love cranberries, and like chocolate that is not overwhelming, so thought I would enjoy this. I found it so-so in taste. And, the cranberry sauce did not gel enough, even when totally cool. I wonder if it's because I used unsweetened cranberry juice. I tried adding some pie filling enhancer, but it didn't do much at that stage and I didn't have time to reheat/recool the topping. Anyhow, if I were to make this again, I would make my usual cranberry sauce (made with orange juice) and add some dried cranberries to it. Also, I would adjust the quantity of the topping to only be what I needed for this recipe (or plan to make it with leftover cranberry sauce from Thanksgiving.)
love this pie. I add orange zest and fresh juice from the orange into the cranberry filling. So good.
Absolutely loved this. I used the KAF "all butter piecrust" recipe, instead of the graham-cracker crust specified here, in part because I wanted to use this as an opportunity to work on my pastry skills. The crust, by the way, was a dream -- wonderfully crisp and flaky. And it worked beautifully with the filling. I used a deep-dish pan, and thus every bit of the cranberry topping, which was perfect -- my family is definitely more into a cranberry pie with a chocolate secret than a chocolate pie with a cranberry topping. A dollop of unsweetened whipped cream was the perfect final touch. Definitely making this again -- and it didn't hurt that it looked beautiful.
I loved this pie and it was a big hit at our Thanksgiving meal this year! I used almonds instead of walnuts--cuz that's what I had. I put fillings in a Julia Child Flaky Pie Crust--again cuz that's what I had on hand. And I cut down the cranberry recipe to match quantity needed for the pie so I could use eight ounces of my bag of cranberries elsewhere. I cooked down the cranberries for a long time and they were chewy, candy-like delicious. Next time I will make the whole cranberry recipe and cook them down less because cranberry topping was so delicious! Can't wait to try again!
When I first saw this recipe, I thought that the combination of chocolate and cranberries would be strange. However, this recipe was so good! It not only took very little time, but it looked like I put hours of work into it. I garnished the top with slivered almonds and it looked beautiful! This pie is a perfect combination of the decadence of rich chocolate and the sweet tartness of the cranberry topping!
Question... I'm concerned that the cranberry compote is not thick enough to stay on the pie when I cut it. Should I thicken it and if so how? Thank you so much

The consistency of the cranberry topping should be like a cranberry sauce; it will thicken as it chills. If you are worried about the filling not being quite thick enough, add 2-3 tablespoons of Instant ClearJel to the sugar in the topping before adding the other ingredients. This will prevent clumping and give you a thicker texture in the cranberry topping. Happy baking! Kye@KAF
My family loves this pie. I have made it for several holiday dinner gatherings and am always asked for the recipe. I have tried adding raspberries, but have found that they create too much liquid as the berries all cook down and some folks don't like having the seeds in the filing. Last time I added about a half cup of seedless raspberry jam to the mixture toward the end of cooking ( I find the berries need to cook down a bit longer than suggested) and not only do you get the raspberry flavor and a hint of sweetness, but the jam helps the filling solidify a bit better. A fabulous pie!
I have made this for a couple of years now for Thanksgiving--this year when I suggested something new, my mom explicitly requested this pie. It feels like a good addition to the usual Thanksgiving desserts because it's not overly sweet, and you don't really want more than a small piece because it's so rich. Also nice for Thanksgiving is the minimal oven usage and ease of making it a day ahead. This year I am trying it with a gluten-free crust (I found a mock graham cracker crust recipe that uses almond meal) so that gluten-free guests can enjoy it as well--very easy to adapt. Thank you!
I debated about making this. I read some reviews and was torn. I made the pie, not exactly as written, I made more of the crust and a bit more of the Ganache and made it in a 9 inch spring form pan. I did use a bit more of the topping than the recipe called for but not all that the recipe made. (Will be saving the left over for a Chicken dinner tomorrow.) The pie was a hit. The sweet of the chocolate and the tart cranberry was a perfect balance. This would be great for anytime of year. If you are afraid to use all cranberries a blend of cranberries and tart cherries would work. A touch of almond extract would enhance the cherry flavor as well. This pie will be made again. I just might try cherries myself...maybe with toasted almonds as the nut of choice. Apricots might be good as well. Oh the possibilites are endless.
Although I love both chocolate and cranberries, this is a slightly weird combination. OK, but not exciting enough to make again. I wonder why we are told to make that amount of topping, when we need much less. I can make cranberry sauce for other purposes any time. I used a slightly smaller crust, co made half the amount of topping and it came to 2 cups, so I had plenty.