A customized print-friendly version of this recipe is available by clicking the "Print Recipe" button on this page.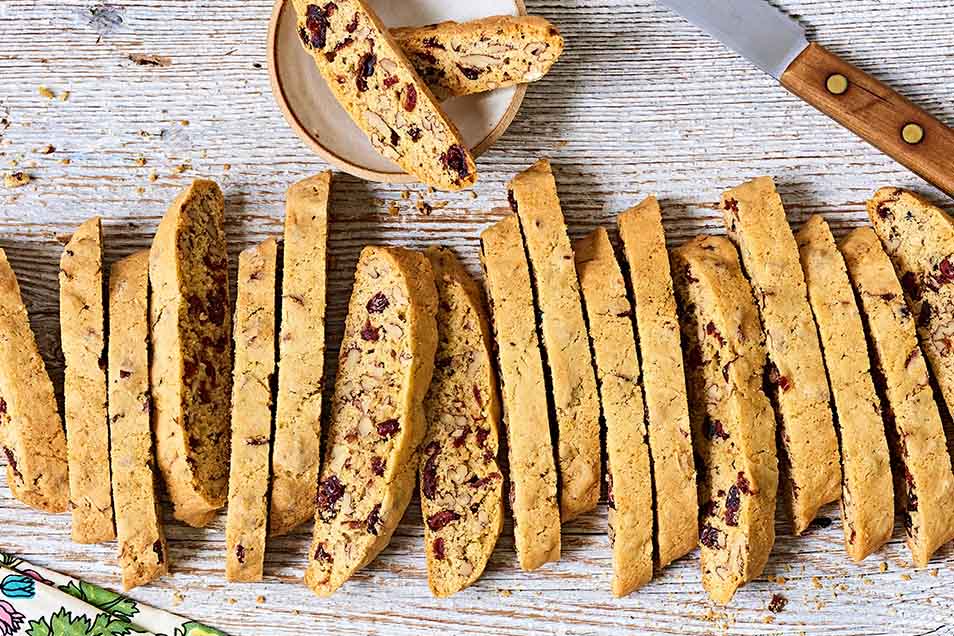 Biscotti — coffee-shop staple and modern day teething biscuit — refers to a bread that is baked, sliced, then baked again. Originally made as sustenance for long journeys, the ancient explorers would never recognize the variations possible!
Ingredients
5 tablespoons melted butter
2/3 cup granulated sugar
1/2 teaspoon salt
2 teaspoons baking powder
3 to 4 drops Fiori di Sicilia, optional
2 teaspoons Vanilla
2 large eggs
3/4 cup semolina flour
1 cup dried cranberries
1 cup chopped pecans or almonds
Instructions
Preheat the oven to 350°F, and grease a biscotti pan or large baking sheet.

Stir together the melted butter, sugar, salt, and baking powder.

Beat in the Fiori and vanilla, then the eggs.

Blend in the flours, cranberries, and nuts; the dough will be stiff.

Place into the prepared biscotti pan, leaving a 3/4" margin free on each side of the pan, to allow for expansion. If you're using a baking sheet, form the dough into a flattened log about 10 1/2" by 4".

Bake the biscotti dough for 30 to 35 minutes, remove from the oven, and cool for 1 hour.

Slice on the diagonal into 1/2" to 3/4"-thick pieces. Place them back on the baking sheet, standing them on edge if you can; this will ensure they bake evenly.

Reduce the oven temperature to 325°F and bake for 22 to 26 minutes, until golden.

Remove from the oven, and allow to cool on the baking sheet; biscotti will become crisp as they cool. Store airtight.

Store airtight for several weeks.
Tips from our bakers
Variations — Omit the Fiori Di Sicilia from the recipe above, and substitute any of the following for the cranberries and pecans or almonds:
Chocolate-Cranberry-Pecan • 3/4 cup semisweet chocolate chips • 3/4 cup lightly toasted pecans, chopped • 3/4 cup dried cranberries • 3-4 drops orange oil
Pistachio-White Chocolate • 1 cup chopped pistachio nuts • 1 cup white chocolate chips or chunks • 2-3 drops bitter almond oil
Butter Pecan • 1 cup butterscotch chips • 1 cup toasted pecans, chopped • 3-4 drops butter-rum flavor
Spicy Pine Nut • 1 1/2 cup toasted pine nuts • 1 teaspoon fennel seeds • 1/8 teaspoon anise oil
Pina Colada • 3/4 cup toasted coconut • 1/2 cup chopped dried pineapple • 1/2 cup macadamia nuts
Reviews
I believe I used too much in the way of almond slivers. As such, I had difficulty keeping the dough together. I blame that on myself because the flavor and texture was great. Best biscotti that I have made to date.
Sooo good. Even with half the pistachios because that's all I had. I ate half of it myself.... in a day!
I made this recipe exactly as it is written, and the biscotti are delicious! The semolina flour gives such a nice crumbly texture, and the FiorI di Sicilia smells heavenly!
Have done this recipe many times, but I add 1 T orange grated zest, replace A.P. flour with King Arthur bread flour, use 1 teaspoon of whole cardamom, 4 drops of Fiori di sicilia as well as vanilla extract. A.P. flour results, in my opinion, in a weak product...not too Italian. Biscotti were meant to last and be great for a picnic or travel. Biscotti need to be firm.
I love this recipe! Made it several times. I ran out of semolia last time I made it but i substituted corn meal for it, and it was still crumbly, crunchy and delicious. I also used 1/2 cup of sunflower seeds as the nuts this last time I made it.
House-bound due to a snowstorm, I used what I had on hand. Walnuts instead of pecans; a teaspoon of grated orange peel instead of the Fiori di Sicilia. They came out great.
I made the pistachio and white chocolate biscotti for Christmas, along with several other types of cookies. These biscotti were the family's favorite by far. The semolina makes the biscotti a little more fragile perhaps, but also pleasantly light and crunchy. I will make these again and try some of the other flavorings.
Excellent recipe. I have made these with pecans and pistachios and they have come out beautiful each time. I do have a biscotti pan which I use. I find that by taking them out of the pan and letting them cool for 20-25 minutes and then using an electric knife to slice--they slice without crumbling. The flavor is outstanding!
Don't overlook your baking skills that made these the biscotti perfection they are. Happy Baking! Irene@KAF
The biscotti were absolutely perfect. Nothing more needs to be said!
Terrific! Delicious, professional looking and tasting results with not too much effort...a winner all around. Didn't have Fiori di Sicilia, so added about 1 and half tsp. almond extract; didn't have semolina flour so just used the same amount of semolina and used almonds and cranberries. Perfect flavor and texture. The semolina added a pleasant graininess, crunch. These were crisp and not too hard nor too sweet. Perfect with coffee or tea. A keeper anytime of the year. Thanks KAF.