A customized print-friendly version of this recipe is available by clicking the "Print Recipe" button on this page.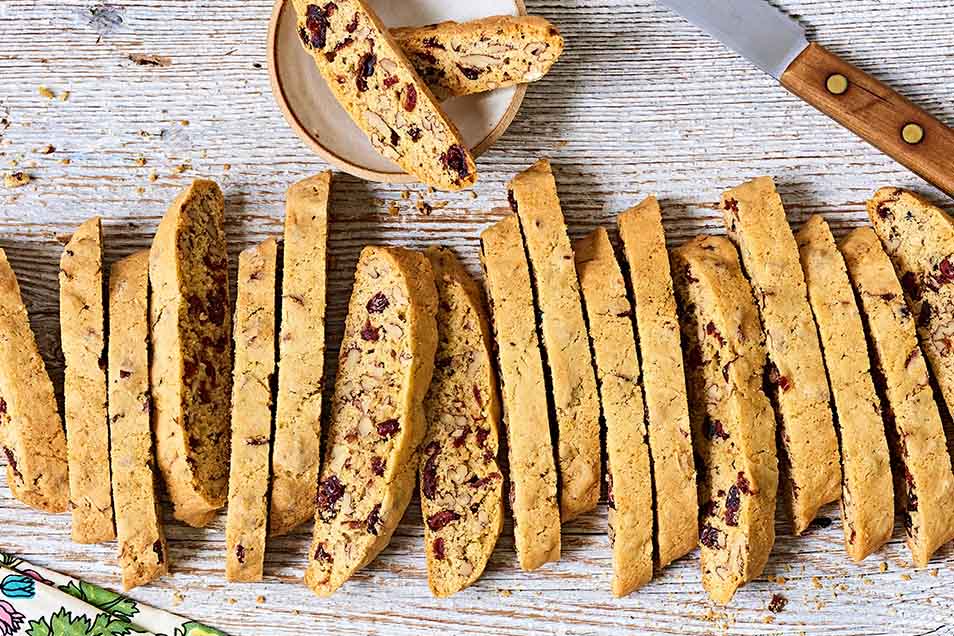 Biscotti — coffee-shop staple and modern day teething biscuit — refers to a bread that is baked, sliced, then baked again. Originally made as sustenance for long journeys, the ancient explorers would never recognize the variations possible!
Ingredients
5 tablespoons melted butter
2/3 cup granulated sugar
1/2 teaspoon salt
2 teaspoons baking powder
3 to 4 drops Fiori di Sicilia, optional
2 teaspoons Vanilla
2 large eggs
3/4 cup semolina flour
1 cup dried cranberries
1 cup chopped pecans or almonds
Instructions
Preheat the oven to 350°F, and grease a biscotti pan or large baking sheet.

Stir together the melted butter, sugar, salt, and baking powder.

Beat in the Fiori and vanilla, then the eggs.

Blend in the flours, cranberries, and nuts; the dough will be stiff.

Place into the prepared biscotti pan, leaving a 3/4" margin free on each side of the pan, to allow for expansion. If you're using a baking sheet, form the dough into a flattened log about 10 1/2" by 4".

Bake the biscotti dough for 30 to 35 minutes, remove from the oven, and cool for 1 hour.

Slice on the diagonal into 1/2" to 3/4"-thick pieces. Place them back on the baking sheet, standing them on edge if you can; this will ensure they bake evenly.

Reduce the oven temperature to 325°F and bake for 22 to 26 minutes, until golden.

Remove from the oven, and allow to cool on the baking sheet; biscotti will become crisp as they cool. Store airtight.

Store airtight for several weeks.
Tips from our bakers
Variations — Omit the Fiori Di Sicilia from the recipe above, and substitute any of the following for the cranberries and pecans or almonds:
Chocolate-Cranberry-Pecan • 3/4 cup semisweet chocolate chips • 3/4 cup lightly toasted pecans, chopped • 3/4 cup dried cranberries • 3-4 drops orange oil
Pistachio-White Chocolate • 1 cup chopped pistachio nuts • 1 cup white chocolate chips or chunks • 2-3 drops bitter almond oil
Butter Pecan • 1 cup butterscotch chips • 1 cup toasted pecans, chopped • 3-4 drops butter-rum flavor
Spicy Pine Nut • 1 1/2 cup toasted pine nuts • 1 teaspoon fennel seeds • 1/8 teaspoon anise oil
Pina Colada • 3/4 cup toasted coconut • 1/2 cup chopped dried pineapple • 1/2 cup macadamia nuts