A customized print-friendly version of this recipe is available by clicking the "Print Recipe" button on this page.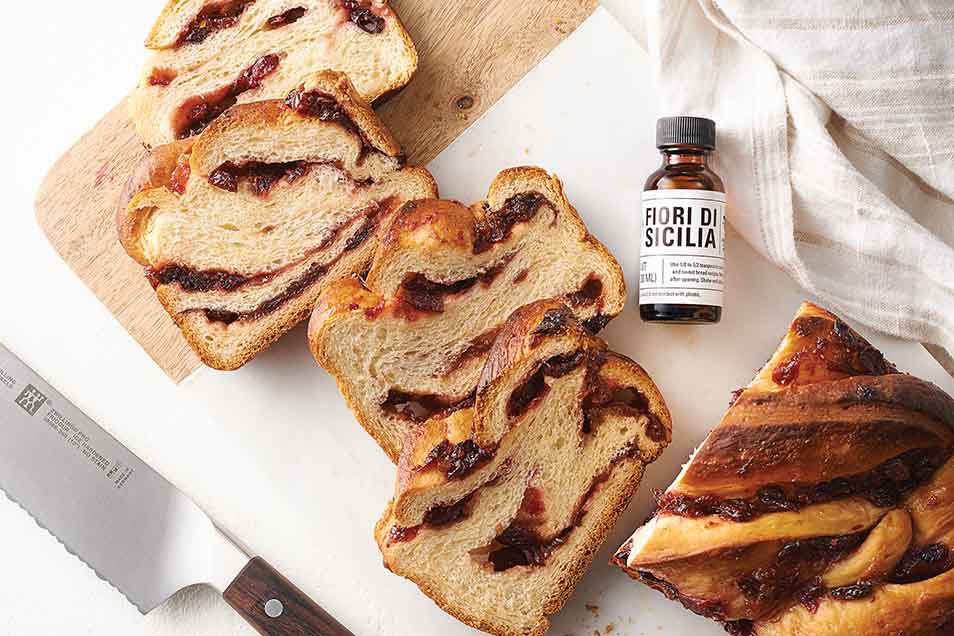 With babkas popping up in bakeries across the country, and the holidays being prime time for sweet loaves stuffed with all sorts of sticky yumminess, we felt it was about time we created our own holiday-themed babka. Cranberry-orange is one of our most popular flavor combinations at this time of year, so it was the perfect fit for this tender, soft, sweet and tart loaf.
Ingredients
Filling
1/4 cup orange juice
1/3 cup light brown sugar, packed
1 cup fresh or frozen cranberries
1/2 cup dried cranberries
1 tablespoon melted butter
1/8 teaspoon orange oil or 1 teaspoon grated orange rind
1 teaspoon Yuletide Cheer Spice or cinnamon
1/4 cup Orange Jammy Bits, optional
Instructions
To make the dough: Combine all the ingredients and mix and knead to make a smooth, supple dough.

Place the dough in a lightly greased bowl, cover, and allow it to rise until it has just about doubled, 60 to 90 minutes.

To make the filling: While the dough is rising, combine the orange juice, brown sugar, and both types of cranberries in a small saucepan set over medium-low heat.

Cook the mixture, stirring occasionally, until it begins to thicken to a jam-like consistency, about 10 to 15 minutes.

Remove the pan from the heat and stir in the melted butter, orange oil or grated rind, and spice.

Transfer the cranberry mixture to a heat-safe bowl and allow it to cool to room temperature.

To shape the loaf: Transfer the dough to a lightly greased work surface, and roll it into a 12" x 14" rectangle.

Spread the cranberry filling over the surface of the dough, leaving a 1/2" border along the edge of one of the short sides. Sprinkle Orange Jammy Bits evenly over the filling.

Starting with the filling-covered short edge, roll the dough up jelly-roll style, sealing the edge.

Cut the log in half lengthwise to expose the filling. Place each half side by side, filled sides up.

Keeping the filled sides up, twist or braid the two logs together, working from the center to each end.

Pinch the ends together, and place the twisted log in a lightly greased 9" x 5" loaf pan.

Cover the loaf and allow it to rise for 45 to 60 minutes, until it's crowned 1/2" to 1" over the rim of the pan. Towards the end of the rising time, preheat the oven to 350°F.

Bake the babka for 45 to 50 minutes, tenting it with aluminum foil about halfway through baking to prevent over-browning. The top of the finished loaf will be golden brown, and a digital thermometer inserted into the center of the loaf will read 190°F or above.

Remove the loaf from the oven. For a softer crust, brush the top of the loaf with melted butter, if desired. After 10 minutes, remove the babka from the pan and transfer it to a rack to cool completely.
Tips from our bakers
Add a drizzle of icing, if desired: Mix 1/2 cup confectioners' sugar with about 1 tablespoon milk or cream, enough to make a pourable icing. Drizzle over the cooled babka.
You can also bake this loaf in an 8 1/2" x 4 1/2" loaf pan for the same amount of time for a taller, narrower babka.
Reviews
So good. Made for Christmas again this year. This is so good - even without the jam bits. Everyone loves it and I hate waiting another year to make it -but there are so many other good things to make and eat!
This babka turned out amazing! Love, love, loved it. I have made it twice now and will definitely make it again. My brother was so impressed he called me the "babka queen". That's a big deal coming from an older brother who has been a professional cook!
I unfortunately didn't have as much success as others with this recipe. I was very excited about this festive flavor combination, but the dough didn't turn out as well as I had hoped. The filling was absolutely delicious, but the dough took a few hours to rise rather than 60-90 minutes. I attempted three loaves and followed the instructions exactly and used weight measurements. I also proofed my yeast to make sure it wasn't dead and it did bubble and foam. The dough did rise in the end, but it took a lot longer so that affected my timing for cooking other things that day. I also noticed after baking the dough that it hardened quickly even when we stored it in an airtight container in room temperature.

Oh, that sounds really frustrating, Celeste! It can be so tricky trying to coordinate times for all the different foods that need to be prepared for a special meal. This time of year, it's not uncommon to have loaves that rise more slowly and dry out more quickly due to cold temperatures and low humidity. Putting your dough in a warm place to rise (such as on top of the refrigerator) and adding a little extra liquid can help to mitigate some of the challenges of baking in winter weather. We actually have an article on our site called "Winter to summer yeast baking" if you'd like to learn more about how to adjust your recipes based on the seasons for the best results. If you paste that title into the search bar, it should pop right up for you. Happy baking! Kat@KAF
I made this recipe exactly as it appears here (I ordered the kit with the special flavorings/spices from King Arthur Flour). It is a fantastic recipe. The dough was light and just sweet enough and the filling was phenomenal. My whole house smelled like orange cranberry goodness. I made a 'practice' bread before baking some to give away as gifts. I will make this again and again. We loved it.
Made this for an early Christmas weekend. WOW!!! Very good. I received some orange flavored dried cranberries, if you get a chance to use them it is awesome! Didn't need the jammey bits. Made exactly like the recipe, found some cardemum in the freezer and that was my spice of choice. Thanks KAF!!!
I have made the other babka recipes too but this one is my favorite--even beating out the chocolate one. It is so pretty and the cranberry filling adds a nice tart contrast to the bread. I didn't add the jammy bits. I think it would make a great French toast. I did find that the dough took much longer to rise than the recipe predicted but my kitchen is cool so that could be why. I made sure to have the egg, butter etc at room temperature hoping that would help from the beginning but the first rising took close to 2 1/2 hrs. Still this is an easy recipe and fun to do. Making more to give as gifts.
I made this last year as gifts for co-workers/friends. Also kept one for us for Christmas morning breakfast. I bake a lot for the holidays but I have to say this babka has gotten more compliments than many of my other items. I have requests for repeats this year. Smells wonderful while baking. The dough worked easily with the dough hook in my machine. Thanks KAF!!
My dough was very wet and it was hard to knead at first, I had to keep adding flour. My second rise didn't rise much either, so the end result turned out to be pretty dense. I can't tell if I overworked the dough, or didn't knead it enough, or added too much flour? Any suggestions?

Hi Eva, it sounds like you might have been using a soft flour with a low protein content. (This often happens if you use another brand that's not King Arthur Flour.) If you were using our All-Purpose Flour and still experienced a soft dough, there may have been a measuring error involved. Next time, try measuring your flour by weight with a scale if possible to ensure you're using just the right amount. (If you don't have a scale, click on the "Recipe success guess," link next to the ingredients header above to see a demonstration of how to measure by volume using the fluff, sprinkle, sweep method.) When the right amount of flour is added and the dough is kneaded for the right amount of time, it'll be just slightly tacky to the touch, like a post-it note being pulled off the tips of your fingers. We hope this helps, and good luck! Kye@KAF
I set a twisted loaf on a parchment-lined cookie sheet because I didn't have a second loaf pan and remembered being sad I'd only made one loaf last time. The free-form loaf spread out, but is actually prettier - like a giant danish - so it's the one going to the birthday girl in the morning. The bake time was only 5 minutes less, although the free form loaf was much thinner. I made extra of that amazing cranberry jam, so another loaf will happen again soon. This recipe is so festive! My child got upset with the messiness of shaping the loaf, but enjoyed the rest of the process thoroughly, especially tasting it warm with a drizzle of icing.
Tried this recipe yesterday and had to take a minute to review it. The dough was very easy to work with and the overall flavors are awesome. One caveat - I decided to up the amount of filling by half as suggested by a couple of other reviewers. While it made for tons of cranberry/orange flavor, it was too much IMHO. I think that is why my loaf ended up sinking some in the center. I will just do "slightly heaping" to all the filling ingredients when making this again (and I definitely will be making this again!!). Thank you for another wonderful recipe!