A customized print-friendly version of this recipe is available by clicking the "Print Recipe" button on this page.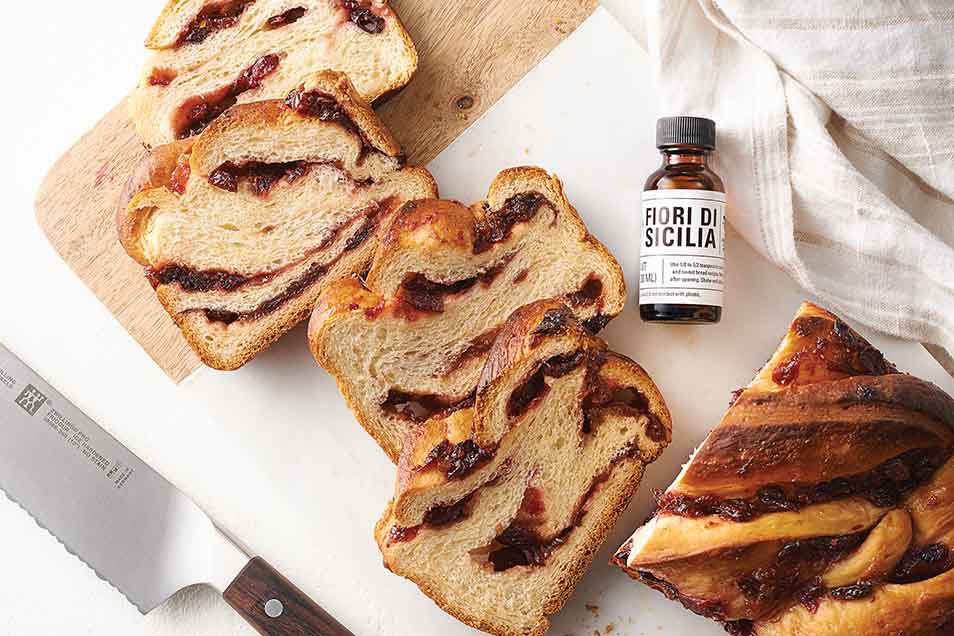 With babkas popping up in bakeries across the country, and the holidays being prime time for sweet loaves stuffed with all sorts of sticky yumminess, we felt it was about time we created our own holiday-themed babka. Cranberry-orange is one of our most popular flavor combinations at this time of year, so it was the perfect fit for this tender, soft, sweet and tart loaf.
Ingredients
Filling
1/4 cup orange juice
1/3 cup light brown sugar, packed
1 cup fresh or frozen cranberries
1/2 cup dried cranberries
1 tablespoon melted butter
1/8 teaspoon orange oil or 1 teaspoon grated orange rind
1 teaspoon Yuletide Cheer Spice or cinnamon
1/4 cup Orange Jammy Bits, optional
Instructions
To make the dough: Combine all the ingredients and mix and knead to make a smooth, supple dough.

Place the dough in a lightly greased bowl, cover, and allow it to rise until it has just about doubled, 60 to 90 minutes.

To make the filling: While the dough is rising, combine the orange juice, brown sugar, and both types of cranberries in a small saucepan set over medium-low heat.

Cook the mixture, stirring occasionally, until it begins to thicken to a jam-like consistency, about 10 to 15 minutes.

Remove the pan from the heat and stir in the melted butter, orange oil or grated rind, and spice.

Transfer the cranberry mixture to a heat-safe bowl and allow it to cool to room temperature.

To shape the loaf: Transfer the dough to a lightly greased work surface, and roll it into a 12" x 14" rectangle.

Spread the cranberry filling over the surface of the dough, leaving a 1/2" border along the edge of one of the short sides. Sprinkle Orange Jammy Bits evenly over the filling.

Starting with the filling-covered short edge, roll the dough up jelly-roll style, sealing the edge.

Cut the log in half lengthwise to expose the filling. Place each half side by side, filled sides up.

Keeping the filled sides up, twist or braid the two logs together, working from the center to each end.

Pinch the ends together, and place the twisted log in a lightly greased 9" x 5" loaf pan.

Cover the loaf and allow it to rise for 45 to 60 minutes, until it's crowned 1/2" to 1" over the rim of the pan. Towards the end of the rising time, preheat the oven to 350°F.

Bake the babka for 45 to 50 minutes, tenting it with aluminum foil about halfway through baking to prevent over-browning. The top of the finished loaf will be golden brown, and a digital thermometer inserted into the center of the loaf will read 190°F or above.

Remove the loaf from the oven. For a softer crust, brush the top of the loaf with melted butter, if desired. After 10 minutes, remove the babka from the pan and transfer it to a rack to cool completely.
Tips from our bakers
Add a drizzle of icing, if desired: Mix 1/2 cup confectioners' sugar with about 1 tablespoon milk or cream, enough to make a pourable icing. Drizzle over the cooled babka.
You can also bake this loaf in an 8 1/2" x 4 1/2" loaf pan for the same amount of time for a taller, narrower babka.
Reviews
Tried this recipe yesterday and had to take a minute to review it. The dough was very easy to work with and the overall flavors are awesome. One caveat - I decided to up the amount of filling by half as suggested by a couple of other reviewers. While it made for tons of cranberry/orange flavor, it was too much IMHO. I think that is why my loaf ended up sinking some in the center. I will just do "slightly heaping" to all the filling ingredients when making this again (and I definitely will be making this again!!). Thank you for another wonderful recipe!
This was amazing. I always have cranberries in the freezer for just such a use! : ) I made this as a loaf and also sliced the filled dough log into rolls (think cinnamon rolls). I glazed both with a tart orange powdered sugar glaze. I prepped the dough in my bread machine's dough cycle, which is so easy to do. We especially love this tart filling, but I'm going to follow other reviewers' lead and try with some other fruit fillings (maybe dried and frozen cherries?)

Dried cherries would be lovely! You could use in place of or alongside the cranberries. If you use frozen cherries, which have a lot more juice than cranberries do, let them thaw and drain through a strainer. Then, gently squeeze them with a tea towel or cheesecloth to get rid of as much liquid as you can to prevent the babka from becoming soggy. Happy baking! Annabelle@KAF
This was easier than I expected! I substituted orange rind/zest where noted, and used 1/4 cu coconut/almost creamer in place of the dry milk (and reduced water to 1/4 cu). I did not have jammy bits, but Trader Joe's sells candied orange slices that I will probably use next time. Next time I will also increase the filling by about 50%. I think I'll also chop the cranberries before I put them in the sauce pot.
I have made the cranberry version several times to rave reviews from several mixed audiences. This time I substituted strawberries for the cranberries. The strawberry version was proclaimed to be better than the cranberry version. As before I added a handful of coarse chopped pecans. Also, this time, to the frosting I added a drop or two of almond flavoring - be careful with the almond flavoring it is extremely potent. The frosting was quite the star without the Babka but together was outstanding. This is a great bread for breakfast to late night snacking. I have already been asked when is the next time I will be making the strawberry "bread". This is not a difficult recipe to follow or execute.
I've had this recipe in my to try folder for some time. When I needed to teach a braided bread class I decided to use this one for practice and it didn't disappoint! I probably would use more filling next time (maybe 1 1/2 the amount) as it was pretty thin on my dough surface. I used a different method for getting the twist so there was no problem with filling leaking out. Will definitely keep this one in the Thanksgiving folder, as I think it would be a great way to use leftover cranberry sauce.
Delicious! And much easier to make than it looks. If you don't have all the special ingredients, substitutions work well. I replaced the Fiori di Sicilia with the grated zest of one orange, the dry milk with 1/4 cup of cream (and reduced the water to 1/4 cup) and used vanilla as suggested. I skipped the cinnamon and I happened to have candied Meyer lemon zest to replace the jammy bits but orange marmalade would be delicious too. I don't have much experience with yeast doughs but this babka would not be out of place in a top notch bakery.
Half of this was gone before it cooled. What a great recipe! I had some candied orange peel and used it in place of the zest and jammy bits. I had to bake it quite a bit longer because my bread pan is clear glass...glad I have an instant read thermometer!
It says to cover I/2 way thru baking, is this at the beginning, then remove and finish uncovered, or reverse..in the process of making dough, but just saw that about baking,

Andrea, add the foil after the loaf has baked uncovered for about half of the baking time. This will ensure the loaf browns evenly and just the right amount. Happy baking! Kye@KAF
Delicious! I have made this recipe a few times with excellent results. Makes beautiful loaves that I have given to friends, they were very impressed. One recommendation is to make sure to knead the dough thoroughly. The first time I didn't and it didn't rise very well but still tasted great.
This is one of the best flavored bread recipe that I have ever made. It is a fairly simple process that delivers fantastic flavor. I added about a half cup of rough chopped pecans.