A customized print-friendly version of this recipe is available by clicking the "Print Recipe" button on this page.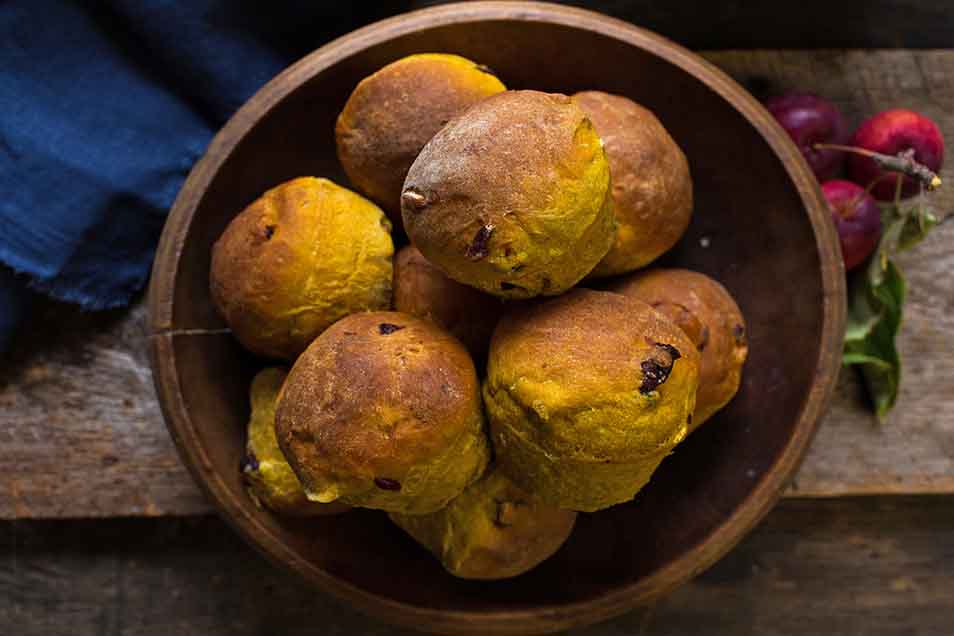 These deep-gold rolls will look lovely in your holiday breadbasket.
Ingredients
4 3/4 cups King Arthur Unbleached All-Purpose Flour
1 teaspoon ground cinnamon
1/4 teaspoon ground ginger
1/4 teaspoon ground cloves (optional)
1/4 cup firmly packed brown sugar, light or dark
1 1/2 teaspoons salt
1 tablespoon instant yeast
3/4 cup canned pumpkin or squash
2 large eggs
3/4 cup water
1/4 cup (4 tablespoons) unsalted butter, softened
3/4 cup dried cranberries or golden raisins
1/4 cup diced crystallized ginger
Instructions
Mix and knead all of the dough ingredients except the fruit and crystallized ginger — by hand, mixer, or bread machine — until you've made a soft, fairly smooth dough. Pumpkin varies in water content, so add extra water or flour if needed. Right at the end, knead in the fruit and crystallized ginger.

Place the dough in a lightly greased bowl, cover the bowl, and allow the dough to rise for 1 1/2 hours, until it's almost double in bulk.

Turn the dough out onto a lightly greased surface, gently deflate it, and divide it into 16 pieces, roughly 2 3/4 ounces each.

Roll each piece into a ball. Place rolls in the lightly greased cups of a couple of standard muffin pans (which will help them maintain their round shape); or onto a greased or parchment-lined baking sheet.

Set aside, covered lightly, to rise for 1 hour, or until the rolls look puffy.

Preheat the oven to 350°F.

Bake the rolls for 25 to 30 minutes, until they're lightly browned and the center of one reads 190°F on an instant-read thermometer.

Remove the pans from the oven and turn the rolls out onto a rack to cool. Serve warm or at room temperature.
Reviews
Lovely dough to work with & delicious to eat.
I love these rolls and have made them many times. They are so rich, and have so many flavor layers, I like them best with soup for dinner, or just as an afternoon treat with hot, black coffee (with large meals, I prefer mild, fluffy rolls).
I made this recipe as loaves instead of rolls for Christmas dinner and received rave reviews. It was delicious and had a beautiful golden orange color. A very striking addition to the bread basket. Was wonderful toasted and also made a fantastic ham salad sandwich. This recipe made 2 loaves, I baked at 350 deg. for about 40 minutes in cast iron loaf pans.
The pumpkin, cranberry, and crystallized ginger are a terrific combination. If I'd paid more attention to the photo, I would have realized how really huge these are (~84g each). Next time, I'll make twice as many that are half the size. Very nice recipe!
I made this recipe into two loaves that were delicious! I will definitely make this again.
These rolls are fabulous! I love the combination of pumpkin, cranberries, and ginger. One bite and you have a mouthful of flavor. Like some other reviewers, I may make this as a bread. It would make delicious leftover turkey sandwiches. Thanks KAF for a wonderful recipe.
Love this slightly sweet bread. I froze he leftovers and took them out as needed and microwaved them. Delish.
Very tasty rolls. The next time, I'd like to bake the dough in loaf pans, to get a product similar to raisin bread, to slice and toast. Does anyone have an idea how many standard-sized loaves this would make? Two or three?

Hi Barb- That recipe would make 2 standard loaves which you would bake at the same temperature for an extended time. If you have any further questions, please feel free to call our Baker's Hotline at 855-371-2253. Happy Baking! Jocelyn@KAF
wow these are great. I made them for Thanksgiving. They were done just after dinner started so we ate them hot. Even my sister took some home with her and she rarely takes any leftovers. they are easy too. I accidently added 1/4 tsp of nutmeg but they still were really good. I was looking at this recipe for a long time too and when I thought my pies were done and I could just bring them I thought to try the rolls and they were a big hit.
I had been looking at this recipe for awhile and decided to dive in. WHAT WAS I WAITING FOR? These rolls are fantastic. So light and so flavorful. I omitted the crystalized ginger but added chopped pecans. They are delish and will be on our Thanksgiving table this year!