A customized print-friendly version of this recipe is available by clicking the "Print Recipe" button on this page.
Cranberry-Vanilla Cinnamon Swirl Bread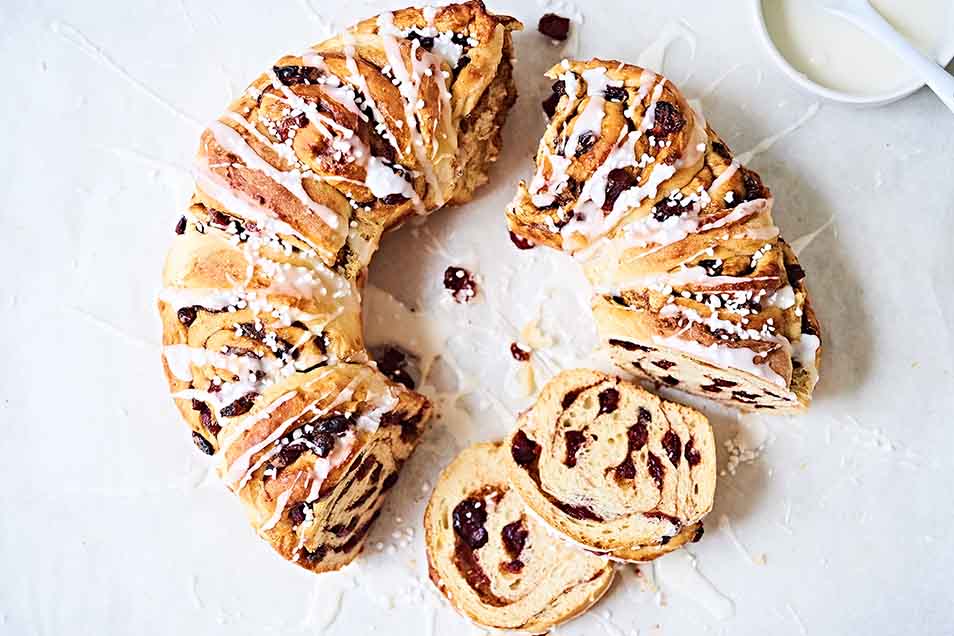 A not-too-sweet alternative to coffee cake, this bread is a decorative and tender addition to the holiday breakfast table, an elegant hostess gift, or a delectable coffee-break snack.
Instructions
To make the dough: Combine all of the dough ingredients by hand, mixer, or bread machine, mixing and kneading to form a soft, slightly sticky dough. The dough will feel very sticky at first, but reach for non-stick spray instead of more flour for your hands and work surface.

Place the dough in a covered bowl and allow to rise until almost double (45 minutes to 1 hour). To facilitate shaping the dough, refrigerate it overnight. This is also good to consider if the bread is to be served for brunch.

After the dough's first rise, grease your hands and a 10" (inside diameter) ring mold. The dough will be soft and still a bit sticky; pat it out on a greased surface to a 12" x 18" rectangle.

To make the filling, combine the Baker's Cinnamon Filling and water; or use the substitute listed at left, NOT combining it with water. This substitute filling will be crumbly, rather than paste-like; that's OK.

Spread the filling over the dough, then sprinkle with the dried cranberries.

Starting with a shorter side, roll the dough into a log and pinch the seam together.

Cut the log into 10 to 12 equal pieces, and arrange them in the ring pan so they overlap one another by 1/2" or so.

Cover the pan with a large over-turned bowl, and let the bread rise for 15 to 30 minutes, until puffy. While the bread is rising, preheat the oven to 350°F.

Place the bread in the oven and bake for 35 to 40 minutes, until firm and golden brown. The center should measure 190°F on an instant-read thermometer.

Remove the bread from the oven, and allow to cool in the pan.

Just before serving, make the glaze by combining all the ingredients, adding enough milk to make it pourable. Turn the bread out of the pan, and drizzle the glaze over it. Garnish with pearl sugar, if desired.

Yield: 1 loaf, about 16 servings.
Reviews
This tasty beauty is pretty easy to make, but I did have to add a bit more flour to be able to shape it. An overnight rise in the refrigerator helped the flour absorb a bit more liquid, though. It took 45 minutes in my cold kitchen the next morning for the dough to rise to even a puffy state, and mine baked in just under 30 minutes. I was pleasantly surprised by how well the cranberries worked with the cinnamon filling. His recipe is a keeper!
The dough was too soft to knead by hand even though I weighed all ingredients. I didn't want to modify the recipe by adding a lot more flour when this was my first time making it. The dough was still very soft after a night in the refrigerator. I oiled the bench top before patting out the dough with oiled hands. I used the dental floss method to slice the roll because a knife cut smashed the layers together. I used a 9 inch cake tin, well greased, but some cranberries still stuck to the bottom. I used 1/4 tsp of orange extract instead of vanilla in the glaze. I think this pairs so well with cranberries! Very delicious even if a little difficult to make. A keeper recipe.
As a B&B owner, I am always looking for a coffee cake/bread to serve with breakfast. I found this recipe and it is just fantastic! It is an incredibly easy recipe to follow!! I have made this at least a dozen times now. I make the dough the day before and refrigerate it overnight. I have tried many ways to bake the swirl bread. I now use a 12" spring form pan and the bread comes out perfectly each time!! [I form the dough ring an inch from the side of the pan overlapping the swirl rounds. I also egg wash the bread before baking.] A great sweet bread to bring to a friend's house for brunch!
I found the dough to be incredibly wet and sticky. I made the chocolate caramel monkey bread at the same time and both were overly wet, but this one had the extra potato flour, so it was better. It raised nicely and I did put it in the fridge overnight but to roll the dough up, I had to use a scraper to get it off the baker's mat. I followed the recipe using the grams version. It baked fine and turned out to still be tasty. For my own preference, I'd probably cut the amount of cranberries in half as they seemed to overwhelm at 170 g. If a KAF employee could let me know if my experience was what I should expect or not, and if not, do you have any idea what went wrong and how I should fix it? It seemed to me that either the flour wasn't enough or there was something not right with it. I'm posting this so if others have the same challenge they might know a fix.

Hi Kelly, The dough should be slightly tacky to the touch, but not a wet sticky mess. If it is hard to handle, you should add additional flour until you achieve the right consistency. Your dough may have been more sticky than normal because of the weather or humidity or if you were using another brand of flour. King Arthur Flour is typically higher in protein than other brands so you may need to use more of it to get the same results... or use our flour in your baking! : Kye@KAF
Delicious! I overlapped the pieces around the edge of a spring pan and then put the ends swirl side up in the center of the spring pan. It came out so pretty! I am now modifying other recipes to cook this way -- ie) onion buns, almond bread, garlic bread. I do cook the bread 5-10 minutes longer since it is thicker since the center is covered.
I didn't rate the recipe since I didn't get to taste it--I gave it away at a gift exchange. I rolled it from the long end instead of the short end, shaped the roll into a ring seam side down, then sliced at about 1 1/4" intervals about 3/4 way through, twisting each slice 90 degrees. I then baked it on parchment on a large baking sheet. It looking gorgeous! My only criticism is that the vanilla turned the icing brown which was not as esthetically pleasing as the white glaze in the photo. I hope they loved it anyway!
I prepared this for a gift exchange breakfast. I replaced the sugar-cinnamon filling for a cream cheese-cranberry filling. I mixed 8 oz of cream cheese with 1t. vanilla and 1/3 cup of sugar and 1 egg along with zest from one lemon and one orange. I spread the filling on the flattened dough, sprinkled with the cranberries and rolled up the dough as directed. It looked messy but once baked it was beautiful and everyone loved it. The bread was airy and flakey. I will definitely make again for Christmas and prepare using the sugar-cinnamon filling.
Delicious and nice for gift-giving. The dough is easy to handle and work with especially if you put it in the refrigerator overnight. If you don't have a RING MOLD (like me),..... I cut the dough in 1/2, rolled each piece into 12x8 rectangle, added the filling, placed on a greased cookie sheet, made 2 rings like a Swedish tea ring (seal the edges & ends together; cut with scissors 2/3rd of way in, 1 inch apart & turned each 1-inch section out w/ filling showing). Makes for a beautiful presentation. HINT: Potato Flour substitution - decrease 1 1/4 c. water to 1 cup water & add 1/2 cup potato, mashed. To avoid potato lumps - I used a hand blender to 1st mix the potato with the water to make it smooth before adding the other ingredients.
Lovely dough. Instead of the cinnamon filling, I made a spread of almond paste, dried tart cherries, chocolate, a bit of almond extract, and an egg white, with enough cream to make it spreadable. Shaped the ring, put it in the refrigerator overnight, then finished it off in the morning. Teachers at work went nuts over it.
I just made this today. I couldn't wait to try it so I have already had a few bites! I was worried because my store ran out of KA all-purpose flour over the holidays and I bought the only unbleached flour they had which was a brand unknown to me. I weighed it half a dozen times and every time was different, so I used the average of 5 oz for my per cup weight. Then I worried the dough might be too dry, so I added one egg yolk, but otherwise I stuck to the recipe. My dough was easy to handle. At the very last minute, because I have no ring mold, I decided just to bake the rolls in a pan. They took less time to bake but turned out just beautiful.