A customized print-friendly version of this recipe is available by clicking the "Print Recipe" button on this page.
Cranberry-Walnut Bread & Muffins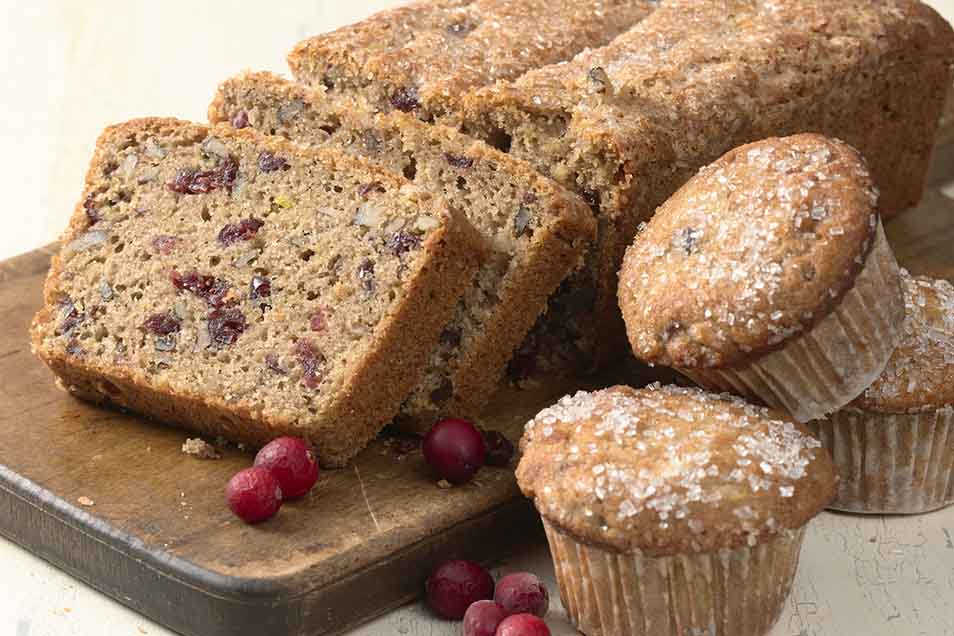 Cranberry nut bread is a Thanksgiving standby, a must-have in the bread basket. Cranberry nut muffins are a welcome way to start the festivities first thing in the morning. This recipe can be poured into a loaf pan, or scooped into the wells of a muffin tin; double the recipe, and you can do both!
Ingredients
1 /4 cup (4 tablespoons) butter
1/4 cup vegetable oil
1/3 cup granulated sugar
1/3 cup brown sugar
2 large eggs
1 1/2 teaspoons baking powder
1/2 teaspoon baking soda
1/2 teaspoon ground cinnamon
3/4 teaspoon salt
1 teaspoon vanilla extract
1/8 to 1/4 teaspoon almond extract, optional
3/4 cup sour cream or yogurt, full-fat or low fat-preferred
1 cup King Arthur White Whole Wheat Flour or Premium Whole Wheat Flour
1 cup dried cranberries
1/2 cup walnuts
sparkling white sugar or Demerara sugar, optional, for topping
Instructions
Preheat the oven to 425°F for muffins, or 350°F for a loaf. Lightly grease a standard muffin tin. Or line with 12 paper muffin cups, and grease the cups with non-stick vegetable oil spray; this will ensure that they peel off the muffins nicely. If you're baking a loaf, lightly grease an 8 1/2" x 4 1/2" loaf pan.

In a medium-sized mixing bowl, beat together the butter, vegetable oil, and sugars until smooth.

Add the eggs, beating to combine.

Stir in the baking powder, baking soda, cinnamon, salt, the vanilla and almond extracts, and the yogurt or sour cream.

Place the flours in a food processor with the dried cranberries. Process until the berries are coarsely chopped. Add the nuts (if they're not chopped), and process briefly, just until the nuts are chopped up a bit.

Stir the flour mixture into the wet ingredients, mixing just until everything is thoroughly combined.

Divide the batter among the wells of the muffin tin, filling each one about 3/4 full. Or scoop the batter into the prepared loaf pan. Sprinkle muffins or loaf with white sparkling sugar or Demerara sugar, if desired.

Bake the muffins for 14 to 15 minutes, until a cake tester or toothpick inserted into one of the center muffins comes out clean. Bake the loaf for 45 to 55 minutes, until a cake tester or toothpick inserted into the center of the loaf comes out clean.

Remove the muffins or bread from the oven. Tilt the muffins in the pan to cool a bit, then transfer them to a rack to finish cooling. Serve warm or at room temperature. Allow the loaf to cool in the pan for 10 minutes, then turn it out onto a rack to cool completely. For best results, don't slice until completely cool. Store muffins or bread well wrapped, at room temperature, for 2 to 3 days; freeze for longer storage.

Store muffins or bread well wrapped, at room temperature, for 2 to 3 days; freeze for longer storage.
Tips from our bakers
For a nice hint of orange, substitute 1/4 to 1/2 teaspoon Fiori di Sicilia flavor (to taste) for the vanilla and almond extracts. For stronger orange flavor, stir in the grated rind of 1 large orange, omitting the almond extract.
Want to make this bread (or muffins) without whole wheat flour? Substitute 1 cup King Arthur Unbleached All-Purpose Flour for the whole wheat flour.
If you prefer a bolder cranberry statement, leave the dried berries whole, rather than chopping them up.
Reviews
I made this bread to take to our cookbook's holiday potluck. Normally, we make copies of the recipe to share with fellow members, but I did not share this recipe. I baked the bread, following the instructions exactly and weighing all the ingredients, and it was dry and crumbly. In order to take it to the potluck, I had to divide each peace in half, cutting off the crumbled top. I thought the taste was good, but the matter of the crumbling will prevent me from ever making this bread again. I baked it for 50 minutes.

We're sorry to hear that this recipe was such a disappointment, and at your potluck no less, Fred. We wonder if perhaps you might have baked the loaf at 425°, as we suggest for muffins, rather than 350°? Assuming you were using our flour, nothing else comes to mind as an obvious cause of the trouble, so we'd encourage you to give our free Baker's Hotline a call at 855-371-BAKE. We'd love to get to help you get to the root of the problem and back to happy baking. Mollie@KAF
I baked this cranberry bread last night - the only change I made was to add the zest from 1 orange. I baked mine at 350 for 45 minutes, and it probably should have come out at 40 minutes. That being said, it wasn't dry or crumbly like other reviewers had a problem with, but it did have a coarser, denser texture than a quickbread usually has - due to the whole wheat flour. I made this recipe because I had some leftover sour cream to use up, and it wasn't bad, but if I were to make it again I'd probably omit the whole wheat flour altogether, and just use AP. That would give it the more tender texture that I love in quickbreads! I love whole wheat in yeasted breads, but I'm not as big a fan of the density it gives to quick breads. Maybe if you added a little more liquid (it's a pretty stiff batter) and let the batter soak for 15 minutes, as KAF recommends in the comments, it would come out softer even with the WW flour...
I baked a loaf from the recipe and got a dry, crumbly bread. There's so much good stuff in it that I couldn't give up on the recipe and I really want to give it to my Aunt, who loves the bread and buys it at the grocery. Can't have that! I read through the KAF suggestions to the other bakers. Spooned 1 1/2c AP flour and 1/2 c ww flour into measuring cups (great tip!), and used buttermilk instead of sour cream (used it the 1st time), soaked craisins in heated oj for 30 mins., and added grated orange zest to the batter. I also let the batter rest/hydrate for 15 mins. before baking (another great tip!). Just pulled a fragrant, tender loaf out of the oven (55 mins). Still a little crumbly, but boy is it delicious. Oh, added demerara sugar on top before baking. Thanks KAF and fellow bakers for the feedback!
I just wrote a 3 star review. I am sorry! I just discovered that my husband had poured into my canister another brand of white whole wheat flour without telling me. He is always buying the wrong thing at the grocery store. I bet that is why the cranberry walnut loaf did not turn out right. I am always disappointed when I have used other brands of flour.

We're so glad you realized what happened, and that you always get such great results using our flour! Thanks for sharing this with us. Kye@KAF
I made this exactly as written and even weighed the King Arthur flours. Baked in a loaf pan for 55 minutes. It had a good taste, but it was dry and crumbled when cut. The texture was just not what I expect in a sweet bread. I may have baked too long, but I did check with a cake tester at 45 and 50 minutes, and it did not come out clean. Not sure what went wrong, but next time I will try a different recipe for cranberry nut bread. Maybe the problem was using the white whole wheat flour. I use that in yeast bread all the time, but I have not used it in cakes and sweet breads until now. Does whole wheat flour make for a somewhat gritty taste?

Whole grain flours can have a slightly different texture than white flours do; it helps to add a bit of extra moisture to the batter or dough and let them rest for 10-15 minutes before putting the batter in the pan. Whole wheat flour will absorb the extra moisture and soften during this time. I hope that helps! Kye@KAF
I suppose it is unfair to rate the recipe a 3 when I made a few changes. I used fresh, not dried cranberries. They have a nice tart flavor! When the batter looked a little dry I added a Tablespoon of orange juice. I did not sprinkle any sugar on top. Since people said they lacked flavor I doubled the salt and I didn't,t use almond flavor only vanilla so I doubled it. I am baking at a friends and she only had those disposable aluminum muffin tins . The texture and color are excellent. The moisture is perfect. But still, they might need a little jump on flavor. And I am really surprised that they all got super dark on the bottom. That is why I rated them 3 star. Because other reviewers have commented about the dark bottoms and the recipe is still the same . I only put the oven at 350. Probably because of those disposable aluminum holders they still were done in 13 minutes. I sprayed some of the inside of the cups with oil and some I did not. Didn't matter. Every single one is perfect on top, perfect in the middle and way to dark on the bottom. I hope the Bakers at KA can find a solution to this problem. Otherwise, I think a little grated orange or a sprinkle of sugar on top would make them great.
Dried cranberries will offer a sweet/tart flavor, while the fresh cranberries will be more on the tart side. Sounds like that oven and those pans yielded a darker muffin crust, so it might be best to reduce the temp. to 400' or 375' for a more golden result. Happy baking! Irene@KAF
I think this is a great breakfast muffin - the whole wheat makes it hearty and wholesome -tasting, and the hint of cinnamon gives it a coffee cake kind of flavor. I made 18 using standard muffin tins. Just a tad dry - although I prefer this to very moist. I did sift the flours before measuring - next time I think I will lower temp a bit - from 425 to maybe 400 or bake for less time - 12-13 min instead of 14.
Excellent result! I baked the loaf at 350 for an hour. I tested it earlier and it needed the extra time. I used coconut oil and butter, added a handful of fresh frozen cranberries in the food processor, lowered the sugars to 1/4 cup each, as we prefer less sweet, and added the almond extract. I used Fage 2% Greek yogurt. Moist, tender, delicious loaf. I am definitely making this bread again!
I made a bunch of these to give friends, clients, colleagues something fun for the holidays. I doubled my batches (tripling was a bit much for my KitchenAid to handle) and used KAF's paper baking loaf pans, which perfectly held 5 scoops of the blue cupcake scoop also sold by KAF. So, roughly, my yield from each double batch of batter was 6 loaf pans. (To give you an idea of how nuts I went, I made 36 loaves total.) I did add the almond extract - I love its scent and flavor. I also used fresh cranberries instead of dried. I baked the loaves for 30 minutes in a convection oven. They turned out beautifully and I'm getting enthusiastic "thank yous!" from the recipients this morning.
This recipe was a very nice surprise! I have used the same recipe for years and wanted to try something different! After reading some reviews I almost didnt try it but glad I did. I only added 2 tbl of orange peel since mine called for it and we like that. I doubled it and cooked 2 loaves at 350 and set timer for 40 min and 5 more at a time for about an hour total. Thank you so much for my new holiday cranberry bread recipe!