A customized print-friendly version of this recipe is available by clicking the "Print Recipe" button on this page.
Cranberry-Walnut Bread & Muffins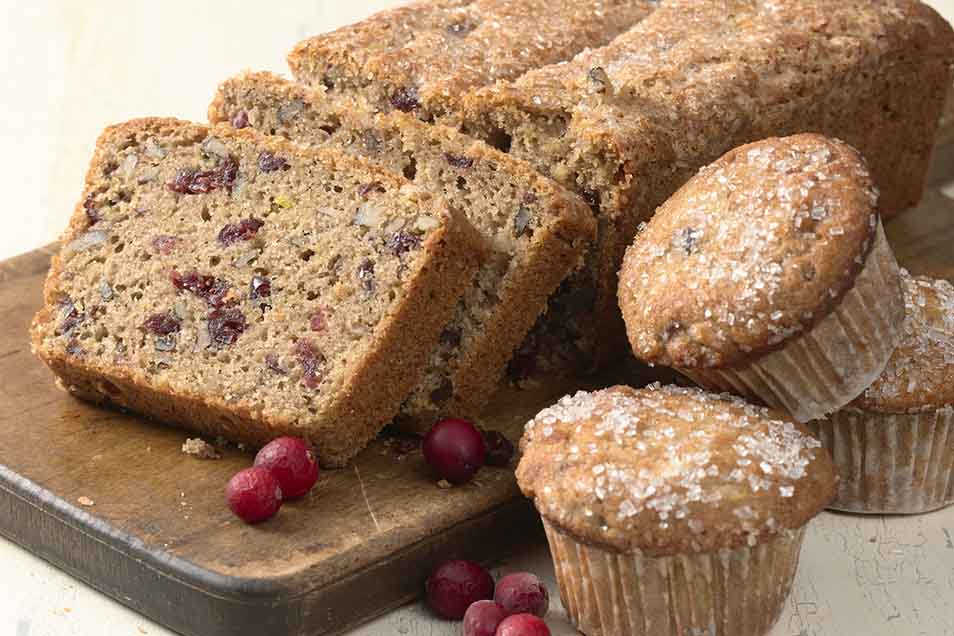 Cranberry nut bread is a Thanksgiving standby, a must-have in the bread basket. Cranberry nut muffins are a welcome way to start the festivities first thing in the morning. This recipe can be poured into a loaf pan, or scooped into the wells of a muffin tin; double the recipe, and you can do both!
Ingredients
1 /4 cup (4 tablespoons) butter
1/4 cup vegetable oil
1/3 cup granulated sugar
1/3 cup brown sugar
2 large eggs
1 1/2 teaspoons baking powder
1/2 teaspoon baking soda
1/2 teaspoon ground cinnamon
3/4 teaspoon salt
1 teaspoon vanilla extract
1/8 to 1/4 teaspoon almond extract, optional
3/4 cup sour cream or yogurt, full-fat or low fat-preferred
1 cup King Arthur White Whole Wheat Flour or Premium Whole Wheat Flour
1 cup dried cranberries
1/2 cup walnuts
sparkling white sugar or Demerara sugar, optional, for topping
Instructions
Preheat the oven to 425°F for muffins, or 350°F for a loaf. Lightly grease a standard muffin tin. Or line with 12 paper muffin cups, and grease the cups with non-stick vegetable oil spray; this will ensure that they peel off the muffins nicely. If you're baking a loaf, lightly grease an 8 1/2" x 4 1/2" loaf pan.

In a medium-sized mixing bowl, beat together the butter, vegetable oil, and sugars until smooth.

Add the eggs, beating to combine.

Stir in the baking powder, baking soda, cinnamon, salt, the vanilla and almond extracts, and the yogurt or sour cream.

Place the flours in a food processor with the dried cranberries. Process until the berries are coarsely chopped. Add the nuts (if they're not chopped), and process briefly, just until the nuts are chopped up a bit.

Stir the flour mixture into the wet ingredients, mixing just until everything is thoroughly combined.

Divide the batter among the wells of the muffin tin, filling each one about 3/4 full. Or scoop the batter into the prepared loaf pan. Sprinkle muffins or loaf with white sparkling sugar or Demerara sugar, if desired.

Bake the muffins for 14 to 15 minutes, until a cake tester or toothpick inserted into one of the center muffins comes out clean. Bake the loaf for 45 to 55 minutes, until a cake tester or toothpick inserted into the center of the loaf comes out clean.

Remove the muffins or bread from the oven. Tilt the muffins in the pan to cool a bit, then transfer them to a rack to finish cooling. Serve warm or at room temperature. Allow the loaf to cool in the pan for 10 minutes, then turn it out onto a rack to cool completely. For best results, don't slice until completely cool. Store muffins or bread well wrapped, at room temperature, for 2 to 3 days; freeze for longer storage.

Store muffins or bread well wrapped, at room temperature, for 2 to 3 days; freeze for longer storage.
Tips from our bakers
For a nice hint of orange, substitute 1/4 to 1/2 teaspoon Fiori di Sicilia flavor (to taste) for the vanilla and almond extracts. For stronger orange flavor, stir in the grated rind of 1 large orange, omitting the almond extract.
Want to make this bread (or muffins) without whole wheat flour? Substitute 1 cup King Arthur Unbleached All-Purpose Flour for the whole wheat flour.
If you prefer a bolder cranberry statement, leave the dried berries whole, rather than chopping them up.