A customized print-friendly version of this recipe is available by clicking the "Print Recipe" button on this page.
Cranberry Whole Grain Muffins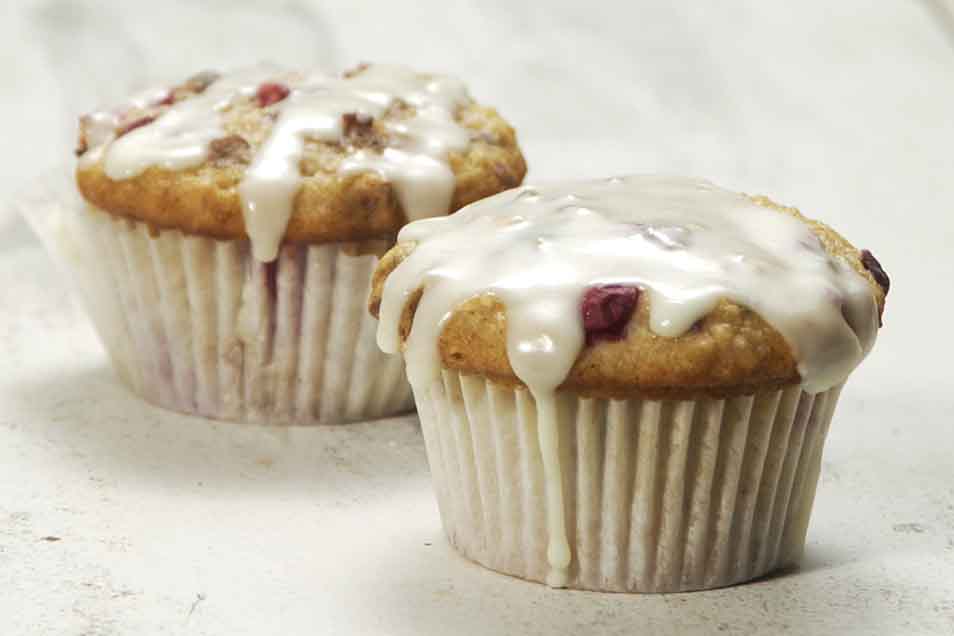 These tender muffins, studded with cranberries and nuts and scented with orange, are 100% whole-grain, and they taste great! This traditional Thanksgiving flavor combination, in muffin form, makes a delicious, healthy start to your day of feasting.
Ingredients
Muffins
1 1/2 cups King Arthur Whole Wheat Flour or King Arthur White Whole Wheat Flour
3/4 cup quick-cooking oats
1/4 cup buttermilk powder or 1/2 cup nonfat dry milk
2/3 cup sugar
2 teaspoons baking powder
1/2 teaspoon salt
1 cup fresh or frozen cranberries, chopped, or sweetened dried cranberries
1/2 cup chopped pecans or walnuts, optional
1 tablespoon orange zest (finely grated orange peel)
2 large eggs
3/4 cup milk
1/3 cup vegetable oil or melted butter
Glaze
2 tablespoons orange juice
3 tablespoons sugar or 1 cup confectioners' sugar, sifted
Instructions
Preheat the oven to 375°F. Grease the wells of a 12-cup muffin tin, or line with papers, and grease the inside of the papers.

To make the muffins: In a medium-sized bowl, whisk together the dry ingredients, then stir in the cranberries and nuts.

Whisk together the orange zest, eggs, milk, and oil or melted butter.

Add the wet ingredients to the dry ingredients, stirring until blended; don't beat, or your muffins will be tough.

Fill the muffin cups or liners about 3/4 full.

Bake for 18 to 20 minutes, until they're golden brown.

Remove them from the oven, leave them in the pan for 5 minutes, then take out of the pan and transfer them to a rack to finish cooling.

To make the glaze: In a small saucepan or the microwave, stir together the glaze ingredients. Bring just to a boil, to dissolve the sugar.

Dip the tops of the warm muffins into the glaze.

Store on the counter for three days, or freeze for up to 3 months.
Reviews
I just made these muffins for the 2nd time (with a few changes), and now I'm really happy with this recipe! I used oil and nonfat dry milk, again, reduced the sugar to 1/2 cup, and added an extra 1/2 cup of chopped cranberries. I thought the 1st batch lacked enough orange flavor, so this time (in addition to adding extra orange zest), I replaced the milk with fresh squeezed orange juice. Now these muffins have a really nice orange flavor, and there are plenty of tart/ sweet cranberries in every bite. If you prefer a whole grain muffin that isn't overly sweet, these are really great!
I just made these as mini muffins, and they baked up nicely. I chose this recipe because I prefer to use whole grains, and I always weigh the dry ingredients (to avoid accidentally using too much flour). I made these with oil, cut the sugar by a couple of tablespoons, and added an extra 1/3- 1/2 cup of chopped raw cranberries. After they cooled, I popped the muffins into the freezer (on a tray) so I can bag them when they're frozen, for a holiday party. I don't think I'm going to glaze them, since I like the tartness of the raw cranberries; they will work well with savory dishes and/ or desserts. The only thing I don't like about this recipe, is that there's not much orange flavor in these muffins. Cranberry/ orange is one of my favorite flavor combinations, in baked goods. I added an extra tablespoon of orange zest, and !/4 tsp. of KAF's orange oil, but next time I'll substitute orange juice, for the milk, and see if that boosts the orange flavor.
I seem to be in the minority here, as everyone else seems to love these muffins, but my experience was completely different. The muffins rose very nicely, but the finished product was heavy and dense. I am a very experienced baker. I followed the recipe to the letter, measured my flour correctly etc. The ONLY thing I did differently was that I let the batter rest while my oven preheated. (This is the same technique used in the fabulous Oatmeal Jammy Bits recipe, which are also a combination of whole wheat flour and oats.) I suspect that this was a mistake, although it really should not have made that much of a difference. I should have followed my first instinct and substituted some pastry flour for half of the whole wheat flour. I might give these another try making the substitution, but as I still have eleven "lead sinkers" to get through, it might be a while before I do that.

We're sorry to hear these muffins were a bit too heavy for your taste, Monica. We like your idea of replacing half of the flour with pastry flour if you're looking for a lighter texture. You might also consider making our recipe called Cranberry-Walnut Bread & Muffins, as this recipe is designed to be made with half all-purpose flour and half whole wheat flour. The texture is a bit lighter and more like a classic muffin you might find at a bakery. If you'd like to give this recipe a whirl, type its title into the search box above. We hope you find what you're looking for, Monica. Happy baking! Kye@KAF
Made as stated with oil and chopped frozen cranberries, omitted the nuts. The whole-grain-hating family loved them! Thanks for the recipe!
I baked this with dried cranberries, reduced the sugar to 1/3 cup and without milk powder as I don't have them on hand. Super easy recipe and the muffins were moist and sweet.
Love this recipe! I skipped the dry milk powder and added white chocolate chips instead of walnuts to make it more of a dessert. Hands down a new favorite.
I've done these with chopped whole cranberries and dried craisens. Great both ways. Love the glaze.
A stunner. It was so good I became a member to review it :) Even my preschoolers adore it, and I used fresh cranberries rather than dried, and didn't add the glaze or the orange zest (was out). They rose beautifully in the oven, but I used 1/2 baking soda and 1/2 baking powder since I put in 'buttermilk' (nondairy milk with vinegar) due to lack of local access to dried buttermilk. My version is vegan with ground flax instead of eggs, and coconut oil instead of butter. It's incredibly good. The only substantial change I made to the taste was to add a 'dessert spice mix' liberally to make up for the lack of orange zest. So I've frozen a second batch for another day. Thanks KAF!
I tore this recipe from a magazine many years ago and was amazed how good a whole grain muffin could be. I have made them many times especially for others; they have always gotten rave reviews. I use the granulated sugar glaze from the original recipe, for me it is that surprise touch of tangy sweet that takes these from very good to great!
I forgot to say that we didn't even use the glaze. They were really moist and yummy on their own. Probably most people have a sweeter taste liking than us, though.