A customized print-friendly version of this recipe is available by clicking the "Print Recipe" button on this page.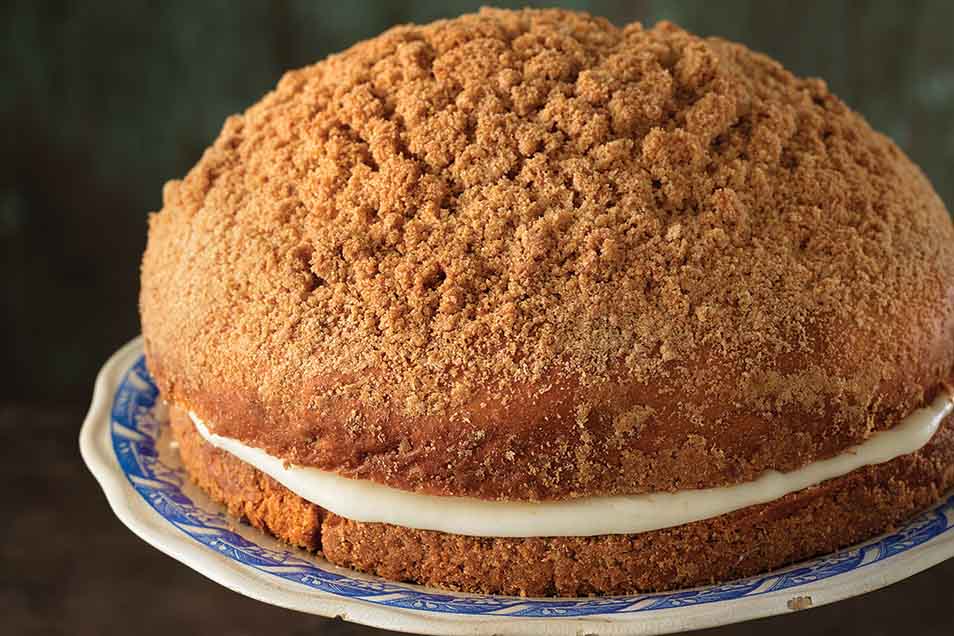 This recipe is recreated from the archives of Doris Knutson, who was famous in Wisconsin for her cream-filled creations. She was asked many times to share her recipe and always declined. Her family gave out the formula at her funeral, which left out any amounts for flour, or baking time, or pan size. We've tested and tweaked, and along the way discovered that Doris was, indeed, a master of her craft. This is a light cake with delicious filling and a sweet, crunchy top.
Ingredients
Dough
1/2 cup sugar
1/2 teaspoon salt
3/4 cup milk
1/4 cup unsalted butter, soft
2 tablespoons cold water
2 large eggs
1 teaspoon vanilla extract
1 tablespoon instant yeast
2 1/2 cups King Arthur Unbleached All-Purpose Flour
1 1/2 to 1 3/4 cups additional King Arthur Unbleached All-Purpose Flour
Topping
1/3 cup brown sugar
1/4 cup unsalted butter, soft
pinch of salt
1 teaspoon ground cinnamon
3/4 cup King Arthur Unbleached All-Purpose Flour
Filling
1/4 cup King Arthur Unbleached All-Purpose Flour
3/4 cup milk
1/2 cup (8 tablespoons) unsalted butter
1 teaspoon vanilla extract
3/4 cup confectioners' sugar, sifted
Instructions
To make the dough: In a large bowl or the pan of your bread machine, combine the sugar, salt, and butter. Heat the milk and pour over. Stir until the sugar dissolves and the butter is melted. Add the water, eggs, and vanilla, stirring to combine. Let the mixture rest until it cools to lukewarm. Stir in the yeast and the 2 1/2 cups flour. Cover and let rest for 30 minutes.

Add the additional 1 1/2 to 1 3/4 cups flour; start with the smaller amount and see how the dough behaves, adding 1/4 cup more if it's still very sticky. Mix and knead for 6 to 8 minutes at slow to medium speed with your mixer; or use the dough cycle on your bread machine.

The dough will be soft, smooth, and silky; perhaps just slightly sticky to the touch. Cover the dough and let it rise in a warm place for 1 1/2 hours, until puffy-looking and almost doubled. Or let your bread machine finish its cycle.

To make the topping: Combine the brown sugar, butter, salt, cinnamon, and flour, mixing with a fork or your fingers until crumbs form. Set aside.

To shape and bake the cake: Deflate the dough, round it into a ball, and place it into a greased 10" springform pan. Cover with greased plastic or a large inverted bowl until the dough domes an inch above the rim of the pan, about 45 minutes. While the dough is rising, preheat the oven to 350°F. When the dough is ready, sprinkle it with the topping (some will slide down). Bake the cake for 45 to 50 minutes, until a paring knife inserted into the center comes out clean. Remove the cake from the oven and cool it in the pan on a rack for 10 minutes before tilting it out of the pan and returning it to the rack to cool completely.

To make the filling: While the cake cools, put the flour in a small saucepan. Add the milk a little at a time, stirring to make a smooth mixture.

Cook the flour and milk over medium-low heat just until the mixture thickens. Remove from the heat and cool. In a small mixing bowl, beat the butter and confectioners' sugar together until light and fluffy. Add the vanilla, then whisk into the flour/milk mixture.

To assemble: Split the cooled cake horizontally, and spread the filling on the bottom layer. Replace the top and refrigerate the cake until 30 minutes before serving.

Yield: 1 large or 2 small cakes, 20 servings.
Nutrition Information
Serving Size

77g

Servings Per Batch

20
Amount Per Serving:
Calories

246

Calories from Fat

90

Total Fat

10g

Saturated Fat

6g

Trans Fat

0g

Cholesterol

44mg
Sodium

105mg

Total Carbohydrate

34g

Dietary Fiber

1g

Sugars

14g

Protein

5g
* The nutrition information provided for this recipe is determined by the ESHA Genesis R&D software program. Substituting any ingredients may change the posted nutrition information.
Tips from our bakers
If you'd like to have two smaller coffeecakes (one to give, or one to freeze), leave the dough recipe as is; multiply the topping and filling ingredients by 1 1/2, and divide the dough between two 8" round pans. The baking time will be about 5 minutes shorter.
Be careful combining the two parts of the filling. Whisk together gently, just until they're mixed. Whipping vigorously at this point will make the filling appear curdled. It will still taste great, it'll just be a little raggedy-looking.
This coffeecake freezes very well with no fuss. Finish the recipe all the way, including filling the cake, then put it in a cake carrier and freeze for up to 2 weeks.
Reviews
This is unique and completely delicious. I love the texture and the flavor. I'm not sure which was a greater revelation, the texture of the bread/cake or the cream filling. Not being from the Midwest, I've never encountered this kind of cream filling before. Kudos to Doris Knutson and KAF. The missing 5th star is because trying to get the topping to stick to the risen domed top of the cake was so frustrating that just remembering my attempts makes me clench my jaw. Writing that some of the topping "will slide down" is an understatement. It would have been easier to "apply" to the top of the dough if it hadn't risen so high so fast. I thought I was keeping a close watch as it was proofing, used a timer so I wouldn't forget to check it, but b-o-o-m!, it just shot up. I'm sure that made the top more rounded. Luckily I use a pinch of ascorbic acid in all my yeast bread doughs, so that even though it rose so high it didn't fall. Next time I'll cut back on the yeast a bit. I wonder what cinnamon rolls made with dough would be like. Hm. Thank you for the great recipe.
Thank you, Mary at the Baker's Hotline! My first attempt was over-risen; I used 1T of SAF Gold yeast and didn't pay enough attention during the first rise, and I ended up with a crater in the middle of my coffeecake. Tried again with 2 1/2 tsp of Gold, thanks to Mary's advice, watched a little more closely, and ended up with a HUGE, beautiful, yummy coffeecake. Cake and pastry cream: Is there anything better?
Not what I was looking for and takes forever to make. Must remember to read ALL of the instructions first. That being said, if you leave off the topping and don't stuff it and just bake it as a loaf it makes a bread very similar to Challah, which was then devoured during breakfast and lunch.
Makes a delightful coffeecake..but! I don't think the yeasted cake recipe needs to be so convoluted, the topping for a 10" springform needs to be increased by .25,and honestly? Overall while I love making yeasted coffeecakes this one takes forever and a day!!! Still, I would recommend it as the bread is lovely ( might add nutmeg) and the topping is perfect. I think I might add some cream cheese and heavy cream to the filling . The filling as written is ok, but rather insipid. I also found it best to split the cake and chill in the fridge before filling.
Very impressive results. Looked beautiful when it came out of the oven, but I was nervous watching it bake because it rose SO high. The texture was definitely like a sweet bread, but vey moist. I only wish I had more filling to spread between the the 2 layers. It was absolutely delicious. The cake did settle a bit and I didn't expect that. However, it did not affect the cake.
I'm sure that this coffeecake will be wonderful when I make it, but I'm still confused about the ingredient list for the topping! It lists the sugar, salt, butter and cinnamon PLUS 3/4 cup of flour. However, in the topping instructions, there is no mention of flour in the topping. Please help us by clarifying this! Thanks!!!
Yes, you are right and thank you for catching this! You need to combine the flour with all the other topping ingredients. I will see that this is corrected and thanks again. Elisabeth
I have not yet made this, but am wondering what the milk and flour are for in the topping portion of the recipe?
Hmm, sounds like it must have been an error on our part. The Flour and milk are now found and used in the filling portion of the recipe.-Jon