A customized print-friendly version of this recipe is available by clicking the "Print Recipe" button on this page.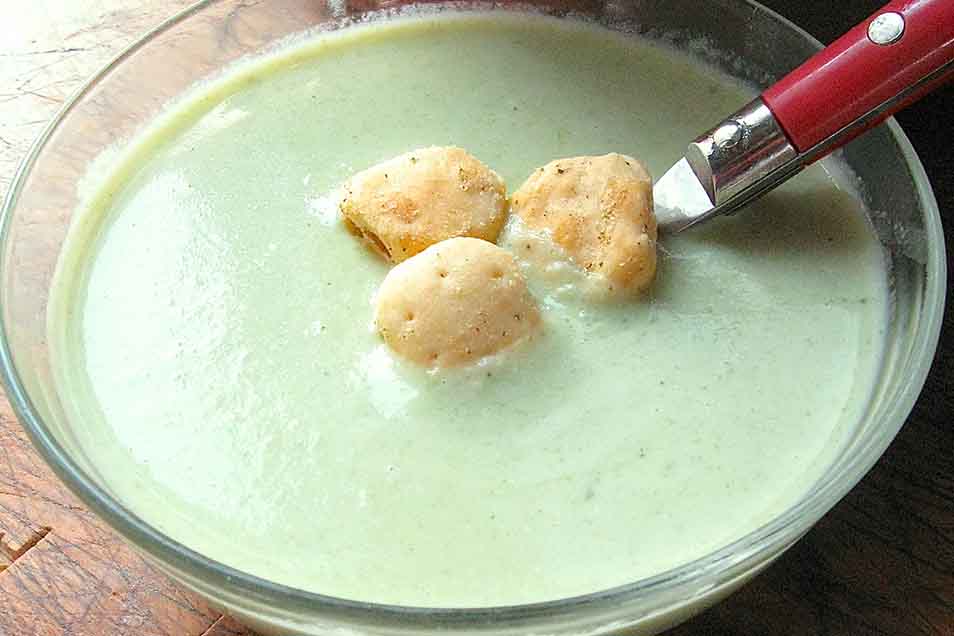 Ah, creamed soup! That standby of childhood... a friend at the sickbed... and the final resting place of many a leftover. Creamed soup can be as simple as cooked, puréed vegetables with a little broth added, or as fancy as a highly spiced mixture of pumpkin, curry and heavy cream. This all-purpose cream of broccoli soup falls somewhere in the middle. It's a lovely emerald-green, just the thing to set on the table when the winter landscape outside varies only from white to gray to brown. Other vegetables (or chicken, or turkey) can be substituted for the broccoli in equal amounts, with only slight variations in seasoning.
Ingredients
3 cups chicken broth
2 cups (2 medium) onions, chopped
4 cups broccoli cuts, fresh, or one 16-oz. bag or two 10-oz. packages frozen broccoli cuts
1 teaspoon thyme
1 bay leaf
2 small garlic cloves
1/4 cup (4 tablespoons) butter
2 tablespoons King Arthur Unbleached All-Purpose Flour
1/2 teaspoon salt
dash pepper
2 cups milk, half & half, or evaporated milk
Instructions
Combine chicken broth, onions, broccoli, thyme, bay leaf and garlic cloves.

Bring to a boil. Simmer, partially covered, for 10 minutes.

In a small saucepan, melt butter. Stir in flour, salt and pepper.

Add milk gradually, stirring constantly until all milk is added; mixture will be lumpy at first, but will smooth out as you keep stirring.

Cook, stirring occasionally, until mixture bubbles and thickens.

Remove and discard bay leaf from broccoli/broth mixture.

Purée in batches in blender or food processor for 30 seconds, or until very smooth.

Transfer to large bowl. Add milk mixture, stirring until well combined.

Adjust seasoning to taste. Serve hot.

Store, well-covered, for 5 days in the fridge, or freeze for up to 3 months.
Tips from our bakers
Our thanks to Loell Rodgers of beautiful Morrill, Maine, who knows all about soup for long winters!
Reviews
This a great cream soup! I made it "skinny" though. Fat-free evaporated milk and butter substitute. I can't wait to try it with left-over chicken. Unfortunately, I accidentally pureed my bay leaf, so I spent an hour picking out the big bits of the leaf form my soup..
I made this soup today. After reading the reviews, I used less onion and more flour. I also addred 6 oz. of Velveeta Cheese. Next time I will add some graded carrot. It will be as near that restaurant's that sells soup, sandwiches, and bakery items that begins with a "P" as I have been able to get! If you add cheese - watch the salt. Don't add any extra salt until the soup is done. I did not put it in the blender. I just used an old fashion potato masher.
I made this soup two nights in a row and each time it was fabulous. Even my 3 year old picky eater enjoyed it. I did alter the recipe just a bit. I wanted it creamier so I added about half a cup of heavy cream, and I dissolved 1 TBS of flour in water to add to the soup as a thickener. I also used fresh broccoli. I did however have to boil it on its own for about 5 minutes to take the edge off that strong broccoli smell. Overall, it was a great soup and I will be making it again.
I was slightly disappointed with this soup. The flavor wasn't balanced enough for me and it was too soupy. It was too oniony and there wasn't enough broccoli flavor. So next time, because there will be a next time, I am going to use only one onion, increase the amount of broccoli, increase the flour to 3 tablespoons and use only 1 1/2 cups light evaporated milk.
This is an incredible "easy" recipe! I took one of the other readers suggestion and sprinkled with sharp cheddar cheese. My husband the "meat eater" of the family... added a little bit of freshly cooked bacon (while drain) on the top of the cheese! I will let him get away with it...since I left a few of the broccoli spears unprocessed. I love the texture of a few "diced" bottoms of the Broccoli stalks... just to add a little "texture" to the creamy smooth soup, sort of like MiMi's Cafe (Northern CA-Bay Area) does! This recipe was right up there with theirs, if not better!;-) Thanks for sharing this EXCELLENT recipe with the rest of us! Bon Appetit!!!:-)
Cream of broccoli soup was so delicous! it tasted so good and i loved it!
This soup goes together fast and, it is the best Cream of Broccoli soup I ever had.
It's a keeper! Add a sprinkle of cheddar cheese and it's a winner.