A customized print-friendly version of this recipe is available by clicking the "Print Recipe" button on this page.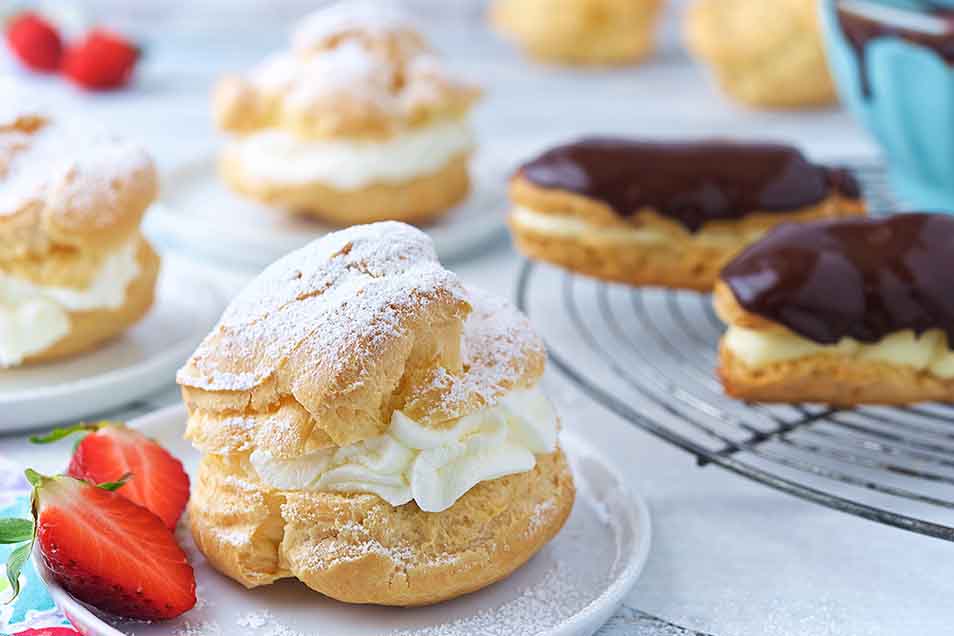 The same easy pastry batter makes the light and airy confections we know as cream puffs, and chocolate éclairs. Cream puffs, round and fat, are filled with whipped cream and dusted with a blizzard of confectioners' sugar. Pipe the batter into longer ropes, you end up with log-shaped éclairs, ready to be filled with pastry cream and drizzled with chocolate icing.

Baking gluten-free? For great results, substitute King Arthur Gluten-Free Measure for Measure Flour for the all-purpose flour in this recipe; no other changes needed.
Instructions
Before you begin: note that the pastry recipe will make 12 cream puffs OR 20 to 24 éclairs. The filling recipes (whipped cream, and pastry cream) make enough for 12 pastries each. The icing recipe is a generous amount for icing 2 dozen éclairs. If you simply want to drizzle the éclairs with icing, cut both the chocolate and cream in half.

Preheat the oven to 425°F. Lightly grease (or line with parchment) two baking sheets.

Combine the water, butter, and salt in a medium-sized saucepan, heat until the butter has melted, and bring to a rolling boil.

Remove the pan from the heat, and add the flour all at once, stirring vigorously.

Return the pan to the burner and cook over medium heat, stirring all the while, until the mixture smooths out and follows the spoon around the pan; this should take less than a minute.

Remove the pan from the heat, and let the mixture cool for 5 to 10 minutes. It'll still feel hot, but you should be able to hold a finger in it for a few seconds. If you have an instant-read thermometer, the temperature should be below 125°F.

Transfer the mixture to a mixer, and beat in the eggs one at a time; it'll look curdled at first, but when you add the last egg it should become smooth. Beat for at least 2 minutes after adding the last egg.

Using a generously filled tablespoon cookie scoop, or a level muffin scoop, drop the thick batter onto the prepared baking sheets in 3- to 4-tablespoon mounds. Space the mounds about 3" apart, to allow for expansion. For éclairs, pipe the batter into 5" logs about 1/2" to 3/4" in diameter.

Bake the pastries for 15 minutes, then reduce the oven temperature to 350°F and bake for an additional 25 minutes, until pastries are a medium golden brown. Don't open the oven door while the pastries are baking.

Remove the pastries from the oven. Make a small slit in the top of each, and return them to the oven for 5 minutes, to allow the steam to escape. Place them on a rack to cool. When they're cool enough to handle, split each in half to make top and bottom pieces; splitting and exposing the centers to air will help keep them from becoming soggy.

To make the cream puff filling: Pour the cream into a mixing bowl, and begin to whip it on high speed (using your mixer's whisk attachment, if you have one). Sprinkle in the sugar gradually as the cream whips. Whip until stiff, but be careful not to over-whip; cream should still look smooth.

Fill the bottom halves of the puffs with whipped cream, then replace their tops. Dust with confectioners' sugar, and serve.

To make the éclair filling: Prepare your favorite pastry cream filling; see tips below for our favorite. You'll need about 3 cups of filling.

Spoon the filling into the éclair shells.

To make the icing, place the chocolate chips or chunks and cream in a microwave-safe bowl or measuring cup.

Heat over low heat (or in the microwave) until the cream is very hot.

Remove from the heat, and stir until the chocolate melts and the icing is smooth. Spoon over the éclairs, spreading to the edges. Serve immediately.
Nutrition Information
Serving Size

108g

Servings Per Batch

12 cream puffs
Amount Per Serving:
Calories

310

Calories from Fat

240

Total Fat

27g

Saturated Fat

16g

Trans Fat

1g

Cholesterol

130mg
Sodium

110mg

Total Carbohydrate

15g

Dietary Fiber

1g

Sugars

5g

Protein

5g
* The nutrition information provided for this recipe is determined by the ESHA Genesis R&D software program. Substituting any ingredients may change the posted nutrition information.
Tips from our bakers
Want to make profiteroles? Fill cream puff shells with ice cream, and drizzle with the sauce of your choice; chocolate is traditional.
Our pastry cream filling mix is a real time-saver; you'll need about 3 cups. Or, pour 3 cups milk into a bowl (the higher-fat the milk, the richer the filling); add the contents of 2 regular-size boxes of vanilla instant pudding mix, plus 2 teaspoons vanilla extract. Beat until thick, and refrigerate until ready to use.
To shape éclairs without a pastry bag, place a sandwich bag into a glass, rolling its edge over the rim to hold it in place. Spoon the batter into the bag. Cut off 1 corner of the bag, making a 1/2" cut. Squeeze the batter onto the baking sheet through the hole in the corner.
Want to prepare pastries ahead? Make the shells, and store them at room temperature, lightly covered. Your best bet is to whip the cream no more than several hours ahead of time. Pastry cream filling/pudding can be made several days ahead. Icing can be made several days ahead, and reheated. Fill (and ice) pastries just before serving.
Reviews
I think I'm obsessed!, I've made these with every type of flour and butter out there and even went to a dairy farm for the freshest cream I could find! Thanks for posting this recipe!!
I had put off making cream puffs for MANY years because the recipe appeared to be so complicated. I was offered a challenge to make them and WOW...they are so easy. I have passed your recipe to several friends.
I had to add literally 2x the amount of eggs in order to get the batter to the correct consistency. They came out great-- hollow and crispy and all that-- but the recipe was definitely inaccurate for me on the egg count.

Hi there, Maggie! We're glad to hear that your shells came out wonderfully hollow and crisp, but are quite surprised by how much egg you had to add. It sounds like a bit too much flour snuck its way into your dough, which would require extra liquid to properly hydrate it and achieve the correct consistency. To ensure you've got the right amount, we recommend checking out the "Recipe Success Guide," link next to the ingredients header above. You'll see that either measuring your flour by weight using a scale, or fluffing and sprinkling the flour into your measuring cup are the best ways to ensure your recipe turns out perfectly. Happy baking! Morgan@KAF
These r the best pastries ever u can use them for lotta of things yummy yummy
I used the all purpose gluten free flour to make this recipe and a coconut custard filling to accompany it. I'm both gluten free and lactose intolerant, but I love baking and consistently find that King Arthur flour (gf) whether from a bag, or from a box (cake mix, for example) does not compromise taste or texture. This was my first time making choux pastry and I am pleased with the results. I was a little confused by the statements referring to beating the flour into the butter and water mix until smooth, however. I think maybe a better description of what exactly the dough should be doing would be beneficial. Also after adding the last egg and beating for 2 minutes, a descriptor of how the dough will look other than "smooth" might be usual for some. Though the recipe did not call for it, I sprinkled water droplets on the parchment paper to encourage more puffage/steam. I will definitely make this recipe again. There was an egg odor in the house, but with eggs being such a large component, I wasn't surprised.
what is a mound I looked it up but I couldn't find it

Lilly, mound is another word for a blob, a small hill, a pile, etc. Annabelle@KAF
First time making cream puffs, two thumbs up from my husband, he loved them! First time making a choux pastry, am feeling confident to make more!
Easy and tasty. I filled them with pudding and whipped cream and everyone just loved them. Served as a dessert for a post Christmas get together and they were all gone before I knew it.
It would be helpful if you gave the weights of the ingredients, especially the eggs and the flour, along with standard American measurements. My cremepuffs (half recipe) were too flat. I believe my dough was too wet. I get eggs from a neighbor and the eggs are of varied sizes and colors. I suspect that most would fall into the jumbo category. I recently looked at my mom's 1952 recipe for creampuffs from a Chicago culinary school. The recipe called for 4 medium eggs, otherwise was pretty much the same as yours. I used to make creampuff swans as a teenager during the 70's. They worked fine, but again, we bought medium eggs from the egg farm in town. I think adding the weight of the eggs would really help those of us who don't buy eggs in the supermarket and who weigh our flour when baking. Thanks!

Hi Diane! You'll be happy to know that all of our recipes can be viewed in volume, ounces or grams. Simply select the one you want right below the "Ingredients" header and you'll be good to go! Large eggs are generally 1.5 ounces, with 1 ounce of that being the white. Annabelle@KAF
This is the best. Not only great recipes, you can even call for advice. Thank you David at King Arthur's. I'm in the middle of making a huge batch of cream puffs. I didn't want to miss my grandsons soccer game. I received great advice for my dough while I'm gone for a hour an half. Thank you Elaine Hayes of Florida