A customized print-friendly version of this recipe is available by clicking the "Print Recipe" button on this page.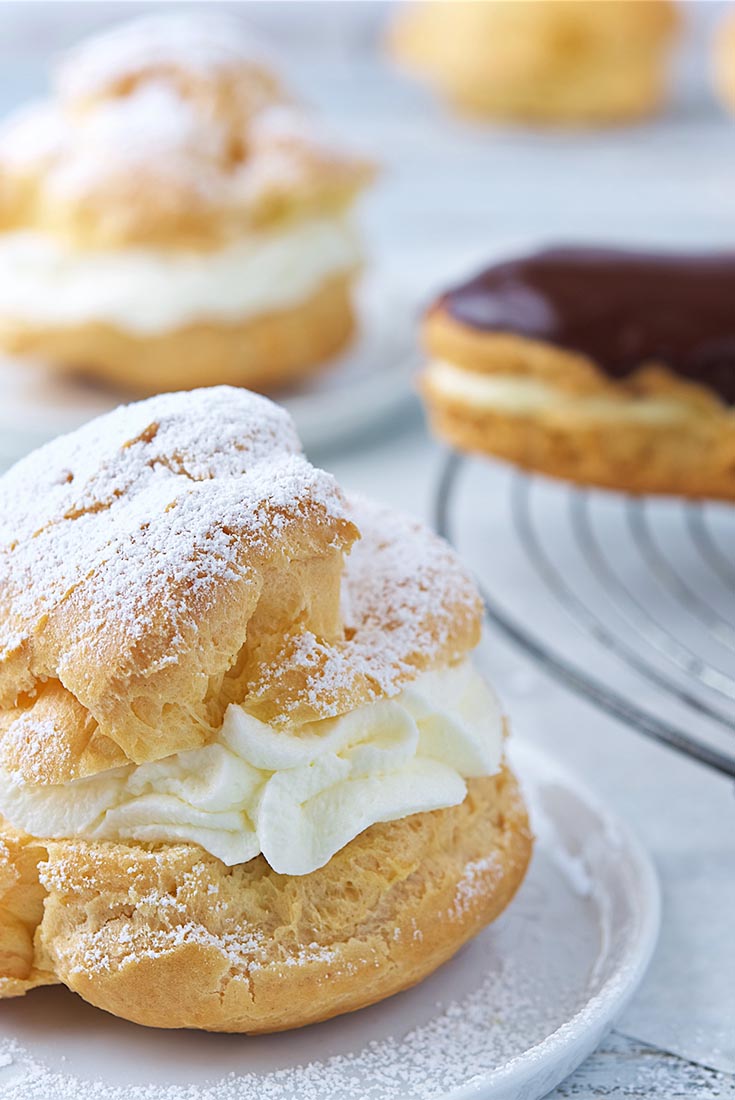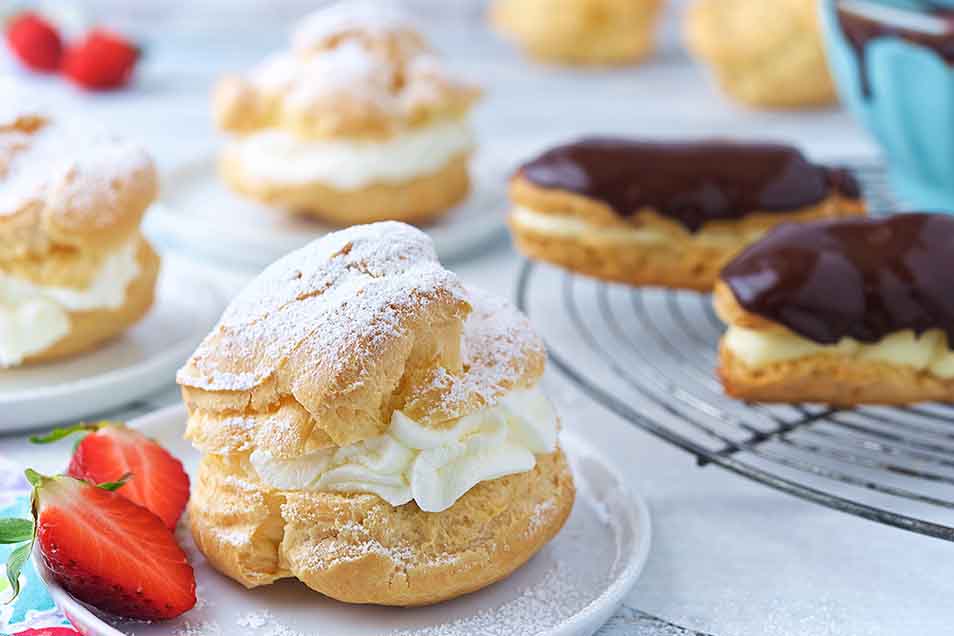 The same easy pastry batter makes the light and airy confections we know as cream puffs, and chocolate éclairs. Cream puffs, round and fat, are filled with whipped cream and dusted with a blizzard of confectioners' sugar. Pipe the batter into longer ropes, you end up with log-shaped éclairs, ready to be filled with pastry cream and drizzled with chocolate icing.

Baking gluten-free? For great results, substitute King Arthur Gluten-Free Measure for Measure Flour for the all-purpose flour in this recipe; no other changes needed.
Instructions
Before you begin: note that the pastry recipe will make 12 cream puffs OR 20 to 24 éclairs. The filling recipes (whipped cream, and pastry cream) make enough for 12 pastries each. The icing recipe is a generous amount for icing 2 dozen éclairs. If you simply want to drizzle the éclairs with icing, cut both the chocolate and cream in half.

Preheat the oven to 425°F. Lightly grease (or line with parchment) two baking sheets.

Combine the water, butter, and salt in a medium-sized saucepan, heat until the butter has melted, and bring to a rolling boil.

Remove the pan from the heat, and add the flour all at once, stirring vigorously.

Return the pan to the burner and cook over medium heat, stirring all the while, until the mixture smooths out and follows the spoon around the pan; this should take less than a minute.

Remove the pan from the heat, and let the mixture cool for 5 to 10 minutes. It'll still feel hot, but you should be able to hold a finger in it for a few seconds. If you have an instant-read thermometer, the temperature should be below 125°F.

Transfer the mixture to a mixer, and beat in the eggs one at a time; it'll look curdled at first, but when you add the last egg it should become smooth. Beat for at least 2 minutes after adding the last egg.

Using a generously filled tablespoon cookie scoop, or a level muffin scoop, drop the thick batter onto the prepared baking sheets in 3- to 4-tablespoon mounds. Space the mounds about 3" apart, to allow for expansion. For éclairs, pipe the batter into 5" logs about 1/2" to 3/4" in diameter.

Bake the pastries for 15 minutes, then reduce the oven temperature to 350°F and bake for an additional 25 minutes, until pastries are a medium golden brown. Don't open the oven door while the pastries are baking.

Remove the pastries from the oven. Make a small slit in the top of each, and return them to the oven for 5 minutes, to allow the steam to escape. Place them on a rack to cool. When they're cool enough to handle, split each in half to make top and bottom pieces; splitting and exposing the centers to air will help keep them from becoming soggy.

To make the cream puff filling: Pour the cream into a mixing bowl, and begin to whip it on high speed (using your mixer's whisk attachment, if you have one). Sprinkle in the sugar gradually as the cream whips. Whip until stiff, but be careful not to over-whip; cream should still look smooth.

Fill the bottom halves of the puffs with whipped cream, then replace their tops. Dust with confectioners' sugar, and serve.

To make the éclair filling: Prepare your favorite pastry cream filling; see tips below for our favorite. You'll need about 3 cups of filling.

Spoon the filling into the éclair shells.

To make the icing, place the chocolate chips or chunks and cream in a microwave-safe bowl or measuring cup.

Heat over low heat (or in the microwave) until the cream is very hot.

Remove from the heat, and stir until the chocolate melts and the icing is smooth. Spoon over the éclairs, spreading to the edges. Serve immediately.
Nutrition Information
Serving Size

108g

Servings Per Batch

12 cream puffs
Amount Per Serving:
Calories

310

Calories from Fat

240

Total Fat

27g

Saturated Fat

16g

Trans Fat

1g

Cholesterol

130mg
Sodium

110mg

Total Carbohydrate

15g

Dietary Fiber

1g

Sugars

5g

Protein

5g
* The nutrition information provided for this recipe is determined by the ESHA Genesis R&D software program. Substituting any ingredients may change the posted nutrition information.
Tips from our bakers
Want to make profiteroles? Fill cream puff shells with ice cream, and drizzle with the sauce of your choice; chocolate is traditional.
Our pastry cream filling mix is a real time-saver; you'll need about 3 cups. Or, pour 3 cups milk into a bowl (the higher-fat the milk, the richer the filling); add the contents of 2 regular-size boxes of vanilla instant pudding mix, plus 2 teaspoons vanilla extract. Beat until thick, and refrigerate until ready to use.
If you want to make the whipped cream a day ahead, be sure to stabilize it with whipped cream stabilizer. If you don't, it'll become watery overnight.
To shape éclairs without a pastry bag, place a sandwich bag into a glass, rolling its edge over the rim to hold it in place. Spoon the batter into the bag. Cut off 1 corner of the bag, making a 1/2" cut. Squeeze the batter onto the baking sheet through the hole in the corner.
Want to prepare pastries ahead? Make the shells, and store them at room temperature, lightly covered. Your best bet is to whip the cream no more than several hours ahead of time, unless you stabilize it with whipped cream stabilizer (see tip above). Pastry cream filling/pudding can be made several days ahead. Icing can be made several days ahead, and reheated. Fill (and ice) pastries just before serving.
Reviews
Really great recipe came out great got the shape by using a Ziploc bag . Stuffed them with a cheese filling .Thanks kaf
Awesome recipe!! I also recommend baking the cream puffs the second round at 350 for only 10 minutes as well.
This was my first time making anything with pate e choux. I was a little intimidated but the instructions were clear and they turned out perfectly! (I made cream puffs and dropped the dough with my cookie scoop.) I will definitely make these again!
I bake by weight (grams) and have made these twice. Both times the dough was way too runny--more like pancake batter. First time I added more flour to get a pipe-able consistency, and second time I used half the eggs and still had to add an entire second recipe of flour, hot water and melted butter per the recipe. I added this to the runny batter and still barely achieved a consistency that stood up for baking. Choux are delicious but flat. So, half the eggs and double the flour/water/butter are still not working for me. Something's askew and I have no idea what. Normally King Arthur recipes rock, and I get great results following them to the letter, but this one is a no-go.

Hi MD, it sounds like your choux pastry isn't being cooked for long enough. The heat of the stovetop is what makes the mixture thicken. Be sure you're using King Arthur All-Purpose Flour if you're not already doing so (our flour has a higher protein content, which will give your puffs more support), and next time try cooking the mixture for longer. When the dough is ready, it should slide slowly off the tip of a spatula to form a "V" that stays in a place after a seconds of sliding. We hope that helps, and feel free to give our Baker's Hotline a call for more troubleshooting tips if need be: 855-371-BAKE(2253). Kye@KAF
These came out fantastically. I was worried about the dough until I added the last egg, and just like the recipe said it came out smooth and thick. I didn't change anything except some chocolate drizzle on the puff pastries. My only suggestion would be to make a little more cream - there's enough to fit inside the puff but there isn't really enough to spill out for aesthetics. I loved working with this, thanks so much for the recipe!
Perfect recipe these are so good,m and so easy! My only change to this recipe is that when you bake the puffs to cook them for 12-14 mins at 15 they start to get very brown. (My oven is hot!) After that watch them closely because when you go back and turn the heat down to 350 degrees they don't take 25, more like 10-15 for the last half of cooking. The dough will be very thick and sticky like cholate chip cookie dough. Yum yummy yum! I shared this on Facebook. :) I forgot to mention as I ran out of filling I filled the rest with chicken salad (chicken, mayo, grapes, walnuts, celery and lemon juice) To DIE for!
it comes out perfect but with cracks on eclair how to avoid it?

There's a few things that can help prevent cracks in eclairs. Be sure that you're including the salt in the recipe, and cook the choux paste over heat until a skin forms on the bottom of the pan (until it reaches about 170&deg:F). Don't scrape the bottom of the pan clean and incorporate this skin; leave it on the bottom of the pan. Also, when adding the eggs, mix the dough on medium-low speed. If too much air is added at this stage, it can create cracks during baking. Lastly, try turning your oven temperature down by 15-25°F. A slightly cooler oven will promote a gentler expansion of the puffs. Good luck! Kye@KAF
I used large eggs but since dough was thick I added a fifth egg. They rose light and fluffy. Baking times were quite accurate for temperatures.
I made the recipe using "volumn" measurements. But for curiosity's sake, I measured the 1-1/4 C of flour in grams and ounces. The recipe was off for both measurements: 7 oz. instead of 5-1/4 oz. and 199 grams instead of the 149 grams as stated in the recipe. These measurements were taken stsrting at 0.

We can help explain that! The weight of one cup of flour varies significantly depending on how the flour gets into the measuring cup. A cup of flour that's been scooped right from a bag that's been sitting for a while will be heavier, as you experienced. A cup of flour that is sifted into the measuring cup will weigh much less. For our recipes, we assume a relatively light cup of flour (4.25 oz or 120 grams), which is best achieved by fluffing the flour up in the container, sprinkling it into the measuring cup, and sweeping off the excess. For a visual demonstration of this method, you can search our site for "how to measure flour". More questions? Feel free to give our Baker's Hotline a call at 855-371-BAKE. Mollie@KAF
I ended up with skinny breadsticks. This was my first time making eclairs. Also, the filling ended up being runny, even though it was thick when it went in the fridge. I will try this again, because I probably did something wrong. Any suggestions?

Cristina, it sounds like you might want to try piping your eclairs using a larger tip or larger opening in your pastry bag (zip lock bag) to get thicker pastries that are easier to fill next time. As for the pastry cream, it's possible the mixture was cooked for too long. Cornstarch breaks down and loses its thicken powers if heated at too high of a temperature for too long. We encourage you to give our Baker's Hotline a call at 855-371-BAKE(2253) so we can talk through some of the finer points of this recipe and help you troubleshoot further. Kindly, Kye@KAF