A customized print-friendly version of this recipe is available by clicking the "Print Recipe" button on this page.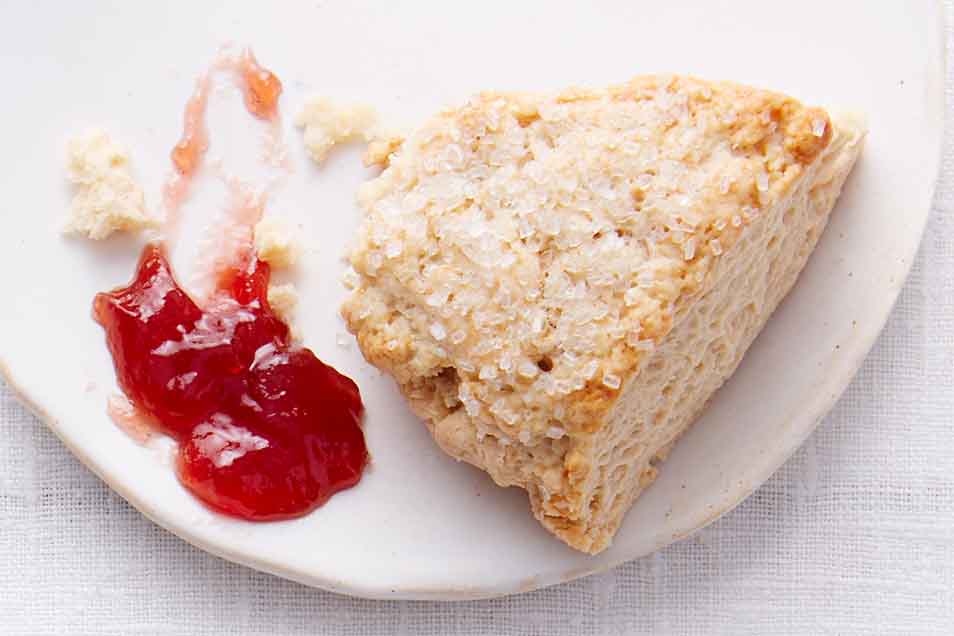 These scones couldn't be more basic — or more delicious. Simply stir together flour, sugar, salt, leavening, vanilla, and enough cream to make a cohesive dough. Pat into circles, cut into wedges, chill, bake — and enjoy ultra-tender, warm "cream tea" scones, perfect with butter and fresh preserves.
Ingredients
1 tablespoon baking powder
1 teaspoon salt
1/4 to 1/3 cup granulated sugar, to taste
1 teaspoon vanilla extract
1 1/3 to 1 1/2 cups heavy or whipping cream
additional heavy cream, for brushing on scones
coarse white sparkling sugar, for topping
Instructions
Preheat the oven to 425°F. Line a baking sheet with parchment paper (or not; it helps with cleanup, but isn't necessary to prevent sticking).

Whisk together the flour, baking powder, salt, and sugar.

Sprinkle the vanilla over the dry ingredients, then drizzle in the cream, tossing and stirring gently all the while and adding just enough to make a cohesive dough. There shouldn't be any dry flour in the bottom of the bowl, but the dough shouldn't be particularly sticky, either.

Lightly flour a clean work surface. Divide the dough in half, and gently pat each half into a 5 1/2" circle about 3/4" thick.

Brush each circle with heavy cream, and sprinkle with coarse white sparkling sugar, if desired.

Place the two circles of dough on the baking sheet, and cut each into 6 wedges. Pull the wedges apart a bit, leaving them in a circular pattern with about 1" space between each wedge.

For best rising, place the pan of scones into the freezer for 15 minutes, while you preheat your oven to 425°F.

Bake the chilled scones for 14 to 15 minutes, until they're starting to brown, and they're baked all the way through, without any wet dough in the center.

Remove the scones from the oven. Serve warm, split and spread with a bit of sweet butter and jam or preserves.

Store cooled scones airtight at room temperature for several days; freeze for longer storage. To refresh, microwave individual scones very briefly; or place scones on a baking sheet, tent with aluminum foil, and reheat in a 350°F oven for 10 to 15 minutes, until heated through.
Nutrition Information
Serving Size

61g

Servings Per Batch

12
Amount Per Serving:
Calories

210

Calories from Fat

80

Total Fat

9g

Saturated Fat

6g

Trans Fat

0g

Cholesterol

30mg
Sodium

320mg

Total Carbohydrate

28g

Dietary Fiber

1g

Sugars

5g

Protein

4g
* The nutrition information provided for this recipe is determined by the ESHA Genesis R&D software program. Substituting any ingredients may change the posted nutrition information.
Reviews
I absolutely love this recipe. It's so easy and quick I can make it in the time span of how long my 6 month old will stay entertained in her high chair. One question, do you recommend making and freezing them raw and cooking as needed, or should I bake them then freeze and reheat as needed? My preference would be to freeze then bake, but then should I let them defrost or bake from frozen? Thanks so much!

Hey there fellow baker! For scones we recommend freezing unbaked scones for up to three months and then baking them while they're still frozen for the best rise. Happy baking! Morgan@KAF
I followed this recipe exactly I used the minimum amount in the sugar scale and the max of the recommended heavy cream. My pickiest foodie friend loved them!
After multiple failed attempts at scone making (here's looking at you my pumpkin disaster!), I thought all hope was lost until I found this recipe! Tender on the inside, crunchy on the outside and perfectly sweetened! I added vanilla to the cream and had great flavor throughout the delightful scone. Some questions if I may: 1) If I wanted to add some mix-ins, i.e. dried cranberries and orange zest, how much would you add to the recipe and do you have to soak the cranberries in orange juice, or would the recipe be drier if you use dry cranberries (i.e. would they be absorbing the cream/liquid from the scone or is that not a problem?) What would happen if I: 2) Used buttermilk instead of the heavy cream? 3) Used sour cream instead of the heavy cream? 4) Used cake flour instead of all-purpose flour? Thank you! Scone novice (no-more!)

Let us bring you to scone enlightenment! You can use 1 to 2 cups of mix-ins in this recipe, and there's no need to soak dried fruit before you add them to the scone dough. If you use buttermilk instead of heavy cream, the scones will be lighter in texture: less rich, more cake-y. If you make this change, use 2 teaspoons of baking powder and 1/2 teaspoon of baking soda to account for the additional acidity in buttermilk. We don't recommend using sour cream; the dough will be quite dry and you'd have to add additional milk to get it to come together. Lastly, if you use cake flour, the scones will be more delicate and tender than they otherwise would be. (They may also be slightly more crumbly but very delicious!) Kye@KAF
These scones are really tasty! we love to pair them with jam and whipped cream. They are so light and tender. One change we made is to whip the cream slightly (not so it is stiff, just thicker) and fold it gently into the dry mixture. I now want to make these as a lemon version, with lemon curd spread on them. I want to add fresh lemon zest to the actual scones for some extra citrus flavor; is this possible? If so, how much zest should I add? Thanks, I appreciate it.

We love your idea of adding some lemon flavor to the dough. We have a recipe for Buttermilk Lemon-Apricot Scones, and it calls for adding 1/2 teaspoon of lemon oil along with the grated zest of 1 lemon. This addition of flavor will truly make the scones pop! Enjoy! Kye@KAF
can you add lemon zest to these? if so, how much?
This recipe is absolutely perfect. I made them for a royal wedding tea party and my expat, stiff-upper-lip British husband nearly displayed an emotion. They were that good! The kids loved them so much they ask for them nearly every weekend. Occasionally I'll add some chopped, dried fruit for variety.
I made a batch as a trial for an upcoming tea party I want to do. So awesome I ended up eating 1-2 a day. My daughter loved them too and she doesn't normally like scones. Getting ready to make more for the tea party.
I've made this recipe a few times. I also needed extra cream the first few times. I recently purchased the dough whisk and I used 1 1/2 cups of cream, didn't need extra for it to come together. It was so much easier to mix! I also added the vanilla to the cream as other suggested. Baked a new batch with the Fiori di silcilia, everyone at work loved it!
This is the best scone recipe, which, even though I make two changes, always get raves as the hit of my English teas. My changes: I sub out some of the AP flour for cake flour and make 3 circles of 6 scones, so they are smaller. My plain ones are served with clotted cream and jam, but I add mini chocolate chip to another batch to be eaten as they are. I find them soft, light, and irresistible!
I have been making buttermilk scones for years, but this is my new favorite. Scones turn out moist and delicious. I love that it doesn't require cutting in butter. It needs additional cream for the dough to come together. I chilled the dough overnight in the refrigerator on a plastic wrapped baking sheet. Baked them in the morning. Perfect with my coffee!