A customized print-friendly version of this recipe is available by clicking the "Print Recipe" button on this page.
Creamy Potato Garlic Soup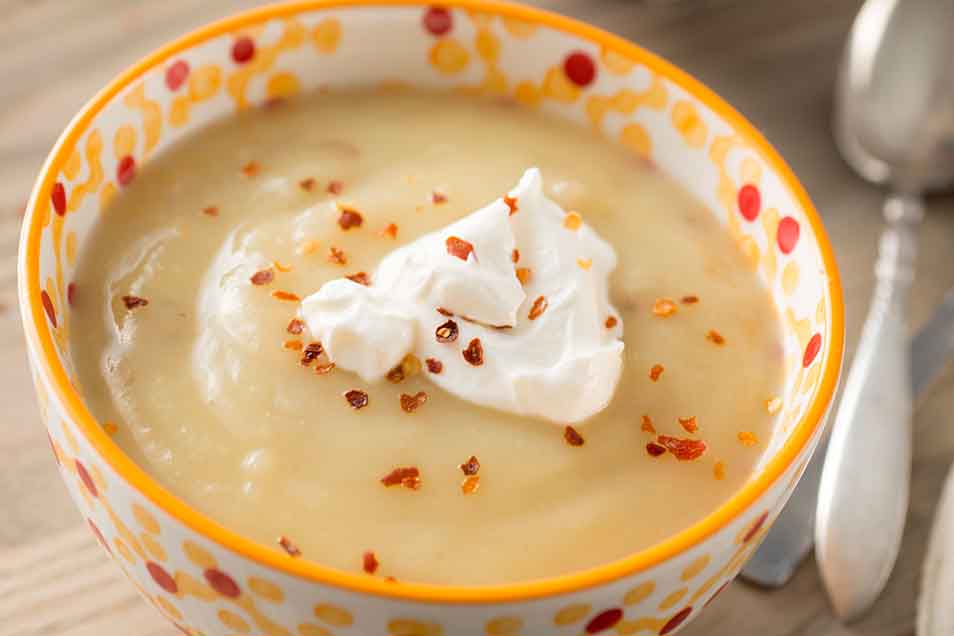 Slow cookers are making a huge comeback these days, and with good reason. Toss in a few key ingredients, cover and walk away. When you return you'll be rewarded with rich, savory soup that warms you right down to your toes.
Potatoes, garlic and onion simmer in the crock, then get pureed with rich cream. Top with cheese and bacon for the perfect cool weather lunch.
Ingredients
1 1/2 pounds white potatoes, scrubbed and sliced into 1/4" rounds
1 large onion, sliced thin
1 teaspoon salt
6 cups chicken broth
4 to 6 cloves of garlic, to taste
1 cup heavy cream or half & half
suggested toppings
sharp cheddar cheese
cooked, crumbled bacon
thin slices of cooked ham
sour cream
Instructions
Place the sliced potatoes, onion, salt, chicken broth, and garlic into the crock of a 4- to 6-quart slow cooker.

Cover and cook on high for 4 to 5 hours. Near the end of cooking time, test the potatoes by pricking with a fork. They should easily break and fall apart.

Remove the lid and puree the soup either with a hand held stick blender, or in a food processor or blender. Puree in small batches to avoid hot splashes of soup.

Return the soup to the crock and add the heavy cream. Heat carefully; don't let it come to a boil.

Serve hot, with your choice of toppings. Shredded cheddar cheese and bacon makes a fantastic dish that tastes like your favorite baked potato with toppings!

Yield: eight 1-cup servings.
Tips from our bakers
To peel or not to peel, that is the question. We've made this soup both ways, and most folks prefer the unpeeled version. It gives the soup great depth of flavor; but it's really cook's choice.
Cream, half & half, whole milk or even 2% milk can be used in the recipe. The higher the fat content, the richer the soup.
Reviews
I made this today. I used frozen hash browns instead of fresh potatoes. After I blended them with an immersion blender, I added diced ham (leftover from Christmas) and let it cook a little longer, then added the heavy cream. Served with shredded cheddar and parmesan on top. It was great!
This soup is great and will be my go to. I cooked stove-top did not have bacon on hand. I followed directions using half and half and hot pepper flakes. For cheese, I sprinkled sharp white cheddar cheese. My husband loved it. So easy to make!
WOW! This was really good and sooooo easy! I added shredded carrots and chopped spinach to get some extra veggies. I didn't have any bacon so I added some smoked paprika. Oh and of course some cheese. It turned out great! The family loved it! Next time I will keep some potato chunks in it and maybe add some broccoli. This is now my favorite potato soup recipe. Thanks for a great recipe-love that I get to use the crockpot!
THIS WAS OUTSTANDING.I DID NOT KNOW I COULD MAKE A SOUP SO GOOD.
I love this soup. used leeks in place of the onion and evaporated milk instead of the cream as I did not have any cream or half and half and did not feel like venturing out into the nasty weather. the family loved it. easy to fix before you run out the door to work especially if you slice the potatoes and leave covered in water in the fridge after slicing them and the onion or leek the night before so you just have to assemble before you leave in the morning.
Great soup and really easy to make.
This was very easy to make. I made it with red potatoes, leaving the skins on. It was very tasty and a hit at a recent gathering.
I made this today. We LOVED it! It's easy and very flavorful. I used unpeeled russet potatoes and blended with an immersion blender--there were still little bits of peel floating in the soup, which wasn't terribly attractive but after sprinkling the bowls with bacon, cheddar cheese, and chives it wasn't noticeable. We think with the addition of clams this could easily be a fabulous clam chowder. I'm sure I'll be making this great soup from now on. THANKS K.A.!