A customized print-friendly version of this recipe is available by clicking the "Print Recipe" button on this page.
Creamy Potato Garlic Soup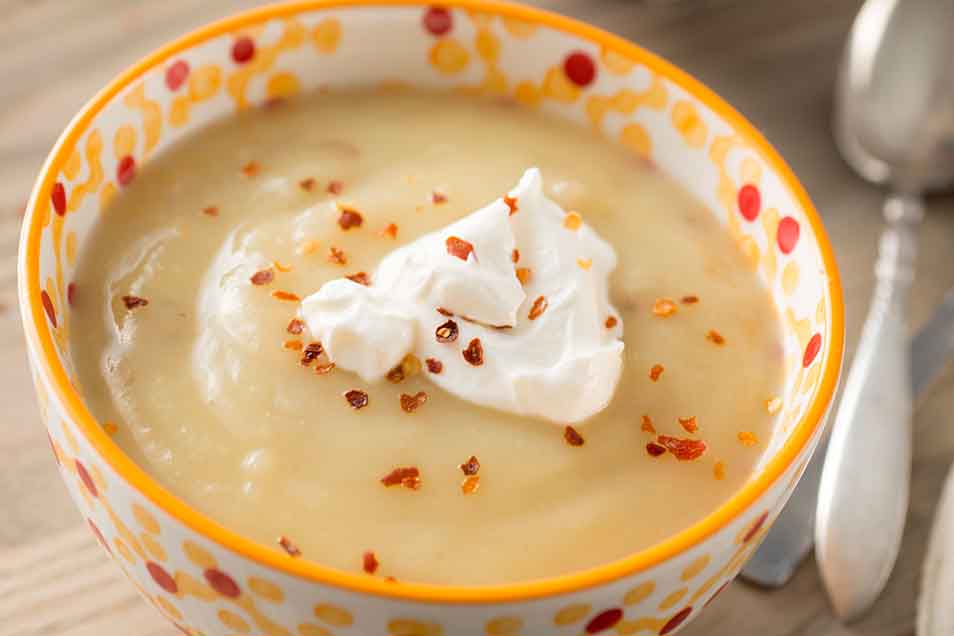 Slow cookers are making a huge comeback these days, and with good reason. Toss in a few key ingredients, cover and walk away. When you return you'll be rewarded with rich, savory soup that warms you right down to your toes.
Potatoes, garlic and onion simmer in the crock, then get pureed with rich cream. Top with cheese and bacon for the perfect cool weather lunch.
Ingredients
1 1/2 pounds white potatoes, scrubbed and sliced into 1/4" rounds
1 large onion, sliced thin
1 teaspoon salt
6 cups chicken broth
4 to 6 cloves of garlic, to taste
1 cup heavy cream or half & half
suggested toppings
sharp cheddar cheese
cooked, crumbled bacon
thin slices of cooked ham
sour cream
Instructions
Place the sliced potatoes, onion, salt, chicken broth, and garlic into the crock of a 4- to 6-quart slow cooker.

Cover and cook on high for 4 to 5 hours. Near the end of cooking time, test the potatoes by pricking with a fork. They should easily break and fall apart.

Remove the lid and puree the soup either with a hand held stick blender, or in a food processor or blender. Puree in small batches to avoid hot splashes of soup.

Return the soup to the crock and add the heavy cream. Heat carefully; don't let it come to a boil.

Serve hot, with your choice of toppings. Shredded cheddar cheese and bacon makes a fantastic dish that tastes like your favorite baked potato with toppings!

Yield: eight 1-cup servings.
Tips from our bakers
To peel or not to peel, that is the question. We've made this soup both ways, and most folks prefer the unpeeled version. It gives the soup great depth of flavor; but it's really cook's choice.
Cream, half & half, whole milk or even 2% milk can be used in the recipe. The higher the fat content, the richer the soup.