A customized print-friendly version of this recipe is available by clicking the "Print Recipe" button on this page.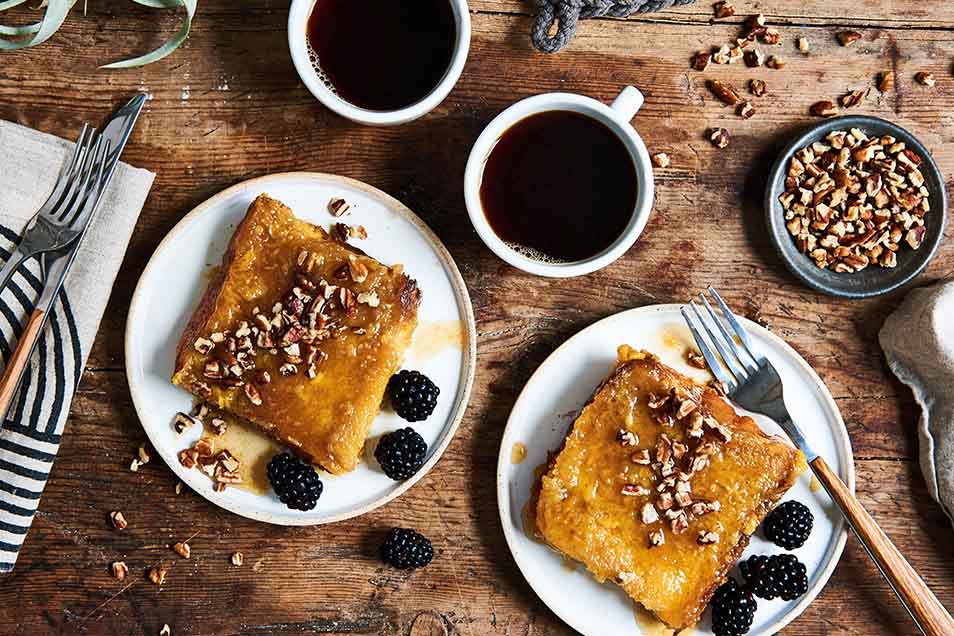 Variations on this recipe have been floating around for quite some time, but they all come down to this: bread, milk, eggs, and sugar, baked into a smooth, custard-y, aromatic breakfast treat. This is a perfect do-ahead dish: simply prepare the day before, refrigerate it, and bake the next morning. Salty bacon is the perfect accompaniment.

Read our blog about this French toast, with additional photos, at Flourish.
Ingredients
Glaze
1 cup brown sugar
2 tablespoons honey, maple syrup or corn syrup
1/2 cup (8 tablespoons) butter
Bread
French or Italian bread sliced 1/2" thick, enough to cover the bottom of a 9" x 13" pan
Custard
1 1/2 cups whipping cream, half and half, milk, or fat-free half and half
5 large eggs, or 1 1/4 cups egg substitute
2 teaspoons vanilla extract
1/4 teaspoon salt
Topping
1/4 teaspoon ground nutmeg
1/4 teaspoon ground cinnamon
Instructions
Lightly grease a 9" x 13" pan or shallow 2-quart casserole.

To make the glaze: Melt the butter in a saucepan, and stir in the brown sugar and syrup. Bring the mixture to a simmer, cooking until the sugar melts. Pour the glaze into the prepared pan, spreading it to the corners.

Lay the slices of bread in the pan, atop the glaze. Use baguettes for smaller servings, a fat loaf of Italian bread for larger servings. Leftover/stale bread works well here; kids may prefer softer, sandwich-type bread, which will make softer, smoother French toast. Adults seem to prefer bread with more body.

To make the custard, whisk together the cream, half and half, or milk, eggs or egg substitute, the flavor, and the salt. Pour it over the bread in the pan, pressing the bread down into the custard.

Cover the pan, and refrigerate overnight, or for up to 24 hours.

When you're ready to bake, preheat the oven to 350°F.

Sprinkle the cinnamon and nutmeg evenly over the custard-soaked bread.

Bake the French toast for 40 to 45 minutes, until it's bubbly and the top is very lightly browned.

Remove it from the oven, and allow it to cool for 10 to 15 minutes before serving. Serve individual slices of bread, turning it over on the plate so the syrupy bottom is on top.

Serve individual slices of bread, turning it over on the plate so the syrupy bottom is on top. Garnish with finely chopped toasted pecans, if desired.
Tips from our bakers
This can also be made as bread pudding. Simply cut or tear leftover bread into 1/2" pieces, and arrange pieces one layer deep, tightly packed, in the pan.