A customized print-friendly version of this recipe is available by clicking the "Print Recipe" button on this page.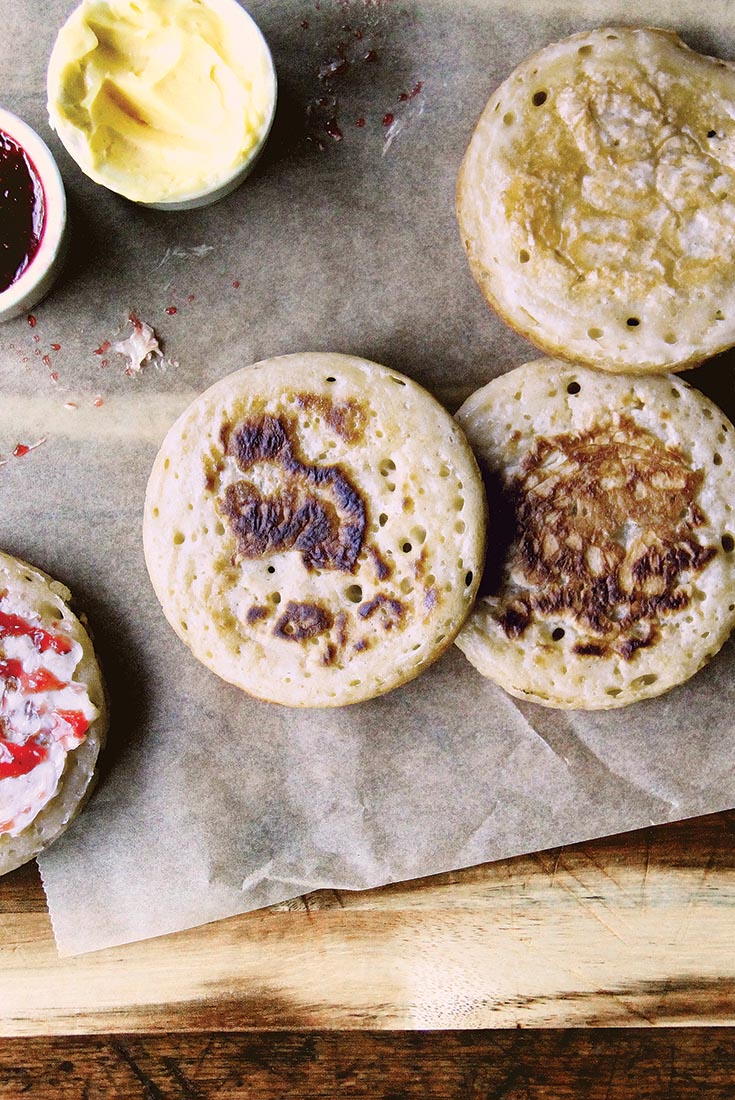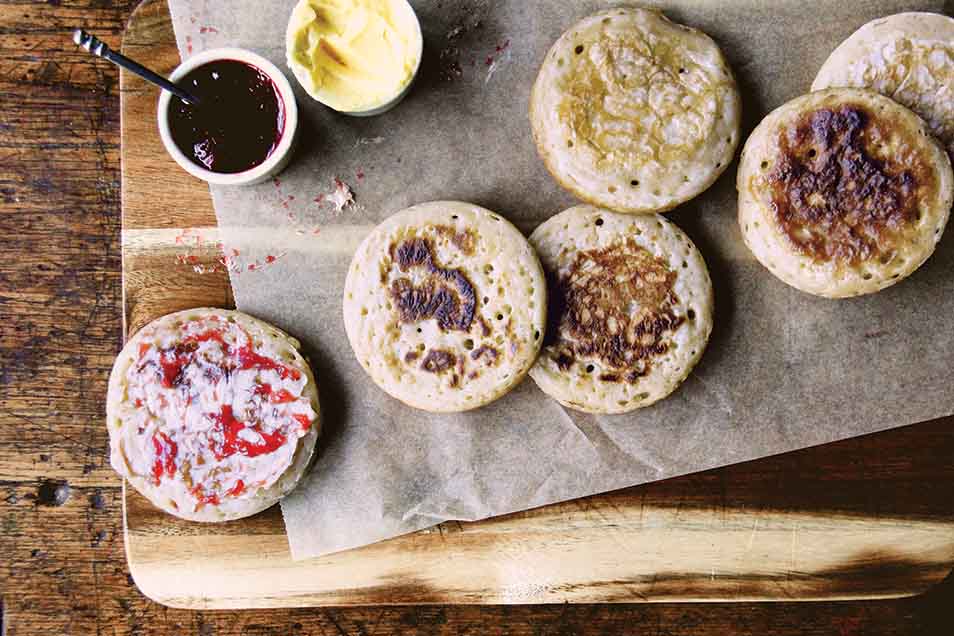 This traditional British teatime treat is midway between English muffin and pancake. Like an English muffin, it's full of holes, perfect for collecting rivulets of melted butter. But it's also moister and thinner – more like a small pancake.

These are best enjoyed toasted, and spread with butter, jam, and/or clotted cream. Since their holes reach to the outside crust, there's no need to split them before toasting.

You can make crumpets without English muffin rings (or cleaned tuna cans), but they'll be perfectly round and ever so much nicer looking if you use rings.
Instructions
Combine all of the ingredients in a bowl, and beat vigorously for 2 minutes. A stand or hand mixer, set on high speed, work well here.

Cover the bowl, and let the batter rest at room temperature for 1 hour. It will expand and become bubbly. Towards the end of the rest, preheat a griddle to medium-low, about 325°F. If you don't have an electric griddle, preheat a frying pan; it shouldn't be as hot as the temperature you use to cook pancakes.

Lightly grease the griddle or frying pan, and place well-greased 3 3/4" English muffin rings in the pan, as many as will fit. (If you don't have English muffin rings, use well-cleaned tuna cans, from which you've removed the top and bottom.) Pour sticky batter by the scant 1/4-cupful into each ring; a muffin scoop works well here.

After about 4 minutes, use a pair of tongs to slip the rings off. Cook the crumpets for a total of about 10 minutes on the first side, until their tops are riddled with small bubbles/holes. They should be starting to look a bit dry around the edges. Their bottoms will be a mottled, light-golden brown. Note: They probably won't be as full of holes as store-bought crumpets; that's OK.

Turn the crumpets over, and cook for an additional 5 minutes, to finish cooking the insides and to brown the tops gently. This isn't traditional; "real" crumpets are white on top, but the crumpet police won't chastise you for adding a little color to the tops.

Remove the crumpets from the pan, and repeat with the remaining batter, until all the crumpets are cooked. Serve warm. Or cool completely, wrap in plastic, and store at room temperature. To enjoy, warm in the toaster. Serve with butter, or butter and jam.
Nutrition Information
Serving Size

52g

Servings Per Batch

20
Amount Per Serving:
Calories

90

Calories from Fat

15

Total Fat

1.5g

Saturated Fat

1g

Trans Fat

0g

Cholesterol

5mg
Sodium

180mg

Total Carbohydrate

17g

Dietary Fiber

1g

Sugars

1g

Protein

3g
* The nutrition information provided for this recipe is determined by the ESHA Genesis R&D software program. Substituting any ingredients may change the posted nutrition information.
Reviews
Super easy and yummy, this recipe is perfect for the novice crumpet maker--like me! I am on my third batch now in three weeks (don't judge--if you haven't tried the King Arthur Easy Lemon Curd on them you just can't understand.) I jump out of bed each morning looking forward to my crumpet and curd with my morning tea. Sublime!
Crumpets came out very doughy in the middle like other reviewer mentioned. I even sifted the flour again before mixing and let stand for 1.5 hrs instead of 1 hour. Taste like a pancake.

It sounds like your Crumpets did turn out quite like you were hoping they would, which we're sorry to hear. You might consider cooking the Crumpets for longer at a slightly higher baking temperature to ensure they cook all the way through to the center. If you have an instant-read thermometer, it can be incredible useful here. The internal temperature should reach at least 190°F before they're removed from the heat. We hope this helps make your next bake more pleasant. Kye@KAF
I followed this recipeto the letter, and my crumpets we're disappointing at best. They were doughy in the middle and had very few holes on top. When I looked into it further, it turns out that this recipe calls for too much flour, and that it should be sifted, which is kind of an important step. This resulted in them not being able to cook properly. Also, this recipe calls for baking powder, but many other recipes call for baking SODA. This is also an important distinction. The baking SODA gives you those nice holes on top that crumpets are known for. So, in the end, almost 4 hours and a lot of ingredients wasted, I will not be using this recipe ever again.

We're sorry to hear you had such a frustrating experience using this recipe, Deborah. There are a few tips and points of clarification we'd like to offer that might help make future baking experiences more pleasant. First, you're right in thinking that too much flour can compromise the texture of the crumpets. (It can make them doughy and taste bland.) To ensure you're using the right amount, we recommend either measuring your flour by weight with a scale or gently fluffing and sprinkling it into your measuring cup one spoonful at a time. This will yield nice light cups of flour and make a batter-like consistency when mixed up with the other ingredients. Our flour is triple sifted at the mill, so it's not necessary to sift it again at home.

As for your concerns about baking powder vs. baking soda, the latter is typically only used in recipes that call for an acidic ingredient. Otherwise, your taste buds might pick up on a slightly metallic flavor and the leavener won't work quite as well. If you'd like to use baking powder in this recipe, use buttermilk instead of milk and reduce the baking soda to 1/2 teaspoon. We hope you find the recipe you're looking for. Kye@KAF
As a Brit abroad, I have a cottage industry making British comfort food, sausages, pies and now crumpets. I tried a large amount of recipes, and this was the closest by a long way. My customers are decreeing and LOVE these... I make hundreds at a time. There IS one thing that the recipe is missing... sugar, 1tsp per batch is enough but it really helps the yeast work it's magic. I also have a proofing cabinet and proof at 40oC. If you are proofing at room temp I'd leave it for 90 mins. This recipe works, I use half a cup per ring. and they will take a while. Too much batter will give you burnt bottoms before the top is dry and the holes have opened up.
I recently fell in love with crumpets, so I thought I'd give this recipe a try. I don't have muffin rings (or tuna cans, as I'm allergic to fish) so I used wide mouth Mason jar lids. I cooked them in batches of six on a stovetop cast iron griddle. The first batch didn't come out as good as I hoped, as I wasn't sure how much to fill the rings, so they were a bit flat and misshapen. They also took forever to cook. It seems I had the gas a little too low. So I turned up the heat slightly and filled them with more batter (about a rounded 1/4 cup), and they came out much better. Light and airy while still "meaty," not the least bit dense. My dogs really enjoyed the first six I cooked, too. :) They tasted fine, just didn't look very nice. I gotta try the sourdough crumpets recipe next.
Made as the recipe is written, turned out great. Even better after toasting! Will try variations on next attempts, might add a whipped egg white for a bit more chew, but the honey and cinnamon sound like winners a
I grew up eating crumpets and have really missed them living in the States. The texture of these was just about perfect (moist, almost rubbery) but I can't seem to get proper holes on the top. Should I increase the yeast, or the baking soda, or let it rest for a longer period, or something else? Anyone have suggestions?

Jane, to get that lovely, classic texture you're looking for, be sure you're using fresh instant yeast and baking powder. Try letting your batter rest for longer next time (1 1/2 hours or overnight in the fridge). This will give the batter more time to expand. You can also try cooking the crumpets over a low heat for longer, which should help produce the pin-hole surface. Be careful not to deflate the batter when spooning it onto the griddle. Good luck! Kye@KAF
Can these be frozen for later and if so, how long is freezer life?

Crumpets can be stored in an airtight container or ziplock bag for 1-2 months. The sooner they're consumed, the better they'll be. Happy baking! Kye@KAF
This recipe is wonderful. A little heavier than store bought but none of the fake stuff. Definitely do a test one as 325 on my griddle just wasn't hot enough to get good coloring so you know how the batches will turn out. My English muffin rings were larger and 1/4 cup just barely covered the bottom so the test helped with that as well. I used a spray to grease the rings and none of them stuck. I added a little Saigon cinnamon to a batch I made and they taste better than the Trader Joe's crumpets I am so fond of. Thanks for the hard work in developing this!
I think this is a good recipe but I don't think I actually like crumpets. They had better holes when I didn't flip them, plus I wanted theme more authentic looking. I crisped them up in the toaster. Still they're a bit doughy for my taste but I think that's my issue, not the recipe.